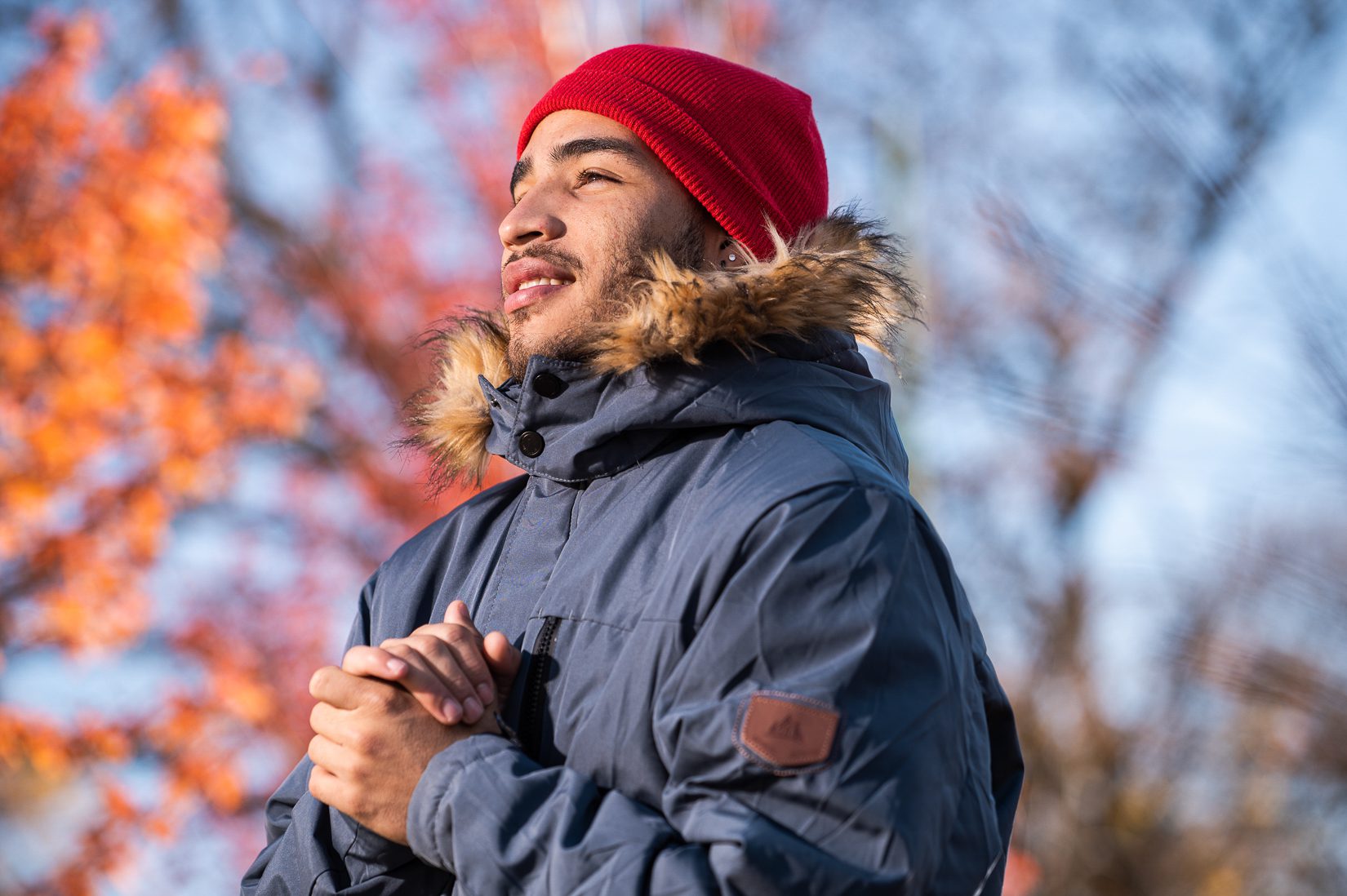 Colin Boyle/Block Club Chicago
Yorvi Sánchez warms his hands as he posed for a portrait in West Ridge on Nov. 1, 2022.
Block Club Chicago and Borderless Magazine followed 10 of the thousands of Venezuelan migrants sent to Chicago as part of Texas Gov. Abbott's political stunt this year.
In After the Buses, Block Club Chicago and Borderless Magazine followed 10 of the thousands of Venezuelan migrants sent to Chicago as part of Texas Gov. Abbott's political stunt this year. Block Club Chicago is a nonprofit newsroom focused on Chicago's neighborhoods; sign up for its daily newsletter. Borderless Magazine is a multilingual nonprofit newsroom reporting on and with Chicago immigrants; sign up for its weekly newsletter.
CHICAGO — "We're grateful to be in a place that received us with open arms."
On the Saturday before Thanksgiving, families sat around decorated tables with plates full of food, participating in a time honored tradition: listing off the things they're thankful for. For the 500 migrants gathered at a Chicago-area hotel, it was their first time celebrating the American holiday, and volunteers had to explain its history and meaning. After the journey they had made this year, many said they were thankful for so much.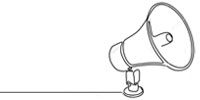 Bring power to immigrant voices!
Our work is made possible thanks to donations from people like you. Support high-quality reporting by making a tax-deductible donation today.
The crowd gathered at the hotel are the area's newest neighbors, a few hundred of the 3,700 immigrants who were bused to Chicago since Aug. 31 in Texas' political stunt. Most of them came to the United States from Venezuela, which has struggled with political upheaval and an economic crisis resulting in severe food and medicine shortages, surging inflation and rising unemployment and violent crime. 
As of November, more than 7.1 million Venezuelans have fled their country. The U.S.'s patchwork of immigration policies leaves it unclear if many of them are eligible for asylum or other protections.
Provided
For months, Texas Gov. Greg Abbott has sent migrants who crossed the United States-Mexico border into Texas to Democrat-led cities more than 1,000 miles away to protest federal immigration policies. Thousands of people had already arrived in New York and Washington, D.C. when Abbott tacked Chicago onto his list of destinations this summer. 
As buses of 50 to 100 people arrived, Chicago officials received a few hours' heads-up that a new bus was on its way — or none at all. Soon, the buses came nearly every other day. Officials had no way of knowing what the people on board would need after enduring month-long journeys from home.
Despite zero communication or coordination from Texas, Chicago leaders committed to helping. City and state officials turned hotels and vacant buildings into temporary shelters. Gov. JB Pritzker declared a state of emergency and activated Illinois National Guard members to receive people at shelters. Local nonprofits staged donation drives. Community partners volunteered their time to feed, transport and clothe people. Schools enrolled hundreds of newly arrived kids.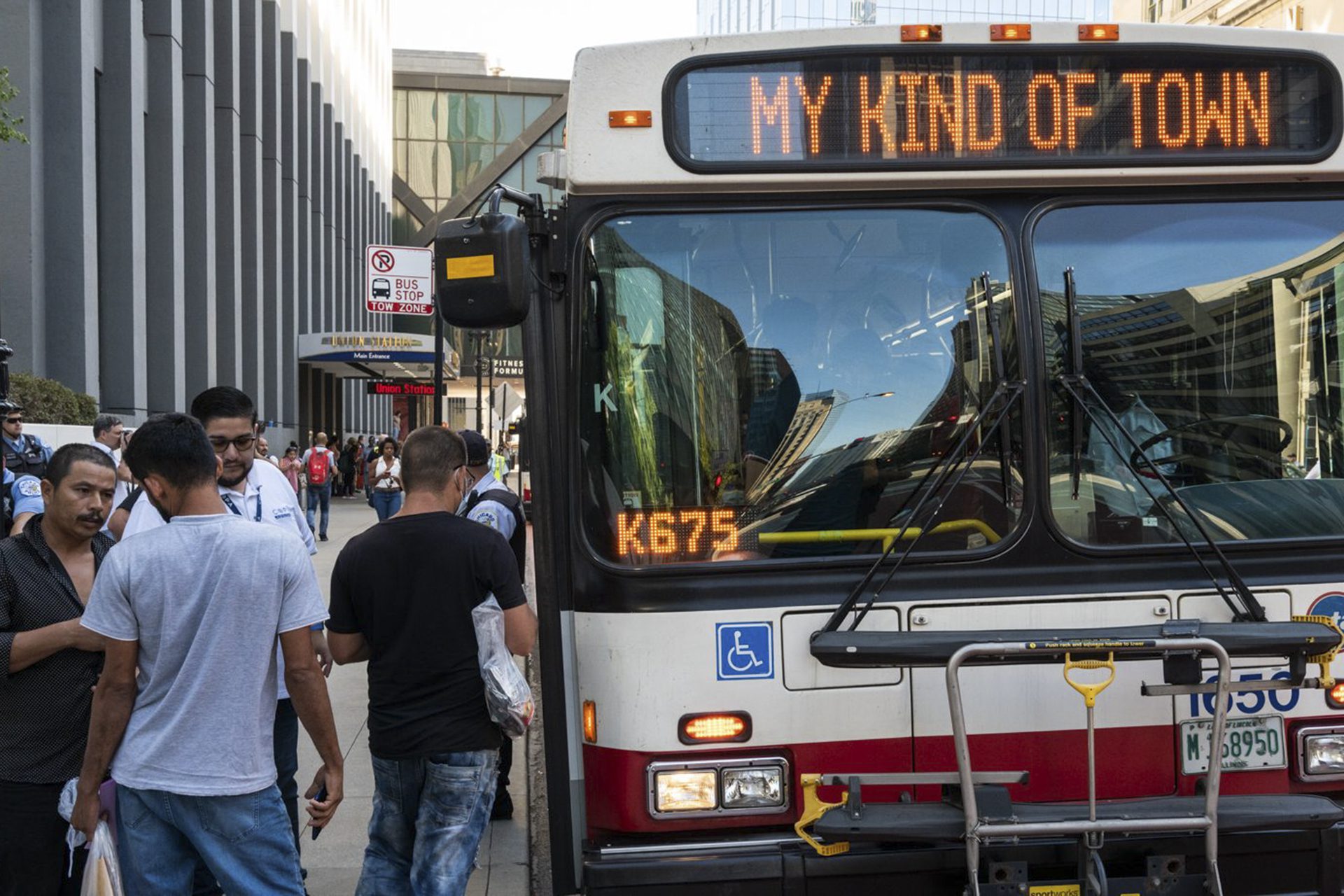 Colin Boyle/Block Club Chicago
Chicago is a historic port of entry for many immigrants, but the lack of state communication and federal coordination made the rapid arrival of hundreds of new immigrants challenging, said Nubia Willman, the city's chief community engagement officer and former director of the city's Office of New Americans. 
City officials knew Chicago could soon see immigrants bused here like New York and Washington, D.C. had, but preparing for the "what if" and reality are two different things, she said. 
When other groups of immigrants arrived in Chicago, many had private sponsors, special immigrant visas or refugee resettlement benefits through the federal government, Willman said. But the people who arrived this summer and fall from Texas aren't in that position, and need help settling into the city, she said. Officials also saw more people staying in Chicago than did in New York or D.C. 
"How do we support [them] when it's not normally been our role? I think that's … what we're all working together to figure out," Willman said.
Despite the city's efforts, the rapid relocation has left some migrants isolated and neglected at suburban hotels, unable to work, without the gear they'll need for Chicago's harsh winters and struggling with depression.
Chicago Ald. Byron Sigcho-Lopez (25th), an immigrant from Ecuador who represents a ward that is home to many Mexican and Chinese immigrants, visited a hotel housing migrants in the suburbs and was troubled to find kids not enrolled in school, people without coats and families without food.
The city was "absolutely not" prepared to handle this humanitarian crisis, he said. He's called on the city to consider reopening closed schools and churches in his Southwest Side ward so the recent immigrants from Venezuela, Colombia, Nicaragua and other South and Central American countries can find support among fellow Spanish-speaking immigrants instead of being shunned. 
As the Texas buses arrived at Chicago's Union Station, Erendira Rendon, vice president of immigrant justice at the Pilsen-based Resurrection Project, explained to folks what their options were. 
Each level of local government "stepped up" to make sure people's immediate needs were met, Rendon said. But as the bus arrivals slowed in November and December and some migrants have spent months in temporary shelters, immigrant leaders want to know what the long term plan is.
"The challenges are very real and continue to be real, and it's going to take government, it's going to take philanthropy and it's going to take the nonprofits to make sure that we're really setting up new arrivals to be able to stay and thrive in Illinois," she said.
Colin Boyle/Block Club Chicago
Over the past few months, reporters from Block Club Chicago and Borderless Magazine followed seven migrants and a family of three who arrived over the summer, with the goal of putting a face to the migrants who made national headlines because of Abbott's political stunt. 
They fled a country in an economic crisis and survived treacherous, months-long journeys through Central America for the chance for a better future for their families. 
Many of them came here with no phones, little-to-no money and left their children at home, unsure of when they'll be reunited. 
Tomás Alvarado and Carmen Ollarves dream of opening their own business. Jesus David Lucena Castillo hopes his new passion for photography leads to work. Yorvi Sánchez longs for a way to provide for the family he left behind. But their futures are uncertain.  
We hope these stories help you get to know your new neighbors.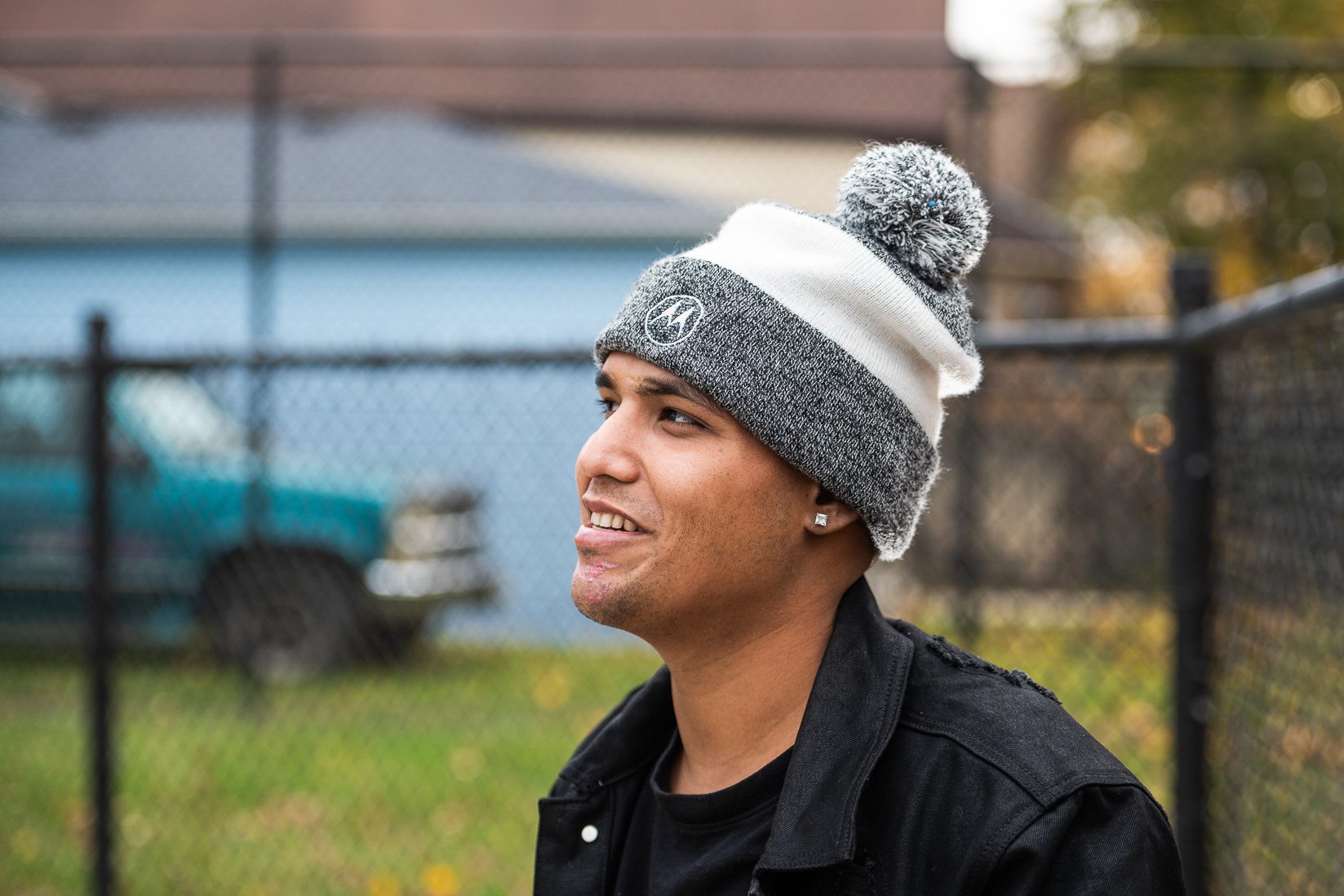 Colin Boyle/Block Club Chicago
Nolram survived a deadly journey to provide for his family. But the danger didn't end once he arrived in Chicago. Living in a shelter that houses hundreds of single men, he made friends and found temp work. But his path took a turn for the worst when he was hospitalized.
"This was like a lesson, like an alert, to tell me that I wasn't well."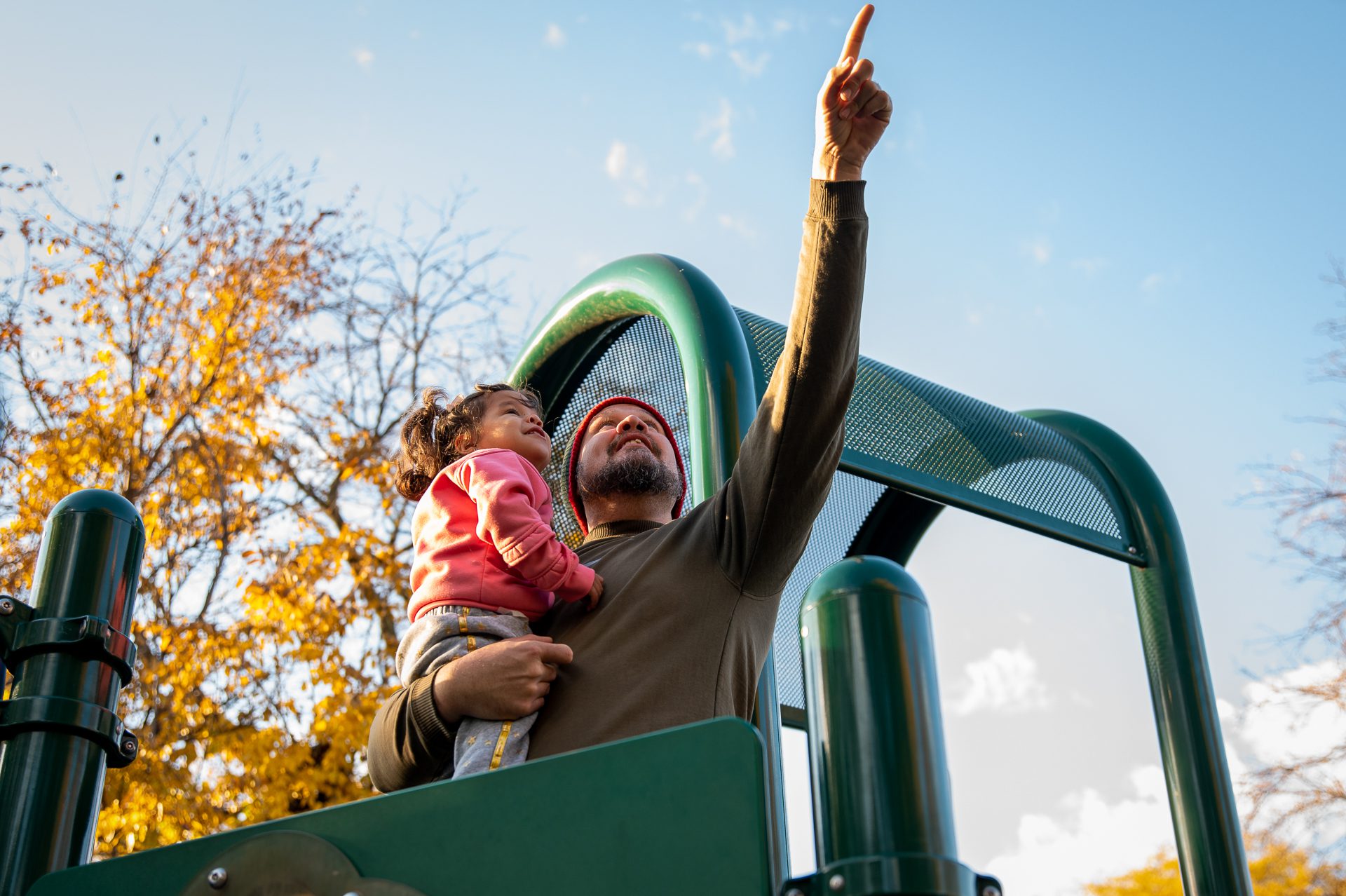 Jonathan Aguilar for Borderless Magazine
After leaving Venezuela, Tomás and Carmen are starting over in Chicago with the help of an old neighbor from Peru. They hope to get their daughter medical help here. The 2-year-old suffered a swollen belly after drinking contaminated water during the trek to the United States. 
"It was either [drink the dirty water] or die," Ollarves said.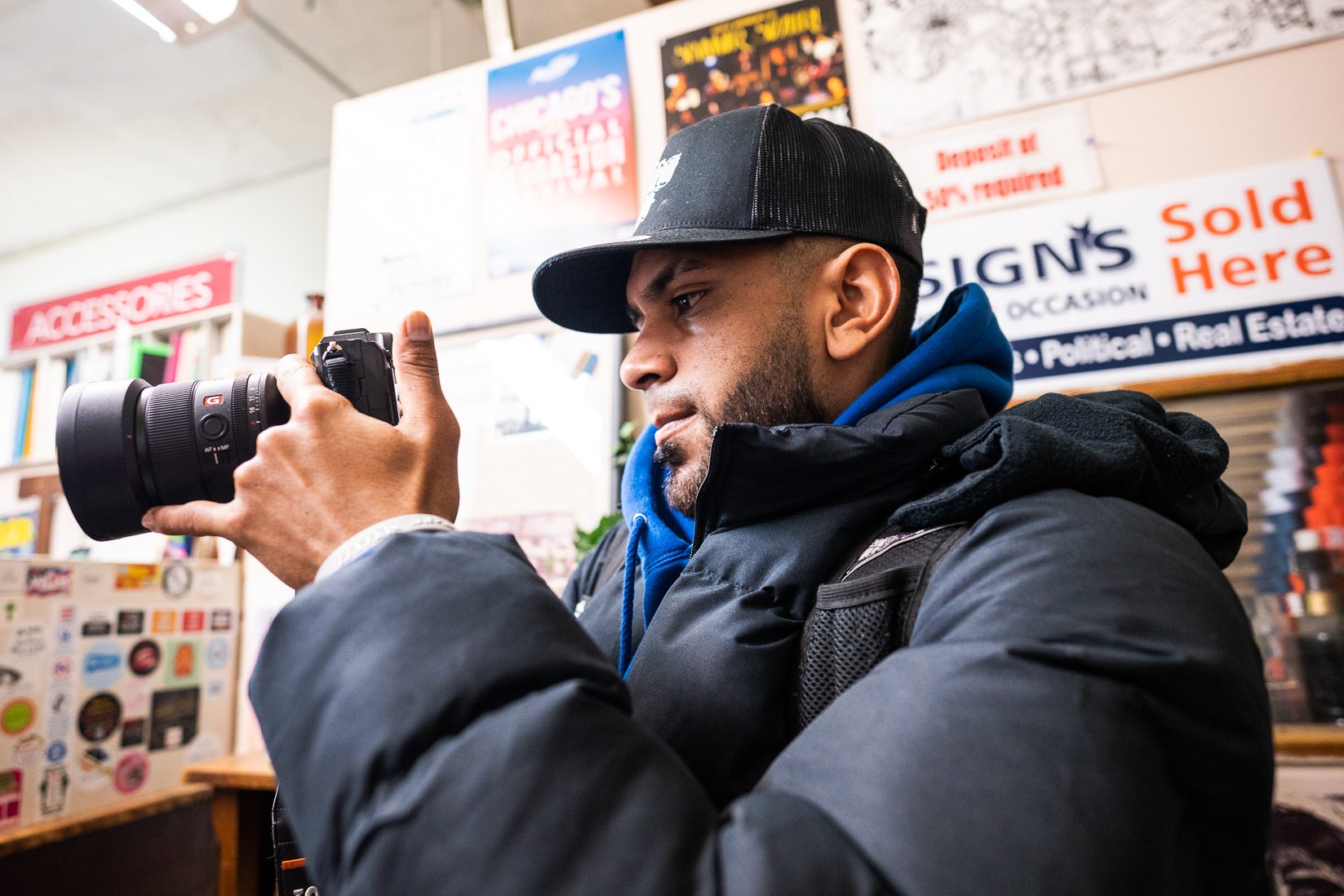 Colin Boyle/Block Club Chicago
In Venezuela, Jesus dreamed of becoming a pro baseball player. But a search for stable work forced him to give up on his dream and separated him from his family for years. During Día de los Muertos, a friendly encounter changed his course in Chicago — and helped him find a new passion for photography.
"When I put the camera on my shoulder, I feel different. Like I'm someone else, [someone] bigger."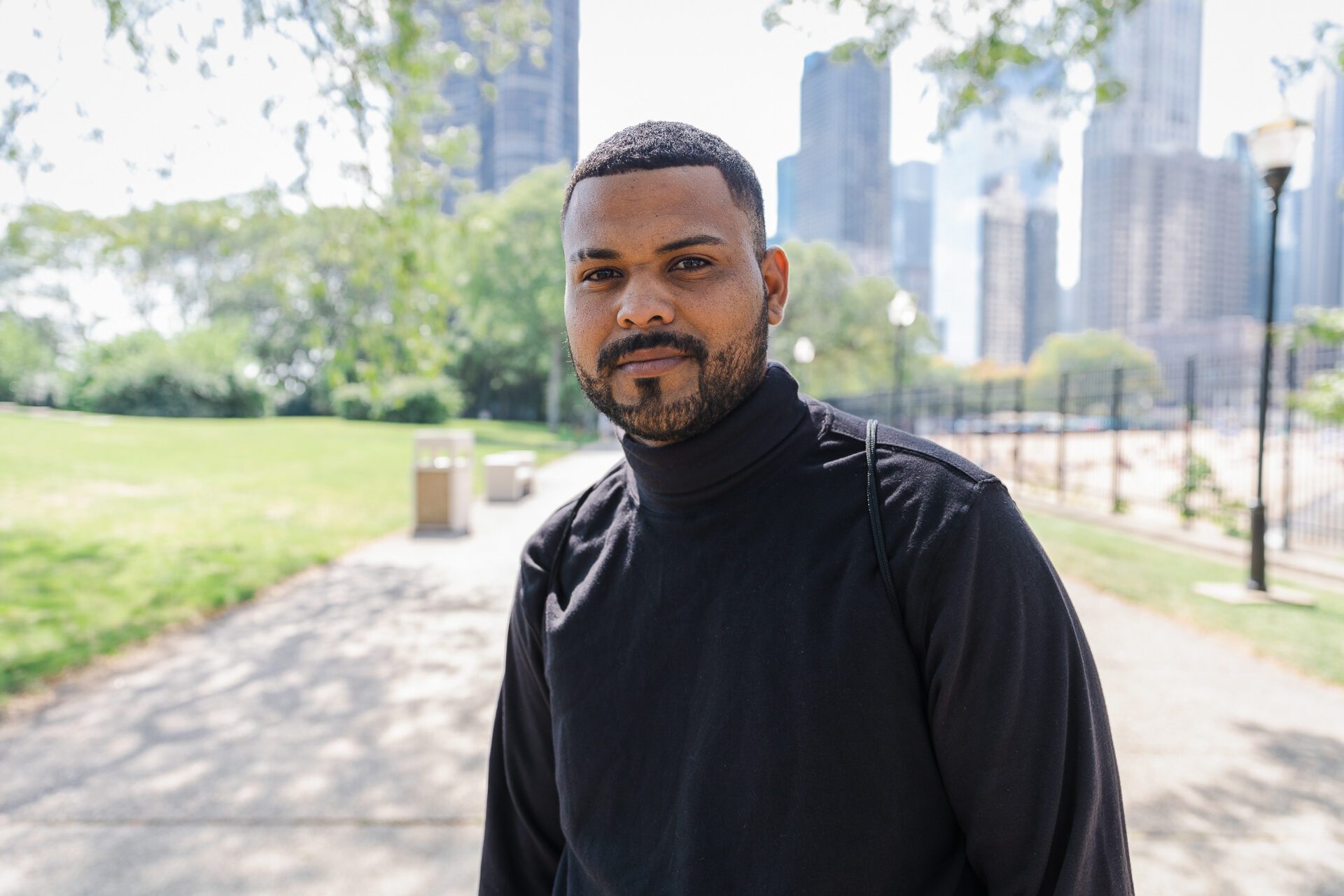 Jesus J. Montero for Borderless Magazine
Omar left his pregnant wife and children and traveled over 3,000 miles to get here. But he says the trip wasn't a choice, it was a necessity. Leaving home was the only way he would be able to find a job that would support his growing family.
"I was tired of not being able to provide for them." 
Colin Boyle/Block Club Chicago
Jhopsef spent years hopping countries in search of a better life. He'd never heard of Chicago, but when he was told to get on a bus in Texas, he chose the Midwest city because he loved the name. Now, he's one of the thousands of migrants starting over here with no family or knowledge of the city.
"I'm not sure what they're going to do with us all."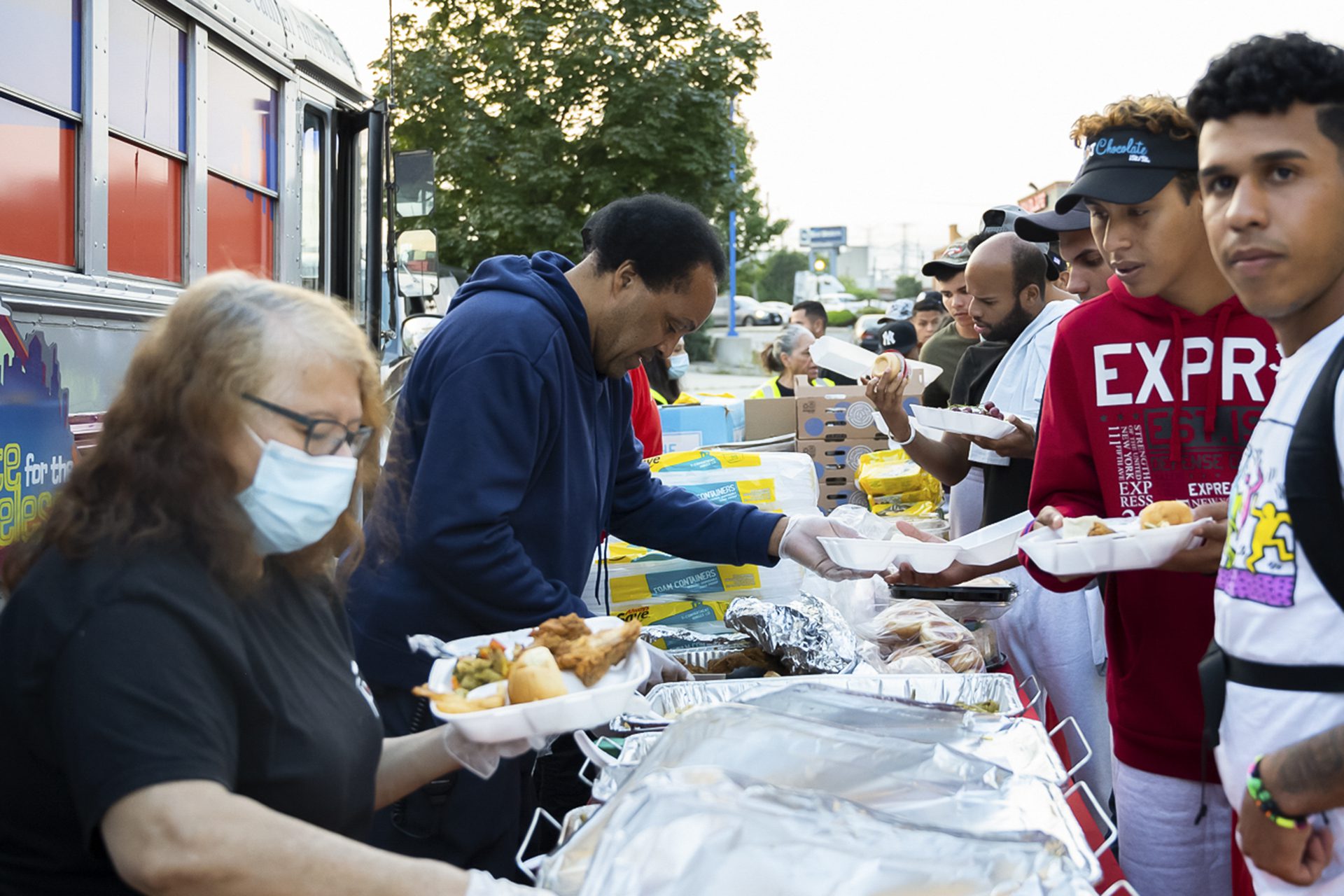 Enrique Reyes/Block Club Chicago
Like many young people, Delwuins has a simple dream: to make money and see the world. Living at a suburban hotel without a car or work permit, Delwuins' options to make money were limited. The 21-year-old is on his own for the first time in his life after being separated from his family at the border. 
"The situation is critical, it's ugly in Venezuela."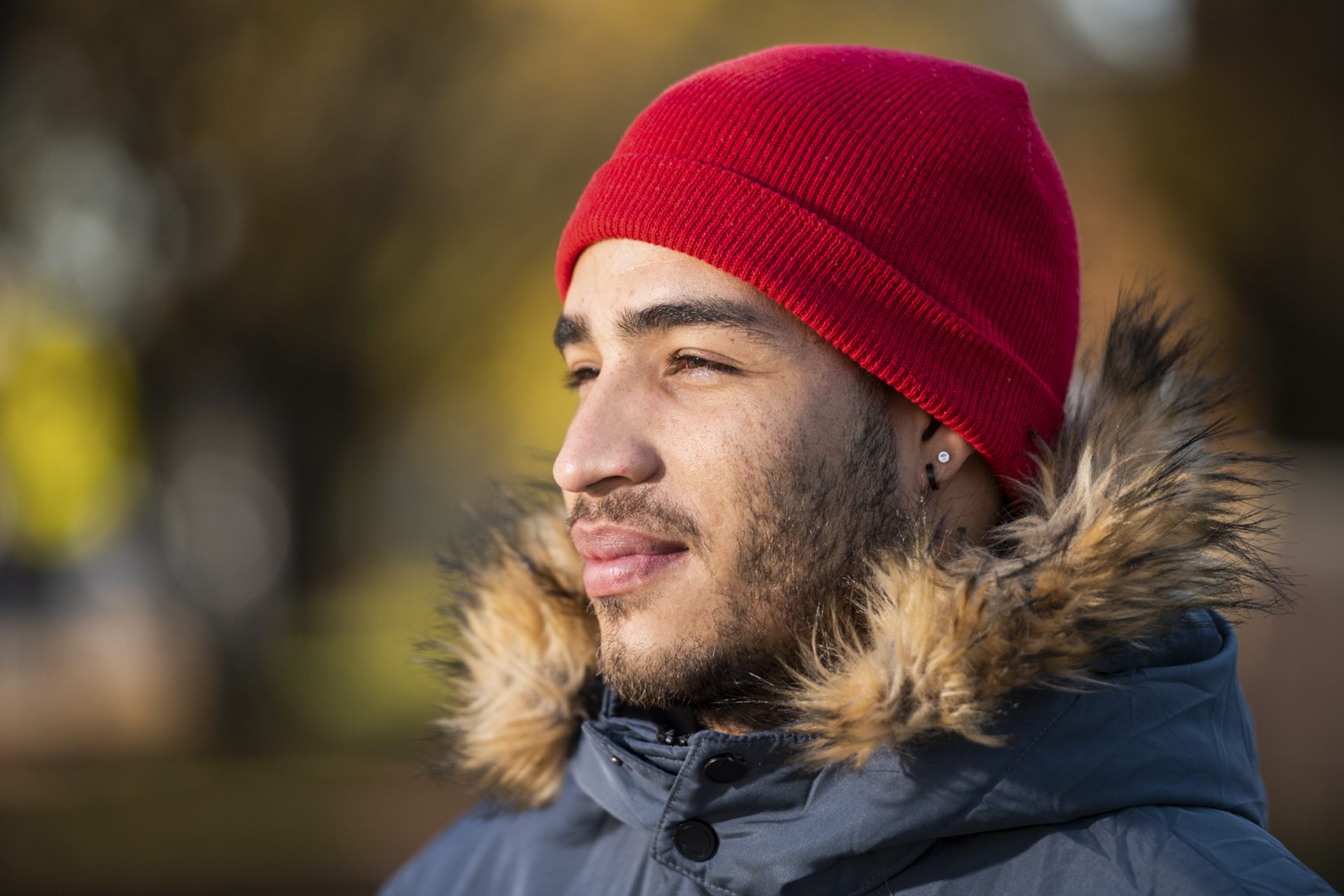 Colin Boyle/Block Club Chicago
Yorvi came to America in search of a better job to support his family. He found friends in Chicago, but he isn't looking forward to Christmas without his 7-year-old daughter.
"Being able to help them from here is the whole reason I came here."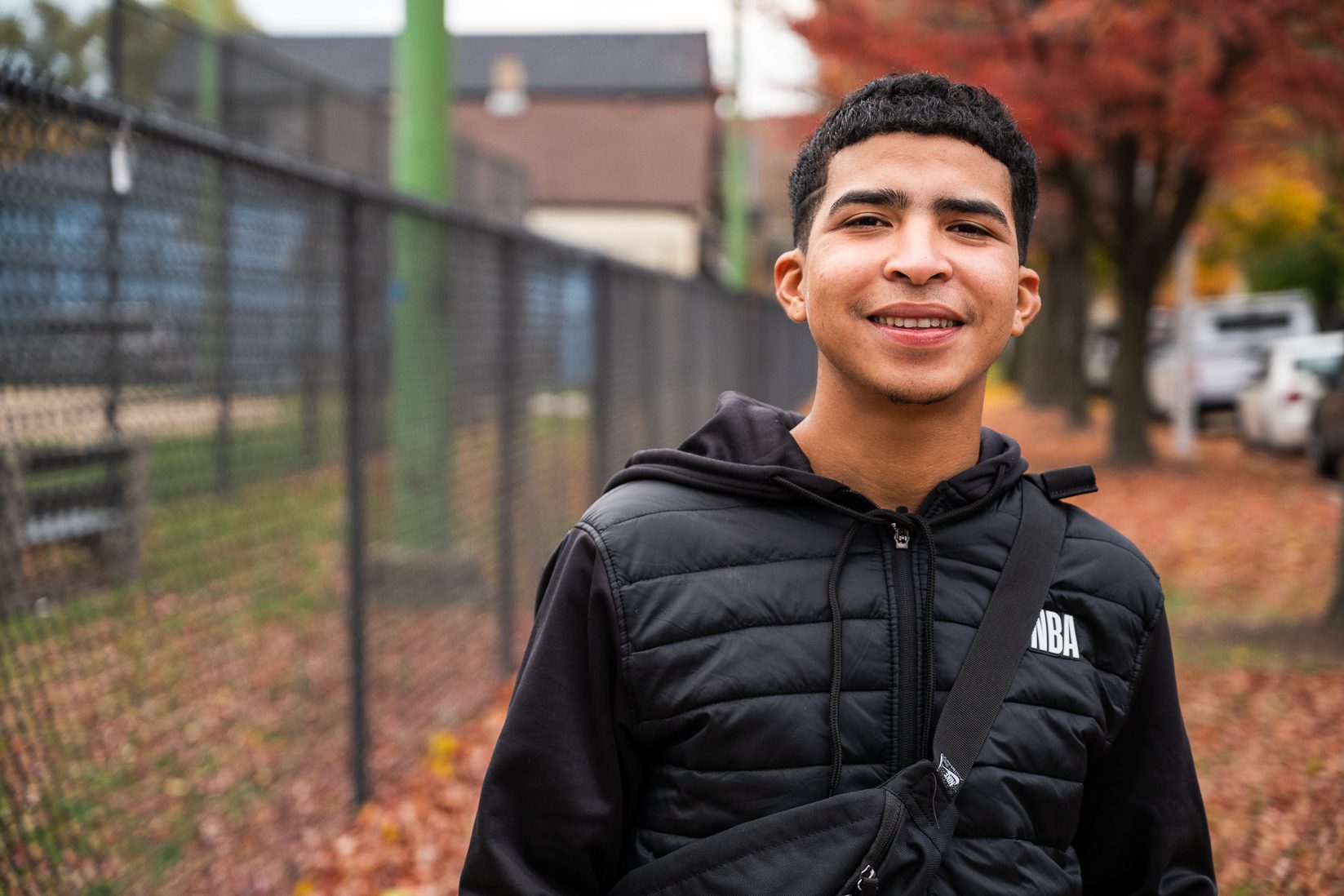 Colin Boyle/Block Club Chicago
Maikel was hopeful about his new life in Chicago. But since he's arrived, he's been stiffed by a job, has struggled to pay off debt from his journey and watched his friend be rushed to the emergency room. Now, he's wondering if he should stay. 
"The United States — I had always dreamed of it."
After the Buses features reporting by Diane Bou Khalil, Colin Boyle, Ambar Colón, Alex V. Hernandez, Jesus J. Montero and Madison Savedra, and it features photography by Jonathan Aguilar, Colin Boyle, Jesus J. Montero and Enrique Reyes. Claudia Hernández translated the final stories into Spanish. Story and visual editing was done by Kelly Bauer, Michelle Kanaar, Stephanie Lulay, Jillian Melero, Nissa Rhee and Dawn Rhodes. Hannah Boufford, Diane Bou Khalil and Melissa Espana planned story engagement. Thanks to the Chicago Headline Club Foundation for supporting this work.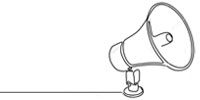 Bring power to immigrant voices!
Our work is made possible thanks to donations from people like you. Support high-quality reporting by making a tax-deductible donation today.