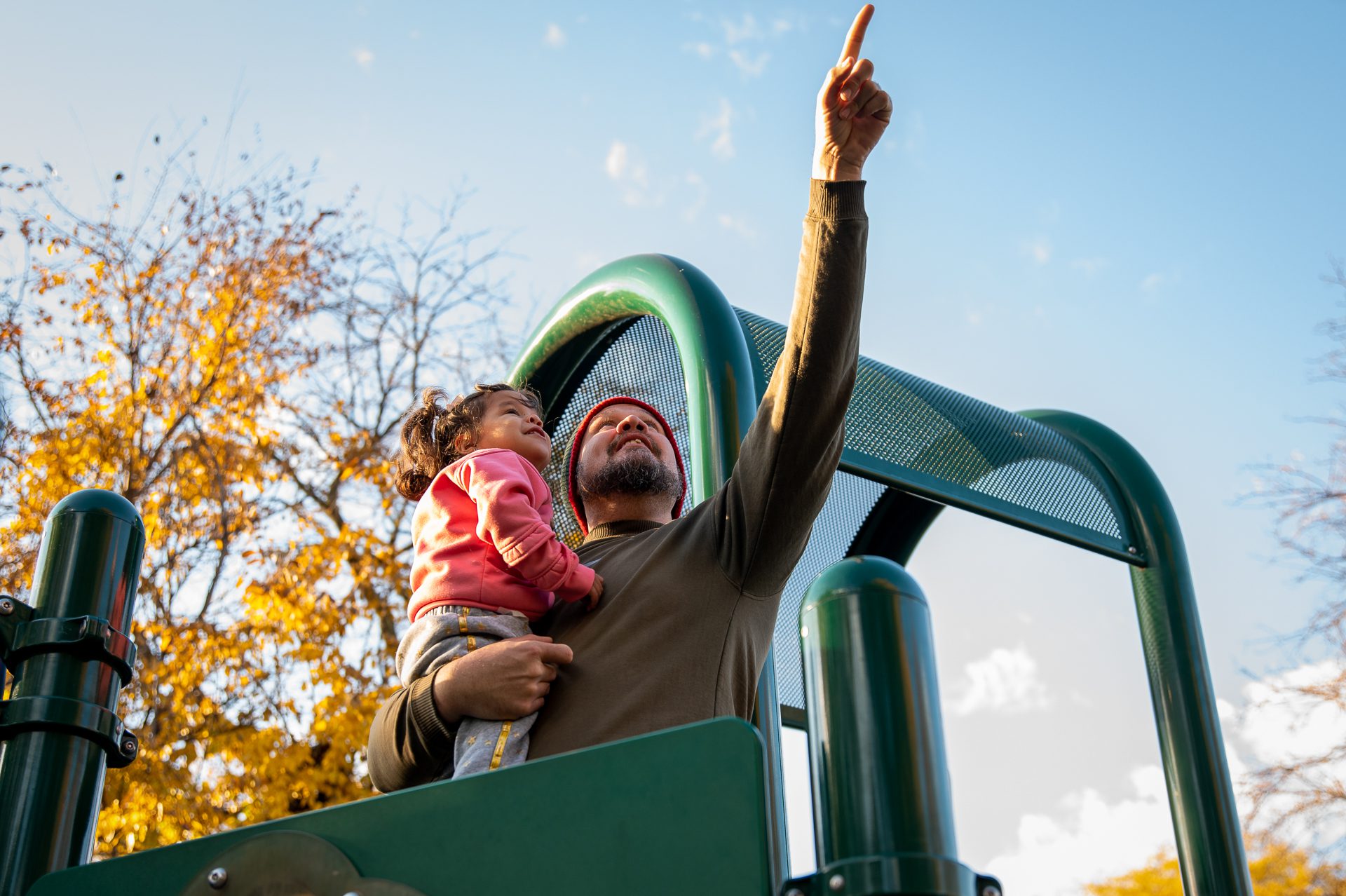 Jonathan Aguilar for Borderless Magazine
Grecia and Tomás Alvarado play on the playground in Portage Park in the Portage Park neighborhood of Chicago, Ill., Sunday, Oct. 23, 2022. Grecia was still being breastfed when the family trekked through the jungle leaving Venezuela behind. Jonathan Aguilar for Borderless Magazine
After years of living as migrants, Tomás Alvarado and Carmen Ollarves are starting over in Chicago with their young daughter.
In After the Buses, Block Club Chicago and Borderless Magazine followed 10 of the thousands of Venezuelan migrants sent to Chicago as part of Texas Gov. Abbott's political stunt this year. Block Club Chicago is a nonprofit newsroom focused on Chicago's neighborhoods; sign up for its daily newsletter. Borderless Magazine is a multilingual nonprofit newsroom reporting on and with Chicago immigrants; sign up for its weekly newsletter.
On a recent Monday morning, Tomás Alvarado and his wife Carmen Ollarves took their 2-year-old daughter Grecia to a playground in Portage Park on Chicago's Northwest Side. They make sure to take her there as often as they can while the weather permits.
Want to receive stories like this in your inbox every week?
Sign up for our free newsletter.

The family arrived at the southern border of the U.S. just a few months ago. But they first left Venezuela in 2018. Despite working three jobs between the two of them in Venezuela, they had barely been able to provide a meal a week for their family. Along with Carmen's brother Luis, the couple traveled to Peru on foot to escape Venezuelan President Nicolás Maduro's authoritarian regime.

Tomás and Carmen still struggled to make ends meet in Peru. Carmen recalls being turned away from employers because of her Venezuelan roots. After four years of struggling to make enough money to buy food and pay for their home, the family decided to leave Peru and attempt to cross into the United States.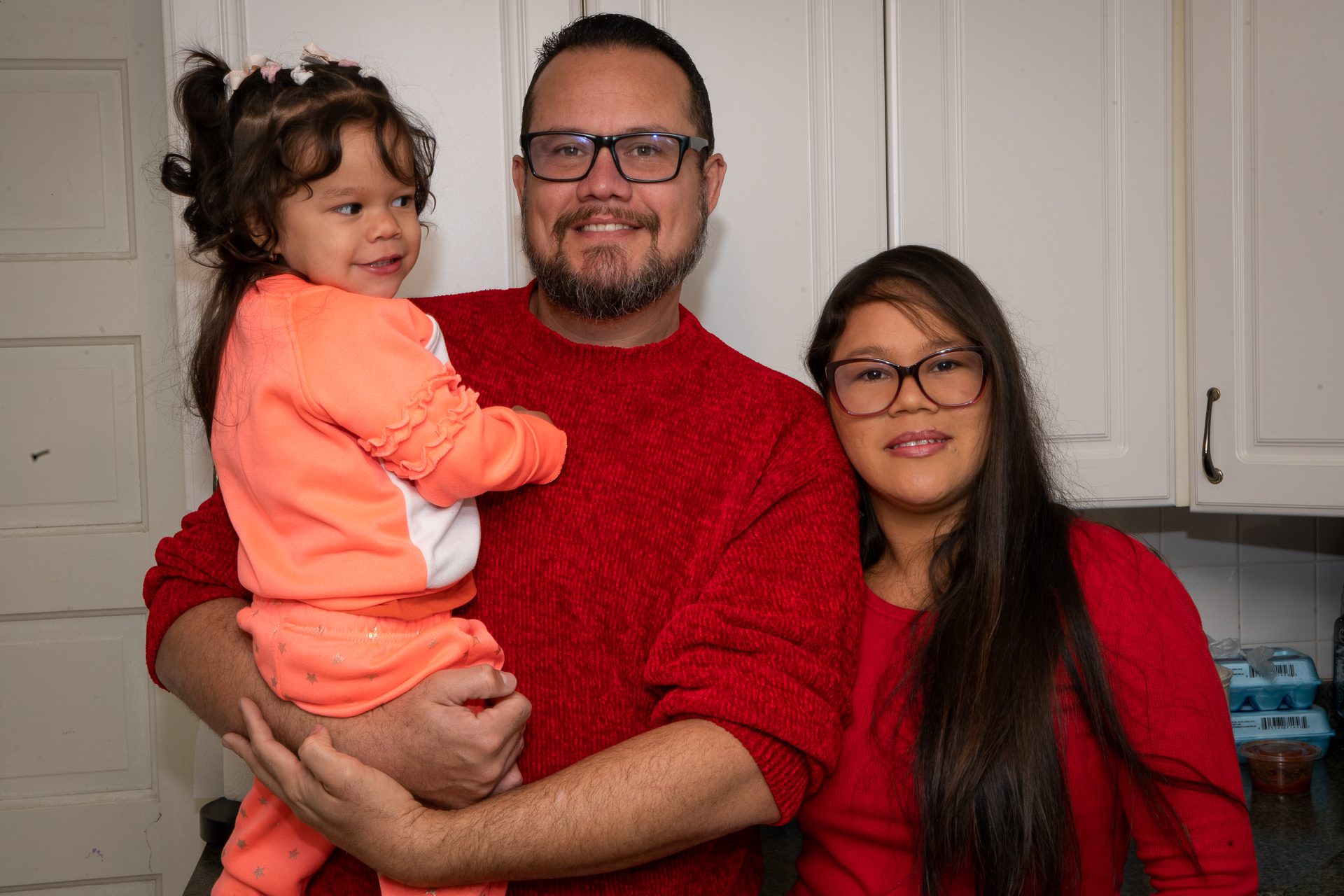 Jonathan Aguilar for Borderless Magazine
When Alvarado and his family walked to El Paso, Texas they were arrested and held by the U.S. Border Patrol for three days. Luis stayed there for three weeks.
The only person they knew in Chicago was an old neighbor from Peru, who had moved to the U.S. years earlier. Armed with her address, they were able to leave immigration detention by telling UNICEF advisors they had sponsors waiting for them in Chicago. Nobody asked them for proof.
A couple of days later, on a Tuesday in August 2022, the three arrived at O'Hare International Airport.
Borderless spoke with the family of three about making ends meet in South America, their journey to Chicago from Peru, and their hopes for the future.
TOMÁS ALVARADO: We met in Caracas. We worked at Locatel, a well-known pharmacy. Carmen was a pharmacy assistant and I was a security assistant. I also worked at Pizza Hut. Carmen and I  met as co-workers and we got to know each other little by little until we started a relationship.
CARMEN OLLARVES: In Venezuela, on our days off, we usually went to the movies when we could, before the situation became critical. When we started our relationship, I lived in Maracay and he in Caracas, about two hours apart. On our days off we traveled to my mother's home in Maracay and we spent all our time there until I moved to Caracas
ALVARADO: Since we worked in a pharmacy, I bought medicines that I didn't need so I could barter for food. We had reached that extreme and that is no way for a person to live.
There came a time when we had to get up early or stay up all night to buy a kilo of rice. It is the reality of many Venezuelans that is why we decided to leave and go to certain countries in Latin America because at that time the United States was an impossibility due to our finances.
OLLARVES: We started the trip to Peru in February 2018. It took 12 days, with my brother, to make the journey between walking and a few rides people gave us. Tomás came later.
It was difficult to find work in Peru. They didn't want Venezuelans there, taking jobs. There were many jobs where my husband didn't get paid, despite working 12 to 14 hours.
ALVARADO: We chose Peru because we thought it might be the best of the worst options. But Peru is starting to have the same issues as Venezuela. Rents are going up in price and the salary remains the same. It's very gradual. Maybe the impact isn't huge, but you start to see it.
So we left, and we went from Peru to Ecuador to Colombia, through the jungle, to come to the United States.
We came with our daughter and my brother-in-law Luis, who had three suitcases. My wife lasted two days in the mountains, barefoot and in her underwear, because the mud ate her clothes. We spent two days in the jungle, one day without eating. We had to eat onions with mayonnaise because that's all we had.
OLLARVES: I was still breastfeeding Grecia at the time. After we got out of the jungle, we went to a camp in Panama and were able to get a meal there.
ALVARADO: Panama, Costa Rica, Nicaragua, we went country by country, and then we finally came to Texas, to the border. Border Patrol then took our data, they told us to throw everything we had away. We kept our clothes on, and Grecia's diapers. Then they took our data.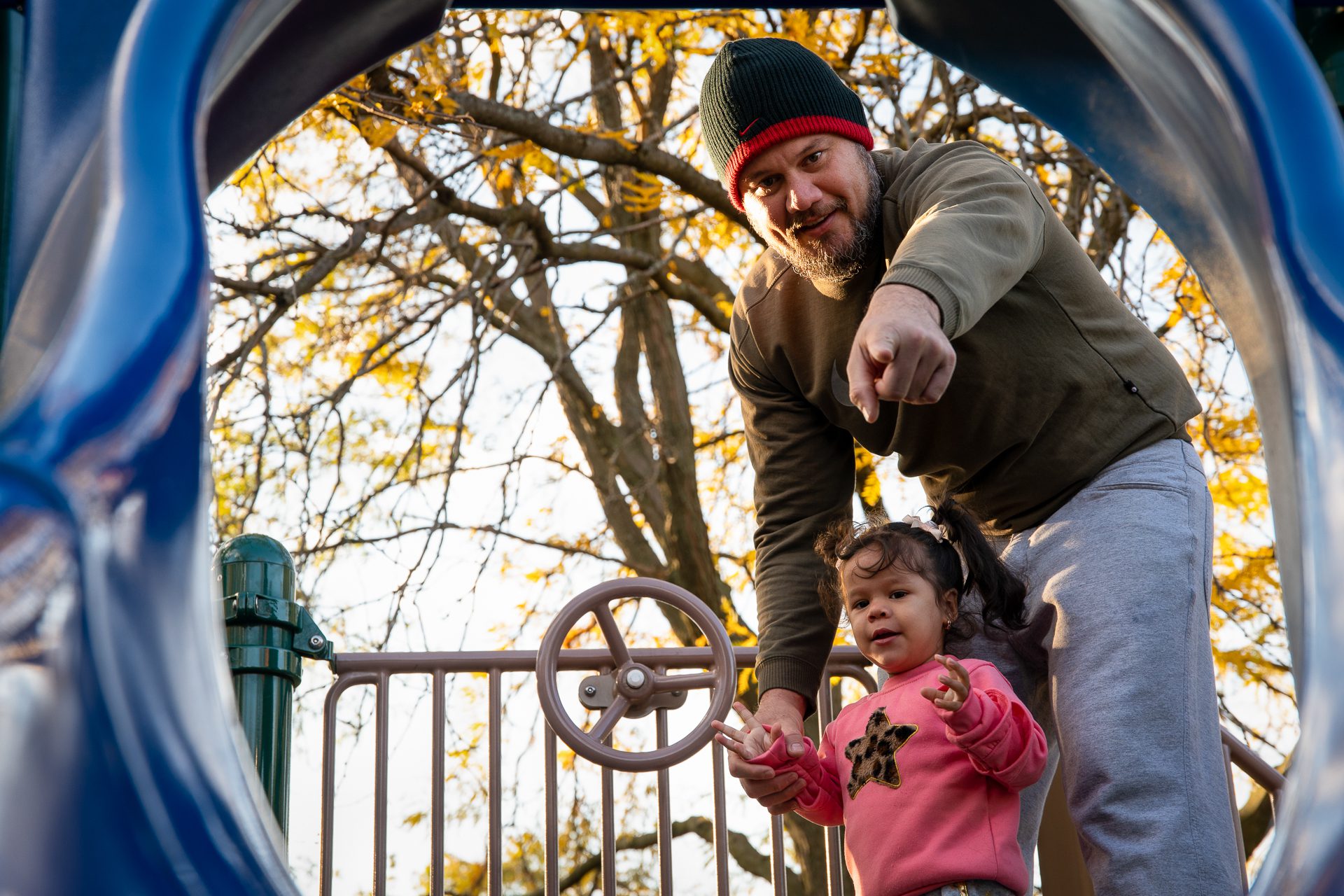 Jonathan Aguilar for Borderless Magazine
OLLARVES: Border Patrol kept our documents and from the border, they took us to El Paso. We turned ourselves in and were there for three days, detained. Luis came along with us, but it took longer for him, about 22 days.
They took us to a place to give us a document that was going to identify us so we could travel to the city we had chosen. After that, they took us to a shelter in Las Cruces, New Mexico.
The shelter verified that we had the money to travel. They did us the favor of taking us to the airport and there was a UNICEF advisor there who helped buy the tickets for us to travel. 
ALVARADO: While Luis was detained in El Paso, he came across other Central Americans there who turned themselves in like us. They had been there for eight months to a year, so he was afraid the same thing was going to happen to him.
OLLARVES: When we were on our way to the U.S. we already had the mentality that we were going to come to Chicago. 
ALVARADO: We chose Chicago because of a neighbor in Peru who came here and was delighted. 
And I, more or less knew of Chicago because of the American movies. I knew Chicago as well as the Trump Tower. Who doesn't know about it? Lake Michigan, Downtown, those things, little things. The history that Chicago had with the mobsters, with Capone, that kind of interesting history. I didn't think about the United States and Chicago compared to other cities.
I think I had heard in a shelter in Panama that Chicago was a city that protected immigrants. I didn't know that, but I had already chosen Chicago.
OLLARVES: After we arrived in Texas and they let us go, we started our trip here.
We lasted three days in the New Mexico shelter, then we turned ourselves in on a Friday and by Tuesday morning we were on our way to Chicago.
ALVARADO: They took us to the airport in El Paso. We had thirty minutes notice and no time to shower.
For now, we're staying in a house that belongs to the boss of one of our old neighbors from Peru. Our neighbor was like our intermediary. She brought us to Chicago.
We have had some issues with the house. The pipes froze and burst. There are holes in the ceiling that we covered with cloth so that it was not visible. We've cleaned it up and the owner of the house saw everything we did and he didn't charge us rent for the first two and a half months.
OLLARVES: Unlike Peru, here I have a bed to sleep in. Thank God I have a place to cook. I have a refrigerator which is small but it still works. In other words, there is a big difference.

We are looking for hospital after hospital to see where our daughter can be treated because of her cough. Grecia already had a very swollen belly from drinking contaminated water during the trip over, because it was either that or die.
We're part of a message group where we share information on resources. But, we need some kind of state ID to use many of those services.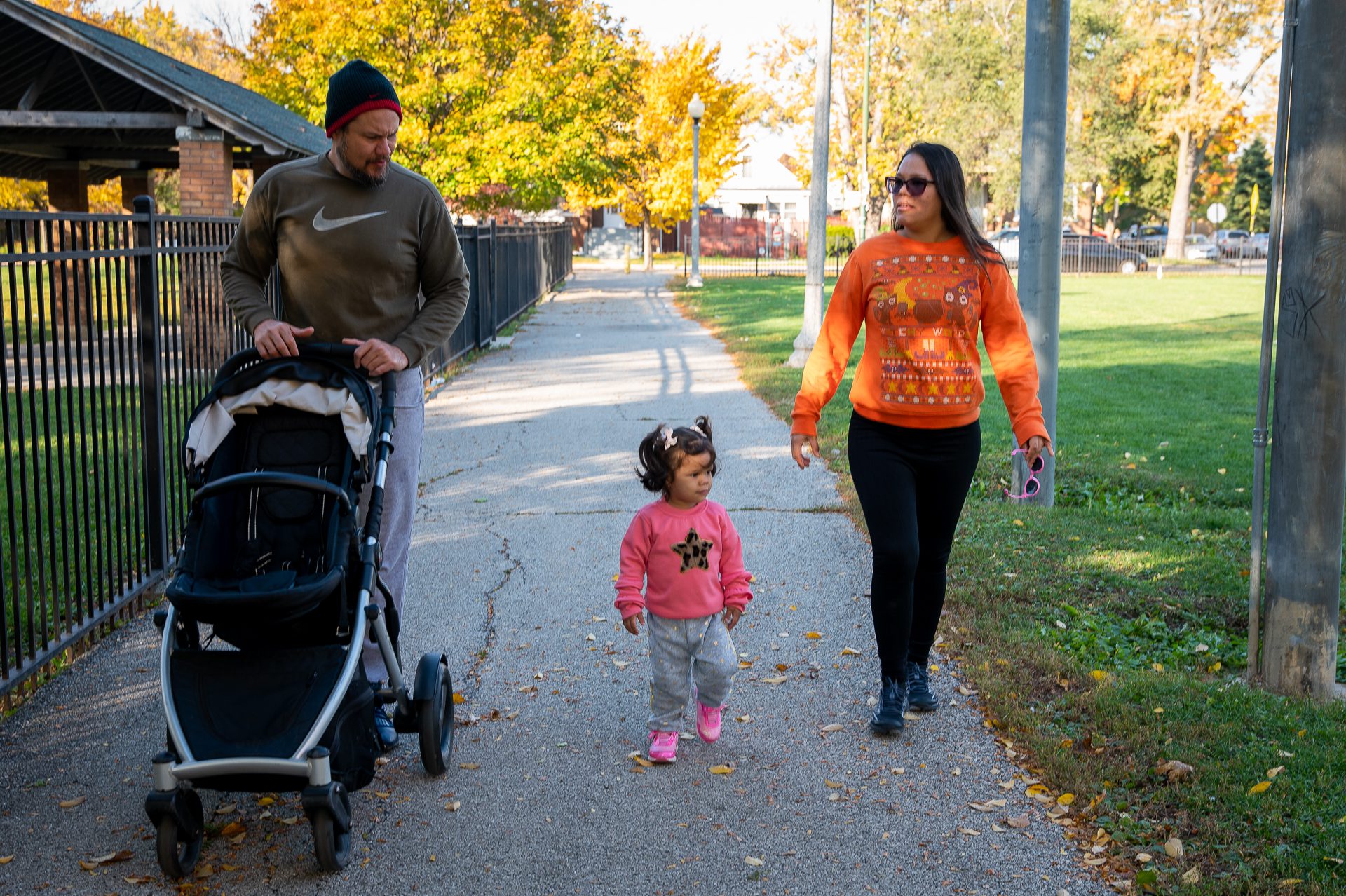 ©Jonathan Aguilar
ALVARADO: We have also been to several hospitals that have told us not to come back, because as "illegals," there are places and shelters to take care of our sick child.
Grecia was recently treated at a hospital in Humboldt Park. Later the bill came to our house with a total of $645.
Since I don't have a work permit, I'm working as a cleaning and construction contractor. I paint houses, I clean up gardens—things that an immigrant without papers can do.
If we had a better income, we could help more. We came not only for us, but for our loved ones who stayed in Venezuela. How can we help them? 
Carmen's mother needs medicines that in Venezuela are either very expensive or not available. So we have been able to send her money. 
We have not had to spend money on clothes, which is something we are very grateful for. 
OLLARVES: Eventually, I'd like to have my own little house, car, puppy … any of those things, because it would be something of my own.
I feel that once I learn English, it will open many doors for me.
Alvarado told Borderless he dreams of becoming a chef and that he would one day love to own a restaurant with his wife. He's looking for steady jobs in kitchens and would like to stay in Chicago. Ollarves recently found work cleaning homes. She hopes to be able to continue her education soon. Alvarado is enrolled in adult night courses through the Polish American Association of Chicago to learn English. The couple both have primary goals of learning English. When he comes home, the three practice their English as much as they can together.
This story was reported with support from the Chicago Headline Club Foundation.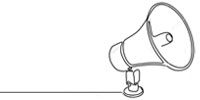 Bring power to immigrant voices!
Our work is made possible thanks to donations from people like you. Support high-quality reporting by making a tax-deductible donation today.