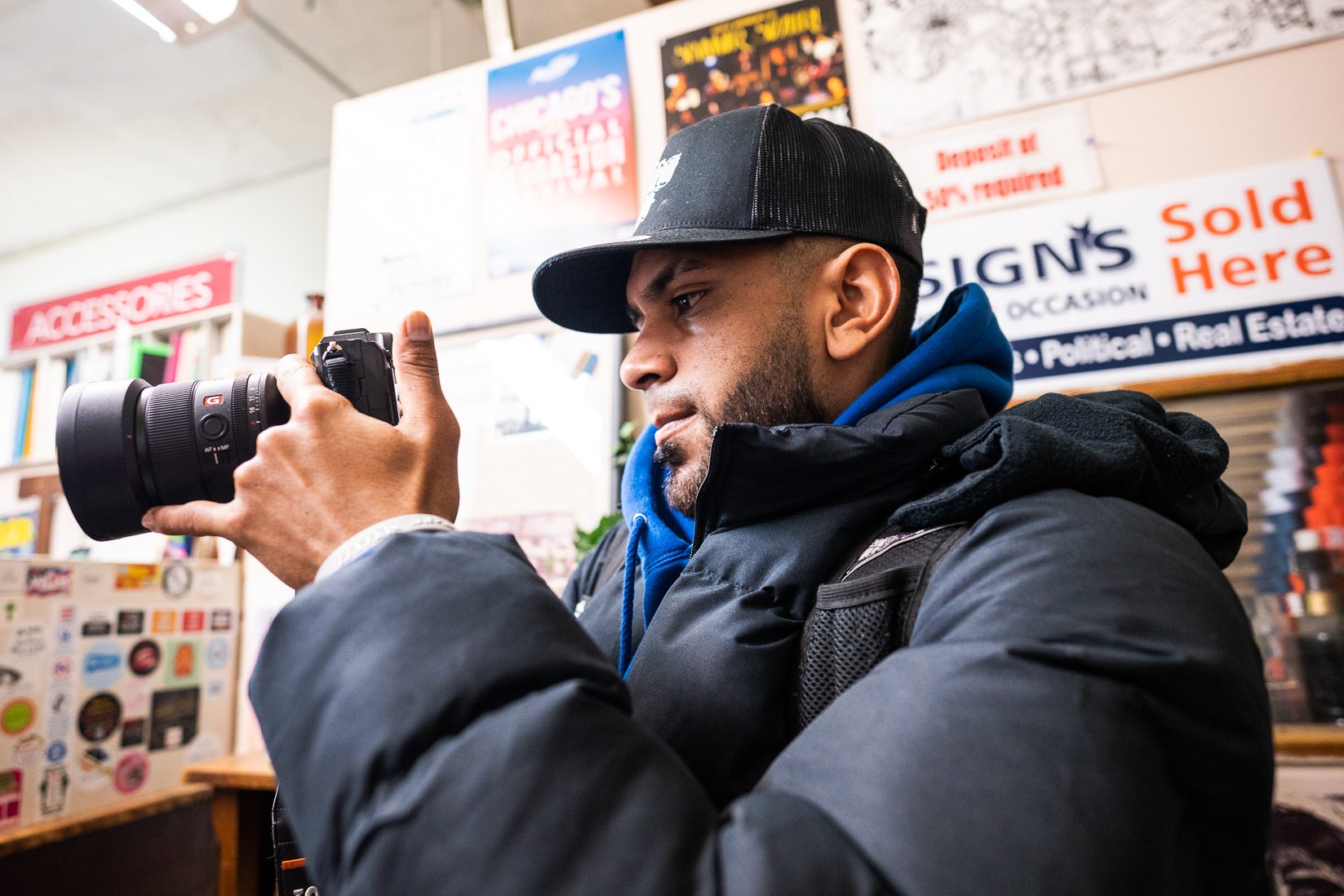 Colin Boyle/Block Club Chicago
Jesus David Lucena Castillo takes photos of The Kid from Pilsen on Nov. 7, 2022.
Jesus David Lucena Castillo has spent more than five years separated from his family. During Día de los Muertos, a friendly encounter changes his course in the city.
In After the Buses, Block Club Chicago and Borderless Magazine followed 10 of the thousands of Venezuelan migrants sent to Chicago as part of Texas Gov. Abbott's political stunt this year. Block Club Chicago is a nonprofit newsroom focused on Chicago's neighborhoods; sign up for its daily newsletter. Borderless Magazine is a multilingual nonprofit newsroom reporting on and with Chicago immigrants; sign up for its weekly newsletter.
PILSEN — Jesus David Lucena Castillo spent Día de los Muertos doing the same thing he's done most days since arriving in Chicago: wandering the streets, looking for work.
"¿Hablas Español?" Castillo asked someone passing by on 18th Street in the city's Pilsen neighborhood, a port of entry for Mexican immigrants. 
Want to receive stories like this in your inbox every week?
Sign up for our free newsletter.

Castillo, 24, is one of thousands of migrants sent here on a bus from Texas under Gov. Greg Abbott's protest of federal immigration policies.
Community activist and photographer The Kid from Pilsen happened to be walking by as Castillo was out searching for a job. The two started talking, and The Kid wracked his brain for ways he could help Castillo.
Then he had an idea: He could pay Castillo to learn photography and be his personal photographer.
Castillo's experience in photography was limited, but he accepted.
Soon, everything clicked.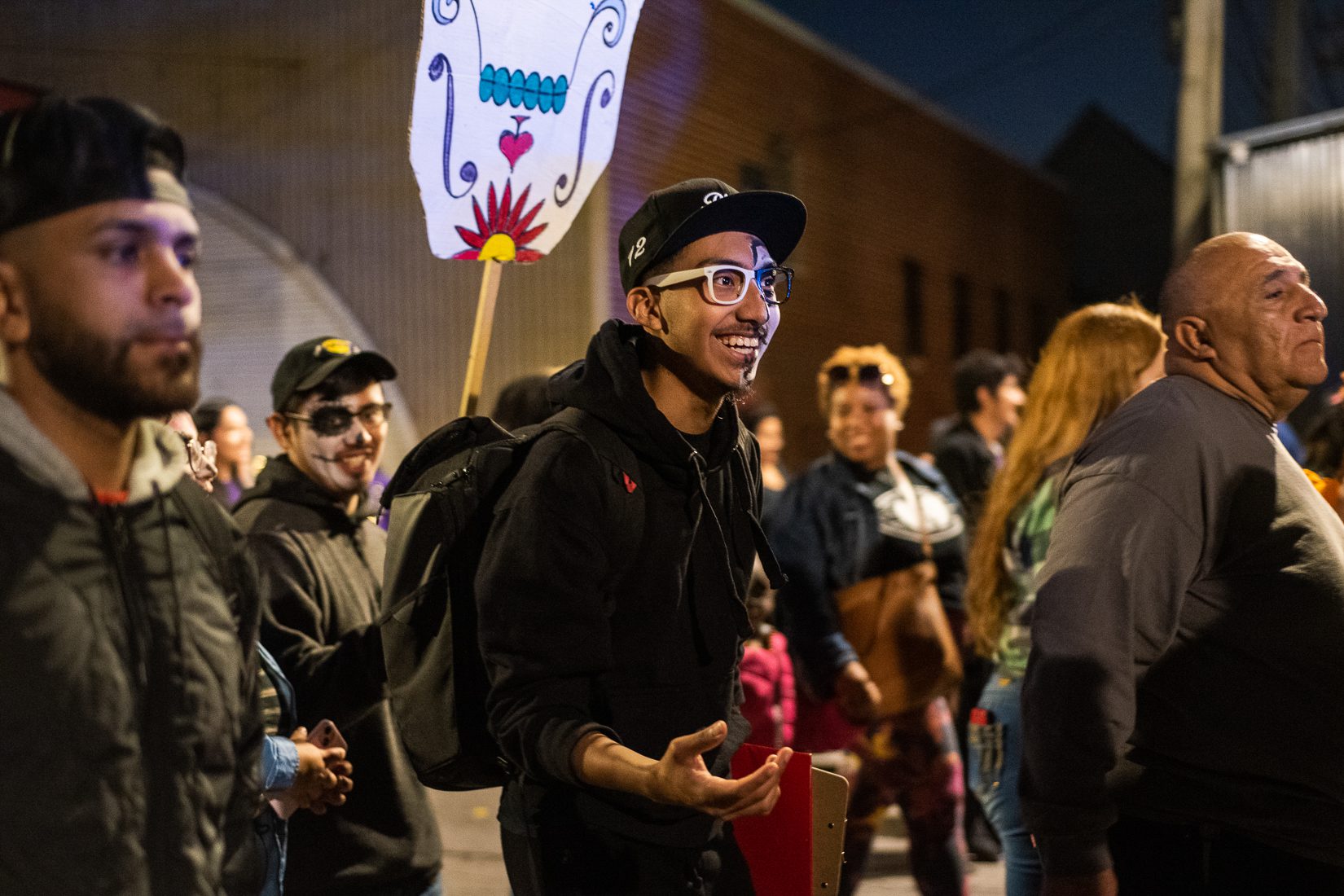 Colin Boyle/Block Club Chicago
'I Crossed Eight Countries Practically With $200'
Born and raised in El Tocuyo, a valley town in the Lara province of Venezuela, Castillo dreamed of being a professional baseball player.
"Baseball was practically the only thing I knew how to do in Venezuela. I trained day and practically at night," Castillo said in Spanish.
Castillo's parents "gave everything" to support his baseball endeavors, even though "they did not have anything to give," he said.
When Castillo got injured, his family couldn't come up with the money needed for medical procedures and physical therapy to get him back on the ball field.
With his life's dreams benched, Castillo moved to Bogotá, Colombia, where he worked in construction, delivered packages on his motorcycle and bartended to support his family back home.
"It has not been easy for me, but I know that everything has a purpose in this life, and I know that doors will open," he said.
After five years in Colombia, Castillo still wasn't earning enough to support himself or his family in Venezuela. His 6-year-old daughter has health problems and needs medical attention, he said. 
"It's been years – five years … without being able to hug them, without being able to be with them," he said. To Castillo, his daughter is his "life."
Castillo set out to work in the United States. This summer, he and eight friends began their journey to the Mexico/United States border, he said.
"I made the decision with some friends to leave for here without money, without anything. I crossed eight countries practically with $200, it was the only thing that was in my pocket," he said.
During the journey, Castillo's group came across a young, injured girl in the Darién Gap, a treacherous jungle between Colombia and Panama. Castillo stopped to help her, but his friends abandoned him, he said.
"I had no food or money – and I never thought I would go through that. But I practically ate garbage at night," Castillo said, pausing as tears welled in his eyes. "Even at night, I cried alone because I had no company or anything, but that's all there was to it. And I know that those moments make me very strong now to not give up, to keep fighting for what I want."
Castillo continued on through tough conditions and heavy rainfall; he was always drenched, he said. Without a tent, he slept on the riverbank. He ran out of food, then the water swept away the little bit of clothes and cargo he had left, he said. 
"The river rose and took everything, everything, everything, everything. It was something tremendous because it seemed like a movie," Castillo said.
When he could communicate with his parents, he didn't tell them of the hardships because he "didn't want to worry them," he said.
"Even though they don't know my story, they are very proud of me," he said. "I am here because of God's will. I know that everything I went through, God was watching over me and that's why I was getting up every day."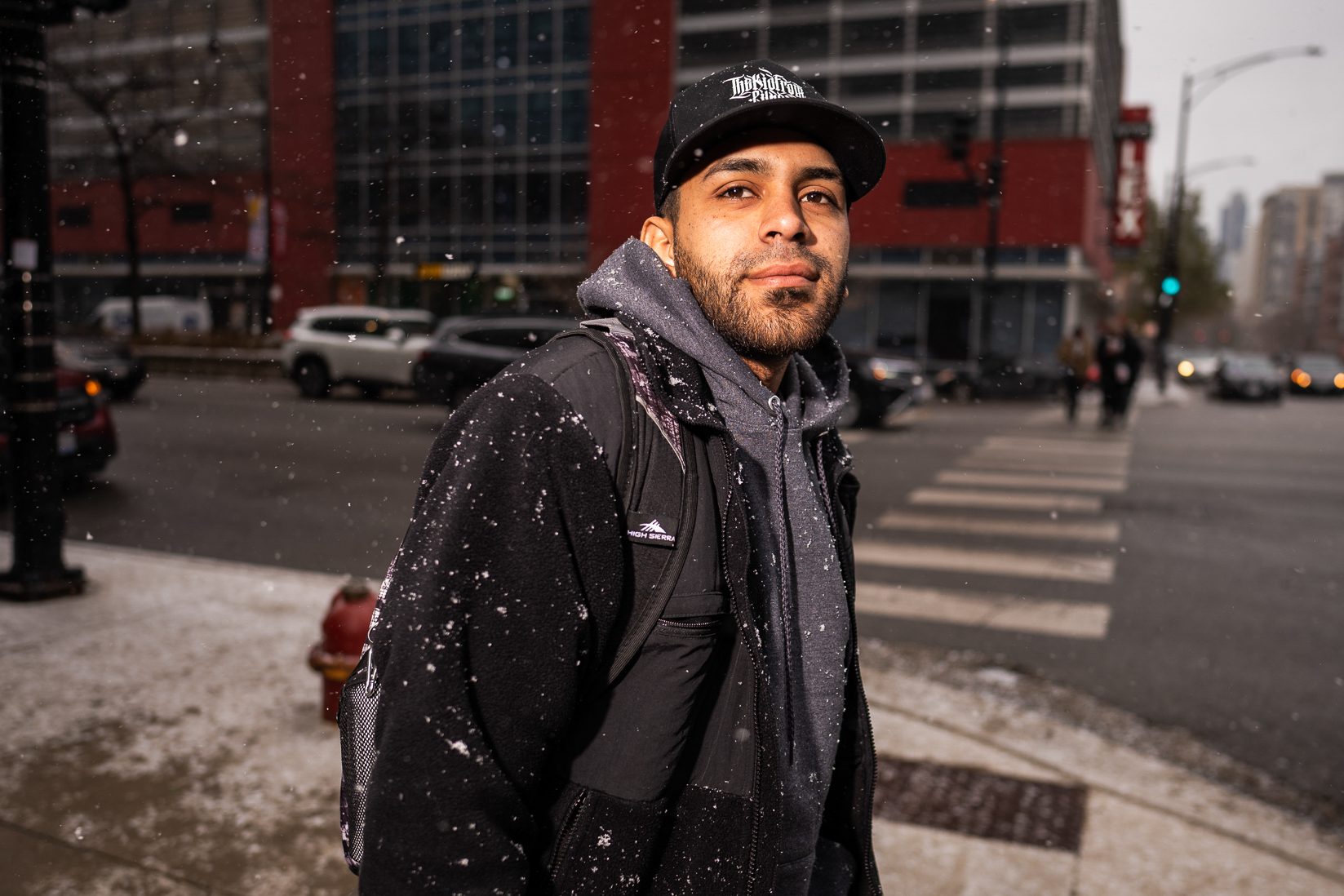 Colin Boyle/Block Club Chicago
After two months, Castillo made it to the United States-Mexico border Sept. 10, he said. 
He planned to join a friend in Miami, but without any money, his only option was to take one of the buses Abbott ordered. Its destination: Chicago.
"I … thought a lot, and I said, 'Well, there are a lot of sports there. There are two major league baseball teams,'" Castillo said.
Castillo reconnected with the girl he helped along the journey online. She also made it across the border and is living near Washington, he said.
'I Was Simply Just Asking About A Job. And He Offered Me His Hand'
The Kid from Pilsen's heart was full on Día de los Muertos, as the holiday meant he would be able to honor friends lost to gun violence in Chicago.
He sat Castillo down to show him a photography documentary, subtitled in Spanish,  and his own Sony camera.
The Kid got Castillo a fresh haircut, introduced him to his favorite Chicago foods and shared his passion for photography with his new friend.
Castillo said he's a very quiet person — but he's changed since he first held the camera.
"I like it when I put the camera on my shoulder. I feel different, like I'm someone else, [someone] bigger," Castillo said.
On the second day of Día de los Muertos, Castillo photographed The Kid circulating petitions at the Muertos de la Risa procession in Pilsen.
"He's a natural at it," The Kid said.
Soon, Castillo incorporated different angles into his photography and developed an eye for documenting key moments.
Castillo is four years older than The Kid and their friendship has grown quickly, they said. They've shared lessons with each other, whether it's a new word in a foreign language or adding hot chips to a sandwich enhances the flavor.
"In a moment of desperation, I was simply just asking about a job," Castillo said. "And he offered me his hand. Already more than a friend, he is practically becoming a brother."
"I saw my dad in him – same eyes," The Kid said. "He was telling me about the river and I'm like, 'Man, my dad went through the exact same thing.' [He's taught me] that I can be more open-hearted, that I can make friends, that I can be open to different perspectives."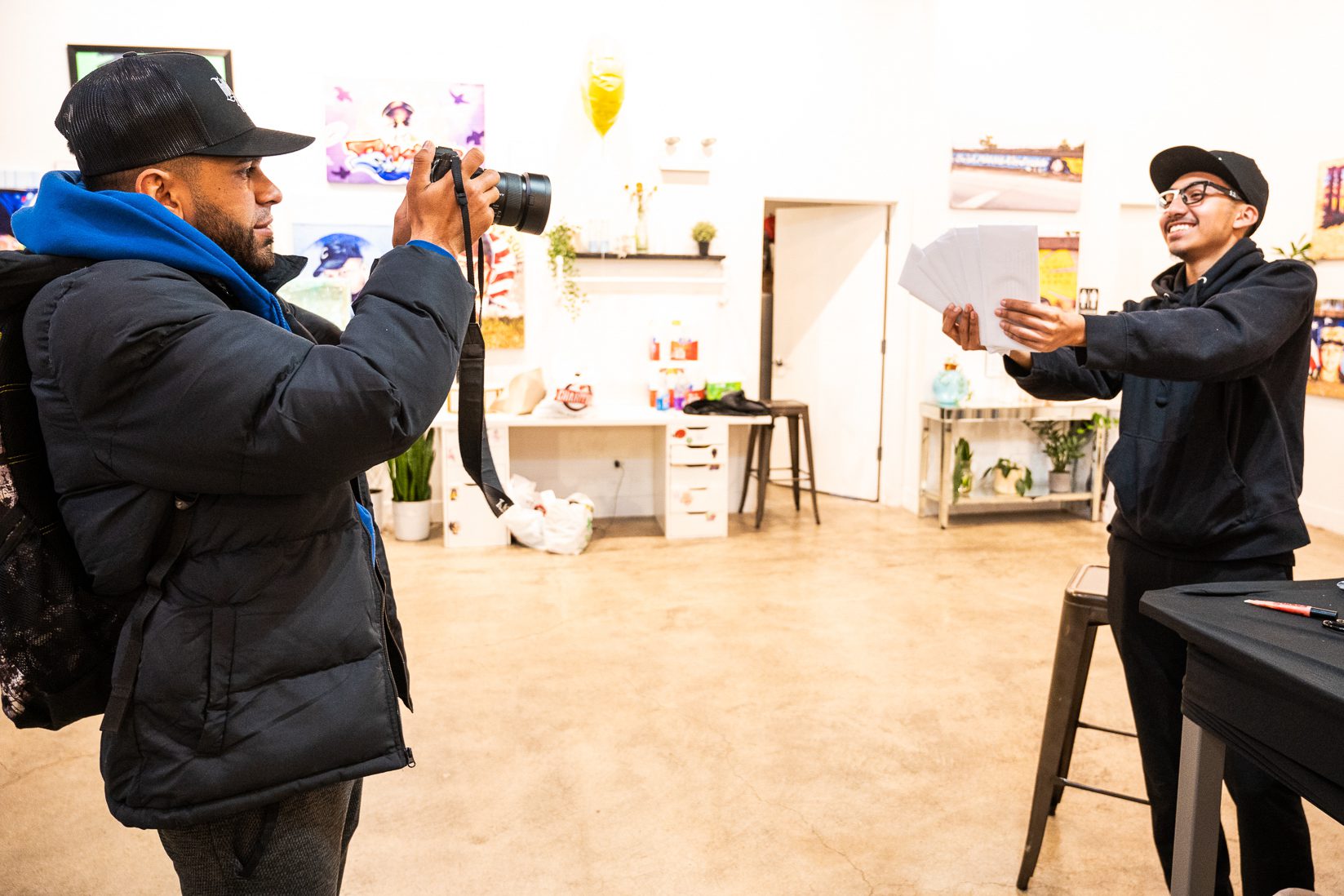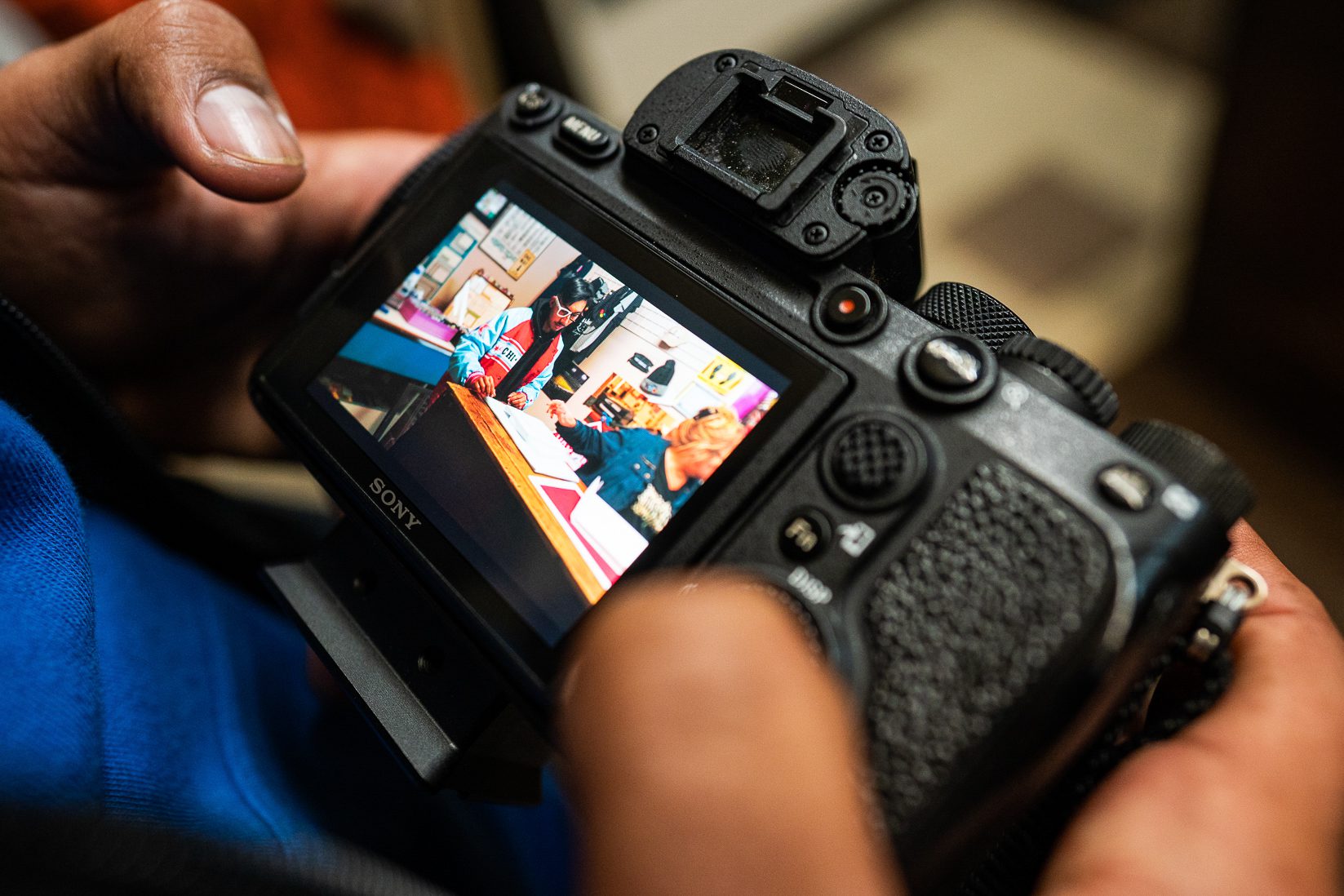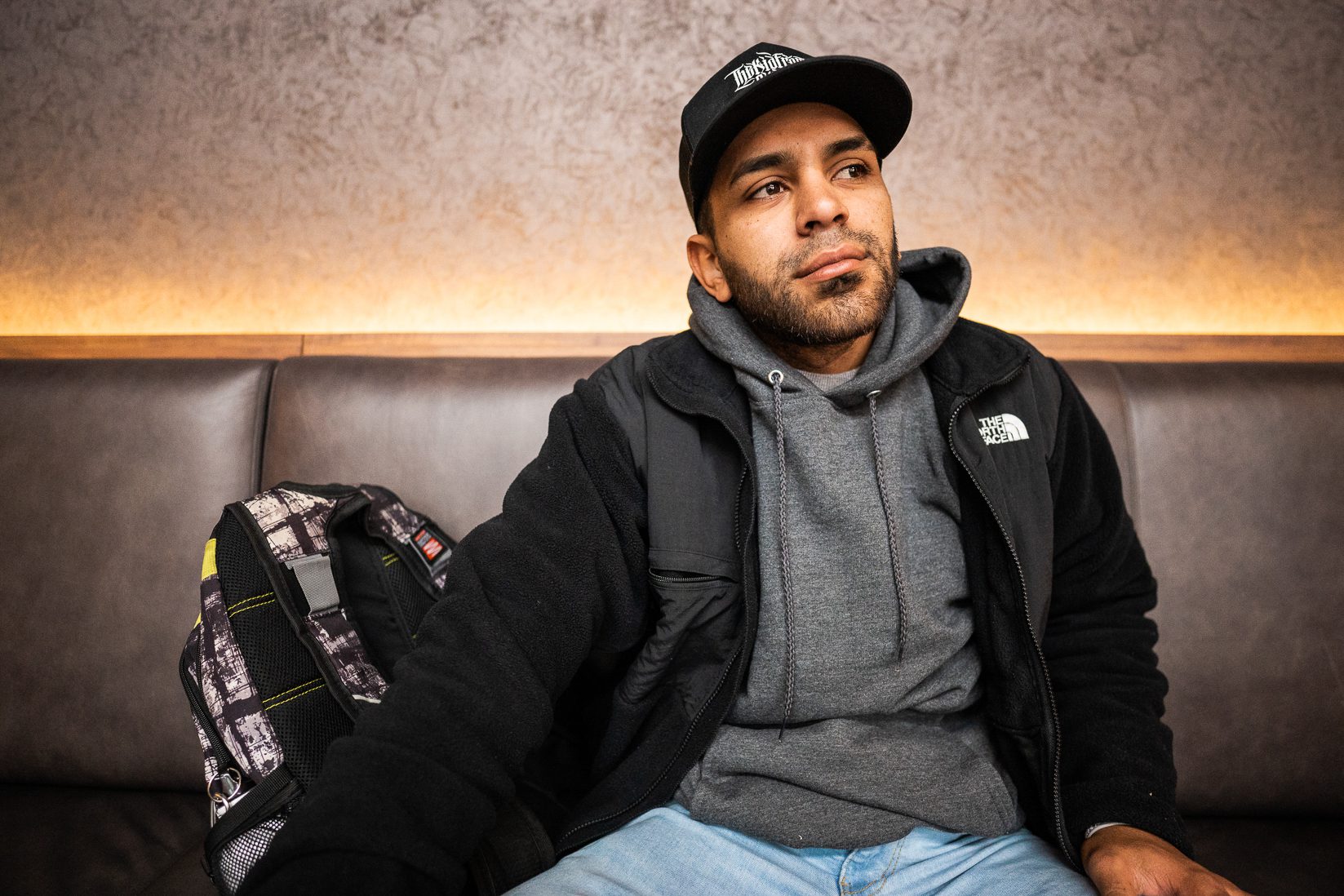 Colin Boyle/Block Club Chicago
Photography has drastically changed Castillo's outlook on life as he adjusts to the United States, and it has shifted his focus amid the tribulations of being a migrant in a new country.
"I leave the shelter with problems," he said. "But … I put the camera on and everything changes, everything becomes different.
"I never thought about this or photo shooting, but it's something … that I'm falling in love [with]."
Despite the difficulties he's faced to date, Castillo hopes he can fulfill his dream of reuniting with his family after years of separation.
"I want to be with them the most, so that they see me overcome," he said.​​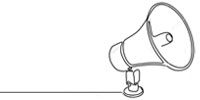 Bring power to immigrant voices!
Our work is made possible thanks to donations from people like you. Support high-quality reporting by making a tax-deductible donation today.