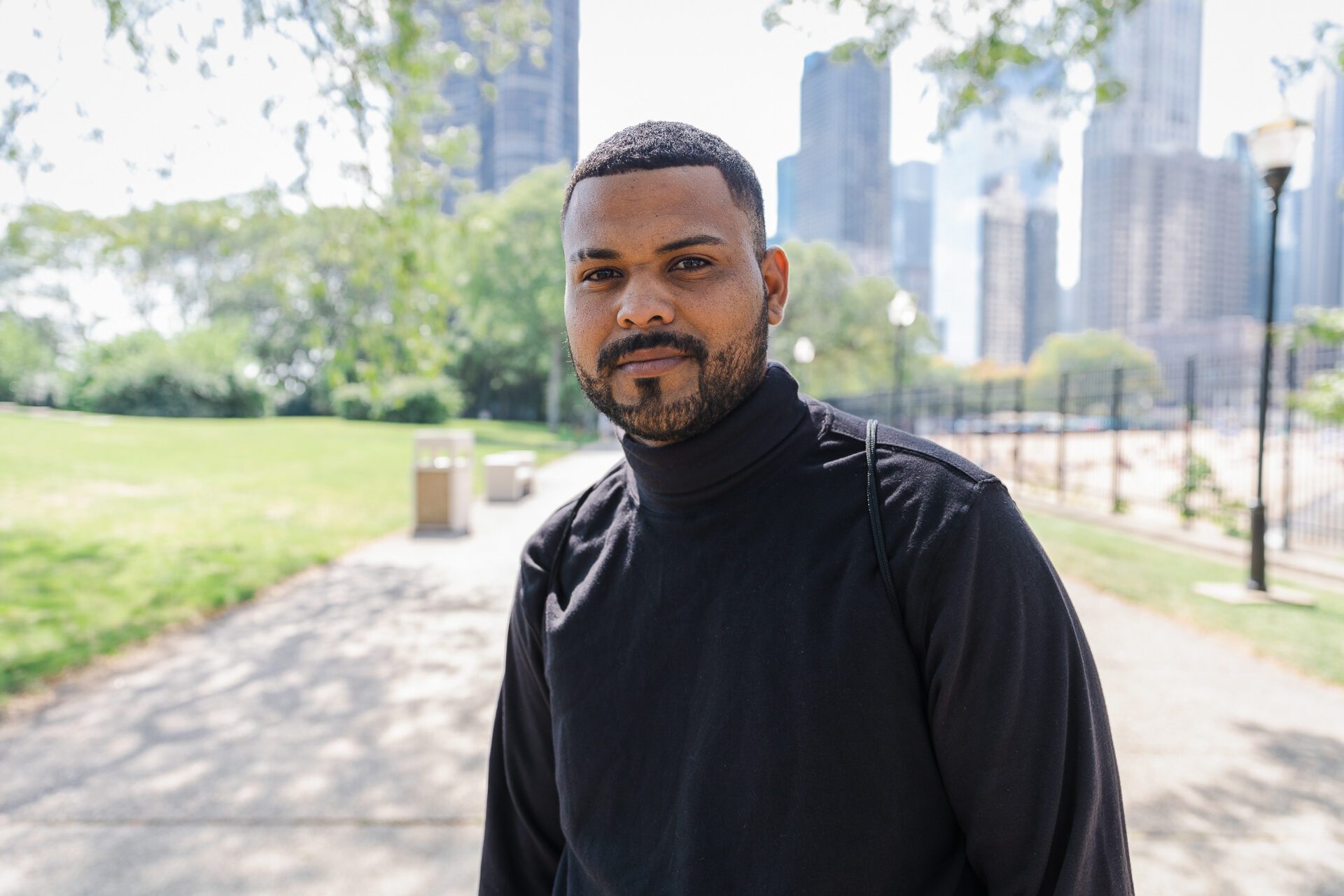 Jesus J. Montero for Borderless Magazine
Denis "Omar" Covis at Olive Park Woodland in Chicago, Ill., Sept. 27, 2022. Covis explored Chicago for the first time since he arrived in Chicago on Sept. 7, 2022. He and other migrants walked for over an hour to get to Lake Michigan.
Denis "Omar" Covis traveled over 3,000 miles to find a job that would support his pregnant wife and children.
In After the Buses, Block Club Chicago and Borderless Magazine followed 10 of the thousands of Venezuelan migrants sent to Chicago as part of Texas Gov. Abbott's political stunt this year. Block Club Chicago is a nonprofit newsroom focused on Chicago's neighborhoods; sign up for its daily newsletter. Borderless Magazine is a multilingual nonprofit newsroom reporting on and with Chicago immigrants; sign up for its weekly newsletter.
From a shelter on the West Side of Chicago, Denis "Omar" Covis nervously awaited the birth of his daughter in Venezuela this fall. Nearly three thousand miles away, the 26-year-old viewed things like baby showers and his children's first day of school on his phone. He says being away from his children and pregnant wife was not his choice, however. It was a necessity.
Covis came to Chicago in September, bused against his will from Texas after leaving Venezuela. He made the journey mainly on foot, walking through the burning sun, high altitudes, freezing conditions, shallow rivers, dangerous jungles, and steep mountains.
Want to receive stories like this in your inbox every week?
Sign up for our free newsletter.

Like many others, he left his home for a chance at a better life. 
Since 2014, over 7 million Venezuelans have fled their country to nearby Latin America and Caribbean countries. Spurred by violence and medicine and food shortages, an increasingly large number of Venezuelans have been coming to the United States as well in the last two years.
Covis says he came to the U.S. to provide for his expecting wife, three children and his parents. Back home and living paycheck to paycheck, Covis wasn't able to provide basic needs for his family and he hopes for better job opportunities here. 
Covis told Borderless Magazine why he had to leave Venezuela and what he hopes to accomplish now that he's in Chicago.
I was born in the state of Falcón in Venezuela. It's a coastal area filled with beaches. I went to school but could only finish elementary school. I had to start working at a young age to provide for my family. I'm 26 years old and still work to provide for them. 
Growing up, I received some government aid through a boxing scholarship. But as the Venezuelan government started to collapse, any funds that were going toward sports were taken away.
I had my firstborn with my first wife when I was 18 years old. I loved my family. 
Jesus J. Montero for Borderless Magazine
Unfortunately, my first daughter passed away when she was just three years old. She was sick. She had a medical condition and I couldn't afford to provide for her medical needs. I have her name tattooed across my arm. It's a reminder to never forget. My relationship with my first wife didn't last after the death of my firstborn. So I returned to Venezuela.
Back in Venezuela I worked as a cook on the weekends to provide for my parents. That's where I met my current wife. We've been together for seven years and we're about to have our third child. I came here to provide a better future for them, with hopes to find work doing anything. I recently found jobs in construction. I'll do whatever it takes in this country to bring my family here and take care of them. 
At first, I took my wife and kids to Ecuador. I had a friend over there in Ecuador that offered me a job. It wasn't good pay and the promised job didn't last long. We were able to survive, but  living in Ecuador was still very rough. My kids would cry out to me saying they wanted things that I couldn't give them. Or they cried over not having anything to eat. It was hard to find a job, to earn an income and to pay the rent. 
I was tired of not being able to provide for them. So when I learned about the Darien Gap and how Venezuelans were crossing into the U.S., I decided to go, too. It took me three months.
I took a bus from Ecuador to Colombia's border, another bus to Medellín, and a third bus to Necoclí, a place that leads to another island, Capurgana, Colombia.
I met a mother in the jungles of Peru who was traveling by herself and her ten-year-old daughter. I would carry the daughter on my shoulders and arms on and off for over three days. I carried her all the way to Panama. 
There's a lot of mountains and rivers in Panama. Everywhere you go, there's a lot of mountains and rivers. Those were difficult days.
Going through the rivers of Peru, the 10-year-old girl would cry and cry in my arms. The river was high and the stream was going fast. We even fell together with her in my arms. I remember I hit the ground of the river hard but I made sure she wasn't hurt. 
When we arrived in Panama, I didn't have any more money, so I began walking. We walked in Panama's jungle for three days. We followed our coyote and other groups on this journey. 
In my group, there were 60 people from Haiti, the Dominican Republic and Cuba. Only 59 people made it to the refugee center. One person died in the jungle. He died while we were going up a mountain. I saw that he was panicking and had a heart attack. I saw it all. I knew I needed to keep moving forward and get out of there. 
I didn't want to die. I have kids. All I could think about were my kids.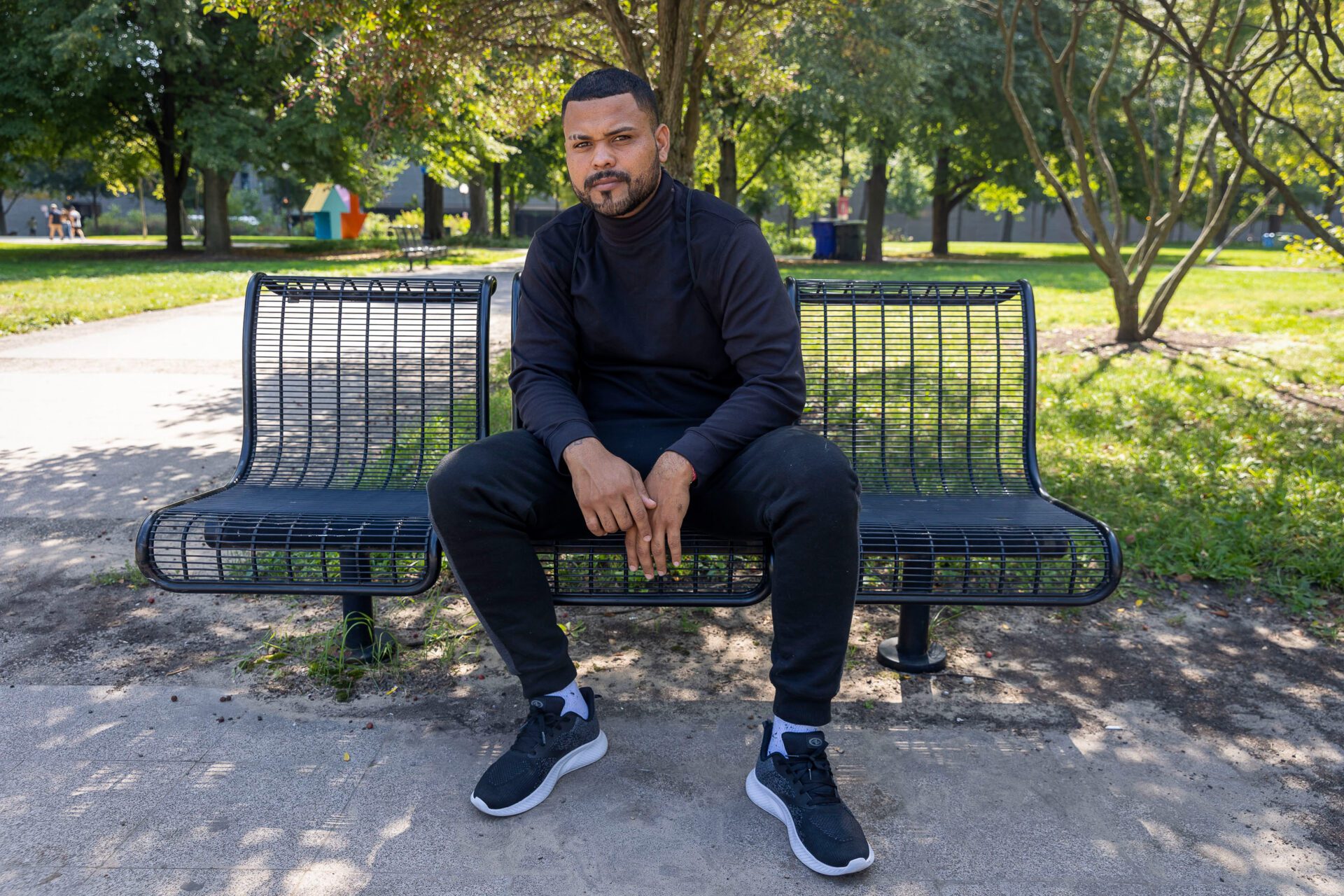 Jesus J. Montero for Borderless Magazine
Surviving on foot in the jungle was the hardest. 
I ate a lot of canned food. But there was a day in which I walked so much that I just couldn't move anymore because I was exhausted. The food weighed me down, I had to eat what I could and leave the rest.  
I eventually went hungry, I starved for two days. I drank water from the river, and by the end when I left Panama my stomach ached because the water was dirty. I didn't see the mother or her daughter who I helped through the rivers and mountains after we left Panama. 
My feet were so swollen by then that when I sat down I couldn't stand up after. When it was hot, I couldn't walk. When it was cold my body hurt down to my bones. 
When I arrived in Mexico we were detained by immigration police. After we were released, we continued walking for two nights and two days straight. Then they detained me again for eight days. They wanted to send me back to Guatemala. They took everything I had on me. I thought my journey was over. I had to cross rivers to get through Mexico. I swam while immigration officers were chasing me. I thank God that I was able to make it here alive after crossing Rio Bravo. 
Eventually, I was able to make it to Texas where I was detained by immigration authorities once more for two days. Then they released me with a temporary permit to be able to stay there. I asked to go to New York, but they put me on a bus to Chicago, and here I stayed. 
My journey to the U.S took me through nine different countries. I thank God every day I made it. 
Faith is the last thing you lose and I know God gives us a lot of opportunities. While I'm alive, I'll persevere.
Since Covis first spoke with Borderless, his daughter was born with complications. He is working to help pay for surgery for his wife who remains in Venezuela.
This story was reported with support from the Chicago Headline Club Foundation.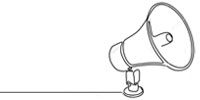 Bring power to immigrant voices!
Our work is made possible thanks to donations from people like you. Support high-quality reporting by making a tax-deductible donation today.