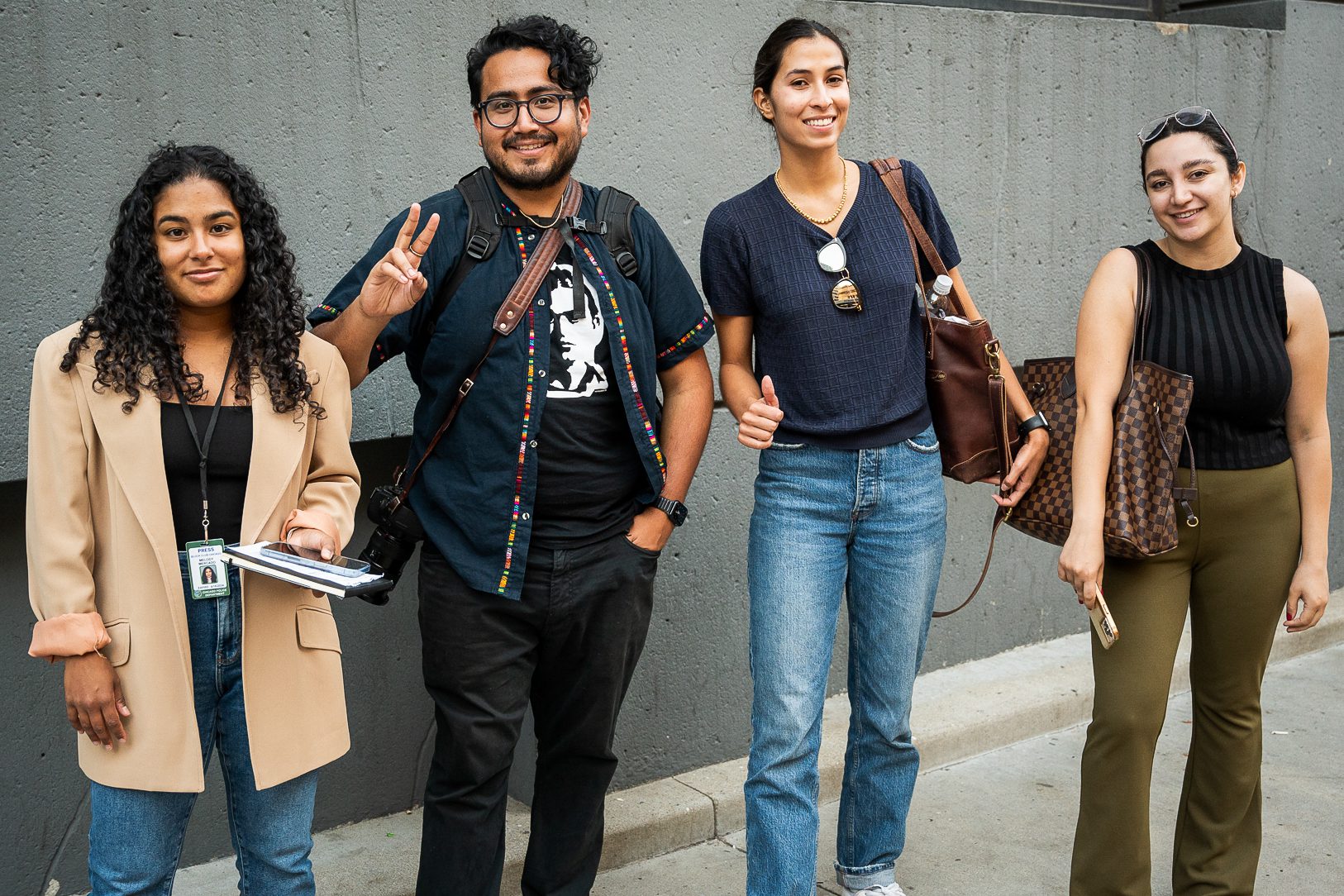 Colin Boyle/Block Club Chicago
Block Club Chicago and Borderless Magazine reporters Melody Mercado, Jesus J. Montero, Madison Savedra and Diane Bou Khalil waiting for buses with migrants arriving from Texas outside Union Station in Chicago, Ill., Sept. 7, 2022.
Why we worked on these stories, how our collaboration with Block Club Chicago came together and what we learned.
Last week we published our series, After the Buses, a three-month-long project where Borderless Magazine and Block Club Chicago reporters followed 10 out of the more than 3,700 migrants who arrived in Chicago from Texas as part of Texas' Operation Lone Star campaign.
This series emerged from months of interviews and conversations with migrants, lawyers and community organizers. Our goal with After the Buses was to help Chicagoans better understand the condition and needs of recently arrived migrants.
Want to receive stories like this in your inbox every week?
Sign up for our free newsletter.

In late August, Texas Gov. Greg Abbott began putting people who had arrived at the U.S. border onto buses and sending them to Democrat-led cities in an effort to pressure the federal government to enact stricter immigration restrictions. From early on, Borderless journalists camped out at Union Station in Chicago, where some of those people were sent, alongside other reporters and community organizers.
Both Block Club Chicago and Borderless were reporting on this at the same time and in the same place, so we decided to collaborate and report more contextual stories that would highlight the realities migrants were facing after arriving in Chicago. We were concerned that most of the media would stop covering the migrants after a few weeks, and we wanted to go beyond the headlines and follow migrants long after the news cycle had moved on.
Jesus J. Montero for Borderless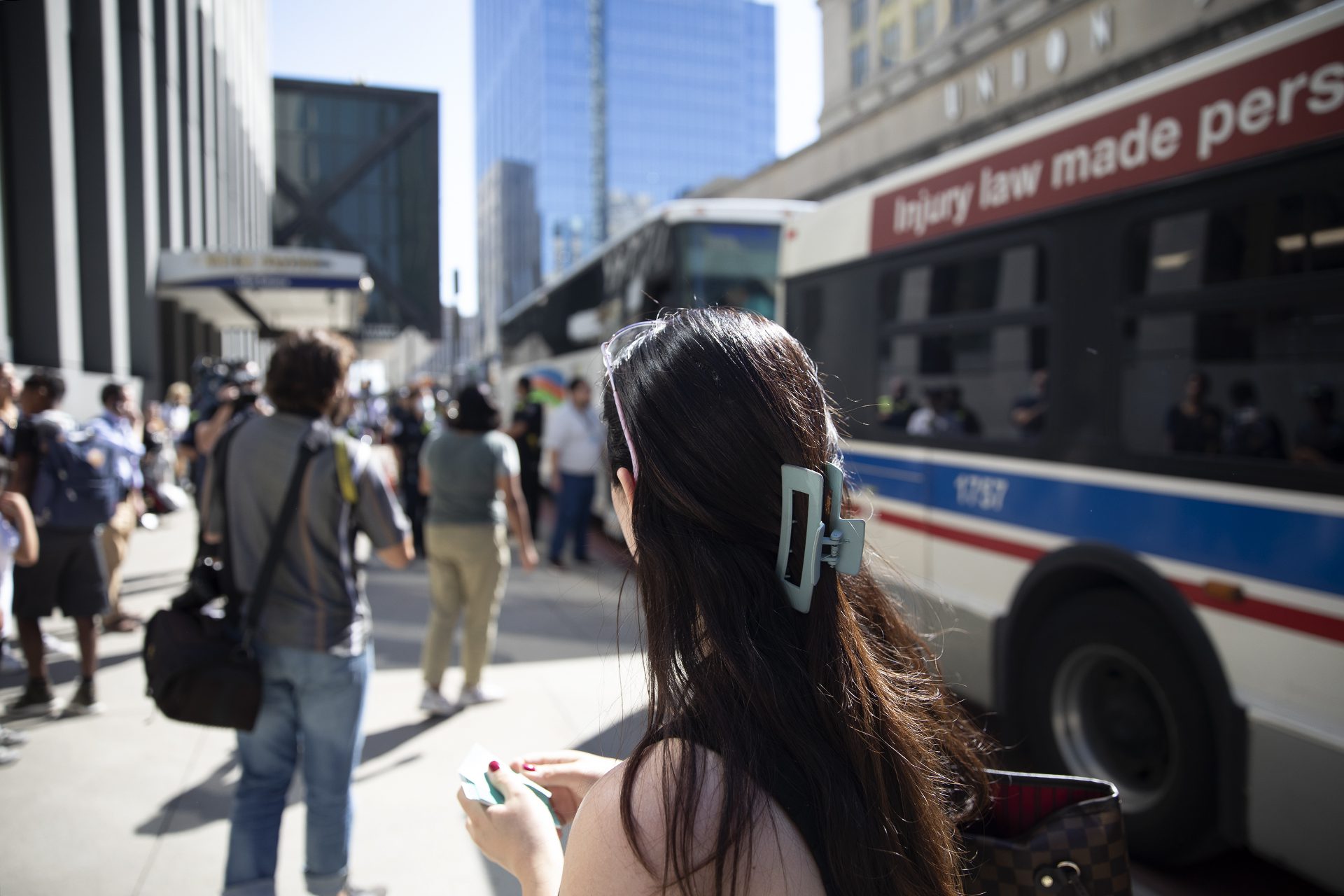 Jesus J. Montero for Borderless
Buses loaded with migrants who had arrived in Texas continued coming to Chicago, and we received messages from people who wanted to share their stories with us after seeing our flyers.
Centering the People in our Stories
Borderless reported its stories using our As-Told-To method, because we wanted to give the migrants the opportunity to tell their own stories, in their own voice. Block Club Chicago also took a human-centered approach to their reporting, choosing to produce profiles of the migrants they interviewed. All of the interviews we did for this series were in Spanish, and both news outlets relied on our Spanish-speaking reporters and photojournalists to connect us with the people who had reached out to us.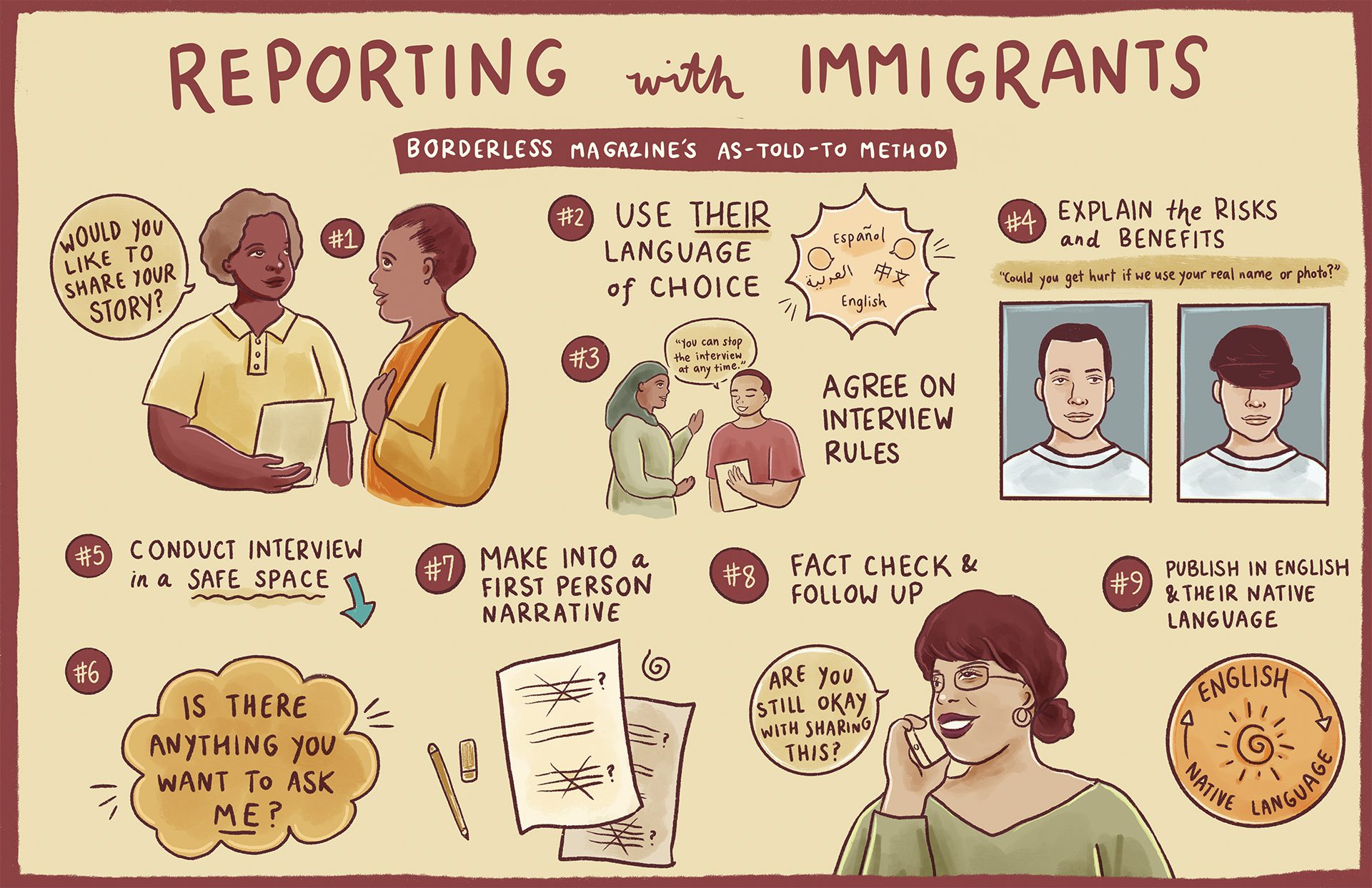 Illustration by Danbee Kim for Borderless Magazine
Borderless contributing reporter Ambar Colón said the work she did for After the Buses was much different than previous Spanish-language reporting she has done.
"I do a lot of work in Spanish already with La Voz. But this was characteristically different and I like the approach that we did. I'm just taking a lot of great things from this experience that I will never forget," said Ambar Colón.
One thing that differed in our approach from other news outlets was our commitment to earning the trust of our growing community by taking the time to learn about their lives, homes, why they left them and what that took.
Block Club photojournalist Colin Boyle recalls an emotional moment he had with one of the men featured in After the Buses.
"I was sitting down with David, my source, having a coffee, just doing some fact checking and follow up questions and ended up translating the story [I had written] into Spanish and was reading it to him. At once, he just started crying. To hear his own story and his own journey through a story and back in his home language, into his native language. It was really powerful," said Block Club Chicago's Colin Boyle.
Impact
We have been overwhelmed by the response from our readers, community members and newly-arrived migrants about our series After the Buses. In the days following publication, we got a mention from the Los Angeles Times who called Borderless Magazine and Block Club Chicago "must-read" publications. And many of the people we interviewed for After the Buses said they were grateful to share their stories. Denis "Omar" Covis sent us a message to say, "Thank you for sharing my story. I hope it helps me find a good job."
We also heard from Block Club that the series inspired community members to collect and donate 300 boots for Venezuelan migrants. We have been receiving many emails from people asking how they can help newly arrived migrants this winter.
Special thanks go out to our Spanish-speaking reporters and photojournalists Colin Boyle, Ambar Colón, Alex V. Hernandez, Jesus J. Montero, Madison Savedra, Jonathan Aguilar and Enrique Reyes for their work on this series.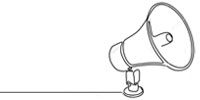 Bring power to immigrant voices!
Our work is made possible thanks to donations from people like you. Support high-quality reporting by making a tax-deductible donation today.