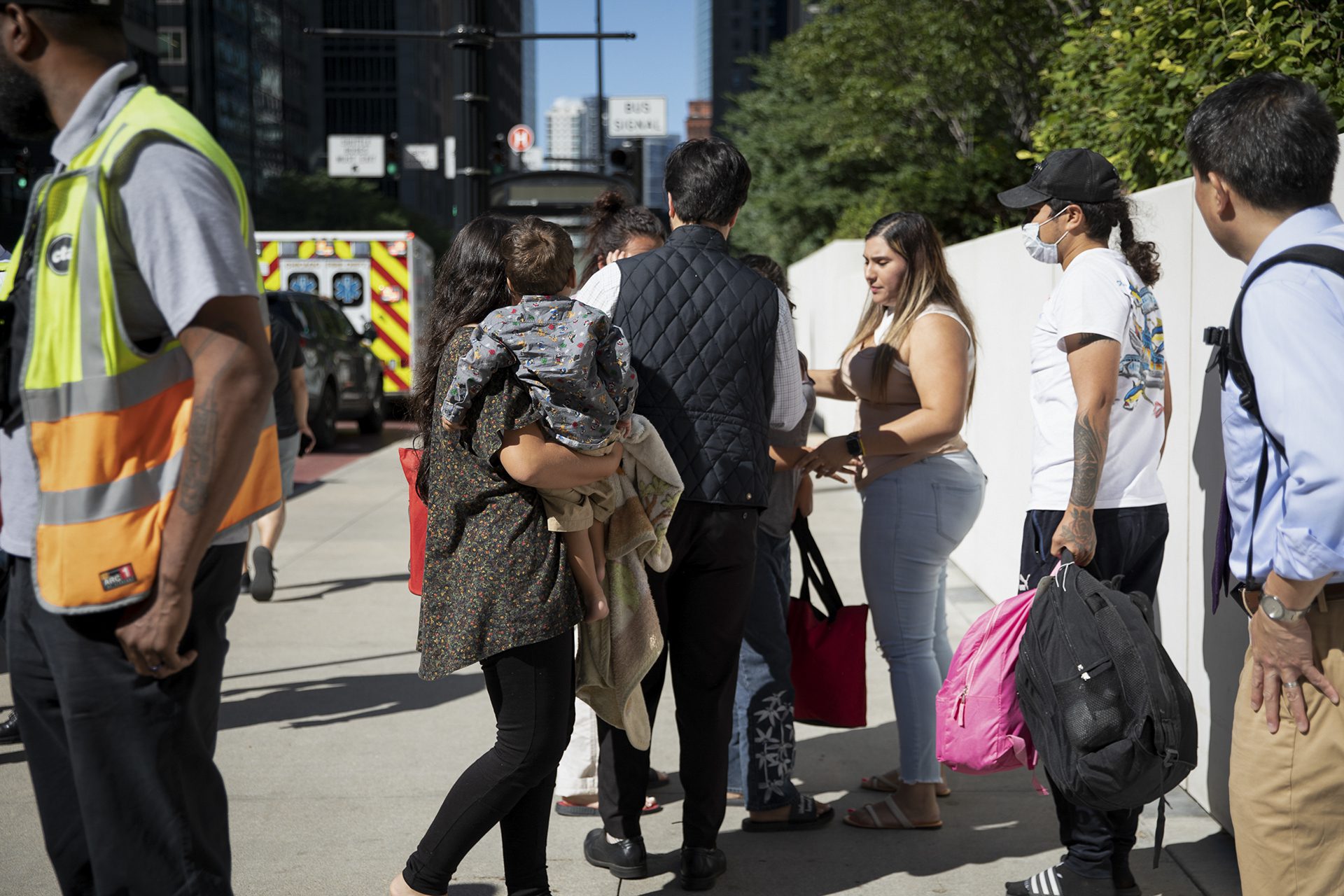 Jesus J. Montero for Borderless Magazine
Egliany, 19, holds her son, Angel, 2, as they wait outside Union Station for friends to pick them up after arriving from Texas by bus to Chicago, Ill., Sept. 7, 2022. The Venezuelan family of three, which includes Keibel, 26, had been on a three-month journey from Venezuela to Chicago.
Illinois Venezuelan Alliance cofounder Ana Gil Garcia explains why 25% of Venezuela's population has left Venezuela and how Chicagoans are welcoming Venezuelan migrants.
Get Borderless in your inbox
Sign up for our free newsletter. Each Thursday we share ways to support immigrant organizations and stories about our communities.

While Venezuela used to be one of the wealthiest nations in the world, its citizens are now struggling to make ends meet. The country is one of the world's most impoverished countries, with over 70% of its population living on less than $2 a day. Many Venezuelans lack access to electricity, clean water and basic human needs.
Venezuelans sent to Chicago by Texas have received help from the city's small Venezuelan community. Congregated mostly in the city's Edgewater neighborhood along Buena Street, the city's "Buenazuela" has welcomed previous waves of Venezuelan immigrants who fled the unstable political and economic situation in their home country. Organizations like the Illinois Venezuelan Alliance have been helping provide essential necessities such as shelter, clothing and legal assistance.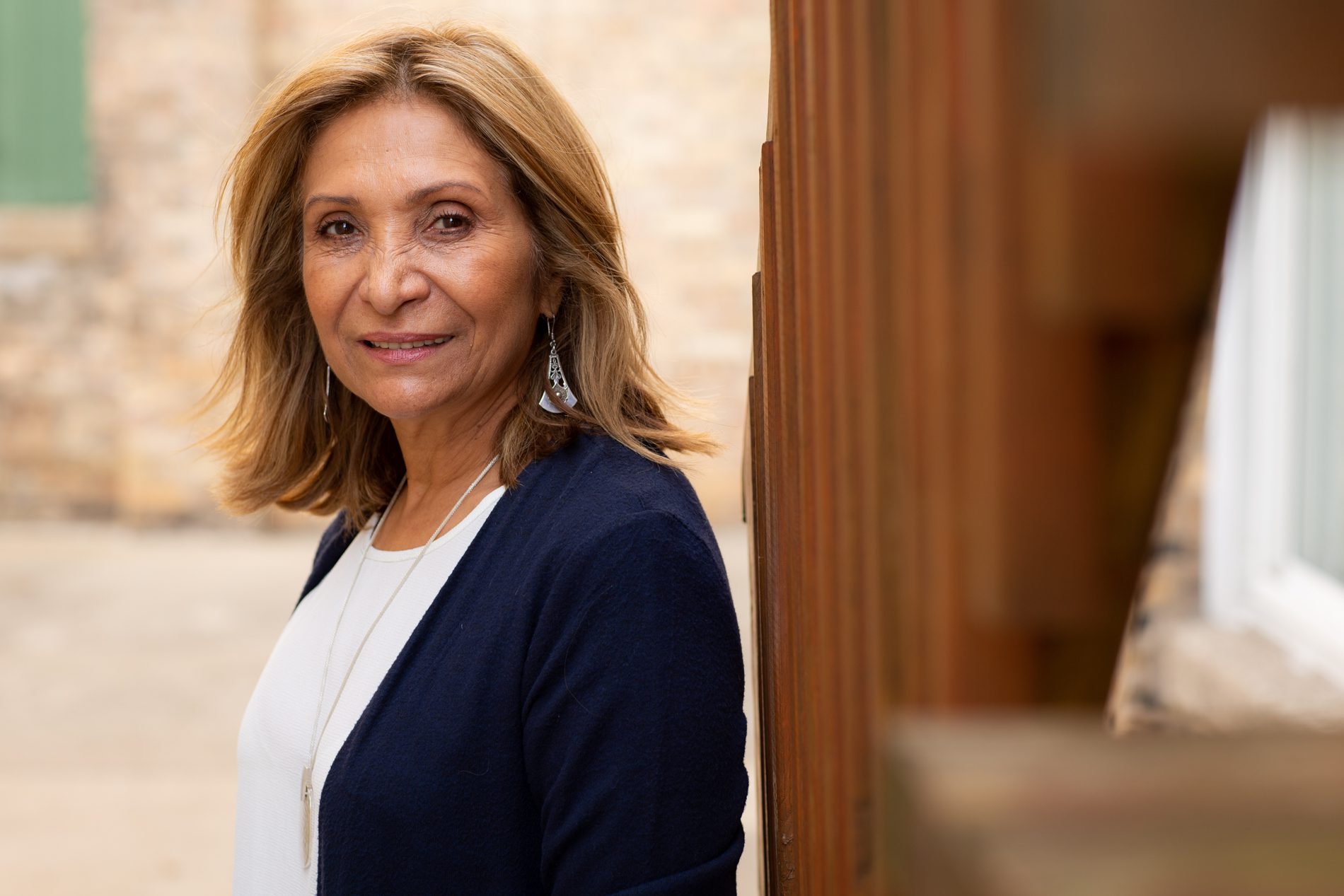 Michelle Kanaar/Borderless Magazine
Local professor and cofounder of the Illinois Venezuelan Alliance, Ana Gil Garcia, has been living in Chicago since 1995. Borderless spoke to her about what has been going on in Venezuela and how newly arrived Venezuelans are faring in Chicago.
Borderless Magazine: Why are Venezuelans leaving Venezuela?
Ana Gil Garcia: This current wave of migration is just the latest in several exoduses that have happened since Hugo Chavez came to power in 1998. 
Venezuela used to be an icon of democracy, and a very rich country, as the fifth largest oil producer in the world until Hugo Chavez arrived in 1998. Chavez's power was about authoritarianism and control. It was not a communist or socialist process but more so an individual looking for all the power. The Venezuelan population and other political parties bought into Chavez until six months later when they realized the person they elected was not who they thought he was. 
This disconnect and the 2002 oil strike led to the first peak of immigration. Chavez wanted to increase state control of the nationalized oil company Petroleos de Venezuela (PDVSA) and nearly half of the oil workers went on strike in protest. In response, Chavez fired 18,000 oil workers on television. He fired them one by one, by name. All those people left the country with their respective families. That was the first wave of immigration.
Then between 2005 and 2007, the government tried to control all businesses, including their earnings. There was no freedom, which drove more people out of the country. The elimination of the free market, the expropriation of farms and requiring farmers to sell their crops to government companies drove more people out of the country. Most people in the agricultural and food industry were originally immigrants who came from Europe and settled in Venezuela. Many returned to their countries and their first and even second generations left with them. It is known as the second peak of immigration. They were protected by the immigration laws of their families' countries of origin.
The most recent wave of immigration started in 2014, following the death of Chavez and a disputed presidential election. Venezuela was not able to produce anything for its people anymore. Political parties were censored and had no chance of winning. There were no more jobs, high inflation and shortages in basic necessities like flour and milk. 
In 2015 major protests, riots and violations of human rights forced millions of Venezuelans to flee their homes due to violence and insecurity.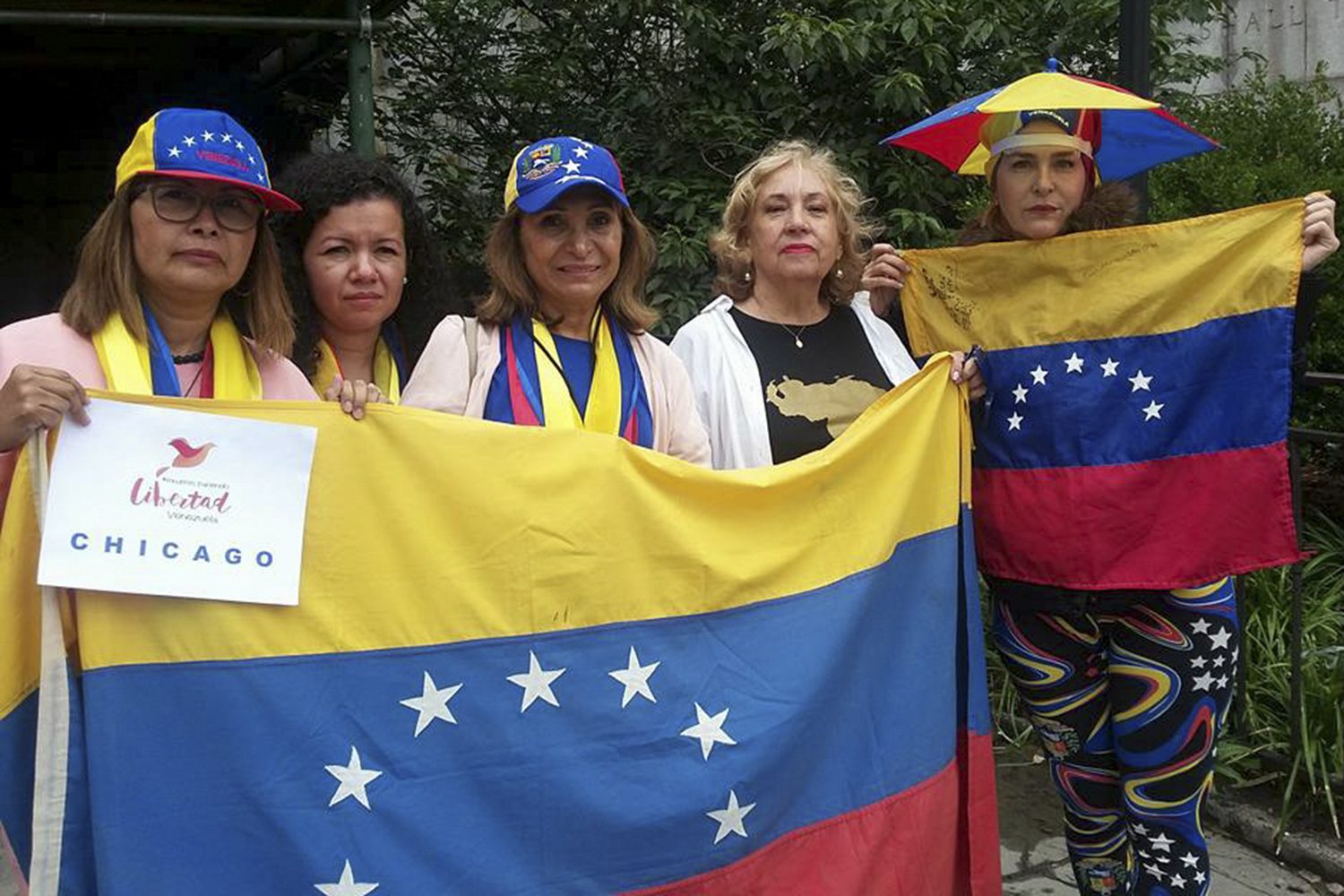 Photo courtesy of Ana Gil Garcia
Borderless Magazine: Where are Venezuelans going?
Ana Gil Garcia: The concept of Venezuelans arriving in the United States is quite new. Most Venezuelans have gone to other countries in South America or Europe. Colombia has more than 2 million Venezuelans. Ecuador has more than 500,000. Peru has 1.5 million.
The population in Venezuela is very diverse, with people whose families come from Spain, Italy, the Middle East, even China. Because of this, countries like Spain and Portugal have welcomed Venezuelans. My own children have  European passports because my ex-husband has Spanish heritage. 
But coming to the United States was not an option for most Venezuelans. The U.S. closed its Venezuelan consulates and embassies in 2019 following the Venezuelan presidential election in which Nicolás Maduro won a heavily disputed election in May 2018. It was clear that the winner of that election was the opposition candidate, Juan Guaidó, but the Venezuelan government didn't recognize him and claimed that Maduro was the president.
Using a constitutional provision, Guaidó, president of the National Assembly, proclaimed himself interim president of Venezuela on January 23, 2019. The United States and dozens of other governments around the world recognize Guaidó as the interim president. Because the United States recognizes Guaidó as the president, there are no diplomatic relations between the United States and the Maduro government in Venezuela. That means that Venezuelans currently living in the United States cannot renew or process their papers or documents in the U.S. They have to go either to Mexico or Canada.
Read More of Our Coverage
Borderless Magazine: Between fiscal years 2014 and 2019, the U.S. saw an average of just 127 Venezuelans arriving via a land border each month. But that number has risen dramatically in the last two years, with 33,000 arriving in September alone. Why are we seeing Venezuelans coming to the United States now?
Ana Gil Garcia: This latest wave of Venezuelan migration is very different from any past wave. Many people have risked their lives to cross borders, taking a boat from Colombia and passing through the Darién Gap. These boats are overcrowded, and people drown. They end up on this path because they are manipulated into thinking there is a safe way for them to get to the United States.
The misinformation spread in South and Central American countries regarding the United States' new immigration policies contributed to this unstoppable stampede of immigrants not only from Venezuela but also from other countries like Cuba, Colombia, Nicaragua and Haiti.
There was a lot of misinformation spreading in South America and Central America, telling people that the United States has open borders, especially after President Joe Biden was elected. Temporary Protected Status (TPS) was given to Venezuelans who were in the U.S. on or before March 8, 2021. This allowed them to work and not be deported. Unfortunately, people misrepresented TPS and many Venezuelans were told they could now go to the United States, be legal, and get a job. That fabricated information really triggered people to come.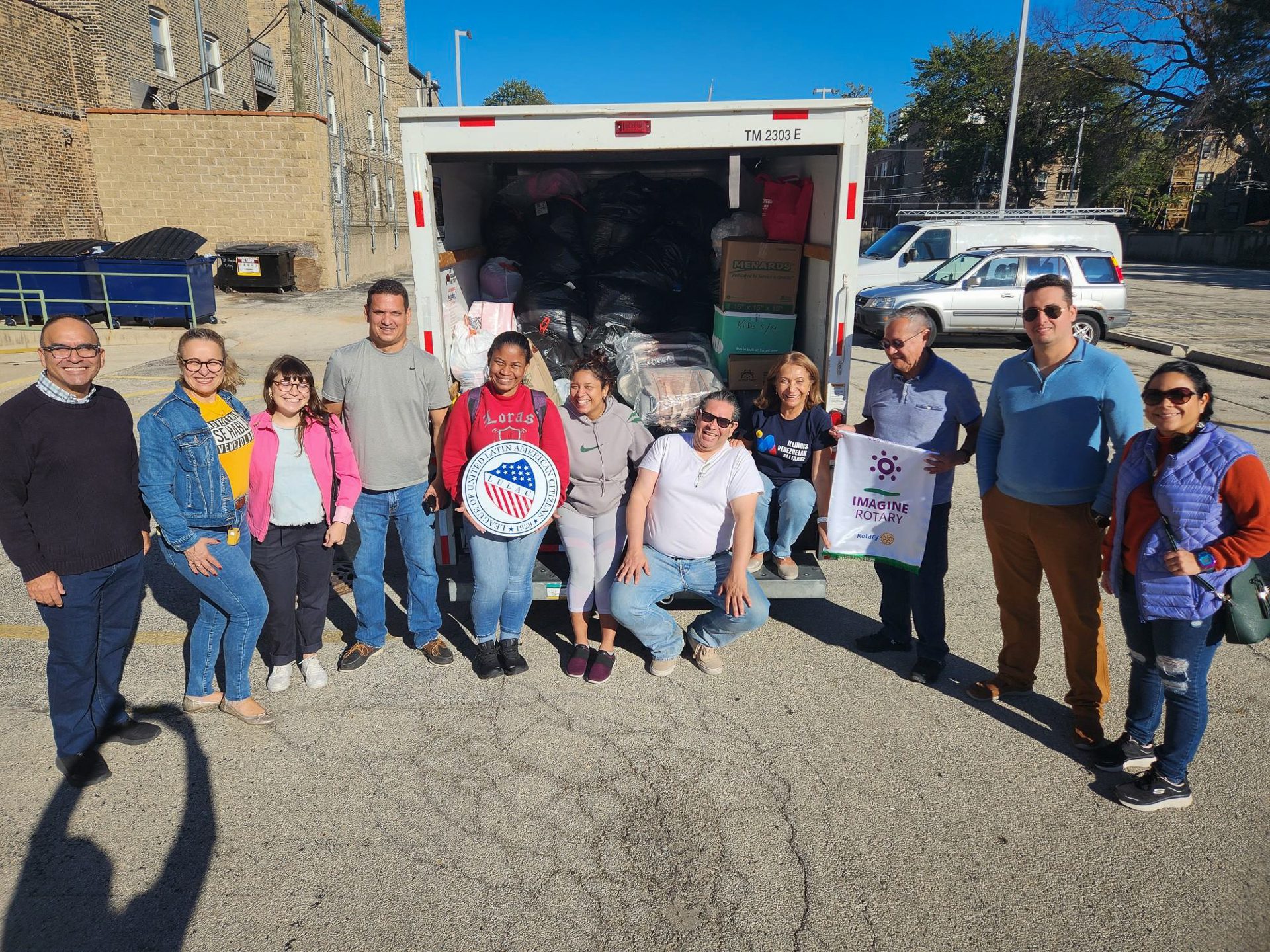 Photo courtesy of Ana Gil Garcia
Unfortunately they are victims of coyote mafia and human trafficking. Many are willing to risk their lives for better opportunities for themselves and their families. But they have been lied to and told that there was work and protection after they crossed the U.S. border. 
Borderless Magazine: If they don't qualify for TPS, what other immigration status options do the Venzeualans coming here have?
Ana Gil Garcia: New arrivals will try to apply for asylum. This could work for Venezuelans coming directly from Venezuela, but that only makes up about 20% of the Venezuelans coming today. The rest are coming from a third country, mostly from other Latin American countries. By the way, one main reason they are leaving the South American countries, where they lived, is because of the changes in the political landscape in places like Peru, Chile, Argentina, Colombia and Brazil.
According to the Immigration and Nationality Act, when you come from a third safe country that has processed your legal status and where you would not be at risk of persecution, you should remain in that country. The United States may not be obliged to accept your asylum case because the individual was legally residing in another country. Colombia, for example, provided Venezuelans with 10 to 14 years of protection. So if you try to apply for asylum in the United States after living in Colombia, you'll probably be denied.
That leaves many Venezuelans undocumented, with no good options for getting legal immigration status.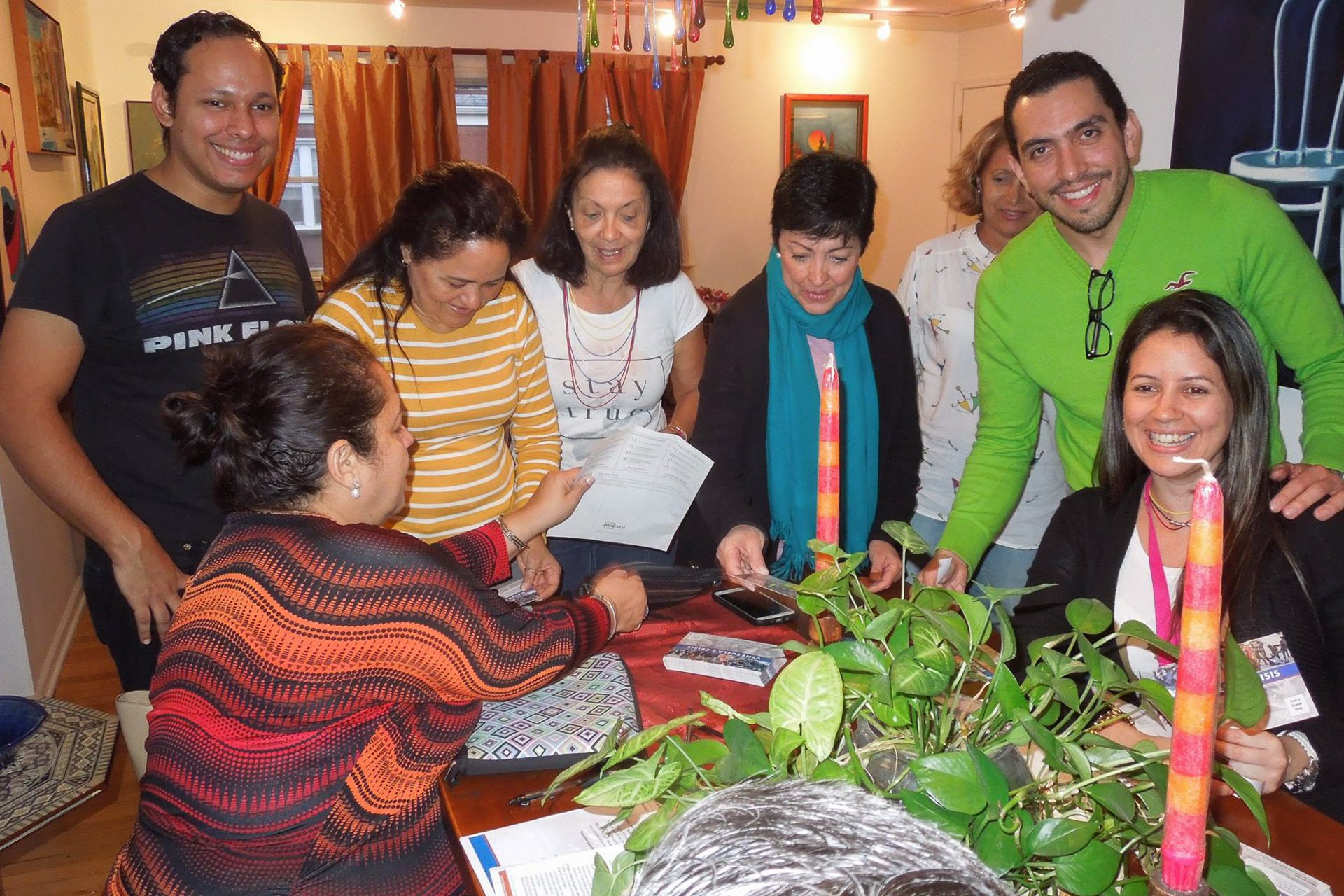 Photo courtesy of Ana Gil Garcia
Borderless Magazine: As cofounder of the Illinois Venezuelan Alliance, you've been helping newly arrived Venezuelans in Chicago. Tell me what you're seeing here. What are they experiencing and what do they need right now?
Ana Gil Garcia: The newly arrived Venezuelans in Chicago are different from the ones who came massively in 2015. That group flew in with legal visas, stayed here and applied for political asylum, while the recent group came through the border, walking through the Darien Gap without money and belongings. The Venezuelans who came to Chicago in 2015 had either relatives or friends in Chicago who supported them by providing housing, jobs, education information and other things. The opposite is true for the newly arrived Venezuelans.  
However, the new arrivals are experiencing the unconditional support of organizations and strangers who are very concerned about them and their well-being. Three things must happen immediately to transfer them into mainstream society: issuing work authorization to legally work in Chicagoland, relocating them into affordable housing and creating a coordinated system to train them in learning English as a second language, not as optional but as a mandatory process for their transition to normality. It is important to note that many of these immigrants have a high school diploma and technical skills.  
Borderless Magazine: What would the Illinois Venezuelan Alliance like to see change in how the United States handles Venezuelan immigrants?
Ana Gil Garcia: The Alliance was born in 2016 in my living room. There were just 16 people and we had breakfast at my house and brainstormed about what we wanted to do as a community. Among this group, there were old Venezuelans residing in Chicago and newcomers. There were also professionals, people who were engineers or medical doctors back home but couldn't practice in the United States because they didn't have the right licenses or degrees. The results of three consecutive meetings made us decide to do humanitarian aid in order to educate the new community, actively engage in civic events and advocate politically. For example, since 2017, the alliance has shipped five tons of food and medicines to Venezuela. We have also partnered with the Rotary Club of Cucuta and e-Club of Houston to send 1,500 pairs of shoes to the "caminantes," the Venezuelan migrants walking from Colombia to Ecuador, Peru and Chile.
The Illinois Venezuelan Alliance has organized different activities to engage the Venezuelan community in Chicago. From holiday parties to education training on know your rights, the Alliance has tried to offer guidance and support to the fastest-growing community in the state of Illinois. At some point, we realized that we needed to become more involved in the immigration reform movement. For more than five years, we joined 75 Venezuelan organizations in the United States to ask Congress for TPS for Venezuelans which was signed by President Biden on March 8, 2021. Recently, we co-signed the petition for the humanitarian parole offered to 24,000 Venezuelans who would like to come to this country legally under the sponsorship of either an individual or an organization. 
We will continue fighting for true immigration reform in this country. There are many people living in limbo, year after year, just because they are never given the chance to become citizens.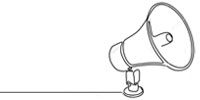 Bring power to immigrant voices!
Our work is made possible thanks to donations from people like you. Support high-quality reporting by making a tax-deductible donation today.