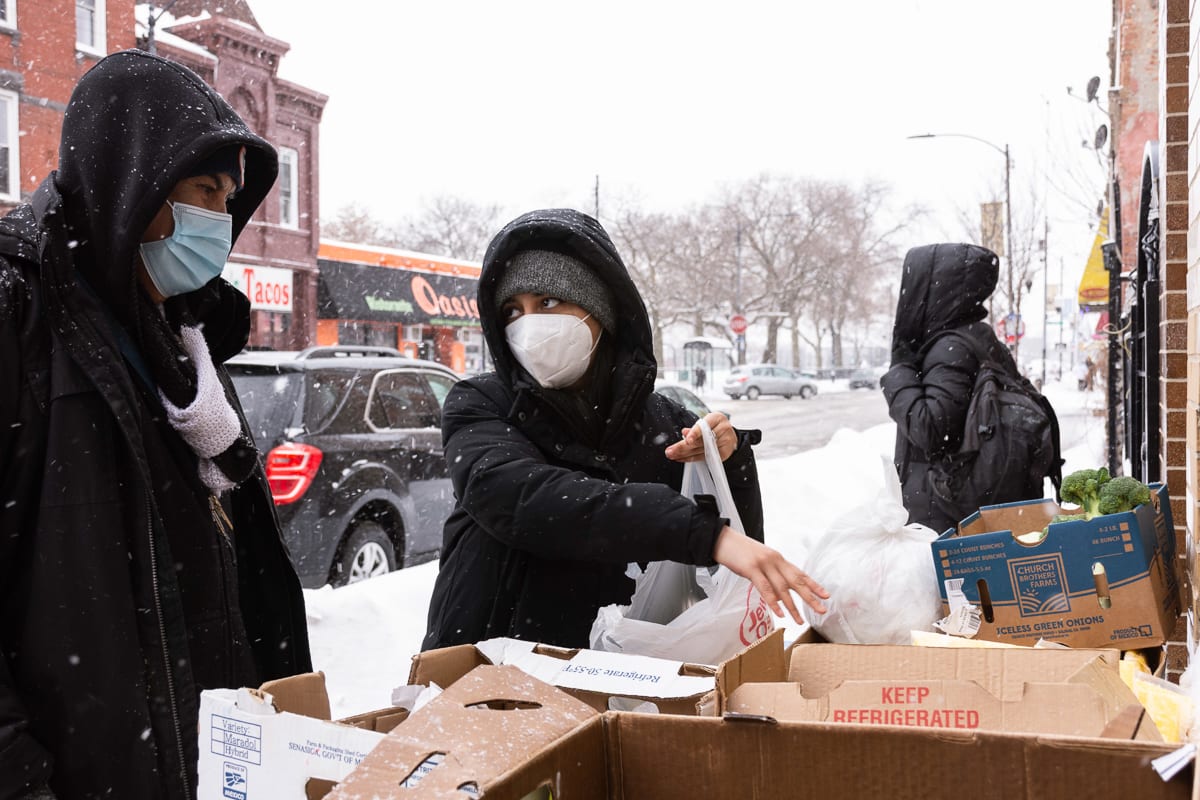 Photo by April Alonso for Borderless Magazine/ CatchLight Local
Mari Posa* of Femme Defensa gathers produce to give to Pilsen residents who pass by the "Free Store" in collaboration with Pilsen Allliance and the Pilsen Solidarity Network on Feb 13, 2021 in Chicago, Ill. The "Free Store" has fresh and canned food, used clothes, feminine hygiene products and baby necessities. *Names have been changed to protect their safety.
From building a community garden to trying on a Quince dress, Borderless Magazine's visual journalists told the stories of our immigrant communities this year.
When photojournalist April Alonso wanted to find out who was stepping up to take care of Latinx communities during the COVID-19 pandemic, she knew just who to ask. As part of her photo fellowship with Borderless Magazine and Catchlight Local, April put up Spanish and English flyers in schools, grocery stores and laundromats across Chicago's South and West Sides asking community members to nominate their favorite changemakers.
Want to receive stories like this in your inbox every week?
Sign up for our free newsletter.

The responses she received from members of Chicago's Latinx community became the basis of our series Mi barrio me respalda, My Neighborhood Has My Back. April spent eight months interviewing, photographing and learning from Chicagoans who were collecting and distributing food to hungry families and helping people overcome the traumas of the pandemic.
April's work is just one example of the kind of time and investment that Borderless Magazine puts into visual journalism when telling the stories of immigrant communities. As Borderless Magazine's Art Director Michelle Kanaar puts it, these "images and words bounce together in a beautiful dance. Neither one above the other, but neither whole without the other."
Borderless Magazine's approach stands out at a time when news outlets across the country are cutting their photography budget and undervaluing visuals.
"That's a disservice to the people and communities they cover and to storytelling and our historical record," Kanaar says. "Photographs and illustrations offer readers a chance to see the worlds of others. They demystify those worlds and offer human connection and trust."
In 2021, we worked with 17 different photographers and illustrators to bring to life the stories we shared with our readers. As a tribute to their hard work, here are some of our favorite visual journalism pieces from this year.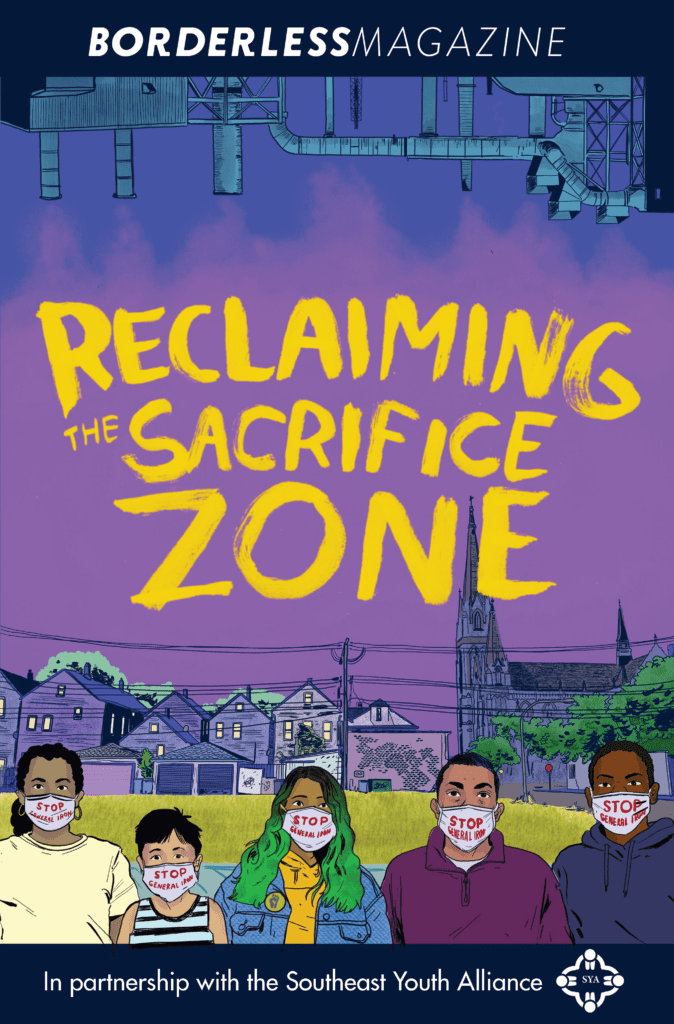 cover by Mike Centeno
Photo by Claudia Hernández for Borderless Magazine
Borderless Magazine contributing reporter Claudia Hernandez spent weeks getting to know the transgender asylum seekers who had made a home at Casa de Colores in Ciudad Juarez, Mexico, before we published her story. Hernandez both wrote and photographed the piece, which had a big impact on the lives of the women.
"Due to Borderless' story, we were contacted by many media outlets," said Susana Coreas, one of the transgender women. "The attention of the media helped us a lot to cross the border. The immigration officers made an unprecedented exception just for us. All this attention has brought us a lot of help. We were lucky to have our story out."
That help included a reader donating $45,000 to help them cover food and other expenses. Hernandez has continued to follow Coreas as she tries to get asylum in the United States and most recently published a story about her work in New York City helping other women like her.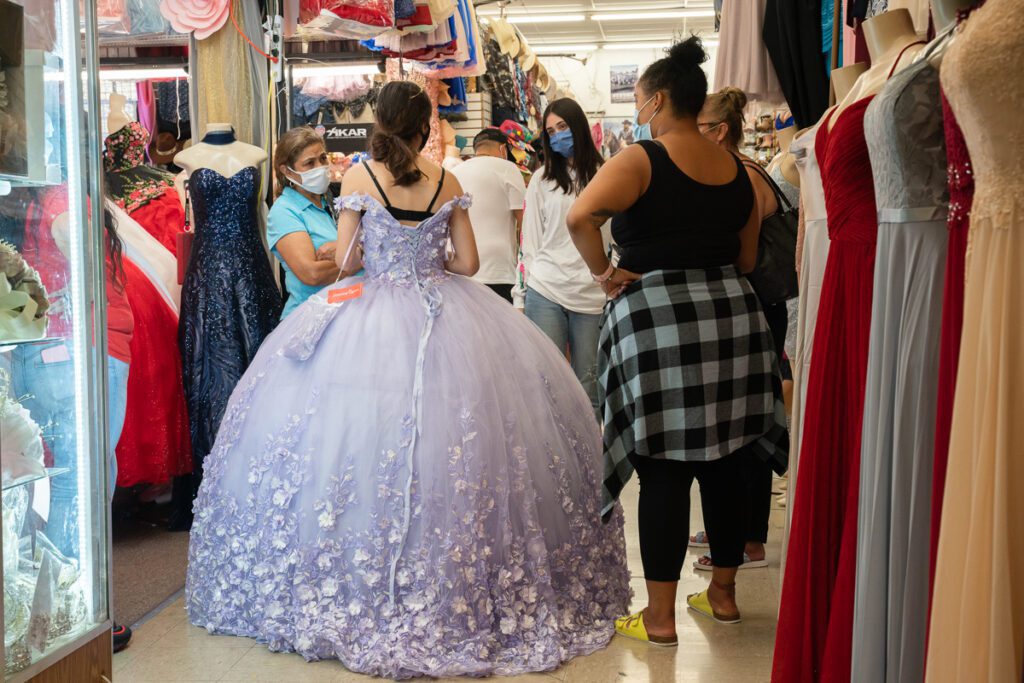 Photo by Camilla Forte/Borderless Magazine
Gabriella Acevedo, 14, shops for her quinceañera dress with her family at the Little Village Discount Mall on Aug. 20, 2021 in Chicago, Ill. Photo by Camilla Forte/Borderless Magazine[/caption]
As part of our Pathways mentoring program, Borderless worked with photojournalist Camilla Forte for three months this summer. As Forte's final project, she spent over ten hours inside Little Village's Discount Mall capturing the small businesses mostly owned and run by members of our Latinx community at a time when gentrification has driven out many local businesses.
"I love this image because it encapsulates a momentous time and the community behind it. It's also super relatable if you ever had a sweet sixteen or a quince. I remember my own lavender quince dress! It's nice to see how traditions like these continued during the pandemic," said Kanaar.
Photo by Camilla Forte/Borderless Magazine
Forte also teamed up with our Pathways Reporting Fellow Adriana Rezal for this intimate look at the detention and release of suburban immigrant Cesar Elizarraraz. The pair visited Elizarraraz and his family in Crystal Lake several times to illustrate the impact of ICE detention and family separation.

"I loved that this photo captured the everyday family life that Cesar had missed during the 21 months he was detained at a local jail on behalf of ICE," said Borderless Magazine Executive Director Nissa Rhee about this photo. "Too often we hear about immigrant detention in the abstract in the media. This story and the accompanying photo showed the human costs of detention."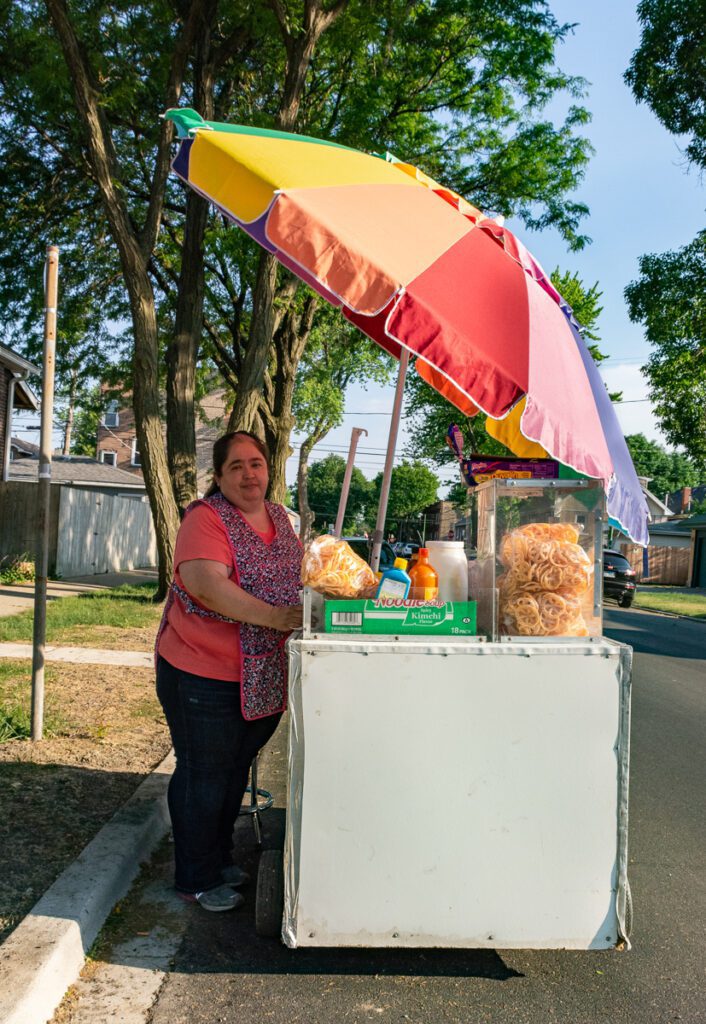 Photo by Natalie Garcia for Borderless Magazine
Photographer Natalie Garcia spent months getting to know Chicago's immigrant street vendors for this story she both wrote and photographed. As a thank you to the vendors, Borderless and Garcia gave each person featured in this series a print of their portrait.
"We were so happy to partner with Natalie on this project who was already out there doing the work," said Kanaar.
April Alonso for Borderless Magazine/ CatchLight Local
For over a year during the global pandemic, Grocery Run Club has supplied community members across Chicago with fresh produce and other necessities. Borderless Magazine's Catchlight Photo Fellow Alonso covered Grocery Run Club's work as part of her series on community members stepping up to fill in federal and local gaps in meeting community needs.
"April spent so much time working with everyone featured in the stories and it shows!" said Kanaar. "This was especially difficult given it was at the height of the pandemic. Most of the images are outside and done with the utmost caution. April worked hard to make sure everyone felt comfortable and safe while still documenting the work they were doing."
Illustration by Brian Herrera for Borderless Magazine/CatchLight Local
Borderless Magazine's Catchlight Illustration Fellow Brian Herrera produced this piece as part of his work on our Mi barrio me respalda series. Herrera — who served as our Pathways Art Fellow in the summer of 2020 and also designed our popular shirts — wrote and illustrated three as-told-to stories with undocumented immigrant business owners in Chicago.
After publishing the series, Borderless and Catchlight held an amazing in-person event to showcase Herrera and Alonso's work. Over 70 people turned out and the energy was just what we needed after a long pandemic winter.
"I'll never forget the image of Elizeth posing for photos with posters of her illustration or Brian and Elizeth twirling on the dance floor," said Kanaar. "It was absolutely wonderful to team up with CatchLight and fellows April Alonso and Brian Herrera for almost a year of collaboration."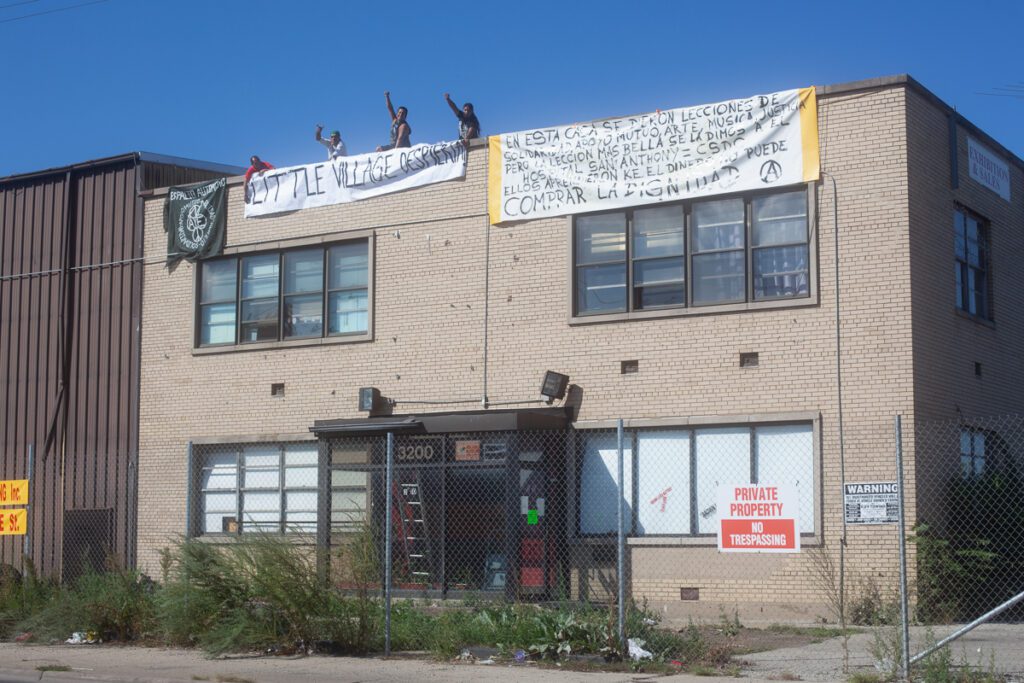 Photo by Samantha Cabrera Friend for Borderless Magazine
This year, we followed the journey of a group of immigrant artists as they fought being evicted from La Casa del Inmigrante, the home community center they had built in a former office building.
"This was a hard story to write and to photograph," said Kanaar. "Both April Alonso and Samantha Cabrera Friend made some beautiful images that really showed the strength of the artists living in La Casa Del Inmigrante."
We are happy to report that, after being evicted from their home in September, the artists have now settled into a new home in Chicago and are doing well.
Photo by Abel Rodriguez for Cicero Independiente
Borderless partnered with local bilingual news outlet Cicero Independiente to cover this story about a lowriders club in suburban Chicago.
"Abel's photos are awesome," said Kanaar. "I want to put them on my wall! I can tell he enjoyed writing and photographing this story and we were happy to collaborate with our partners at Cicero Independiente. I wish I could see a video of Abel riding around in the back seat of a lowrider."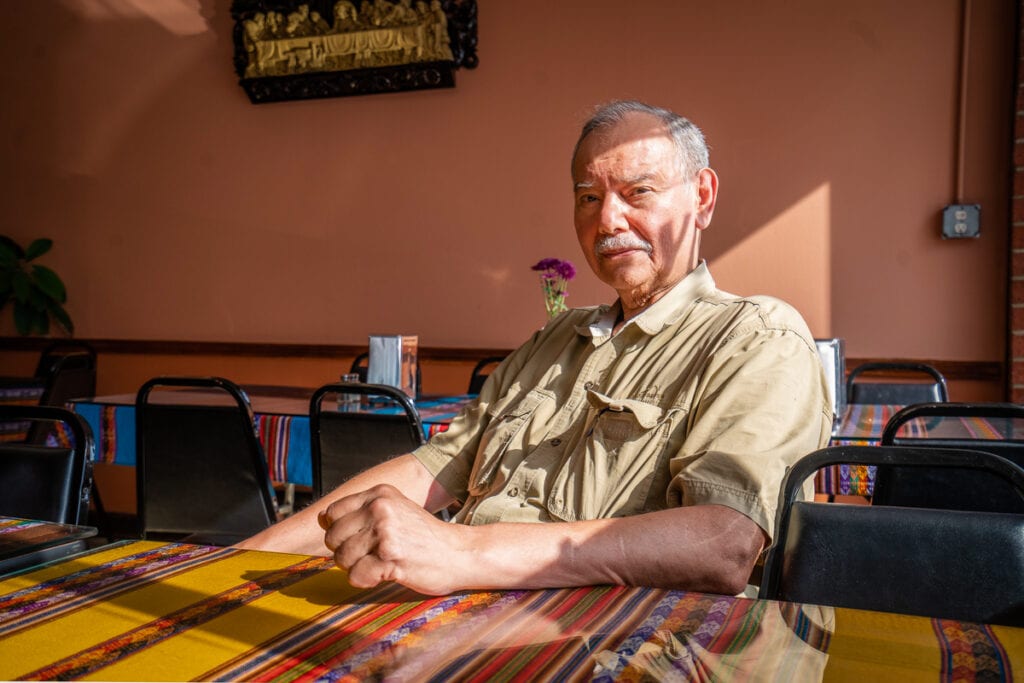 Photo by Camilla Forte/Borderless Magazine
This summer Borderless Magazine partnered with journalism students at Northwestern University to publish a series of nine stories about how immigrant restaurant owners were faring in Chicago during the COVID-19 pandemic.
For this story, Pathways Fellow Camilla Forte spent time with Cesar and his daughter who were both working at their Peruvian restaurant on Chicago's far North Side.
"Forte's photos captured the dignity and strength of restaurant owners after such a hard year for family-owned restaurants," said Rhee.
Photo by Camilla Forte/Borderless Magazine
For this story in our restaurant series, Forte went beyond the usual food photography and portraits of business owners. From the boarded up bar across the street to the simple note of gratitude, Forte captured what it has been like for struggling business owners during the COVID-19 pandemic.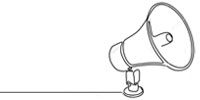 Bring power to immigrant voices!
Our work is made possible thanks to donations from people like you. Support high-quality reporting by making a tax-deductible donation today.