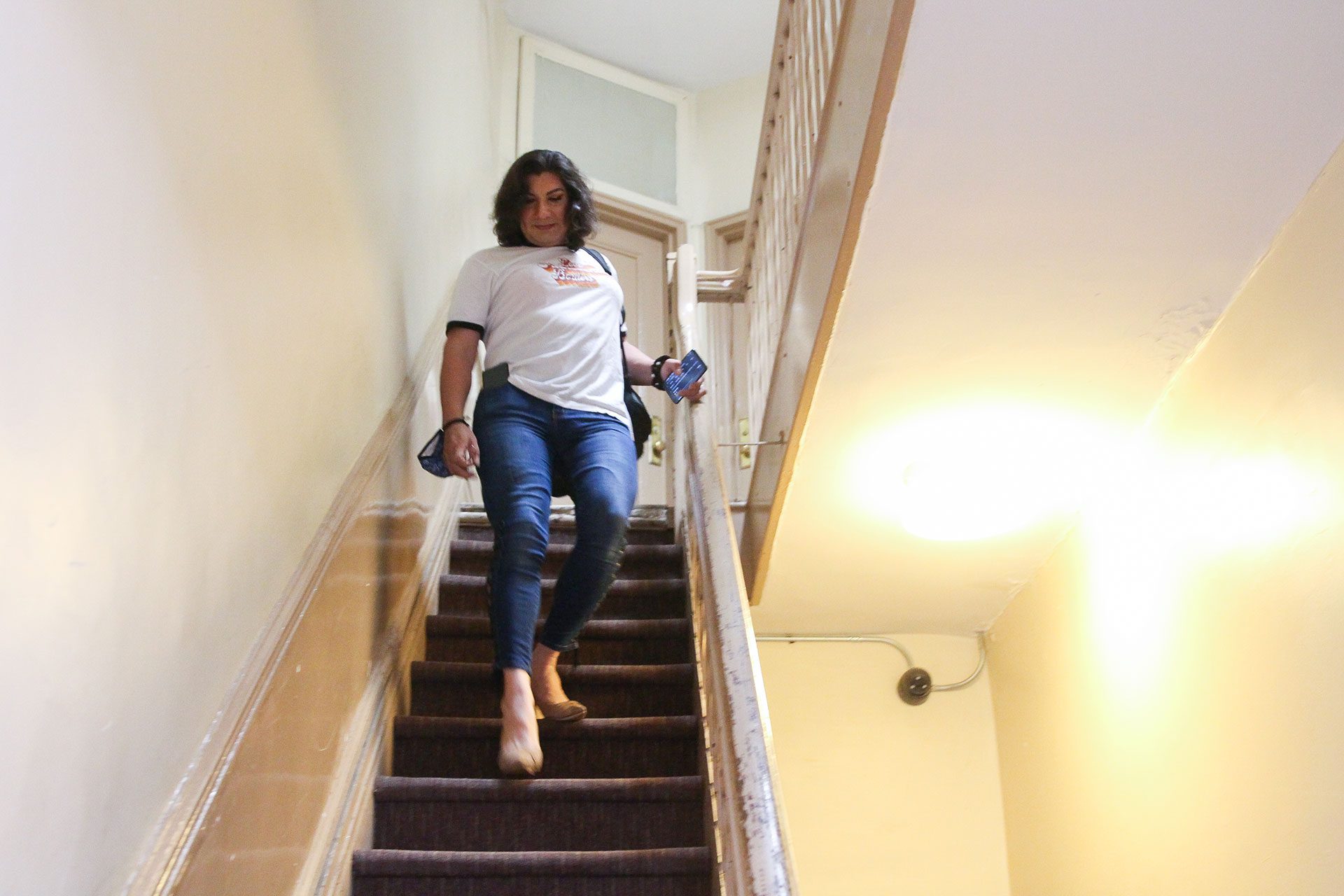 Photo by Claudia Hernández for Borderless Magazine
Susana Coreas, 41, leaves the apartment she is currently staying at near Prospect Park in Brooklyn, N.Y. Oct. 4, 2021.
After crossing the U.S.-Mexico border to seek asylum, Susana Coreas is navigating life in New York City and building community along the way.
Susana Coreas no longer hesitates to wear high heels when she goes out. Since she arrived in New York City in September, she feels safe to wear whatever makes her feel beautiful. A 41-year-old transgender woman, Coreas came to the United States in May to seek asylum and has slowly incorporated her love of makeup and shoes into her day-to-day activities. These are some of the little things that bring her joy amid all the uncertainty she faces. They remind her why she is fighting.
Want to receive stories like this in your inbox every week?
Sign up for our free newsletter.

"I feel so free here," Coreas told Borderless Magazine, speaking in Spanish. "I can wear high heels and not worry about anything because people are so diverse here. I fit in."
New York City is home to over 3 million immigrants, and Coreas is one of them. While she never planned to move to the big city, she has found a community here that is already looking up to her.
Coreas had a community in her homeland of El Salvador. But in early 2020, she had no choice but to leave for the United States. Living as a transgender woman in El Salvador is extremely dangerous, and she wasn't able to express her gender identity freely. People from the LGBTQ+ community are constant targets of hate crimes, and the life expectancy for transgender women in El Salvador is just 35 years.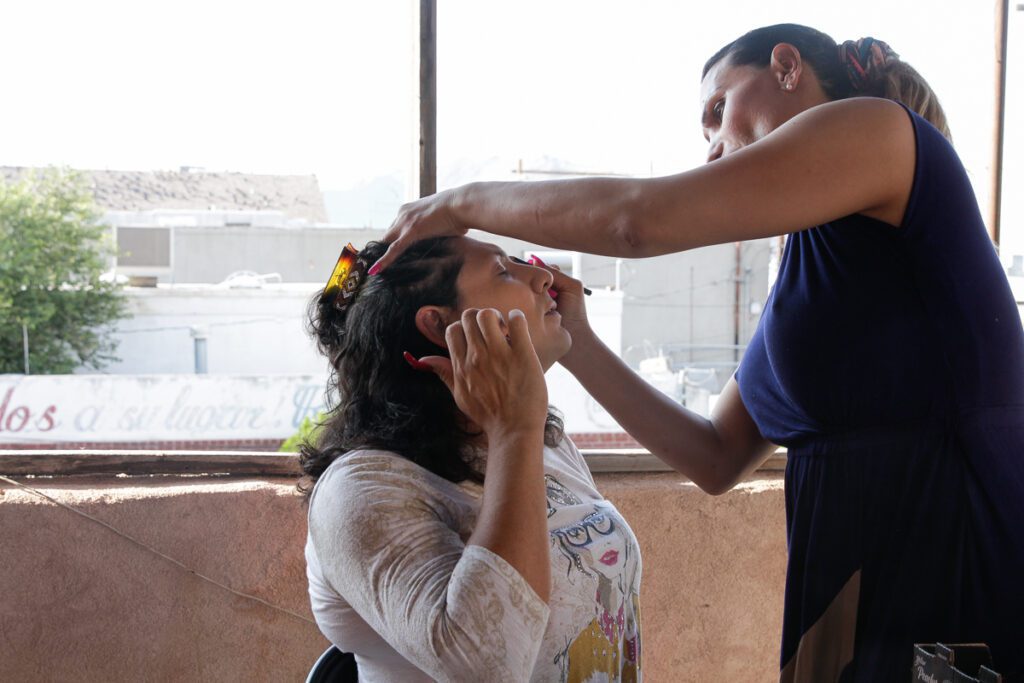 Photo by Claudia Hernández for Borderless Magazine
Coreas is one of millions of immigrants who arrive at the U.S. southern border each year, fleeing hardship. They face difficult odds of securing legal status: Each year, the United States grants resettlement to around 70,000 immigrants, or about 6 percent of asylum seekers and refugees. In 2020, just 12,000 immigrants were granted resettlement.
Because of the Migrant Protection Protocol program, otherwise known as the "Remain in Mexico" policy, enacted under former President Trump, thousands of migrants hoping to claim asylum have been forced to stay in border cities in Mexico, where they face danger and lack necessary resources. While President Joe Biden had ended the policy early in his term, the Supreme Court reinstated it this August.
Coreas' plan was to arrive at the U.S.-Mexico border and quickly apply for asylum in the United States. But not long after she arrived, in 2020, the U.S.-Mexico border closed to non-essential travel due to the COVID-19. She was forced to stay for more than one year in the border town of Ciudad Juárez. Despite all these setbacks, Coreas managed to beat the odds, eventually crossing this May due to an exception to border restrictions. She said Borderless Magazine's coverage of her story earlier this year played an important role in her and the other transgender women she was living getting granted that exception.
"Due to Borderless' story, we were contacted by many media outlets," said Coreas. "The attention of the media helped us a lot to cross the border. The immigration officers made an unprecedented exception just for us. All this attention has brought us a lot of help. We were lucky to have our story out."
Still, her arrival in the U.S. does not guarantee a smooth path to a life of stability.
One Step Closer to the American Dream
In Ciudad Juárez, Coreas made a home at Casa de Colores, a place that sheltered and protected over 40 transgender asylum seekers. The building was originally an abandoned hotel, and she helped make it habitable, installing essentials like water, gas and electricity. She also built a family there, becoming the de facto leader of the house.
In May of 2021, all the residents from Casa de Colores were allowed to cross into the United States due to an exception to the policy known as Title 42. Part of the 1944 Public Health Service Act, the policy allows the U.S. government to take action to "prevent the introduction of communicable diseases" to the country. Both the Trump and Biden administrations have used it to grant U.S. Border Patrol power to deport undocumented migrants during the pandemic, before they have the chance to apply for asylum. Because the women of Casa de Colores were classified as members of a "vulnerable population," they were able to cross the border to El Paso, Texas and begin the long process of applying for asylum.
"I have been told many times that the fact that we were all able to cross is something unprecedented," Coreas said.
Coreas had long planned what she would do when she crossed the border. As soon as she set foot in the United States, she went to Minneapolis, Minnesota to visit her son. The 16-year-old high school student didn't know Coreas had identified as a woman for a long time. She was nervous about what her son might think when they were reunited.
"The last time he saw me I was his father," Coreas said. "And, as I reintroduced myself to him, it all went so smooth and natural. He embraced my identity."
After visiting her son in Minneapolis, Coreas returned to El Paso, where she connected with Las Americas Immigrant Advocacy Center, a nonprofit organization that provides legal assistance to immigrants. With their help, she began the process of applying for her green card. She also applied for her work permit and started studying to obtain her GED.
"My main goal has always been to help my son," Coreas said. "I want to provide for him and help him go through college."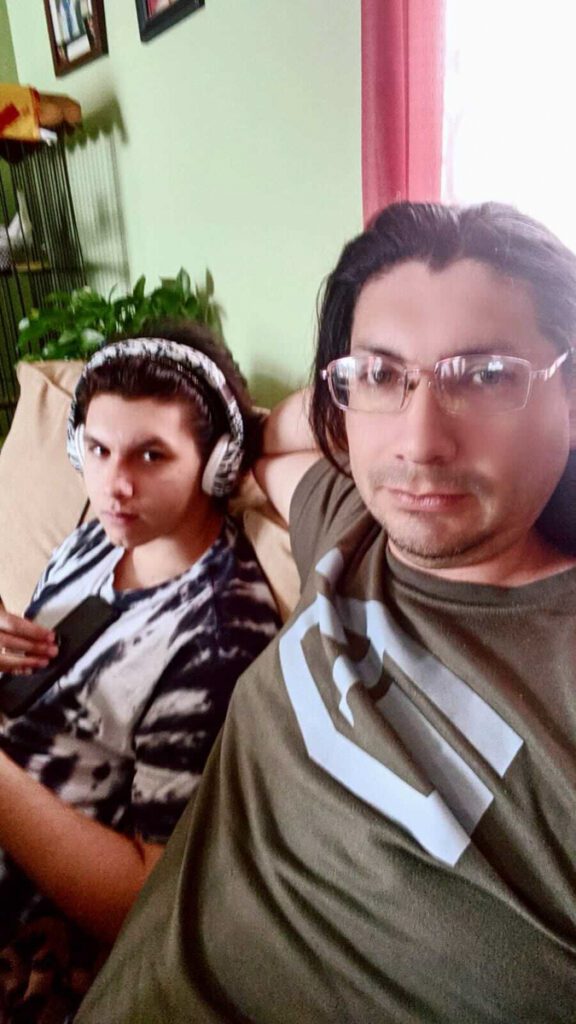 Photo courtesy of Susana Coreas
But obtaining a work permit has presented yet another waiting game. Previously, U.S. Citizenship and Immigration Services aimed to process work permit applications for immigrants, including for asylum seekers, within 90 days, but due to the pandemic, understaffing and financial difficulties, the agency is facing backlogs and delays. It now estimates that processing can take up to seven months — time that Coreas feels is being wasted. Unable to legally work, Coreas has to rely on her savings and donations for basic necessities like food and housing.
Coreas is trying to make the most of her time, however. While she was in El Paso, Coreas lived in Casa Carmelita, a community center that advocates for immigrant rights. There, she had a room with a large bed, a closet filled with her clothes, shelves to organize her makeup and a dog named Frijol who kept her company. At the community center, Coreas worked as a volunteer to help keep track of other migrants in Mexico waiting to cross the border.
"I never knew waiting could be so difficult. I don't want to feel useless," said Coreas while she was in El Paso.
Coreas has already done a lot for other women. Among them is Brisa Morales, who this past summer celebrated her 43rd birthday — her first in the United States — at Casa Carmelita.
Morales had run away from her hometown in the State of Mexico when her coworker, who was also a transgender woman, was persecuted and murdered because of her gender identity.
"They told me I was next," Morales said.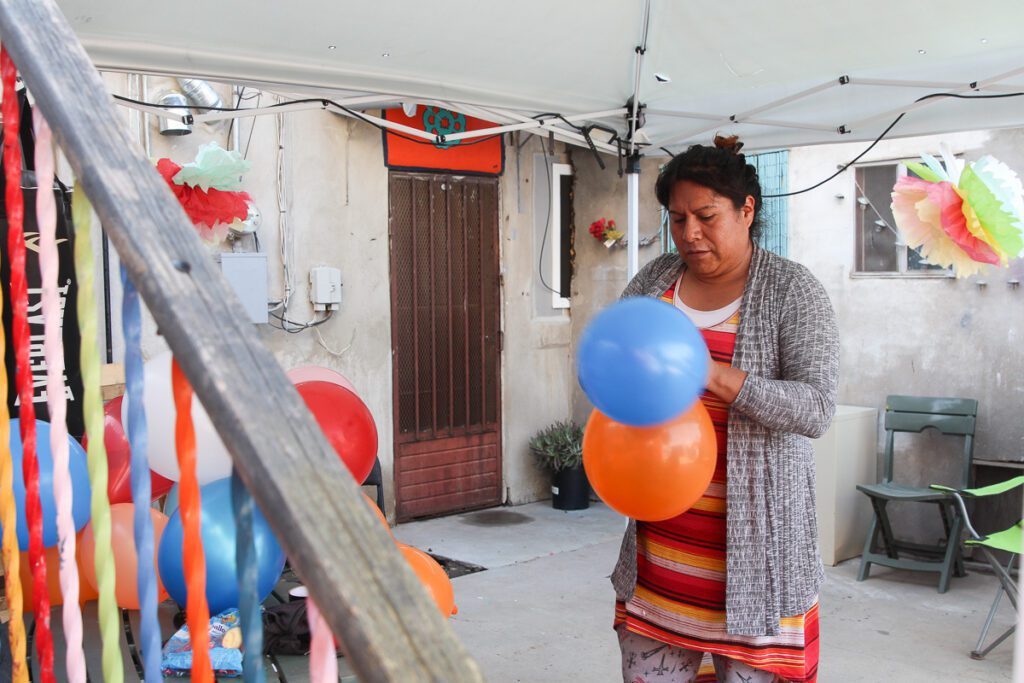 Photo by Claudia Hernández for Borderless Magazine
Morales crossed the border over the summer but had nowhere to go. In El Paso, she was able to get in touch with Coreas, who helped her settle in and find safety at Casa Carmelita.
"Everyone in Juarez would constantly talk about how Susana helped everyone. They all talked about how so many women crossed thanks to her," Morales said.
Coreas' time in El Paso came to an end after she learned that her chances of being granted asylum in Texas were extremely low. She began researching the numbers after hearing from a former member of Casa de Colores who said that her court hearing in El Paso went poorly.
"They basically told her they didn't want her in the country and that she had to prepare to leave," Coreas said. "They wanted to deport her."
Coreas soon found out that, depending on the immigration judge, only 7 to 23 percent of immigrants with cases in El Paso were granted asylum between fiscal year 2015 and 2020. She then discovered that her chances for a successful case would increase to as much as 60 percent if she moved her case to New York City. She decided it was time to move.
"It was a tough choice, but I hope it was the right one," Coreas said.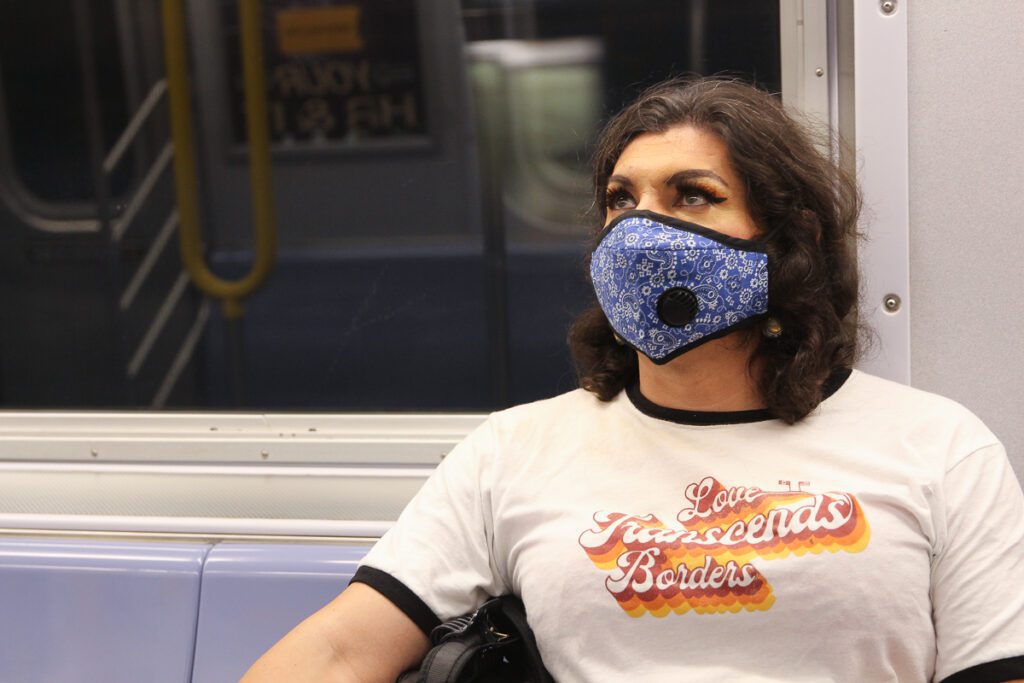 Photo by Claudia Hernández for Borderless Magazine
Coreas was able to travel to New York City with help from Casa Carmelita. Las Americas, however, isn't able to represent her in her new home. The group provided Coreas with suggestions for legal aid in New York, but Coreas is still looking for legal representation in the state.
In New York City, Coreas still faces the challenges of finding a job and getting critical medical aid. "I have a broken tooth. Also, I am almost out of my diabetes medicine," she said. She also struggled to find a welcoming home, a place like she found in Casa de Colores in Mexico or Casa Carmelita in Texas.
"I have stayed at a few friends' places, but I am never able to stay for too long," Coreas said.
One in five transgender individuals in the United States have experienced homelessness at some point in their lives. That number is likely even higher for transgender asylum seekers due to the restrictions on working they face, among other challenges.
Coreas said she found stability only when she met Sen-Pei Hsia, a 41-year-old visual artist and social worker. They met through a mutual acquaintance and immediately became close friends.
"I heard Susana's story and I was shocked. She tells it in such a calm way, like it is not a big deal. But she has had to endure so many things," Hsia said. "Her story is so inspiring. I knew I had to help her in any possible way."
Hsia offered Coreas a temporary home while she gets settled. She also helped Coreas connect with resources in the city.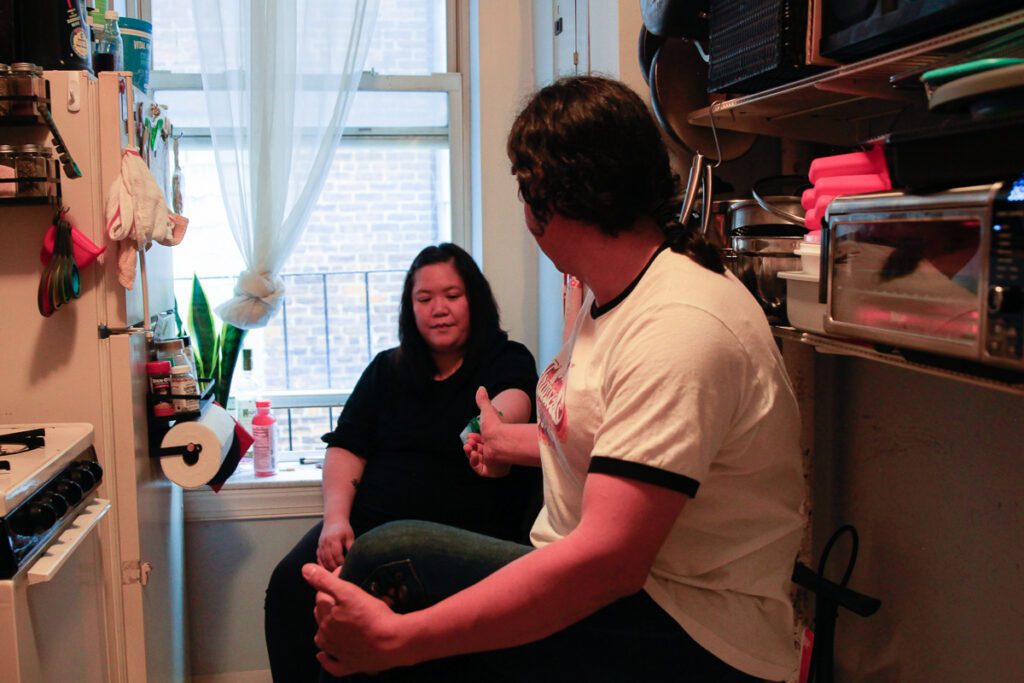 Photo by Claudia Hernández for Borderless Magazine
Coreas has also had to pause the GED course she was taking in El Paso. She isn't certain if she has the energy to be able to continue her education in New York.
"I sometimes feel so overwhelmed about all the things I have to take care of," Coreas said.
While meeting new people around the area, Coreas crossed paths with a former member of Casa de Colores who also lives in New York City. She invited Coreas to an online meeting with other trans people in the area. One of the people in charge of the meeting was the Rev. Dennis Camacho, who works for the AIDS Center of Queens County.
"That was a lucky strike," Coreas said. "I told him about my journey, how I used to be an engineer, and what I did with Casa de Colores back in Mexico."
Camacho told her about a possible opportunity for her to run a shelter similar to the one she had helped build for transgender women in Ciudad Juárez in New York. He and ACQC want to offer Coreas financial support for her to start building a new Casa de Colores.
"I know the great things Susana did [with Casa de Colores], and I think we could make a great team," Camacho said. "We both have experience running shelters so it's the perfect combination."
Coreas and Camacho are working on securing a location so they can start making their plans a reality.
Coreas sees this as a promising opportunity — she would have a permanent home while helping other women like her — but is not completely certain what she wants to do yet. She said she wants to make informed decisions because, due to her immigration status, she is walking on thin ice. She understands that if anything goes wrong, she could easily be deported.
For Hsia, the new opportunity demonstrates just how easily Coreas is able to make connections. "I think it is amazing how Susana was able to meet with a friend, and then that friend introduced her to just some meeting, and that meeting ended up being with [a large foundation] that was interested in funding a shelter for transgender people," Hsia said.
Photo by Claudia Hernández for Borderless Magazine
In the meantime, Coreas feels reassured knowing that all the friends she made in El Paso and beyond are finding hope in her story. She also knows that she can rely on them for help in case anything goes wrong.
"They are trying to figure out how we can make [another shelter] work," Coreas said. "I have to plan every single decision. I can't afford to make a mistake and end up worse."
In many ways, another journey for Coreas is just beginning. Only this time, she feels strong, having learned how to handle whatever comes her way.
"I no longer feel like I am in survival mode," Coreas said. "I now feel like I am living."
Coreas is raising money to cover food and rent costs in New York City. Learn more about the GoFundMe campaign here.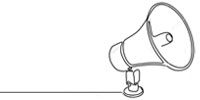 Bring power to immigrant voices!
Our work is made possible thanks to donations from people like you. Support high-quality reporting by making a tax-deductible donation today.