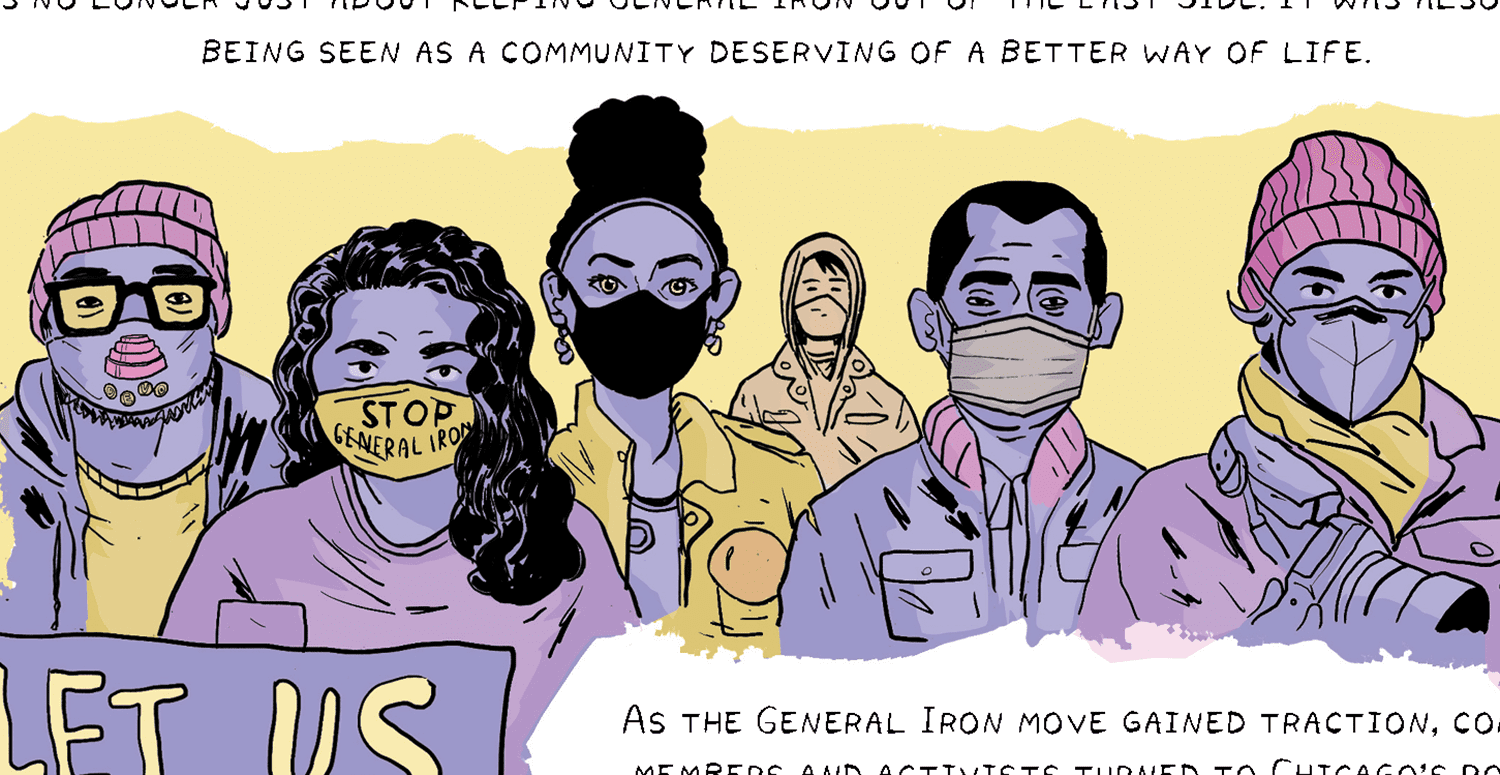 Illustration by Mike Centeno
Meet the youth behind the campaign against General Iron and the makers of our new comic book, "Reclaiming the Sacrifice Zone."
Never miss a story. Sign up for our Thursday newsletter to learn the latest about Chicago's immigrant communities.
On Thursday, June 3 Borderless Magazine held community with the people behind our new comic book, "Reclaiming the Sacrifice Zone." The term sacrifice zone comes from the words of longtime organizer Peggy Salazar and describes the divide within the city of Chicago and a place where people's health has been sacrificed for the benefit of wealthier and whiter parts of the city.
The comic book features a group of young Latinx organizers, called the Southeast Youth Alliance, that first met in 2018. The Southeast Youth Alliance aims to highlight issues Latinx youth face in Chicago through focusing on inequities and pushing for social change. The comic focuses on how young Latinx people in Chicago have built power and coalitions amongst those most marginalized in our city.
"Reclaiming the Sacrifice Zone" follows the work of Southeast Youth Alliance organizers at this critical moment on the East Side of Chicago. It was illustrated by local Venezuelan artist Mike Centeno with reporting by local journalist and SYA member Maria Maynez and support from Borderless Magazine's staff.
Read more
The comic is available in both English and Spanish.
Read the comic here.
Download the full comic here.
Thanks to the Crossroads Fund for their support of the comic.
Our work is made possible thanks to donations from people like you. Support high-quality reporting by making a tax-deductible donation today.                                                                                                                                   
Donate