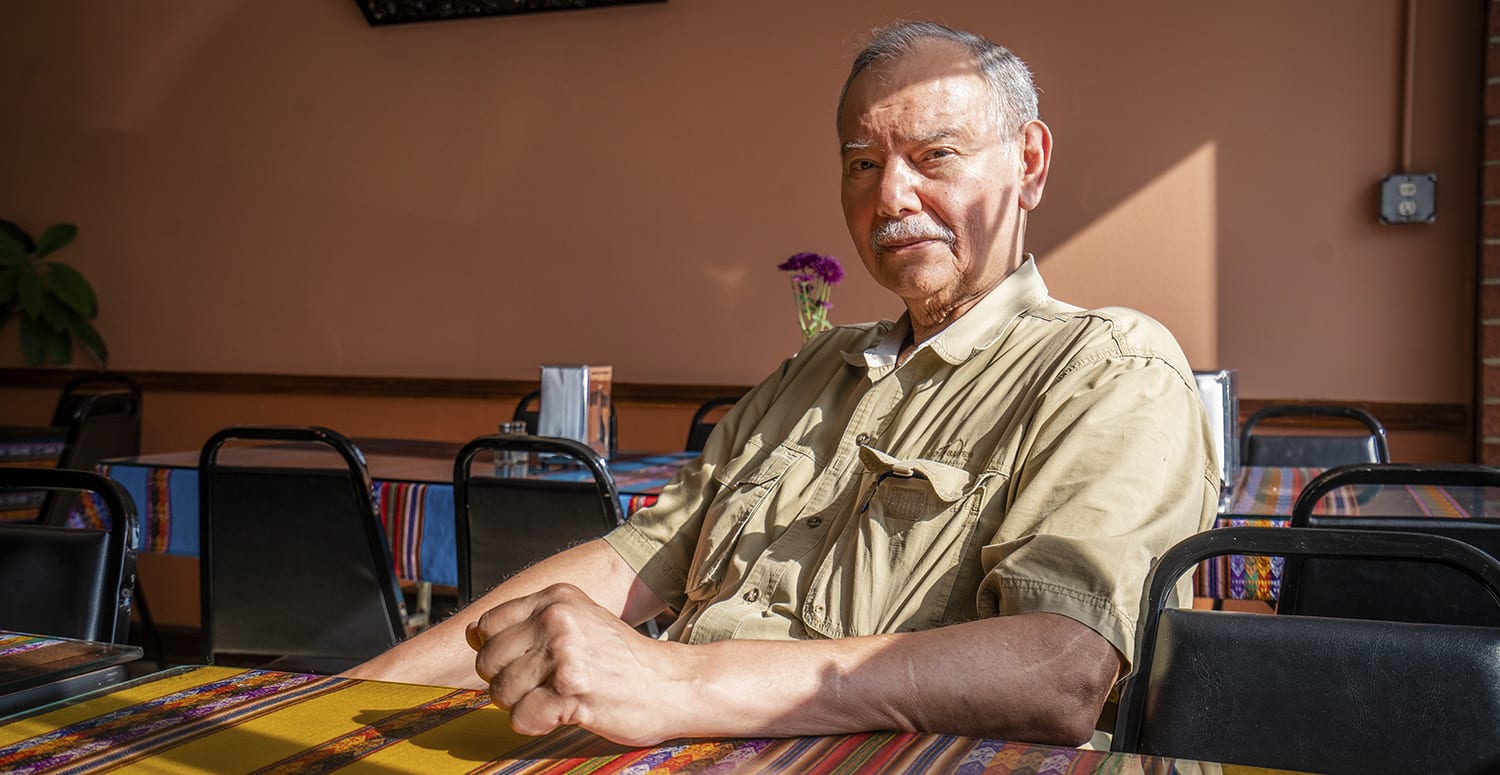 Photo by Camilla Forte/Borderless Magazine
Cesar Izquierdo, who owns Taste of Peru in Rogers Park, sits in his empty restaurant in Chicago Ill. on June 30, 2021.
Facing an uncertain future, immigrant-owned restaurants are navigating recovery after a pandemic hiatus with creativity and grit.
Never miss a story. Sign up for our Thursday newsletter to learn the latest about Chicago's immigrant communities.
Update: On July 13, 2021, Allies for Community Business' Jackie Blair sent additional information about the grant applicants in Little Village's 60623 zip code. Blair noted that the 10 applicants who did not receive the grant either did not complete their application or were ineligible. One applicant, for example, was not eligible because they had an Individual Taxpayer Identification Number (ITIN) — commonly used by undocumented workers and other types of immigrants — instead of a Social Security Number (SSN).
In early May, Cesar Izquierdo sat down for dinner with his daughter Sara Izquierdo in his restaurant, Taste of Peru. Spread across the table in front of them were dishes inspired by Izquierdo's mother and grandmother, including ají de gallina (a spicy and creamy stew with chicken with rice) and papa a la Huancaína (a dish of potatoes and hard-boiled eggs originating from Peru's Huancayo area).
For over two decades, Izquierdo's restaurant in Chicago's Rogers Park neighborhood has been a vibrant gathering place for Peruvians and locals alike. Tucked in between a nail salon and coin laundromat, Taste of Peru hosted live music performances every Tuesday and Wednesday night before the pandemic. A packed wall of pictures in the restaurant captures Izquierdo's involvement in Rogers Park over the years. 
But Taste of Peru, which opened for dining-in on May 14 after a long, pandemic-induced hiatus, remained vastly empty this spring. 
"People are not as comfortable to be in a small place and dine in," Izquierdo said. "I don't blame them. So many people haven't taken their vaccine yet. In Peru people are dying to get a vaccine, but over here, my daughter, who works in public health, has to beg people to get vaccinated." 
Izquierdo, who moved from Peru to the United States in March 1974, counts among the 18 percent of Chicago's population who are immigrants. Coming from all corners of the world, they are an integral part of the city's food scene, shaping culinary traditions and trends alike. Their cultures are on full view and widely celebrated in annual food festivals, including Mole de Mayo, Taste of Little Village: Flavors of Mexico, Little Italy Festa, Taste of Polonia, Ginza Holiday Festival and Greek Fest. But less visible is their daily grind of operating a business, which has only been more grueling in a year upended by the COVID-19 pandemic. Essential workers in the restaurant industry face high risks of contracting the virus, and enormous revenue shortfalls have forced many owners to close their business. According to the National Restaurant Association, restaurant industry sales across the country went down $240 billion in 2020. 
Nationwide, immigrants own 37 percent of small restaurants and make up 22 percent of the workers in the food service industry. A 2016 study found that cooking is the profession with the highest concentration of immigrants in Chicago — with 4.6 percent of immigrants working as cooks. 
To better understand the impact of the pandemic on Chicago's dining landscape, Borderless Magazine spoke to 20 immigrant-owned restaurants in the city about how they were recovering from the pandemic. About 26 percent of the restaurant owners we spoke to said they are struggling to pay the bills. Over half said they think they would have closed without government support. Confusion about how to find and apply for grants and other benefits were commonly cited as challenges for the owners.
More Than Places to Eat
On June 11, Illinois entered the latest phase of its reopening plan. Restaurant owners can now operate their businesses at full capacity, but many still face a complex recovery after more than a year of disruption and uncertainty. Some have received help in the form of grants like the Chicago Hospitality Grant Program, an emergency grant that received $10 million from the Coronavirus Aid, Relief, and Economic Security (CARES) Act for distribution to local restaurants and bars. The grant was the only one targeting the restaurant industry that the city offered during the pandemic, and only small businesses with an annual revenue under $3 million who also experienced a loss of at least 25 percent annual net revenue during the pandemic qualified. City workers targeted immigrant restaurateurs in campaigns in Spanish, Polish and Mandarin in an effort to get them to apply for the grant.
At Taste of Peru, business has been slow after a taxing year, but it is gradually picking up as Chicago reopens. The restaurant managed to pull through because it received grants to help pay employees and sustain operations. "We got a $2,000 grant from Heinz, [the Paycheck Protection Program], a $3,500 loan from a friend and the $10,000 Chicago Hospitality Grant in winter," said Izquierdo. "We couldn't have survived without that." To help survive the pandemic, Izquierdo also opened a mini Peruvian gift shop in the restaurant to sell clothes, souvenirs and instruments.
"The [Chicago Hospitality] grant sure has helped with the bills," he said. But as the cost of ingredients continues to rise, money is still tight. "We sell lomo saltado (stir-fried beef) for $14, and other places charge $20. And today, we buy ribeye, chicken or clams at twice the price."
Izquierdo found out about the Chicago Hospitality Grant Program through the Rogers Park Business Alliance, a nonprofit organization that helps to support business and economic development in the neighborhood. 
The pandemic has endangered neighborhood businesses like Taste of Peru, which often serve as both a gathering space and restaurant. Izquierdo, a longtime Chicago resident, believes that being involved in the community is essential. Since he moved to Rogers Park in 1974 — when shootings were common in the area — he has been involved in Chicago Alternative Policing Strategy meetings. "I started getting the Spanish-speaking community involved, and our first meeting was at Sullivan High School," he said. "Every Wednesday of the month we did more meetings and held parties in the community during holidays as well." He opened Taste of Peru in 1998, fulfilling his dream of bringing Peruvian food to Chicago. 
During the pandemic, customers and neighbors have come for more than food, approaching Izquierdo's daughter Sara with questions about the vaccine. A frontline worker involved in logistics and community vaccination efforts, Sara has volunteered in Mexico, Guatemala and Peru. When the pandemic surged in Chicago, she had just graduated with a masters degree in medical physiology and in public health. She helped administer the first 400 doses of the COVID-19 vaccine in Chicago. Being fluent in Spanish, she was able to help many restaurant regulars who faced language barriers to important information elsewhere, providing guidance on how to register for appointments and addressing other concerns.
"Just before the pandemic I was on Mexico's border working with immigrants coming through Mexico to the US, giving them a pathway to resources," she said. "When I came back to the U.S. I wanted to continue that work, but then the pandemic hit. Lots of people knew I worked in public health from my dad, so it made it easy for people to come over to our restaurant." She said she helped customers register for the vaccine and translate documents and information about COVID into Spanish.  
A City Effort to Help
Taste of Peru was one of the 1,000 restaurants that received $10,000 from the Chicago Hospitality Grant Program, the mechanism that the city used to distribute federal aid to restaurants during the pandemic. A Borderless Magazine analysis of city records found that 28.1 percent of the grant recipients serve Asian, Latin American, African or Middle Eastern food. But over 2,000 restaurants applied for the grant, meaning that countless businesses had to seek aid elsewhere. Many resorted to crowdfunding on their own.  
Jackie Blair, a representative for Allies for Community Business, the group that reviewed the grants, told Borderless Magazine that they distributed funds in a way that "prioritizes areas of the city that have been historically underinvested." That meant prioritizing applications from "low- and moderate-income community areas as well as applications submitted in Spanish." 
Map by Zihan Wang for Borderless Magazine
"We funded every one of these applications that was eligible, which totaled approximately 36 percent of the grants," Blair added. "We then provided the remaining 64 percent [of grants] via randomized lottery to other eligible applicants."
Borderless Magazine's analysis of the restaurants who applied for the grant found, however, that not every restaurant in low-income or Spanish-speaking communities were funded. For example, in Little Village's 60623 zip code, only 18 out of the 28 restaurants that applied received the grant. 
President and CEO of the Illinois Restaurant Association Sam Toia told Borderless Magazine that the grant provided "crucial support to minority- and immigrant-owned restaurants that are cornerstones of our 77 communities. We are now on a path to rebuild the industry, but restaurants still need help."
Izquierdo said he hopes that more grants from the city are on the horizon.
"There are a lot of people who lost everything. Some people made it, some didn't. Some didn't need a PPP or grant but got it. Some people were in need and didn't receive it or didn't know how to apply," he said. 
"We know several people on our block who work at local businesses who died from COVID recently," he added."I feel bad for those who lost their lives and lost their businesses. For those whose restaurants closed they should be awarded something at least and be given another chance to start over again, like how I got help." 
A Stopgap Measure — For Some
Less than two miles north of Taste of Peru, Athena Board Game Cafe is fully operational for its first summer. The cafe opened in May 2020, when Chicago was in Phase 2 of its reopening plan, which restricted nonessential gatherings. Venezuelan owner Patricia Gonzalez wanted to create a space for the community by holding weekly board game get-togethers in the cafe. Forced to offer only curbside pick-up, she eventually decided to sell board games as well as food. Gonzalez also received the Chicago Hospitality Grant, which helped her pay rent and some bills. She remains hopeful despite struggling to keep up with bills and reducing business hours. 
The grant also helped Giovanni Chirulli, owner of Tamalito in Rogers Park. Working with his wife and daughter, Chirulli opened the Mexican restaurant 10 months before the pandemic shut down Chicago. 
"Nobody told me about the grant," Chirulli said. "I just heard about it through the media. Thank God we got some help, but we need more help." Chirulli said that it has been hard to pay bills and buy essential equipment during the pandemic. 
The Chicago Hospitality Grant was the only one that the owners of Pars Cove, a Persian restaurant in Lincoln Park, received.
"I didn't get much from the government. The local government was more helpful than the federal government," said owner Max Pars. "I filled out an application for state and federal aid and I got one grant, $10,000 from the city. I didn't have time or knowledge on how to reach out to different organizations to get help." 
Born and raised in Iran, Pars moved to Illinois five decades ago to attend university. 
"COVID was the toughest time I ever had in 46 years here," Pars said. "I never really promoted delivery, because I was busy with the restaurant inside. I had to do everything myself from washing the dishes to sweeping the floor to helping the two people that I kept to work for me." 
Borderless Magazine found that for most restaurant owners who received the Chicago Hospitality Grant, the funds have served as a momentary solution — a stopgap measure that bought them some time. Gabriel Ayala and Sarah Ayala, a couple who runs Wake 'N Bacon in Lakeview, say they were able to retain staff with the grant, but they still struggle to pay the bills.
Among the less lucky are the owners of Russian Tea Time, a longtime culinary destination in the Loop. Co-owners and sisters Altyn and Enesh Mantyyevas told Borderless Magazine they had to survive by themselves after being denied the Chicago Hospitality Grant and the PPP three times. 
Many former restaurant workers have also distanced themselves from the industry, making it difficult for restaurateurs to replace staff they have lost over the last year. Lingering fears over COVID-19, changed mindsets about jobs and unemployment checks that pay more than typical restaurant wages have caused nationwide staffing shortages. According to researchers studying morbidity rates in California, deaths among line cooks soared by 60 percent during the epidemic, making the restaurant industry the deadliest profession in the United States under the COVID-19 pandemic. 
Longtime chef Generoso "Geno" Bahena found himself struggling with staff shortages in his Irving Park restaurant Mis Moles where he is a partner and executive chef. He also contracted COVID-19 in November and still suffers from lingering effects. 
Without any aid from grants and struggling to find employers, Mis Moles faces an uncertain future.
Mis Mole's Journey
The arrival of summer, coinciding with higher vaccination rates, is giving some restaurants here hope. Many are able to offer outdoor dining, which is in demand by customers itching to go out and eat and drink in the warm weather. According to a February survey conducted by OpenTable, 82 percent of Americans surveyed want restaurants to continue to increase outdoor seating in 2021. 
For people like Eugenia Galvan, the summer represents a tentative return to normal. The owner of Mi Fogata, a Mexican restaurant in Horner Park and recipient of the Chicago Hospitality Grant, has already made plans to fill her patio with beautiful flowers.
"In the [past], we had a lot of people. We had parties in the back room and people out front. When we recuperate, I hope there will be many people again," she said.
This story was reported with help from the Metro Media Lab, a project of the Medill School at Northwestern University aimed at strengthening journalism in Chicago. It is funded by the Robert R. McCormick Foundation. Reporting contributed by Medill graduate students Alex Shur, Isabelle Stroobandt, Kelly Milan, Maria Arias, Daniel Konstantino and Mark Dovich.  
Diane Bou Khalil was a FOIAFest 2021 Boot Camp mentee and is indebted to her mentor Adriana Gallardo.