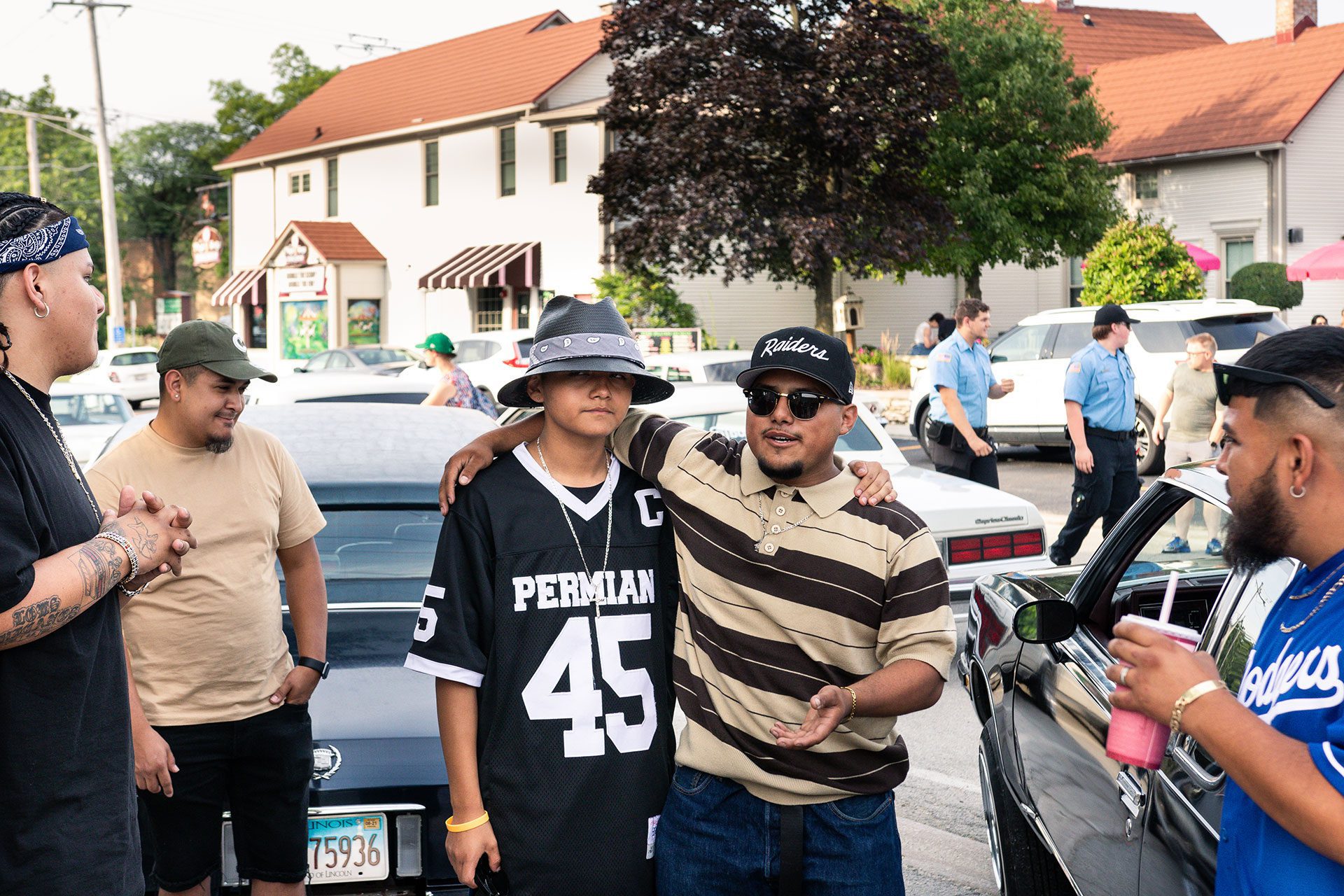 2018
Tony Morales, Bert Serrano, Kin Vega, Fabian Garcia and Kenin Vega stop for ice cream and to show off their cars in Palos Park, IL on July 25, 2021.
A new lowrider car club out of Cicero, IL brings together Chicago-area youth to bond over vintage muscle cars and celebrate Chicano identity.
On a humid Sunday afternoon in July, several cars lined up on Cermak Avenue in Cicero. Their owners drove low and slow, hitting knobs on the cars to make them jump. The smell of gasoline and burnt oil followed. Heads turned and people snapped photos as Fabian Garcia and his crew, Lows Chicanos, cruised in their old-school cars throughout Cicero and Berwyn, blasting music from Ice Cube to Cali Life Style to Spanish songs from the '60s.
---
Subscribe to our Thursday newsletter and never miss a story about Chicago's immigrant communities:
---
Fabian Garcia, 22, hit a switch on a panel he welded into the front dash of his 1963 Chevrolet Bel Air, an abnormally long car whose straight lines and circular tail lights give it a classic feel. Its back end dropped and scraped the pavement, producing a trail of sparks. Behind him, crew members methodically swerved in their rides while others had their cars jacked up as high as their hydraulics allow.
"Anyone can go cruise [Lake Shore Drive], or cruise here or cruise there," said Garcia. "But for me when I cruise on Cermak . . . that's when I know I'm in my zone. This is where I'm at peace. This is where I'm at one with myself, one with the road, one with the car and I'm just gonna enjoy this moment and live it up."
Garcia is head of Lows Chicanos, which he formed last year in the midst of the pandemic. Growing up in Cicero, he fell in love with lowriders at a young age. He remembers attending wrestling events and watching famed Mexican American wrestler, Eddie Guerrero, driving a green Impala. He also remembers the vibrant lowrider and old-school car community that gathered around his neighborhood.
As a kid in the aughts, Garcia remembers the car meetups that would take place on 25th and Laramie: lowriders cruising down the streets, their owners hitting their switches and bouncing as they drove. "There were hundreds of cars up and down, throughout the week, like you wouldn't believe," said Garcia. "It was just an everyday thing here."
In 2005, Garcia's dad, who also loves lowriding, bought a vintage truck that he planned to convert into a lowrider. Plans fell through as money became tight, and the truck was left unused and tucked away in the garage, Garcia said.
Car culture was also diminishing in Cicero around that time. In 2003, the town passed a cruising ordinance that prohibits drivers from circling an area more than two times in under an hour. Fines ranging from $100 to $500 were instituted to discourage cruising. Garcia said that the Cicero Police Department enforced the ordinance for a few years after its passage. But since he began Lows Chicanos, he and his friends have not had any run-ins with the police while cruising down Cermak, despite often slowing down traffic. Cicero officials did not respond to multiple queries about how or whether the cruising ordinance is still enforced.
Now, Garcia is trying to bring the car scene back to Cicero.
Two years ago, he started working in landscaping and began saving up to own a lowrider. "I remember not having one single penny in my pocket. It was my first day of work and I sent a text to my dad: Hey I don't know how I'm going to do this, I don't know when I'm gonna do it, but I'm gonna get that lowrider soon," said Garcia.
He hit his goal in August 2019 and bought a 1963 Chevrolet Bel Air. It didn't have any hydraulics, so he saved up over the next month and upgraded the suspension.
Last October, Garcia and his friends started Lows Chicanos after every one of them got their own lowriders. Today the group has seven members; their average age is 20 years old.
For Garcia, becoming immersed in lowrider culture has helped him understand what it means to be Chicano and Mexican American. Growing up in the United States, he was always called Mexican by other people, but in Mexico, his friends and family referred to him as gringito (a term used to refer to a person born in the U.S. and sometimes to Latinx individuals who speak little or no Spanish). No matter where he was, Garcia felt he didn't fit in. Over time, he embraced his individual identity.
"I'm not always gonna be normal, I'm not always going to be the super Mexican or this or that . . . I want to be different," he said. "And I want to do something different that no one's doing right now, at least at my age, and especially here in Cicero."
Lowriding in the United States began during World War II in the Mexican communities of California, according to John Ulloa, a professor at Skyline College in California who studies lowrider culture. Chicano youth would buy broken cars for as little as $20 and fix them at home with the help of friends and family. Originally they cut suspension springs to get the lowered stance, but they began fitting their cars with hydraulics from aircrafts so the car could be lifted up when needed to avoid being ticketed by the police, according to Ulloa. The same period saw the rise of the Pachuco and Zoot Suit movements, where Mexican American youth would dress in baggy suits made with excess fabric. The Zoot Suits became a statement piece of resistance to war and U.S. culture, at a time when fabric rationing was seen as a patriotic obligation.
The golden age of lowriding, though, was between 1977 and 1982, Ulloa said. Those years coincided with the popularization of Lowrider, a bestselling car magazine originally run by a trio of San Jose State students, and the release of "Boulevard Nights," a movie about Chicano youth in Los Angeles that heavily featured lowriders. While Lowrider ceased publication in 2019, the lifestyle isn't disappearing anytime soon, Ulloa said. On the contrary, he added, it has been evolving and spreading across the globe.
For Chicanos, lowriding can also be seen as a form of resisting mainstream U.S. culture that sidelined them. According to Ulloa, white car enthusiasts at the time jacked the front of their cars to increase their speed for drag racing, while drivers of lowriders jacked the back end of their cars and drove at their leisure.
"Chicanos would lower the back of the car to give it a different stance and profile, and then drive it low and slow. It was the opposite of what young anglos were doing," Ulloa said. "You're just making a completely different statement by doing that."
Julian Fernandez, 20, is a South Side resident but often cruises Cicero with Lows Chicanos. Fernandez said he was never into lowriders or the culture until one day in 2019, when he spotted some OGs — veterans of the lowrider scene — taking photos of their cars at a mural near his house. A few weeks later, Fernandez went to a meetup on Lake Shore Drive hosted by Chicago Mago and Chicago Low, two lowrider groups in the area. He didn't have a lowrider at the time but recalled everyone there being extremely welcoming. They taught Fernandez about the machines that made cars bounce and even let him ride in one.
"I just fell in love with it right there, and I knew I wanted to have my own lowrider," Fernandez said.
At the Lake Shore Drive cruise, he also met Garcia. They hung out a couple of times after the event and went on cruises together. In November 2020, after acquiring a 1977 Monte Carlo, Fernandez joined Lows Chicanos. Over the next months, he saved up and upgraded everything in his car, from his engine to the suspension to the steering control arms. He even installed six additional car batteries in the trunk to power the new hydraulic system.
For Fernandez, the perfection necessary to maintain a lowrider keeps him drawn to the culture. "Every little detail is noticeable, whether it's a bad detail or a good detail," he said. "I learned to love it because I did all the work on my own. So it was like [having] an attachment to my car."
The members of Lows Chicanos have no intention to cause problems for other drivers or residents. For them, the culture is about building community, particularly among Cicero youth.
"It's a very positive lifestyle," Garcia said. "I know that a lot of kids might not have the best sense of direction, whether it's a home, whether it's with their families or friends. But I feel like with this lowriding stuff . . . I try to inspire a thought into their head that hey, you could do this too."
At its core, cruising is about getting into a relaxed mindset. Most members of Lows Chicanos work throughout the week, so weekend cruises are the one time they can forget about the stresses of life and show off their cars.
"It's an escape for all of us to just leave and go cruising from our personal life and if we have any problems," Fernandez said. "Everybody is bouncing their cars and cruising, then you have your music. It really takes you out of your mindset and puts you in another place."
This story was produced in collaboration with Cicero Independiente.
Our work is made possible thanks to donations from people like you. Support high-quality reporting by making a tax-deductible donation today.                                                                                                                                   
Donate