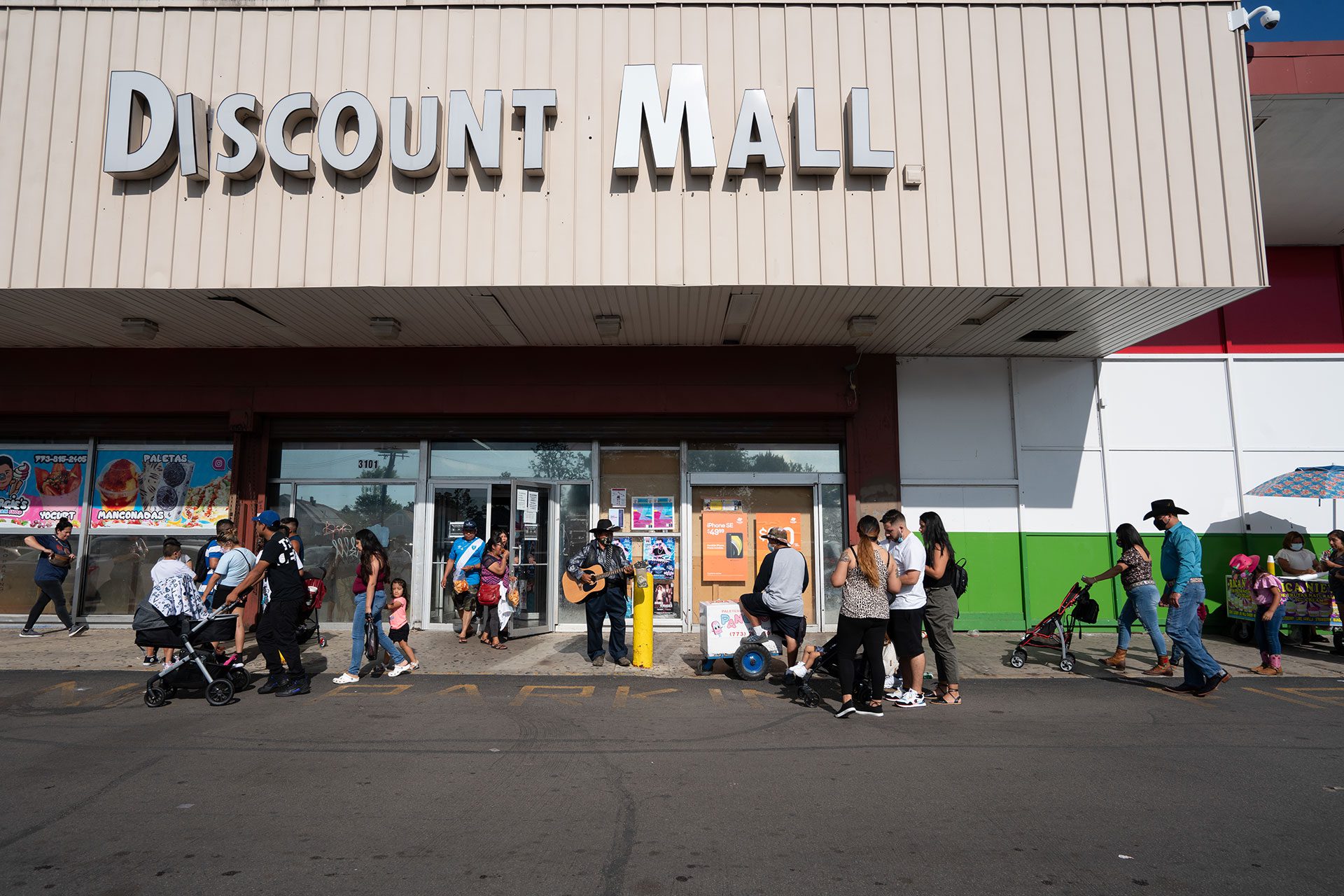 Photo by Camilla Forte/Borderless Magazine
People walk toward Little Village's Discount Mall, at 3115 W. 26th St., Chicago, Ill., Aug. 14, 2021.
Latinx business owners worry about the fate of their stores at the iconic Discount Mall in Chicago's Little Village neighborhood.
When customers want to find Juan Zarate's store, they just follow the sounds of parakeets.
For almost three decades, the Mexican immigrant has run the Chicago Pet Store on the south side of the busy Discount Mall at 3115 W. 26th St. in Chicago's Little Village neighborhood. Situated in a plaza near the predominantly Latinx neighborhood's iconic arch, the mall is home to over 100 small businesses like Zarate's selling everything from rosaries to Quinceañera dresses to musical instruments to Mexican snacks.
Want to receive stories like this in your inbox every week?
Sign up for our free newsletter.

For members of the Mexican diaspora, the mall has a feeling of home. Billed as "a little piece of Mexico," people come from throughout the Midwest to visit the shopping center seven days a week.
Now 81 years old, Zarate enjoys sitting on his walker in front of his store counter, answering customers' questions about his menagerie of birds, turtles and fish. After opening his business in the Back of the Yards neighborhood in 1985, Zarate moved to the mall in 1992, shortly after the Discount Mall opened. His business is now a family affair with this daughter and granddaughter helping him run the pet shop.
But after 36 years in operation, the future of Zarate's business and others in the mall is now uncertain. Development company Novak Construction bought the mall in February 2020, sparking rumors that a big box retailer could displace the mall and its small businesses. And over 18 months after the sale, business owners say they have been kept in the dark about the mall's future.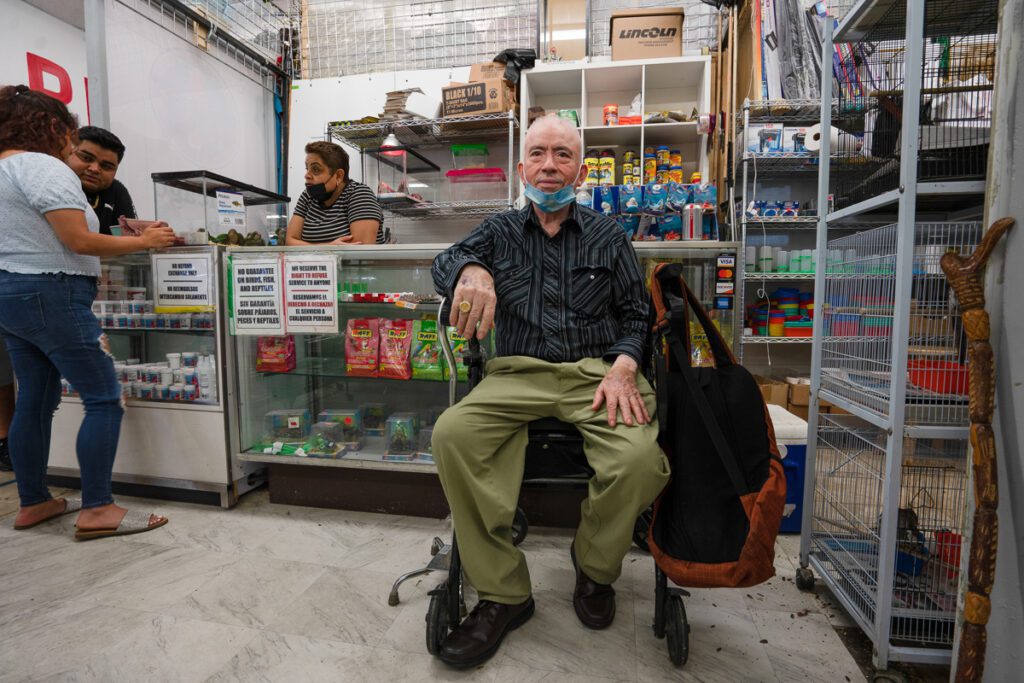 Photo by Camilla Forte/Borderless Magazine
Novak Construction did not answer requests for comments or updates from Borderless Magazine on the Discount Mall development. The Little Village Chamber of Commerce and 12th ward Alderman George Cardenas also told Borderless Magazine that they have not heard any updates from the developers.
The uncertainty of the mall's future has left business owners on edge. Facing the pressures of the COVID-19 pandemic and a rapidly gentrifying neighborhood, many business owners are now stepping up to fight for their mall and their home.
"This is our neighborhood," Zarate said in Spanish. "We can't live without it."
Before the Discount Mall property's most recent sale to Novak Construction in 2020, the property was owned by Little Village Shopping Center, LLC. The company is managed by Shai Lothan, whose family has helped oversee the Little Village Plaza since the early '60s and leased the mall building to different tenants over the years. In the '80s, the building was a Zayre discount store, then an Ames department store.
In 1991, Little Village Shopping Center, LLC leased the building to Pilsen Plaza Corporation, giving it permission to sublease the space to individual business owners. The idea, Lothan said, was to create a mini mall like those he had seen in New York City. As merchants moved into divided areas, the space transformed into the present-day Discount Mall.
The Discount Mall's expansive, monolithic facade belies its labyrinthine interior, which resembles a flea market. Vendors stand outside their stalls calling for the attention of passersby. The majority of vendors are Mexican immigrants, and that is reflected in the items they sell, the food that can be found there and the mercado-like atmosphere of the space.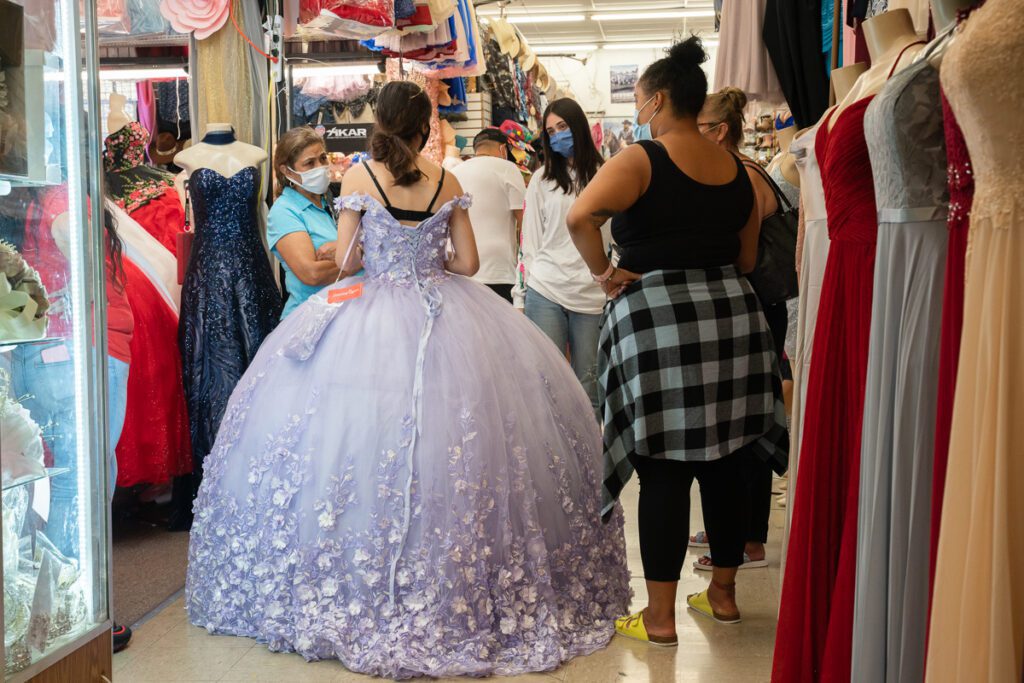 Photo by Camilla Forte/Borderless Magazine
For people who grew up with the Discount Mall, like lifelong Little Village resident Edith Tovar, the mall serves as a beacon of tradition and culture that attracts shoppers near and far.
"For someone who doesn't know about Little Village or the Discount Mall, it's basically the Mexican capital of the Midwest," said Tovar, a community organizer with the Little Village Environmental Justice Organization. "That in itself is such an important cultural institution because many of us know where to go if we're feeling nostalgic. If our families or our parents are feeling nostalgic to get a little pedacito de dulce [piece of candy] from their hometown in Mexico, you'll most likely find it at the Discount Mall."
In the Little Village Plaza parking lot, families unload from cars with license plates from Iowa, Michigan and Wisconsin, but also from places farther away like Washington state and Tennessee.
In addition to attracting out-of-towners, the Discount Mall is special because it is a place for families to come together, said formal wear stall vendor Kocoy Malagón.
"This mall is family-friendly," Malagón said in Spanish. "Here, you come with mom, dad, grandma, with the babies in their strollers."
For decades, 26th Street in Chicago has been a prime hub of economic activity, largely fueled by immigrant entrepreneurs. In 2015, Crain's Chicago Business dubbed the area Chicago's "other Magnificent Mile" on account of it being the city's second-highest-grossing shopping district.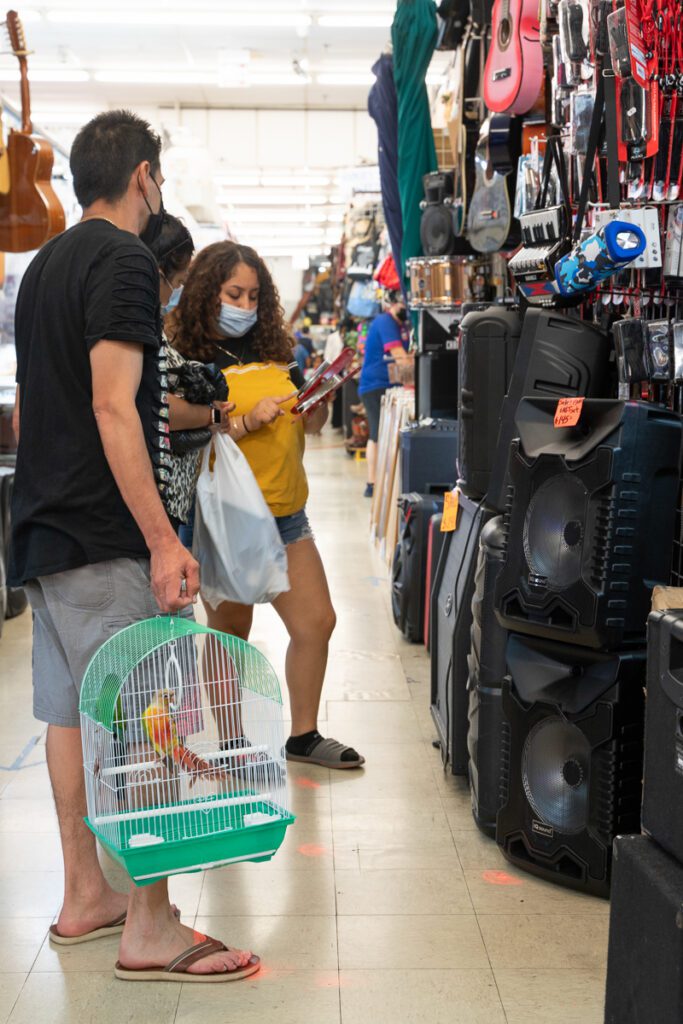 Photo by Camilla Forte/Borderless Magazine
Since then, the area has caught the attention of developers, raising concerns of gentrification and displacement in the surrounding area.
A new 1-million square foot Target warehouse was opened on the south side of the neighborhood this July, attracting three dozen protesters who say that the warehouse will bring in additional truck traffic and air pollution. Developers Hilco Redevelopment Partners invested $100 million to develop the site.
Additionally, planned developments for the area include a $600 million mixed-use project from the Chicago Southwest Development Corporation. The project would include a new facility for St. Anthony hospital and has already displaced an immigrant-run community arts space known as La Casa del Inmigrante. The artists were forced to leave the space last Thursday, after a contentious eviction process. The group is now seeking a new shared space to continue their community work.
With 28 percent of the population living under the poverty level, residential areas near the Discount Mall are vulnerable to displacement as housing prices and the cost of living rise, according to a study by the Institute of Housing Stability at DePaul University.
The sale of the Discount Mall to developers last year comes amidst this changing landscape. According to Lothan, the mall's sale was necessary because Little Village Shopping Center, LLC could not afford to continue operating the way it had been. As the Discount Mall building aged over the years, costs for maintaining the facility increased. Meanwhile, Pilsen Plaza Corporation had split into two companies —Pilsen Plaza Corporation and PK Mall. Eventually, the Little Village Shopping Center, LLC had decreased rent for the plaza's tenants due to competitive prices in the neighborhood, Lothan says. It is unclear how vendors' weekly rents, which included security, heating and air conditioning for the building, changed during this time.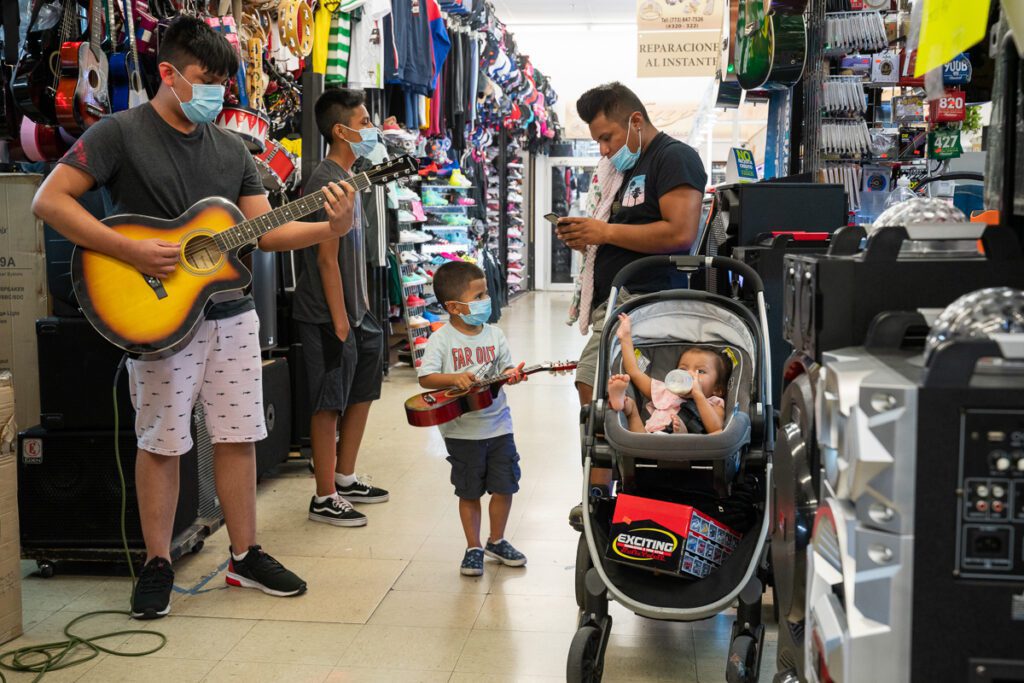 Photo by Camilla Forte/Borderless Magazine
"The mini mall concept was great in its heyday, but all but this one [in Chicago] have closed down in the last several years. It just can't compete the way that it used to," Lothan said. "You can blame Target and Walmart or you can blame Amazon and eBay, but everything is just more competitive in retail than it used to be."
Lothan, who is also ​the director of real estate development at the Greater Waukegan Development Coalition, said he hopes the new owners will work to maintain the area's cultural significance.
"I would love to see [the Discount Mall] rebuilt as a community center that draws upon its heritage, the Mexican community, the arch, and becomes a magnet and inspiration for the Latino community," he said. "When you talk to the people from the different chambers of commerce and the different community organizations, there's still a lot of hope to see something that unites a community together."
"I hope that whatever happens here is something that really does give the community a sense of identity," he added.
In February 2020, Novak Construction purchased the Little Village Plaza for $17.5 million, according to public property records. It acquired the plaza under the company name "26th Street Little Village, LLC."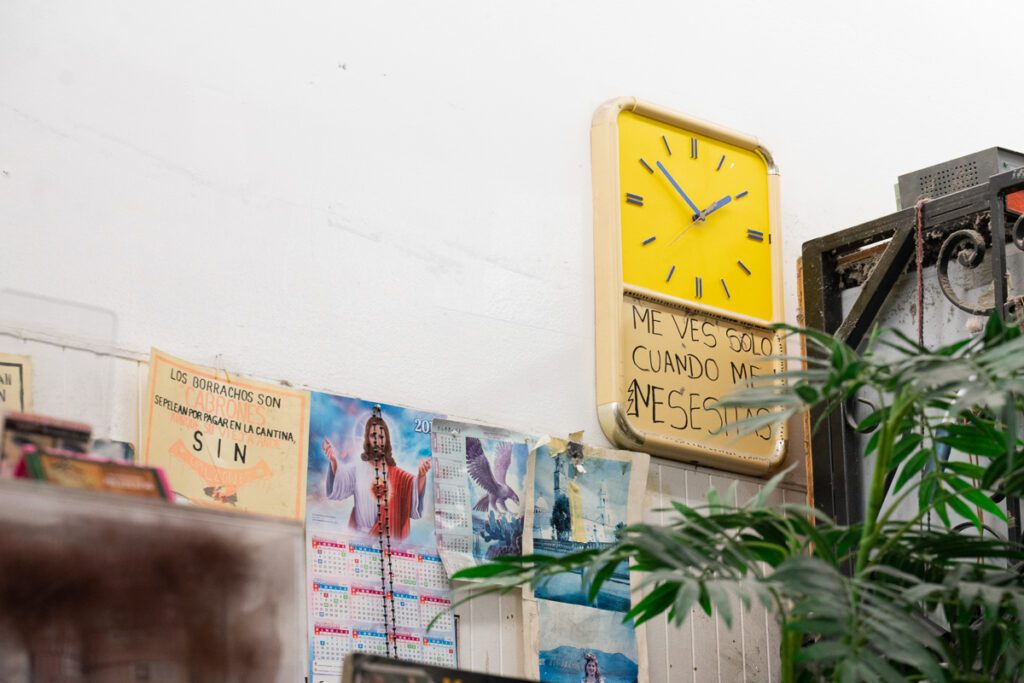 Photo by Camilla Forte/Borderless Magazine
Pilsen Plaza Corporation and PK Mall have since continued to manage the Discount Mall's vendors and current sublease contracts. But in a March 2020 interview with the Chicago Sun-Times, Novak Construction founder and president John Novak said he did not know if the mall was "the best use of the property." His statement spurred controversy among community members, who believed that his plans threatened the mall's existence. Many began speculating what would be put in the mall's place.
According to the company's website, Novak Construction has worked with a number of big-box retailer clients such as Mariano's, Wal-Mart and Target. However, Novak also said that plans are "at least a couple years in the making."
Should the Discount Mall close, vendors would likely be out of work and lose a significant, if not only, source of income. One employee who has worked at a stall there for seven years and who asked not to be named said she can make $100 per day working at the mall.
Since the announcement of the plaza's new owners, the employee said she's seen a few stalls close, although it is not clear if the closures were related to the COVID-19 pandemic or the uncertainty of the mall's future.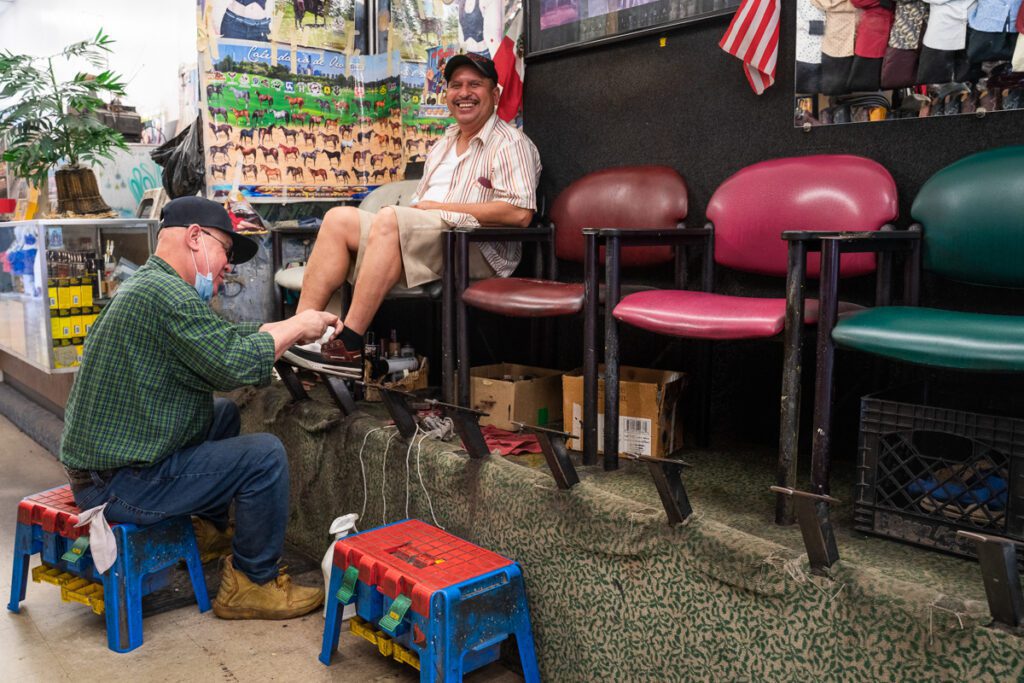 Photo by Camilla Forte/Borderless Magazine
The last statement Novak Construction released on the mall was in August 2020.
"Although rumors and misinformation have surrounded the plaza for months, the owners wish to convey that there will be no re-development plans this year as they seek to understand the market and the neighborhood better," the statement read.
The company did not answer requests for comments on the status of the development or future plans for the property.
The Little Village Chamber of Commerce told Borderless Magazine that they have not received news from developers.
According to vendors, their contracts with the building are scheduled to terminate in August of next year.
Like many business owners, Kocoy Malagón is an expert multitasker. On a typical workday at the Discount Mall, Malagón can be found sitting at a whirring sewing machine beneath a canopy of hanging dresses, working nimbly to trim threads, adjust delicate fabrics and manage her storefront.
Although the formalwear seamstress rarely looks up from the task at hand, Malagón still engages with her customers in a cool, level-headed tone, promising same-day alterations at no extra charge and negotiating prices. Malagón said this is how she's been able to maintain a loyal customer base in her 12 years of business at the mall.
Since facing the uncertainty of her store's future, Malagón has taken on the new role of community activist. She is the president of Juntos Por La Villita, a local grassroots organization made up of local small business owners and community members who speak out against gentrification and displacement in the neighborhood.
Photo by Camilla Forte/Borderless Magazine
And while Novak Construction has kept silent the last year, organizers have become only more vocal.
In September 2020, as the rest of the neighborhood celebrated Mexican Independence Day, Malagón and other community members and vendors gathered to protest changes to the Discount Mall. Demonstrators voiced their demands in speeches and on posters and chalk messages on the Discount Mall's sidewalk. Messages read "EL BARRIO NO SE VENDE" — the neighborhood is not for sale — and "STOP DISPLACEMENT!". In addition to expressing their opposition to a big-box retailer that would displace vendors, demonstrators also called for support from 12th Ward Alderman George Cardenas. 12th Ward Alderman George Cardenas's office also told Borderless Magazine that they do not have any updates with regard to the Discount Mall.
This July, community organizers from Juntos Por La Villita met again at La Villita Park to remind the city and Novak of their demands for the Discount Mall's future. According to Malagón, approximately 70 event attendees composed of community members participated in art activities and listened to testimonies from two of the mall's vendors. As one of the two speakers, Malagón wanted to tell the community how the small business owners would be impacted by the change, and how it could affect the Little Village community as a whole.
"We are not opposed to development," Malagón later explained. "We are not opposed to progress; we want to be part of the progress. If Novak comes with their millions [of dollars], invest it in the community."
That community includes Valentina Ramirez, a mall vendor who came to the United States from Mexico City. Ramirez has operated her stall at the Discount Mall for 23 years selling Chicago souvenirs, including T-shirts and hats. She pays $500 in weekly rent, which she thinks is relatively expensive for the area.
Ramirez said she has not received any new information about the status of the Discount Mall in recent months.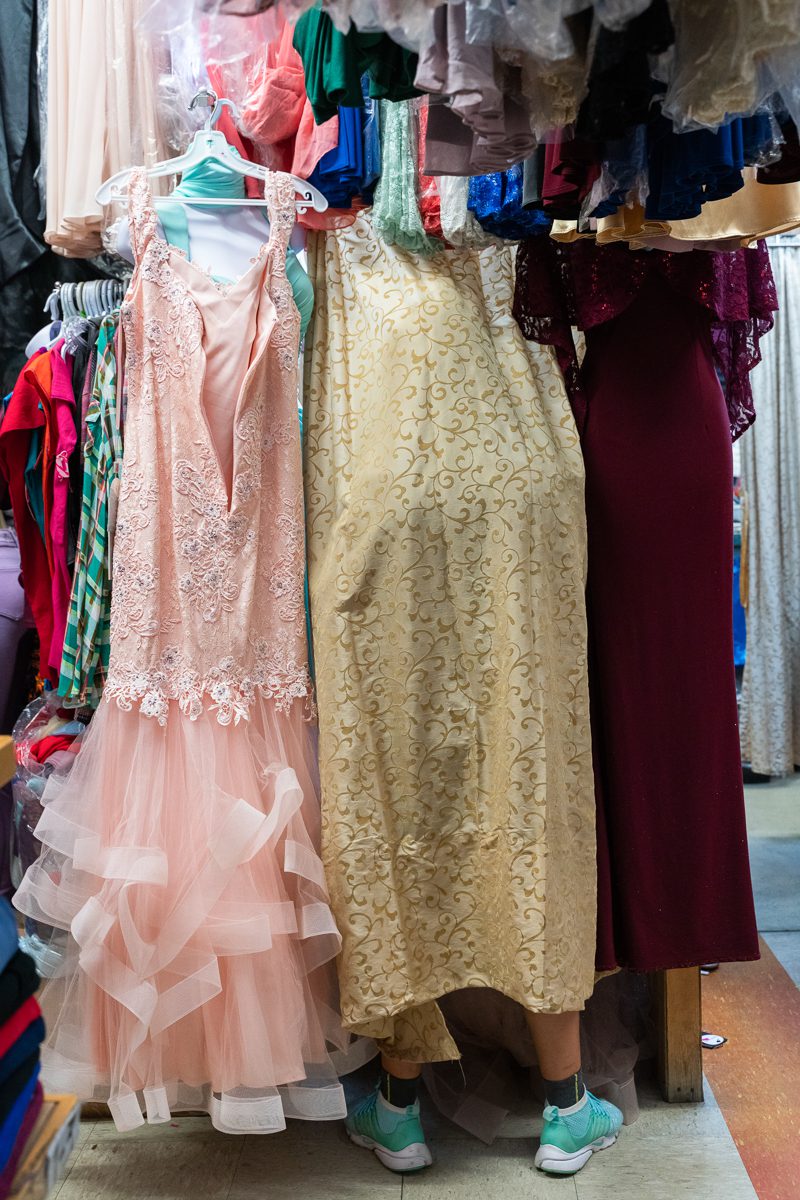 Photo by Camilla Forte/Borderless Magazine
Should she have to close up shop, Ramirez said she would have to find a new place to do her business. If possible, she'd prefer to stay in the Little Village area where business is good, but she has no plans to start looking for a new location just yet.
"There will be many places [to move the business to] around," she said. "But in the meantime, well, we'll wait and see what they tell us."
The Discount Mall's mini mall business model provides a unique concentration of culturally similar goods, services and community — something vendors fear they could lose if they relocate.
"A lot of people already know us here and they know that [at the Discount Mall] we have everything they're looking for," Ramirez said.
Another vendor, who asked not to be named for privacy reasons, said her parents began operating in the Discount Mall when it opened 30 years ago. The business was the first her family owned when they immigrated from Mexico. She hopes that instead of closing the mall, the developer will renovate the building to fix its leaky roof and improve its bathrooms.
In addition to the challenge of finding an available location and relocating, vendors looking to move into a brick-and-mortar location elsewhere in Little Village may face prohibitively high rent prices in the future.
A 2020 Little Village Commercial Corridor Study by the Chicago Central Area Committee and World Business Chicago for the Little Village Chamber of Commerce found that rental rates for retail spaces on the neighboring 26th Street have been on the rise, "in some cases as much as retail streets in much higher income neighborhoods."
"While that can be considered an indicator of success to some extent, it can obviously be problematic for local businesses and lead to issues such as displacement," the study's authors wrote.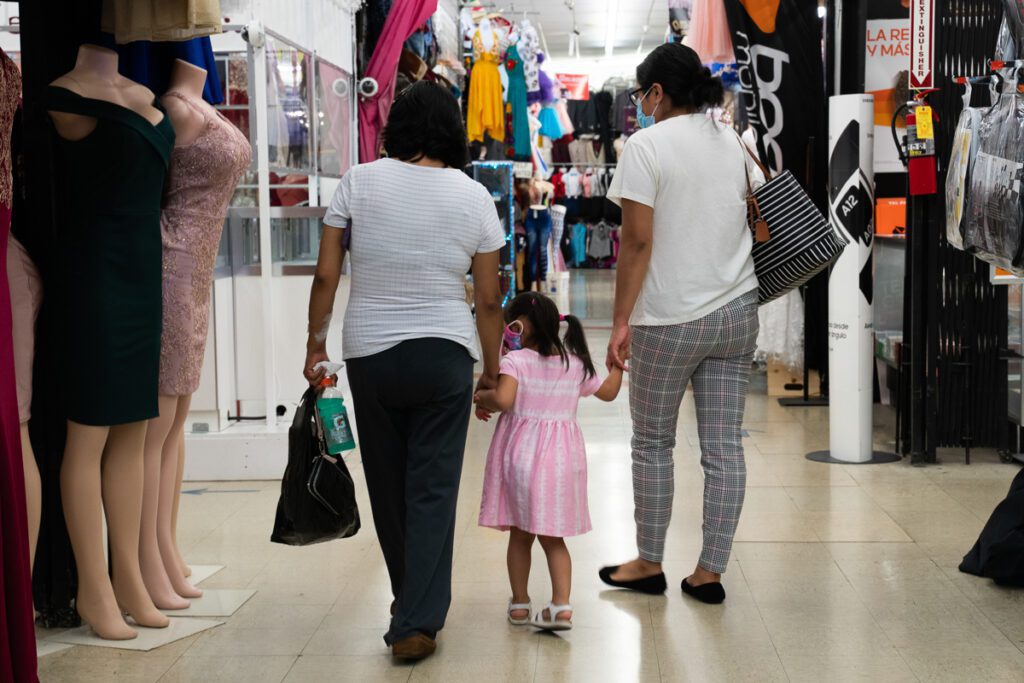 Photo by Camilla Forte/Borderless Magazine
As business owners wait to learn the fate of the Discount Mall, stores like the Chicago Pet Shop continue to operate as they have for decades. On a Friday afternoon in early August, Zarate was joined in the shop by his granddaughter Anna Ocampo.
The 22-year-old has been paying close attention to the fight over the mall's future after growing up working at her grandfather's store. She says that she worries that the voices of families like hers are missing from the conversation about the development.
"I would want [the new owners] to at least listen to us, at least speak to vendors and hear their stories and maybe see if that would change their mind," she said.
Although her family's plans are uncertain, Ocampo has not excluded the possibility that the Chicago Pet Shop might eventually reopen elsewhere on 26th Street.
"My biggest concern is my grandfather and my mom — they've dedicated their life to this business for so long. It's all they know," Ocampo said. "As of right now, we don't know how easy it is to get a spot on 26th street and if it will thrive outside of here."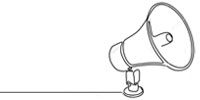 Bring power to immigrant voices!
Our work is made possible thanks to donations from people like you. Support high-quality reporting by making a tax-deductible donation today.