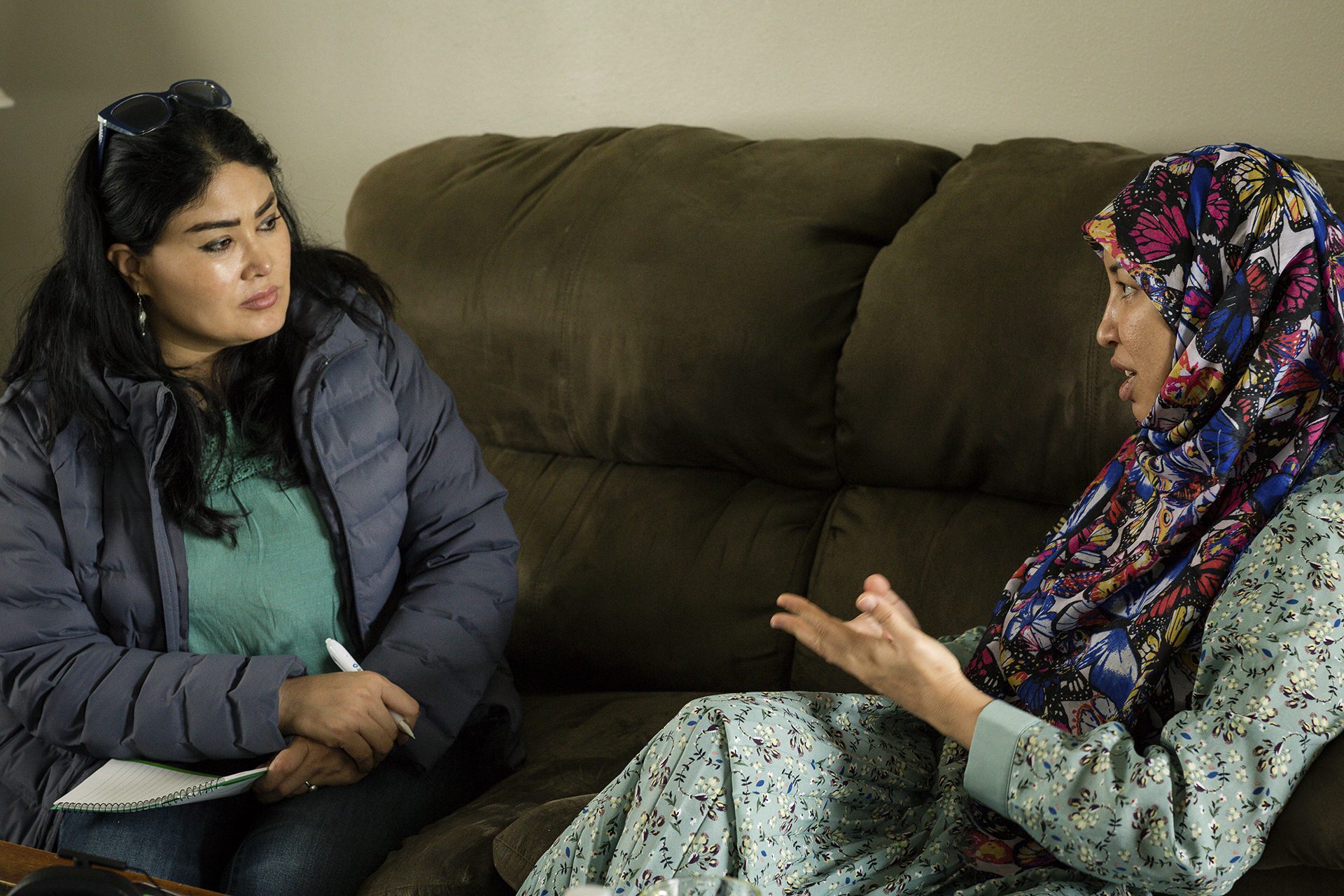 Michelle Kanaar/Borderless Magazine
Saleha Soadat interviews former Afghan district governor Salima Mazari in her current home in the American Midwest, May 4, 2022.
A female Afghan governor-turned-refugee, a Bangladeshi community builder working behind bars, a Mexican American woman who turned love-letter writing into a family tradition, here are some of the people whose stories we helped tell in 2022.
Want to receive stories like this in your inbox every week?
Sign up for our free newsletter.

Whether we are reporting on environmental health hazards, the driving causes behind immigration, or fighting for change in one's community, we work to create a representative media landscape that includes diverse voices and experiences.
As we look to the year ahead, we will continue to bring you stories of immigrants fighting injustice and working to build and strengthen our communities.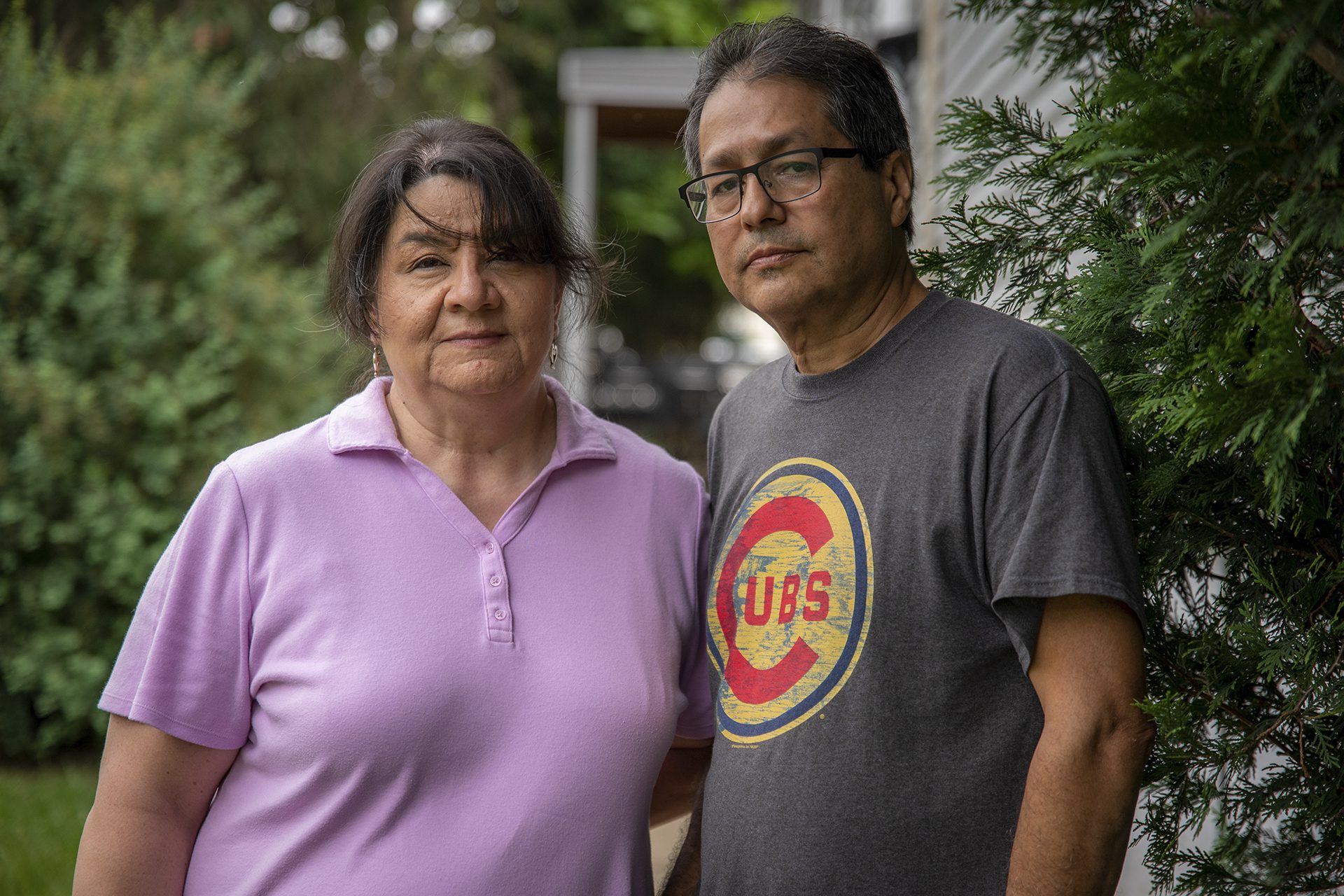 Jonathan Aguilar/Borderless Magazine
A West Chicago local factory was once the largest producer of thorium in the world which made the Latino majority city the "radioactive capital of the Midwest."
Radioactive waste from the factory, which looked like sand, was used as fill and spread to parks, homes, sidewalks and construction sites across West Chicago. Sandra and Jesse Arzola and other West Chicago residents spoke to journalist Liuan Huska about discovering the legacy of a toxic danger tainting their community.
"People don't want to discuss it," said Jesse Arzola, "because they are afraid of the unknown."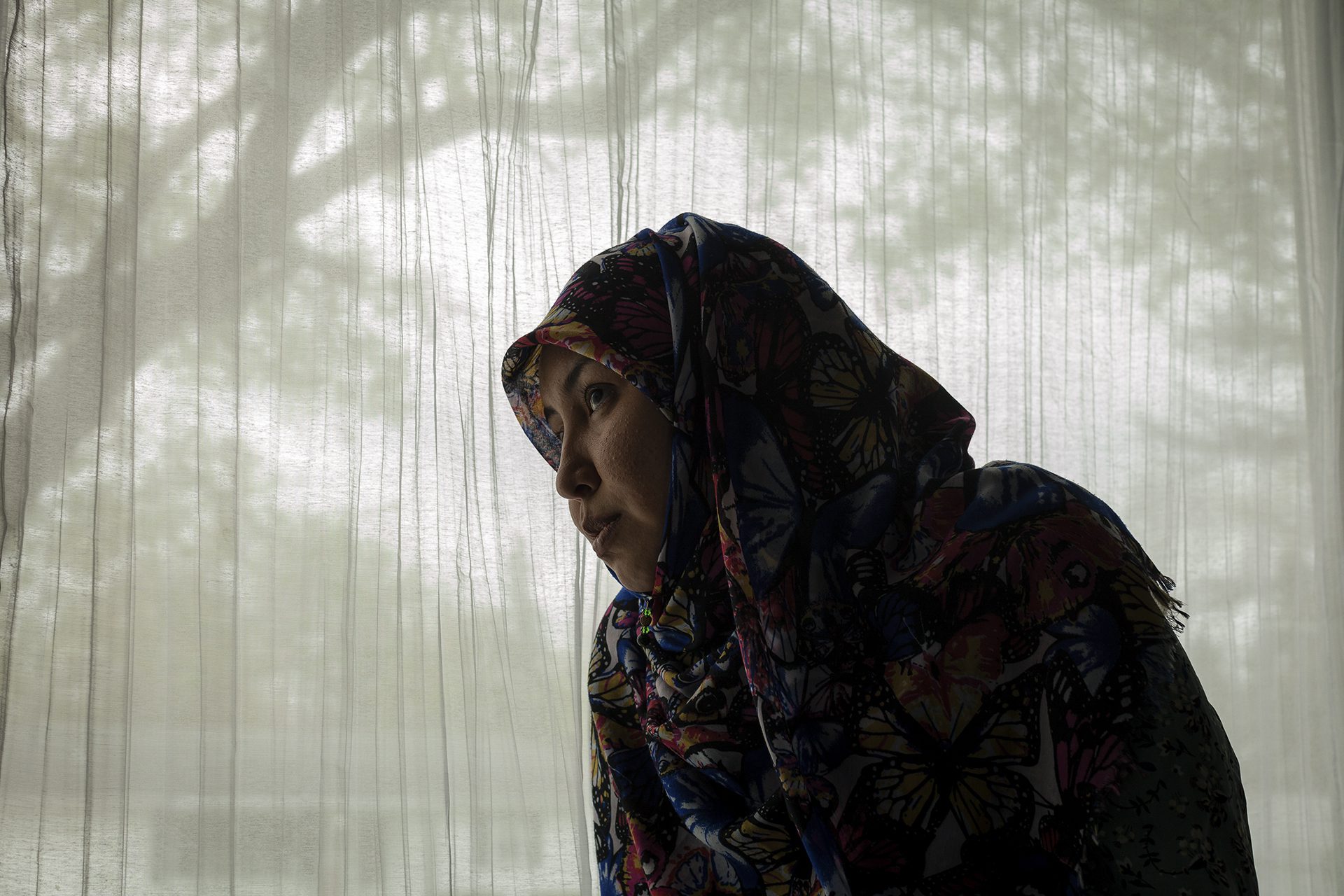 Michelle Kanaar/Borderless Magazine
Salima Mazari was one of just three women serving as a district governor in Afghanistan before the Taliban took over. Mazari grew up as a refugee in Iran, where she completed her education. She belongs to the Hazara ethnic minority that has been discriminated against for years because of their ethnicity and Shiite religion. After the collapse of the Afghan government in August 2021, Mazari migrated to the American Midwest with her husband and three children, where she continues to advocate for Afghans.
This story is part of our series, Broken-Winged Birds: Afghans in Exile.
"War and violence are not things to be loved," said Mazari. "As a woman, I never wanted to go to war just to defend my people and my family. But there was no other way."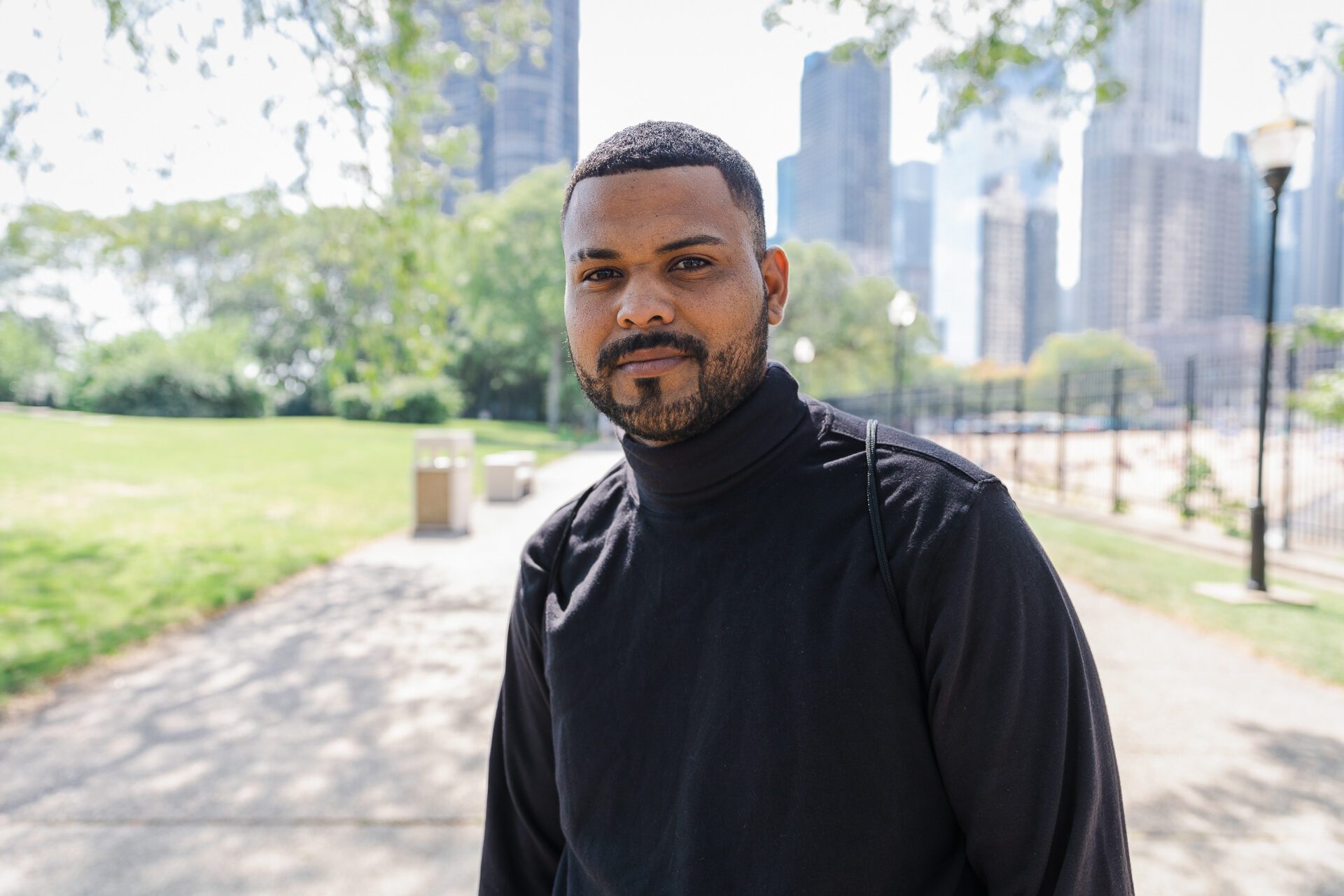 Jesus J. Montero for Borderless Magazine
Denis "Omar" Covis left his pregnant wife and children and traveled over 3,000 miles — including on foot, through jungles, mountains, and rivers — to get to Chicago. But he says the trip wasn't a choice, it was a necessity. Leaving home was the only way he would be able to find a job that would support his growing family.
This story is part of our series, After The Buses: Meet The Migrants At The Center Of Texas' Manufactured Crisis.
""Faith is the last thing you lose and I know God gives us a lot of opportunities," said Covis. "While I'm alive, I'll persevere."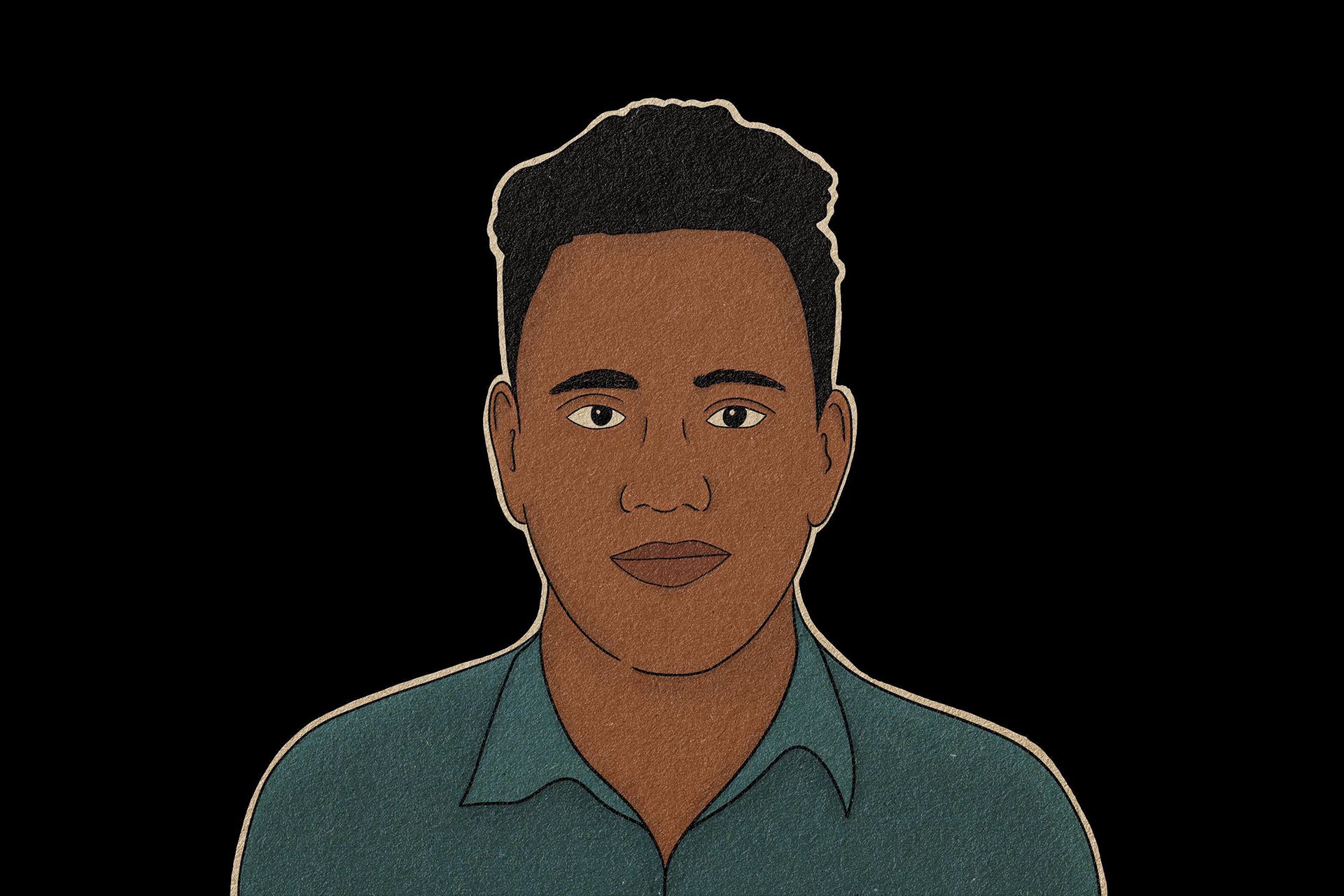 Illustration courtesy of Organized Communities Against Deportation
Al-Amin Porosh has helped fellow detainees navigate an opaque immigrant detention system – and built a community behind bars. When Illinois decided to shut down its immigrant detention centers in early 2022, advocacy groups and attorneys were left scrambling to find clients who had been abruptly transferred to jails and private detention centers across the country.
At the McHenry County jail in suburban Chicago, Porosh, a 25-year-old immigrant from Bangladesh, proved to be a lifeline for information. In the midst of isolation and stress of detention for most, his efforts connected people to advocates to receive legal assistance and updates which built a community in the world's largest immigrant detention system, a largely opaque network of local jails and private prisons spread across the United States. Porosh was released in December, 2022 after spending 22 months in detention and almost being deported twice.
"I came to this country to save my life, to get a better life, and then I can help people," Porosh said.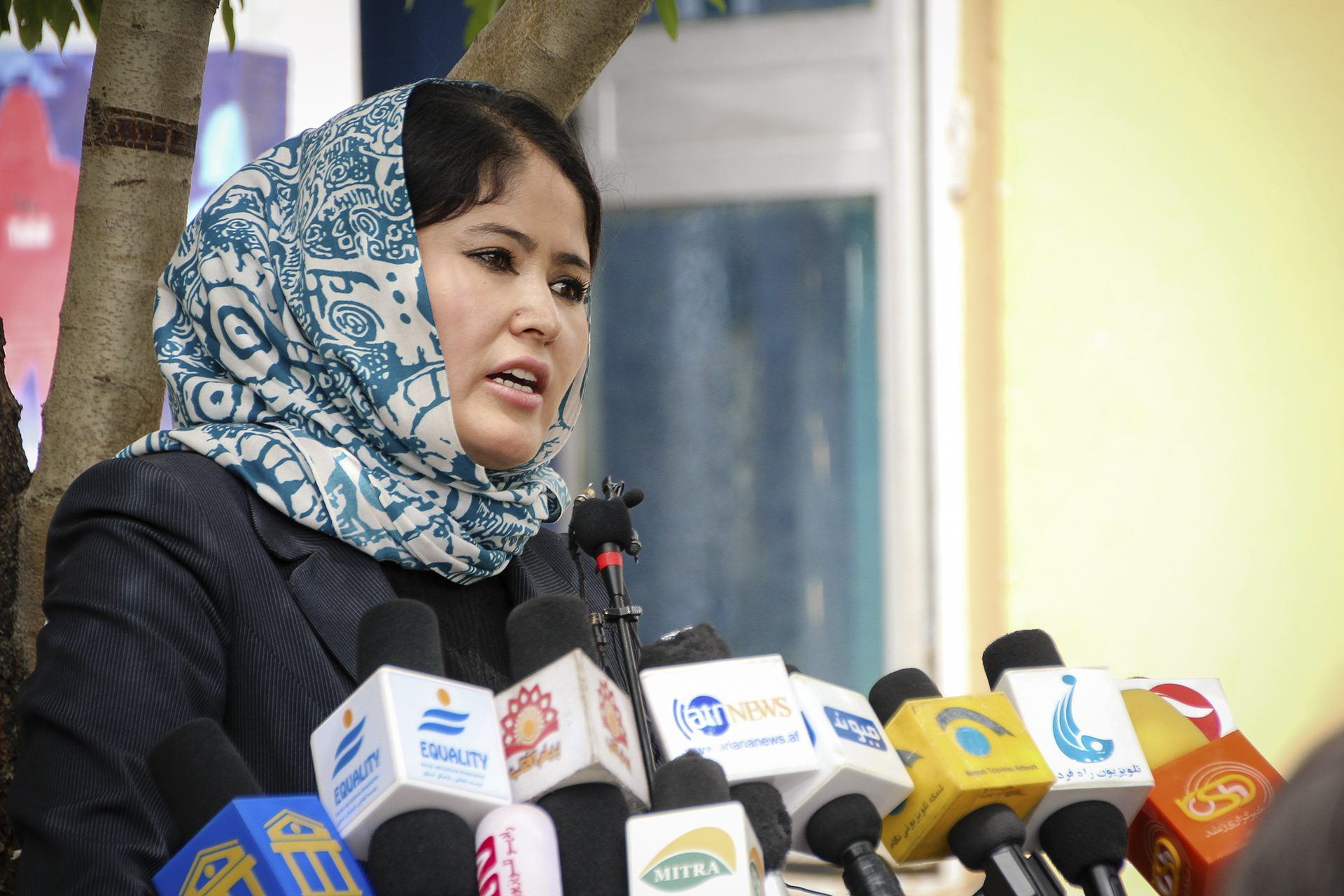 Photo by Bjorn Normann Jr.
Our contributing reporter and former Pathways fellow Saleha Soadat is one of hundreds of thousands of Afghans who rushed the Kabul airport to flee Afghanistan after the Taliban took control of the government in August 2021. Before fleeing Afghanistan, Soadat was an award-winning radio and TV journalist. When she ended up in Chicago after being processed at Fort McCoy in Wisconsin, she was determined to continue her career in journalism.
"I was vulnerable for three reasons. I am a woman, I belong to the Hazara ethnic group and I am a journalist," said Soadat. "For the Taliban, these three groups of people are a perfect excuse to kill. The Taliban are currently suppressing women, journalists and Hazaras in Afghanistan."
Today, Saleha is pursuing her master's degree in mass communication at Texas State University and received a full scholarship.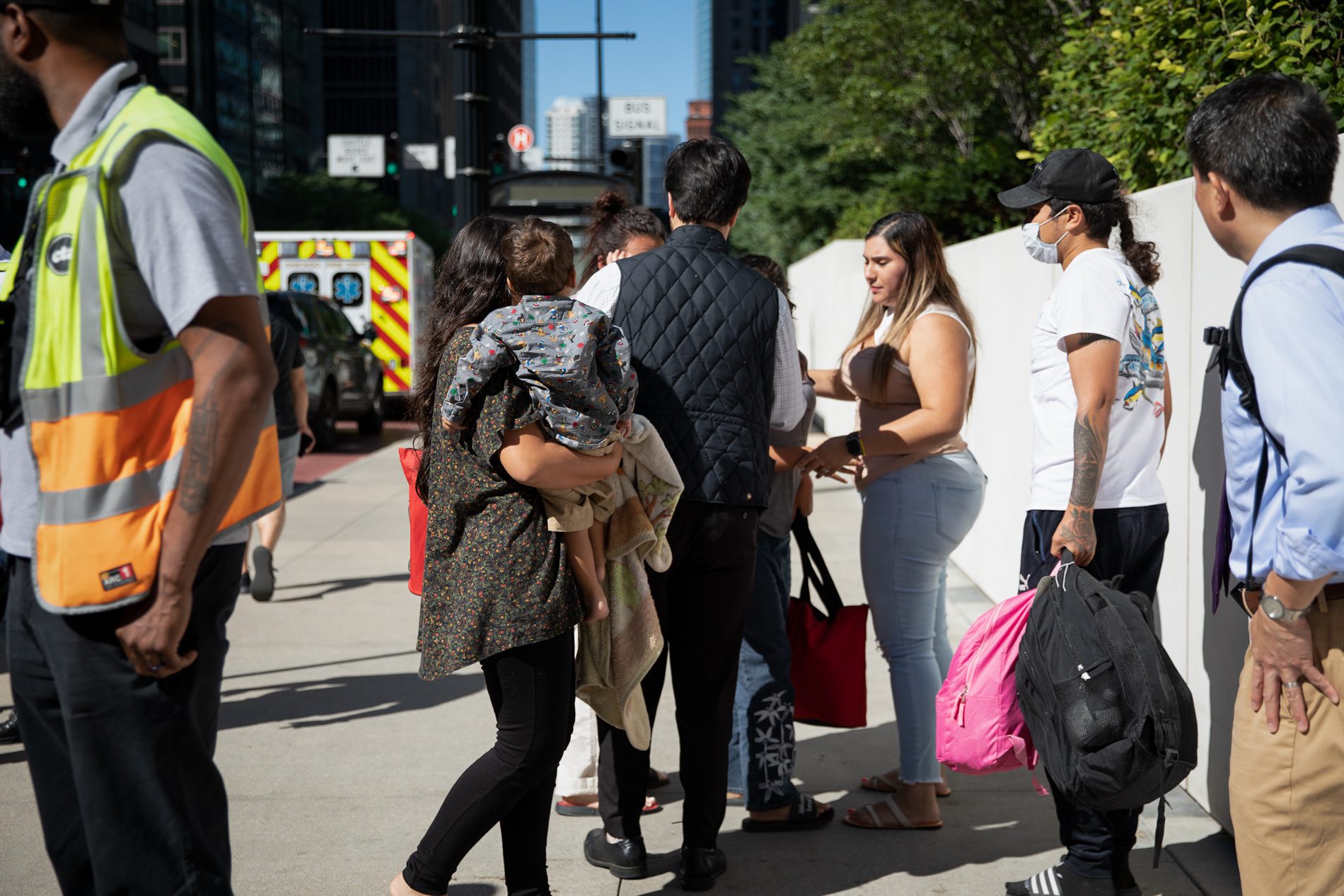 Jesus J. Montero for Borderless Magazine
Local professor and cofounder of the Illinois Venezuelan Alliance, Ana Gil Garcia, has been living in Chicago since 1995. Borderless spoke to her about what has been going on in Venezuela and how newly arrived Venezuelans are faring in Chicago.
"This latest wave of Venezuelan migration is very different from any past wave," said Gil Garcia. "Many people have risked their lives to cross borders, taking a boat from Colombia and passing through the Darién Gap. These boats are overcrowded, and people drown. They end up on this path because they are manipulated into thinking there is a safe way for them to get to the United States."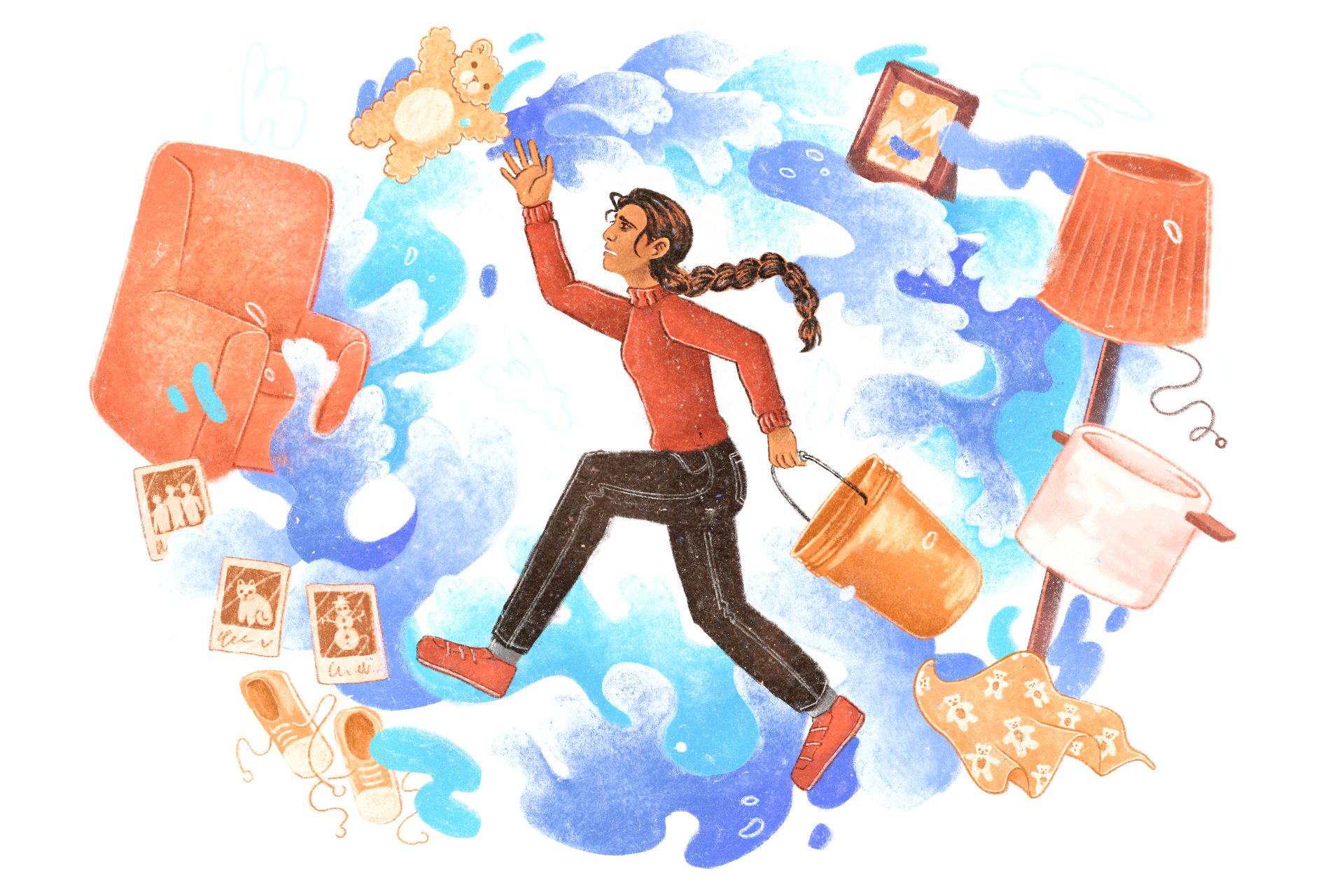 Illustration by Jennifer Chavez for Borderless Magazine
Chicago has experienced more frequent and severe storms in recent decades, putting immigrants and low-income Chicagoans living in basement units at increased risk of flooding.
Residents, like Daniela*, shared their experiences of apartment flooding caused by rain, storms, snowfall, and lake-related flooding.
Living in basement apartments increases the risk of residents losing their valuables and having health issues due to flooding. Basement apartments, which are not always legal, are popular options for lower-income residents and people from immigrant communities in Chicago.
*Daniela's name was changed for this story to protect her safety and privacy. Borderless also chose to illustrate her image for this reason.
"We consider our city to be a sanctuary city, but at the same time, a lot of the living conditions don't hold up," Daniela said.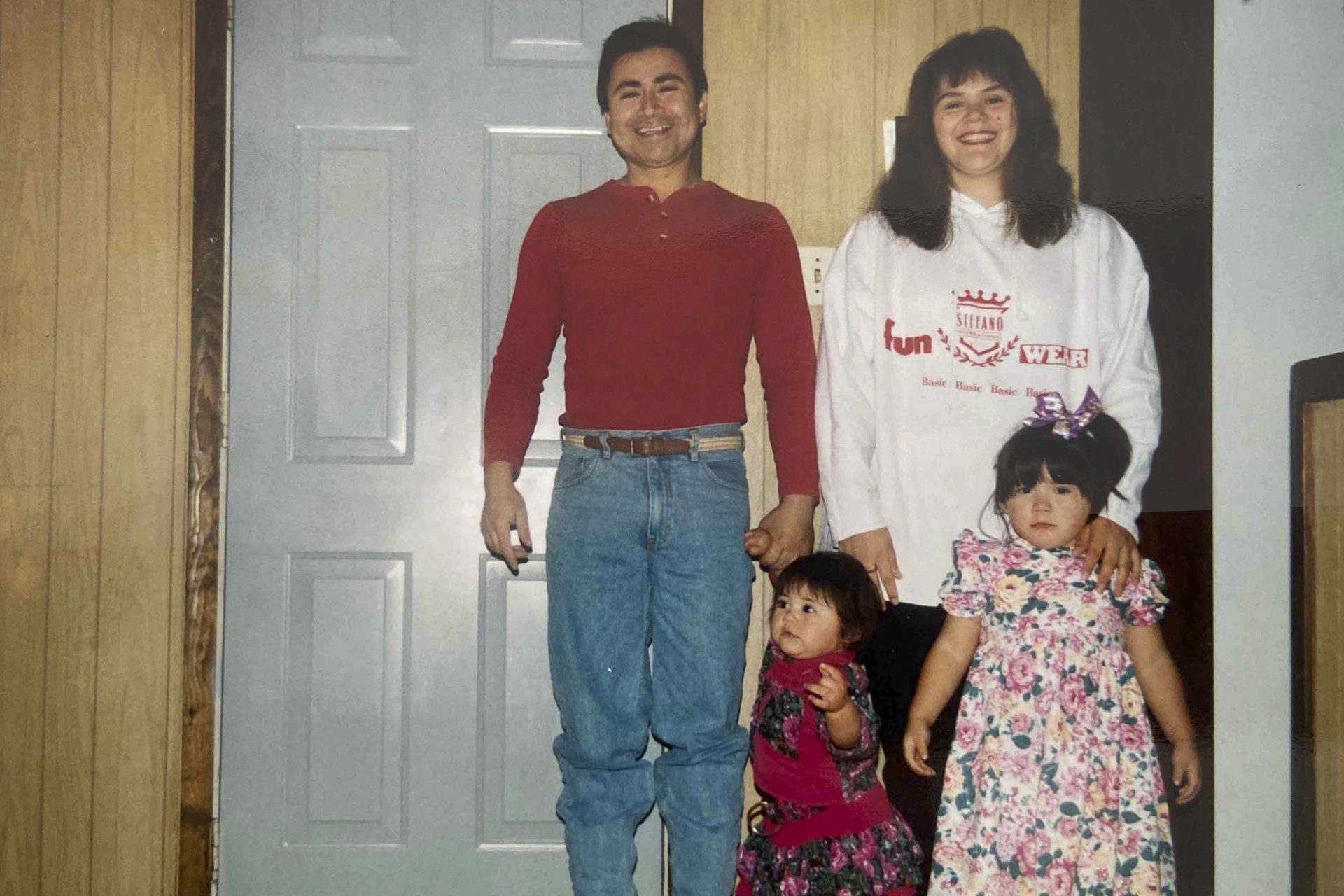 Photo courtesy of Vanessa Borjon
First-generation Mexican American Vanessa Borjon wrote about how her parents met through a personal ad in the Chicago Sun-Times and how she has continued her family's tradition of writing love letters.
"In person, my father may be a man of few words," Borjon said. "But through his letters he was able to capture my mother's attention and heart. His letters were often signed, 'Forever tu chato.'" (Chato is a term of endearment for a person with a flat nose).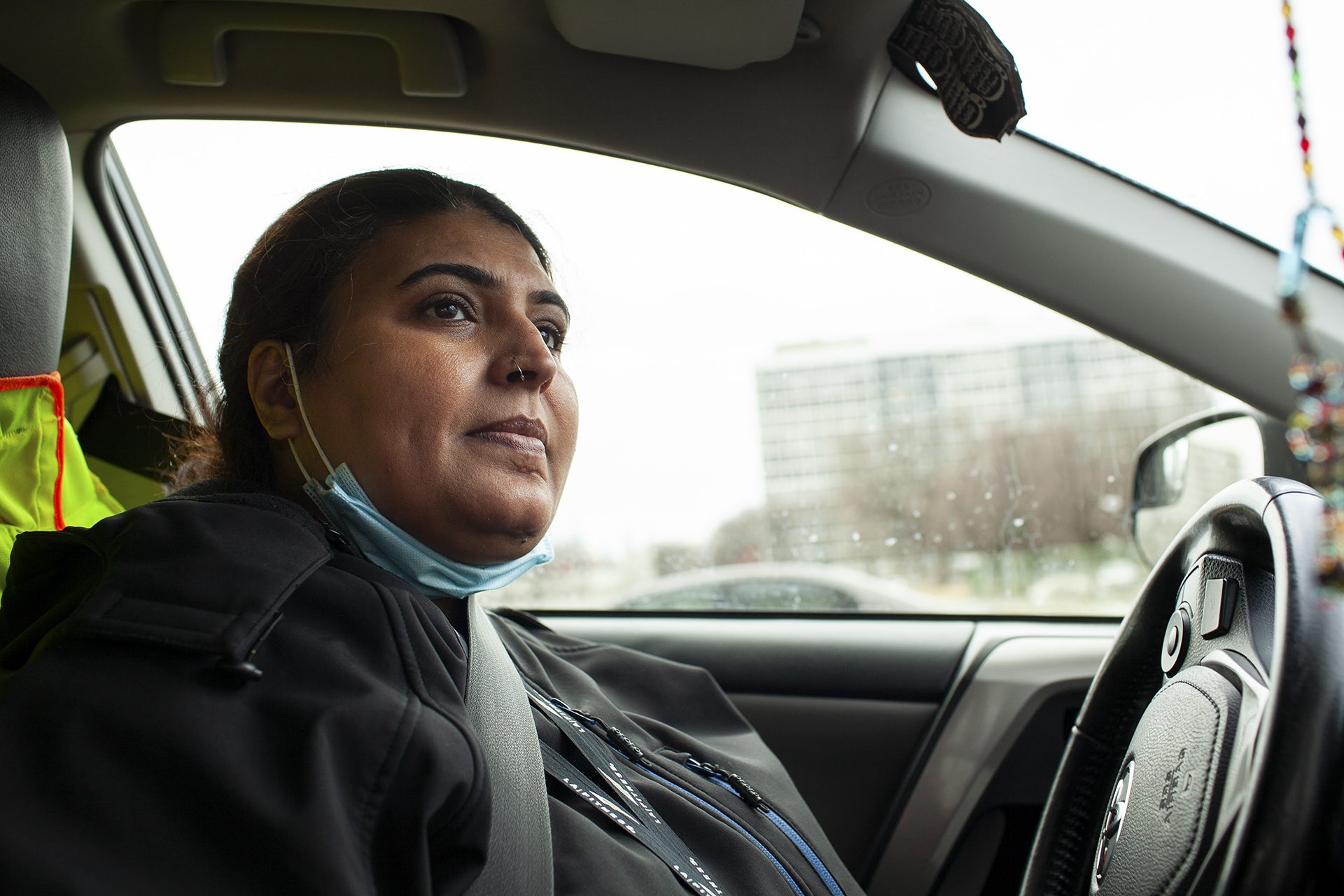 Michelle Kanaar/Borderless Magazine
Rideshare driver Naveen Ali was kicked off of the Uber and Lyft ridesharing apps after acting in self-defense when a rider attacked her. After losing her job, the Pakistani immigrant couldn't afford to pay her bills, lost her apartment and eventually slept in her car or with friends from her mosque. Chicago proposed a new law that would better protect Uber and Lyft drivers, the majority of whom are people of color.
"I'm not saying I'm perfect," Ali said. "But if you see my driving record, no ticket, no nothing … At least give me a fair chance to talk."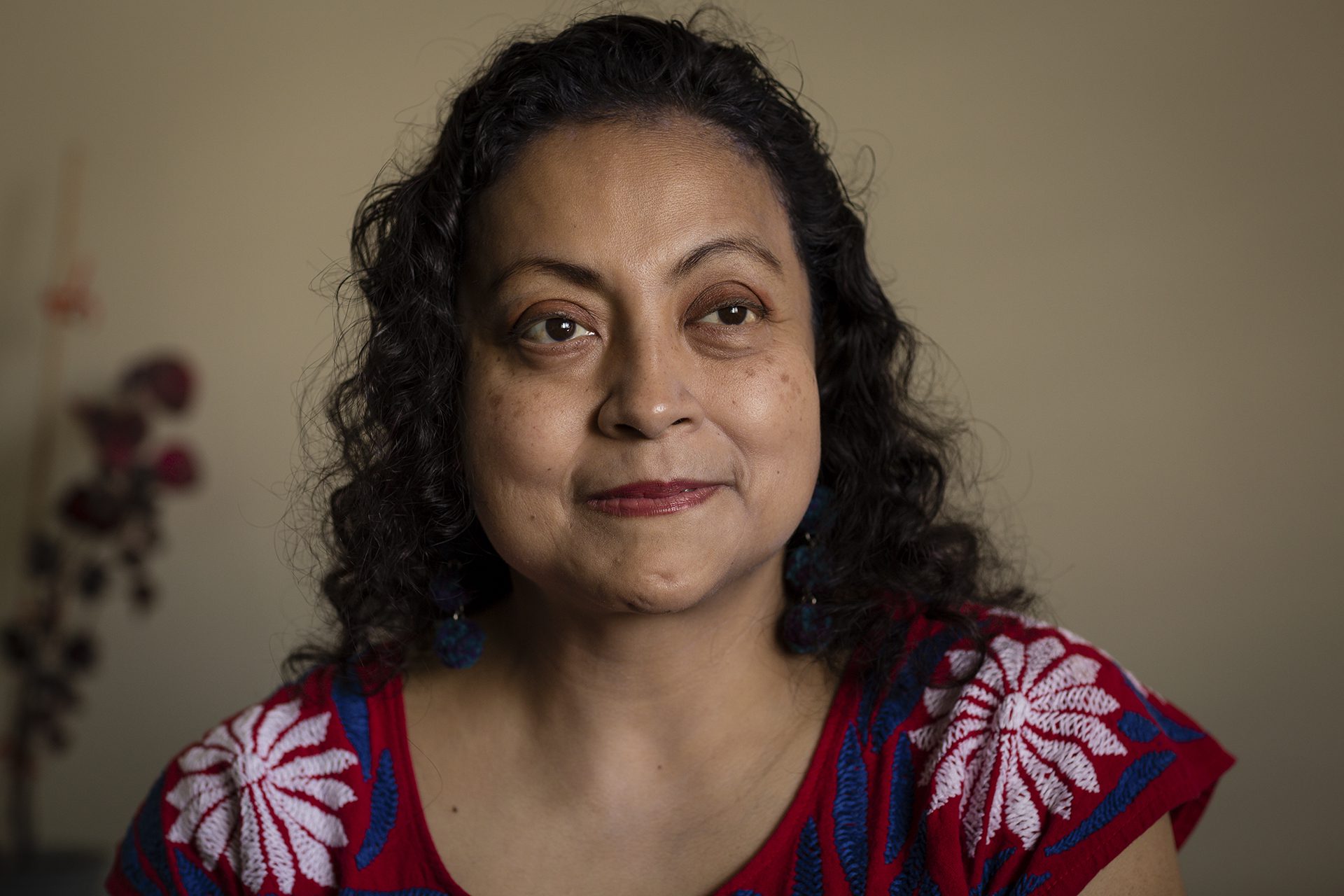 Michelle Kanaar/Borderless Magazine
West Chicago residents and organizers from Immigrant Solidarity DuPage are concerned over plans to open a second waste transfer station in the Latino majority city, which would create more air pollution, odor and exposure to dangerous chemicals and radiation in the area.
Julieta Alcántar-García, a lifelong resident, expressed her concerns about what a second waste transfer station could mean for the community and how she and other activists are fighting against it and for the safety of their families and neighbors.
"It's all because they think West Chicago is a little town," Alcántar-García said. "Their excuse is 'Oh we want to give it an economic boom.' But we don't want that kind of economic boom."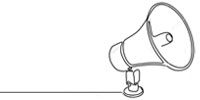 Bring power to immigrant voices!
Our work is made possible thanks to donations from people like you. Support high-quality reporting by making a tax-deductible donation today.