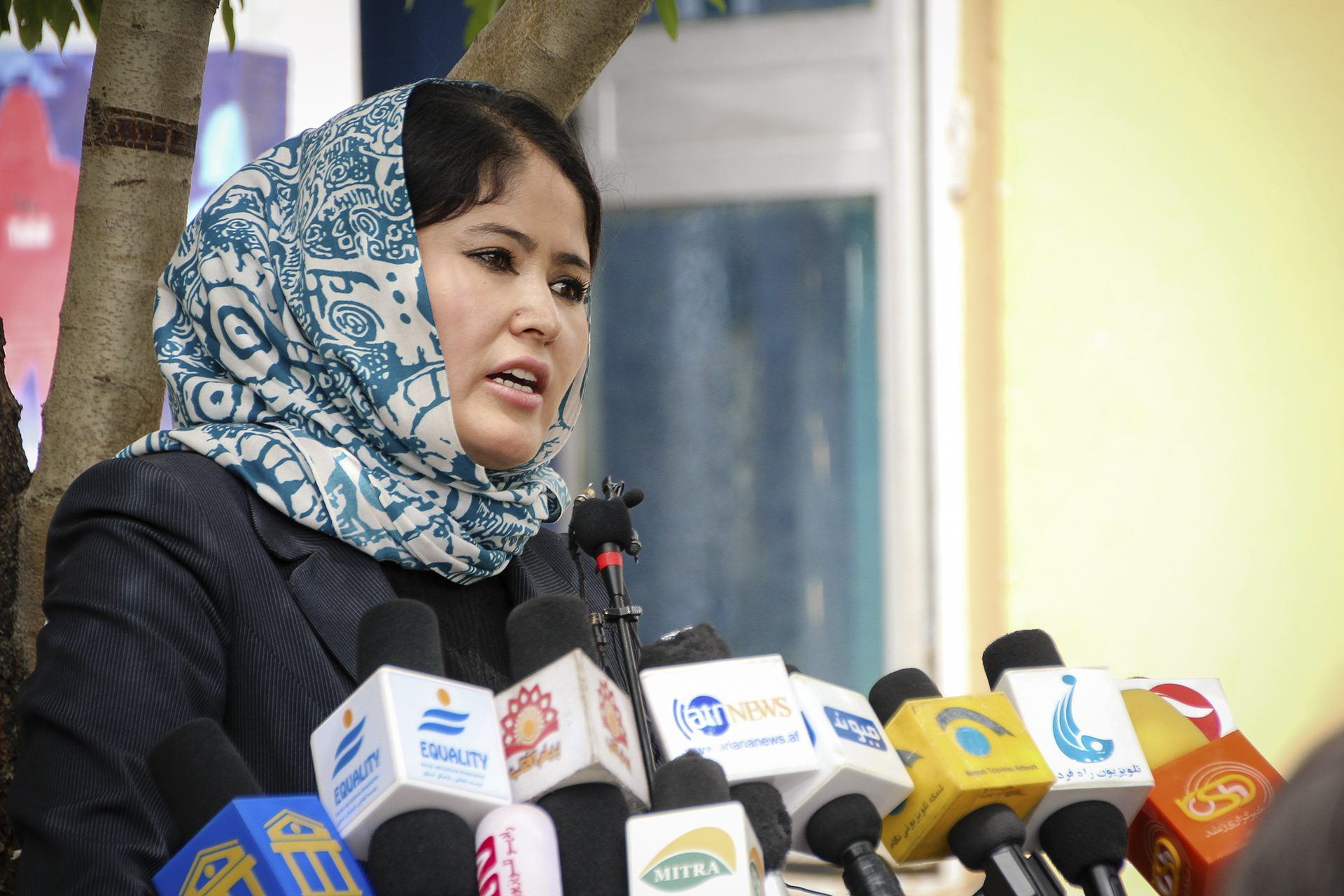 Photo by Bjorn Normann Jr.
Saleha Soadat addressing Afghan journalists for journalists' rights and protection at Nai Supporting Open Media in Afghanistan, July 2015.
Last August, after U.S. troops withdrew from Afghanistan, journalist Saleha Soadat was forced to leave her life in Kabul and seek safety abroad.
When I grew up in Afghanistan under the Taliban, it was illegal for girls to go to school. I learned primary school lessons at home with my father. With the arrival of American troops in Afghanistan after 9/11, the doors of schools and universities were opened to girls, leading to new hopes for me and my generation.
I enrolled in high school and later went to university. I chose journalism as my field of study, and I interned at a radio station. To me, news reporting was not just a job, but my passion. I was able to join one of the most popular TV stations in Afghanistan. I worked as a senior reporter and covered political news and the situation of women and children. I loved my work.
I had a decent income and was able to support my parents and my siblings. I helped pay for my siblings' schooling and, with my sister, helped rebuild our family home in western Kabul in 2019.  I bought construction materials, lumber and stones for the house. After work, I would even help the construction workers design and build our home. 
When I got home after doing my daily news reporting for TV, I felt satisfied with my work and proud that I was helping to share the stories of women who had never been heard before. At home, I would cook fresh foods for my mother and family with love and affection, and we would eat together and enjoy living. But the Taliban came and destroyed the efforts that I had made over 20 years in less than a week. I have now migrated and saved my life. But my family and sisters still do not live in safety, and they are looking for a new shelter every day to survive.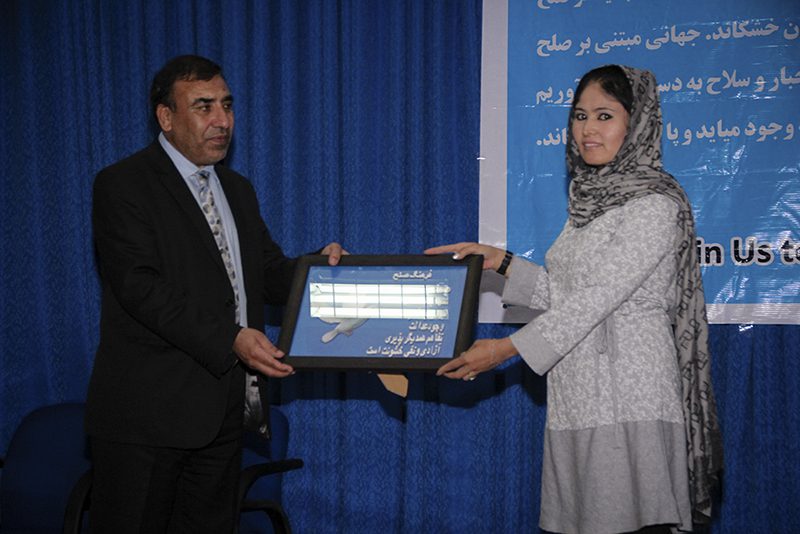 Photo by Bjorn Normann Jr.
In early August 2021, I heard that the Taliban was advancing in the war against the Afghan security forces. As a news reporter, I was monitoring the situation every day. Afghanistan's district headquarters fell one after another to Taliban fighters without any clashes or resistance by Afghan security forces. But I never imagined that the government would fall so easily. President Ashraf Ghani and his team fled so suddenly, in a cowardly way. 
On the early morning of August 15, because I was worried about the security situation, I decided to go to the bank and stand in line to get some cash from my account. When I entered the city, I noticed that silence was everywhere. Stores and shopping malls were closed. I saw a small number of people on the roads of Kabul looking worried and confused, some in disbelief of what was happening. As I approached the bank, I came across a large crowd of people who had rushed to the bank and even disrupted the traffic. Everyone was trying to get into the bank. But entering the bank was not easy, because the doors were shut and no employees could be seen around.
It was a frustrating situation and people started to panic, so I returned back to my home in the west of Kabul. The people in western Kabul were more panicked than in other parts of Afghanistan, because most of the Hazara people live in the west of Kabul. 
The Taliban have long considered the Hazara people their enemies because of their ethnic identity and religion. The atrocities they committed against Hazaras underscores that enmity. On August 8, 1998, the Taliban massacred more than 2,000 Hazara civilians in Mazar-e-Sharif. And in January 2001, Taliban forces began advancing on Yakawlang from Bamiyan and massacred the Hazara people. On November 8, 2015, they beheaded a nine-year-old child along with six others in southeastern Afghanistan, all of whom were civilians and Hazaras. On May 12, 2020, the Taliban also attacked a maternity hospital in western Kabul, in the Dasht-e-Barchi area, killing 24 infants and pregnant women. Another 16 people were injured. The Taliban does not even spare pregnant women and Hazara babies.
When I got close to my house that day after coming back from the bank, I noticed that the Taliban had entered western Kabul. The Taliban's fighters, with their long, disheveled hair, were patrolling the streets and back alleys west of Kabul with guns. 
When I saw the Taliban fighters, my eyes darkened for a moment, and I thought life was over. I shivered in horror, and my memories of the first round of the Taliban regime came alive in my mind. When my brother was only a teenager, Taliban fighters beat him in front of my mother, father and sisters. They said he had guns. But he knew nothing but pens and books.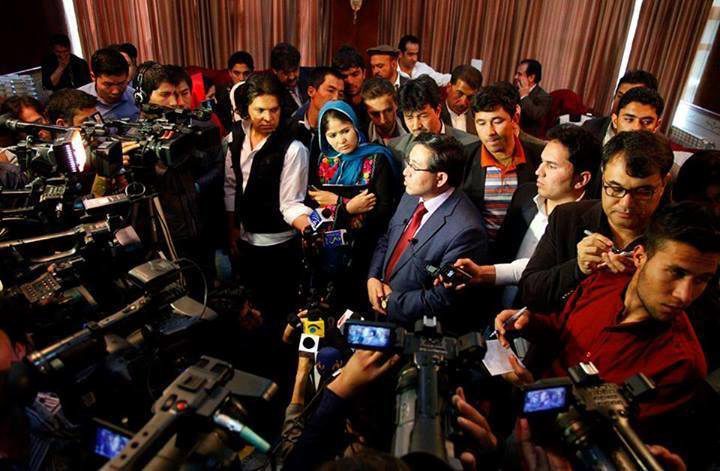 Photo courtesy of Saleha Soadat
When I got home, I told my mother that the Taliban had entered the city and that there was terror everywhere. My mother said, "What should we do now? The Taliban will kill you."
I was vulnerable for three reasons. I am a woman, I belong to the Hazara ethnic group and I am a journalist. For the Taliban, these three groups of people are a perfect excuse to kill. The Taliban are currently suppressing women, journalists and Hazaras in Afghanistan. Meanwhile, I started talking with my fellow news reporters and journalists, because we were all women and journalists, and we faced a common destiny. I had two choices: To remain under the domination and razor of the Taliban or to understand the situation of my family and country and flee. When I consulted with my mother, my mother said, "You must be alive. If you are alive then you will be able to serve the people and our country."
After spending four days under Taliban rule, a colleague of mine and I moved toward Kabul airport on August 19 at 6 p.m. We didn't know where we were going. When we approached the airport, traffic was blocked, and people all around were flooding toward the airport.
I had a hard time getting to the back door of the airport. I could hear the horrific gunfire from the Taliban and U.S. troops. Bullets rained down on people's heads like rain. We waited for hours, begging the Afghan security forces and the American soldiers who were responsible for securing the airport door to let us in the building. There was a big crowd and they were not letting everyone in. But finally we managed to get inside Kabul airport. I spent one night sitting among garbage without food and water at the Kabul airport. The next day, again without knowing where we were going, we boarded the American military aircraft. After three stops in Kuwait, Bahrain and Bulgaria, we finally arrived in the United States on August 24.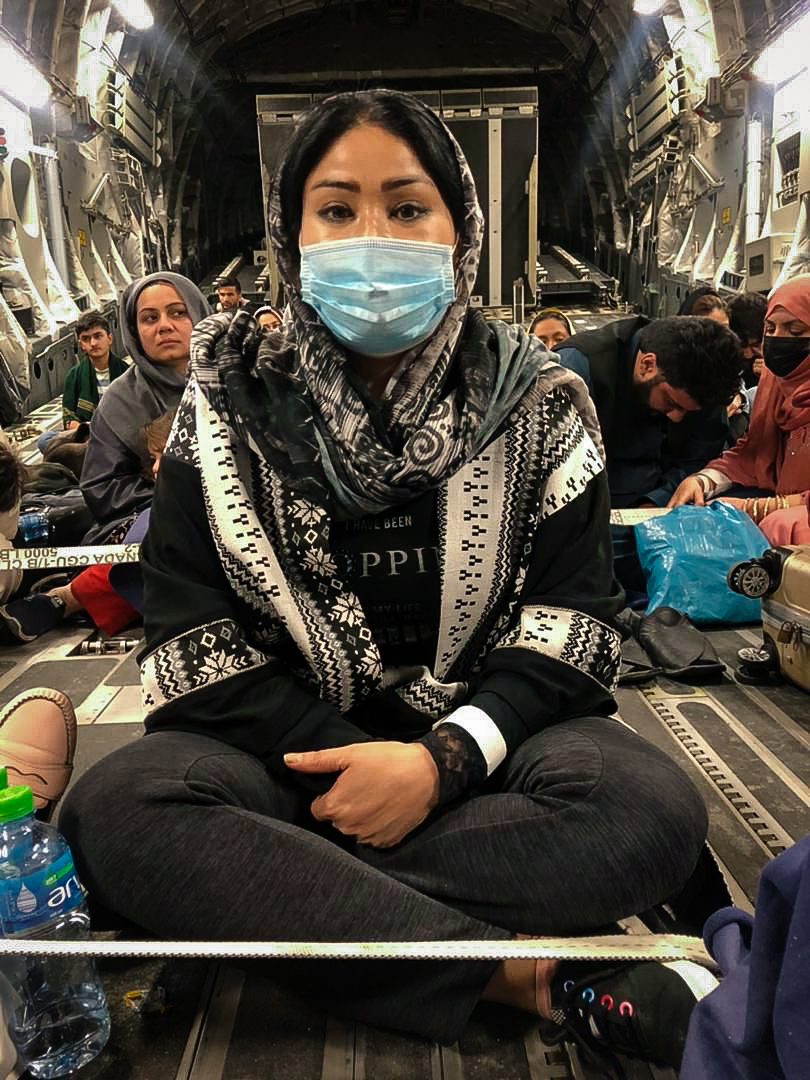 Photo courtesy of Saleha Soadat
In the countries where we stopped, we usually stayed in military camps. The host countries were not ready to receive this many Afghan refugees at once, and the situation in the camps was not good. Women did not have privacy. For example, we lived in a room with about 30 people. We waited in line for hours for a meal. 
In my opinion, one of the mistakes made in the evacuation process was not sorting and identifying the right people. A number of violent men who were no different intellectually from the Taliban were transferred to the United States. Many of them harassed women inside the camp. Several cases of sexual harassment were even reported in the media. These events made us even more worried. 
 Now that I'm no longer in a camp, I am in a completely different situation. Everything is new to me. I have worked in Afghanistan for more than 30 years. In Afghanistan, I had my education, work and social status. But here we have to start from scratch. It is very difficult.
Unfortunately, staying in Afghanistan was not a good option either. I hear terrible reports about the situation of women and girls who remain in Afghanistan. In addition to not having bread, security and freedom, they are still in a state of disarray. The doors of the media, government offices, universities and schools were shut to women and girls. So far, dozens of families suffering from poverty and hunger have sold their daughters to survive.
Three journalists and two female civil activists have been shot dead by the Taliban in the seven months since Taliban rule. Nearly 100 girls have been imprisoned by the Taliban for protesting Taliban policies. The Taliban gang-raped eight women and girls in their custody. The number of beatings of journalists and the holding of sham public trials, especially the flogging of women on the streets of Afghanistan, has become common.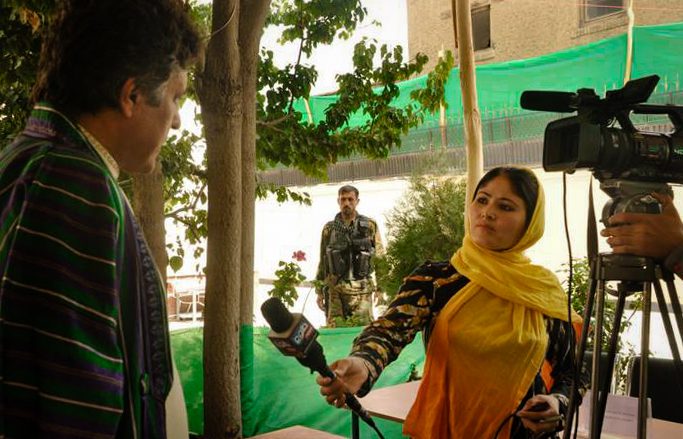 Photo courtesy of Saleha Soadat
The Taliban is also torturing a number of military women and girls who worked in government forces under the pretext that they have weapons. I was told three times that the Taliban entered the homes of female soldiers in western Kabul at night and beat and tortured them. One of the women was even taken away by Taliban fighters, and her fate is unknown. Patricia Gusman, head of the Asian section of Human Rights Watch, has said that more than 100 former security forces had been killed or disappeared by the Taliban. These are the things that have come out in the media. Many of the Taliban's violence does not become public because people do not have the security to retaliate.
It bothers me when people here ask me how happy I am to be in America, to be safe and secure here. I thank the American government and people, especially the church community, for helping me survive and actually giving me a new life. But, in fact, I am physically in America and my mind is still in Afghanistan. As a journalist, I receive horrible reports every day about the situation of women and girls in Afghanistan. The reports are really shocking.
Unfortunately, there are currently no plans to support Afghan women and girls. Inside Afghanistan, power and order are in the hands of the Taliban, which never believed in women's rights or human rights. There is not even a single woman in the government or the cabinet of this regime. The Taliban is trying to prevent women from participating in society. Recently, women have even been barred from traveling without male guardians. The Taliban considers women as shameful and disgraceful. 
Outside of Afghanistan, the world is only thinking about how to deal politically with the Taliban. Afghan women are left alone in a hell called Afghanistan, and there is no hope for the future.
Editor's note: Saleha Soadat will be joining Borderless Magazine as our newest Pathways fellow. She will be reporting on refugees during her Pathways fellowship and providing much-needed stories and information to Afghans in their native language of Persian Dari. The Borderless team will help Saleha report in English for the first time and learn how to work in a U.S. newsroom. Learn more about the program here.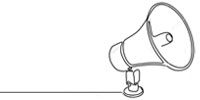 Bring power to immigrant voices!
Our work is made possible thanks to donations from people like you. Support high-quality reporting by making a tax-deductible donation today.