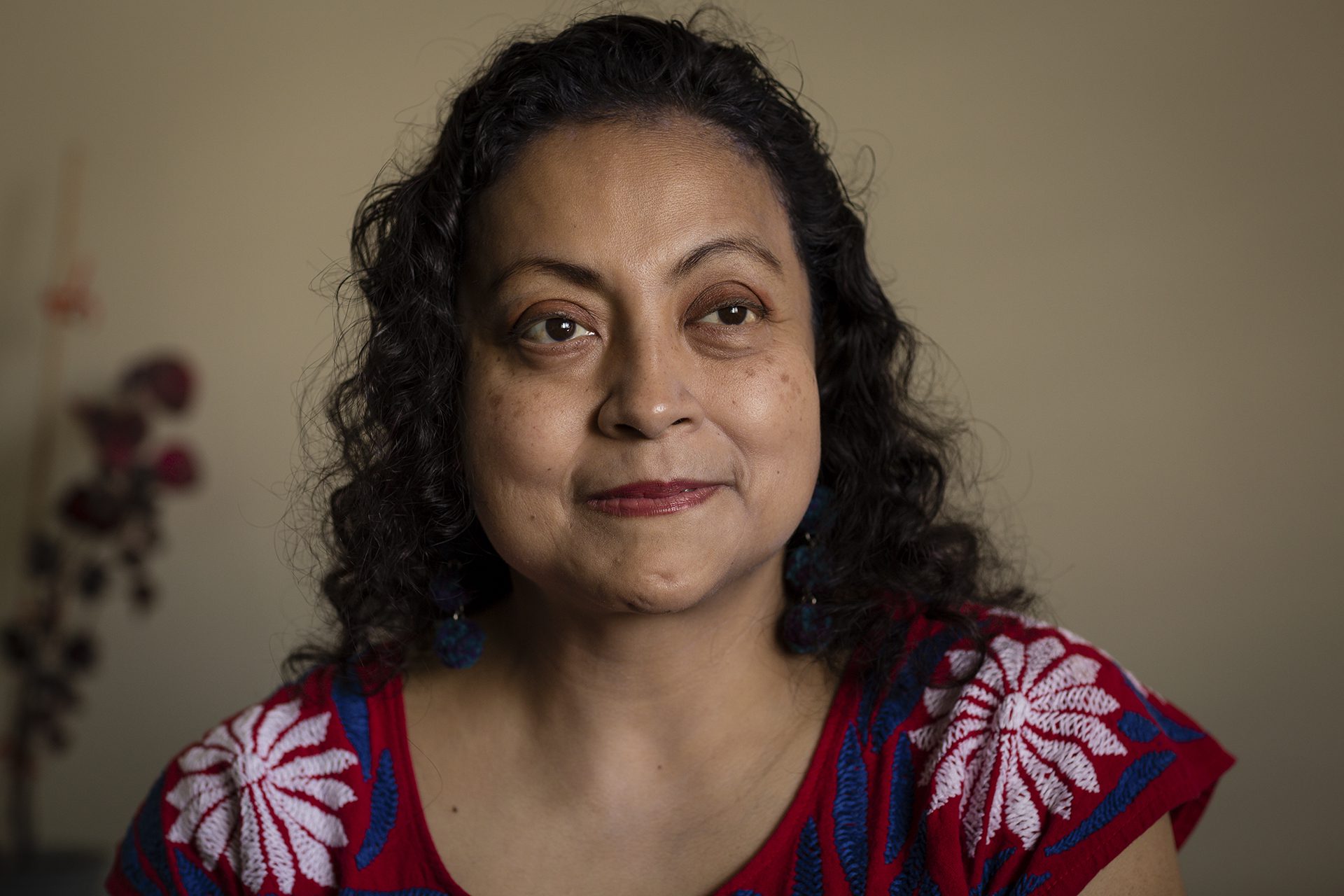 Michelle Kanaar/Borderless Magazine
Julieta Alcántar-García at Immigrant Solidarity DuPage's office in Wheaton, Ill., March 16, 2022. Alcántar-García is a lifelong resident of West Chicago and community health liaison for Immigrant Solidarity DuPage.
Lack of transparency and concerns over environmental racism are fueling backlash to a waste transfer station in majority Latino West Chicago.
Driving down the busy corridor of North Avenue in West Chicago, you can't miss the smell of garbage. 
The majority-Latino suburb just 30 miles outside of the Chicago city limits is home to the DuKane transfer station at the intersection of IL-64 and Powis Road, where municipal garbage trucks offload their daily collections that will eventually be moved to a landfill.
Run by Groot Industries, this facility is the only waste transfer station in DuPage County. It processes an estimated 1,500 tons of garbage daily from West Chicago, Streamwood, Bartlett and other surrounding communities.
Want to receive stories like this in your inbox every week?
Sign up for our free newsletter.

But that may soon change with the proposed construction of a second waste transfer facility just a half-mile down the road. Waste hauler LRS, also known as Lakeshore Recycling Systems, plans to expand its operations at 1655 Powis Road to also accept municipal waste. The company, which is headquartered in Morton Grove, currently only recycles construction and demolition debris at this site. Though the proposal has not yet been filed with the city, it has drawn criticism from residents who are concerned about its environmental impact, like increased air pollution, and effects on property values. 
"We already have a waste transfer station. Why do we need another one?" asked Julieta Alcántar-García last December. Alcántar-García, a lifelong resident of West Chicago, was speaking at a forum hosted by Immigrant Solidarity DuPage, a workers' rights group where she works as a community health liaison. As a Mexican American living in the majority-Latino city with a history of radioactive dumping, she sees the construction of a second waste transfer station, one mile from residential areas, as an instance of environmental racism.
Read More of Our Coverage
In Chicago, Latino neighborhoods are the hardest hit by pollution, according to a recent study from University of Illinois Chicago, which also mapped the prevalence of pollution sources, such as large-scale facilities and brownfield sites, in these communities. The city recently received national attention for environmental racism in Black and Latino neighborhoods after community members on the Southeast Side successfully stopped the opening of a new scrap metal operation by Southside Recycling, formerly General Iron. Latino organizers say that the same patterns of environmental racism that exist in the city can be seen in the nearby suburbs.
Outsiders see Mexican immigrants as less informed and engaged, Alcántar-García said, and companies assume they can come in and do whatever they want. "The Latino community in West Chicago has always been kept without information," she said, adding that lack of information in Spanish contributes to the problem. "It's all because they think West Chicago is a little town. Their excuse is 'Oh we want to give it an economic boom.' But we don't want that kind of economic boom."
Alcántar-García wants to inform residents about LRS' expansion now, so when public hearings are scheduled, the community is informed and ready to voice their opinions.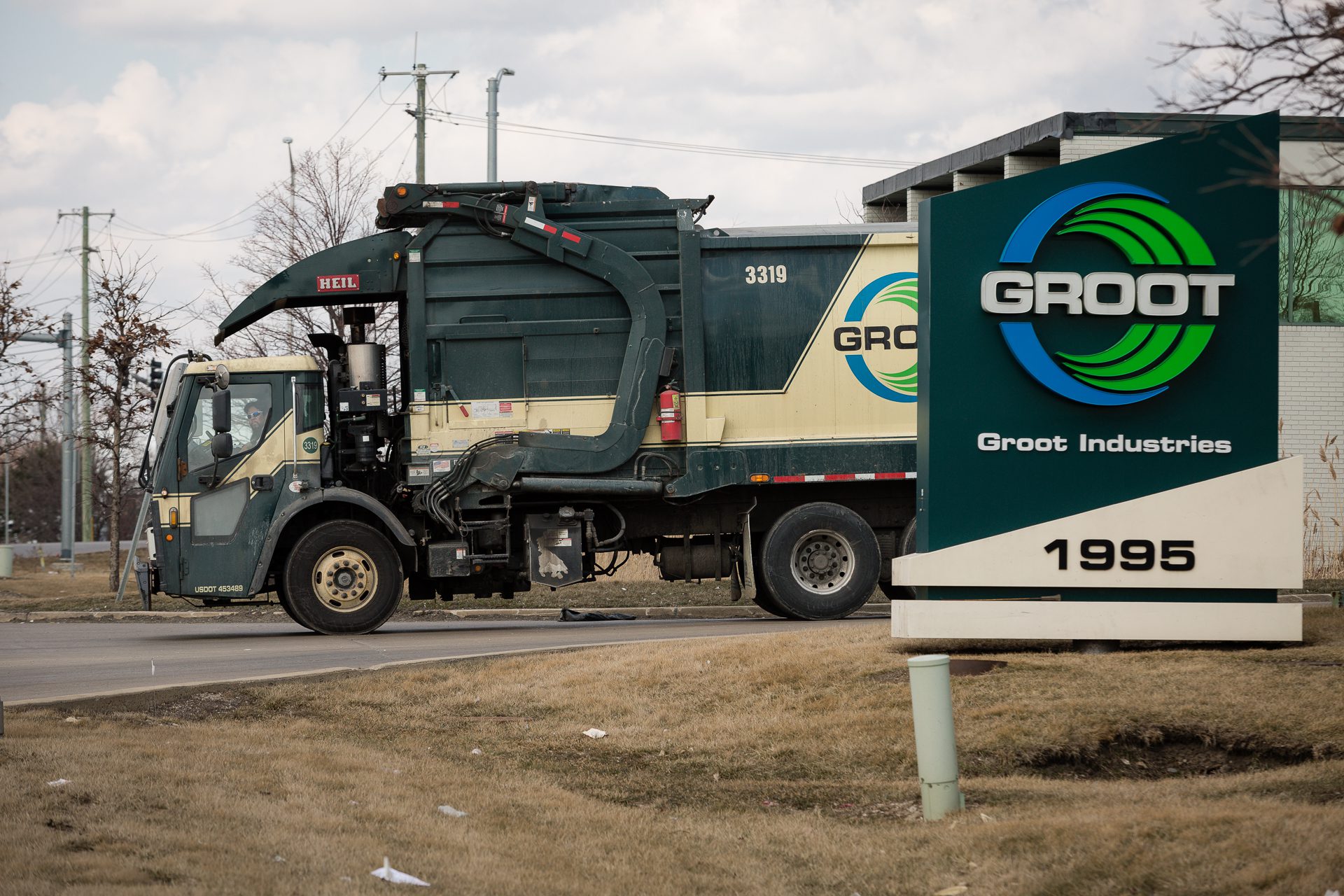 Michelle Kanaar/Borderless Magazine
Potential benefits of the waste transfer facility include tax revenues for the city, which are estimated between $650,000 and $1.65 million annually. The increased operations would also add 10 new long-term positions to the current on-site staff of 175, according to a review of the draft proposal that Borderless Magazine obtained. LRS' primary argument for the expansion is that another waste transfer facility in DuPage County will promote competition and potentially reduce residential waste collection prices. Representatives from LRS and city officials declined to comment until the company files an official proposal for the waste transfer facility. 
Still, the coming proposal has become the latest flashpoint in community debates over the use of land and whether investments truly benefit those who live there. Decades ago, West Chicago residents successfully prevented construction of a proposed speed-racing track, arguing that it would create harmful noise and air pollution. And many residents are still haunted by the impact of the Kerr-McGee factory, which for 40 years dumped radioactive materials around town. The city is still home to two superfund sites related to this toxic waste, and the old factory site still requires groundwater remediation.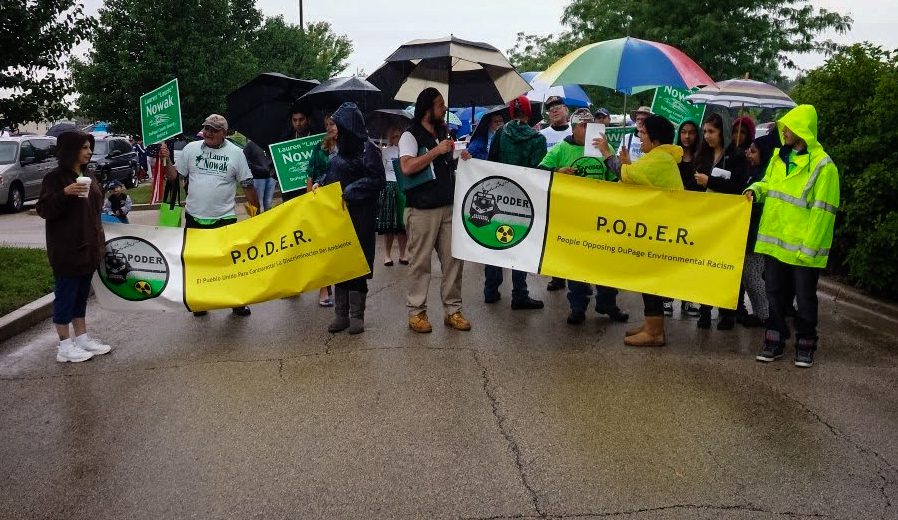 Photo by Rafael Vieyra/Immigrant Solidarity DuPage
In addition to environmental issues, community members are worried about the lack of transparency in the proposed West Chicago project. West Chicago's City Council, which will decide on the proposal, has discussed LRS' expansion for almost two years, but opponents to the project said little information has been publicly released. 
"All these things are happening between the applicant and city, including expenditure of tax dollars, but it's hard to see what's going on," said Nick Dzierzanowski, who served as an alderman in West Chicago between 2003 and 2013. 
In March 2020, Dzierzanowski launched Protect West Chicago, a campaign to oppose the expansion. He argues it is not fair for the city to bear the burden of two waste transfer stations when neighboring communities have none. It has grown into a coalition of concerned individuals and businesses, which Dzierzanowski said have collectively sent over 1,400 emails opposing the development to city leaders.
Dzierzanowski has waged an ongoing battle against attempts to build what he calls "nuisance businesses" along city borders, which he said damages the town's reputation. Among these was another waste transfer station proposed in the early 2000s on a site just north of the city border. The DuPage County Board ultimately rejected the proposal, saying that Groot's waste transfer station was not operating at full capacity and thus a second station was unnecessary.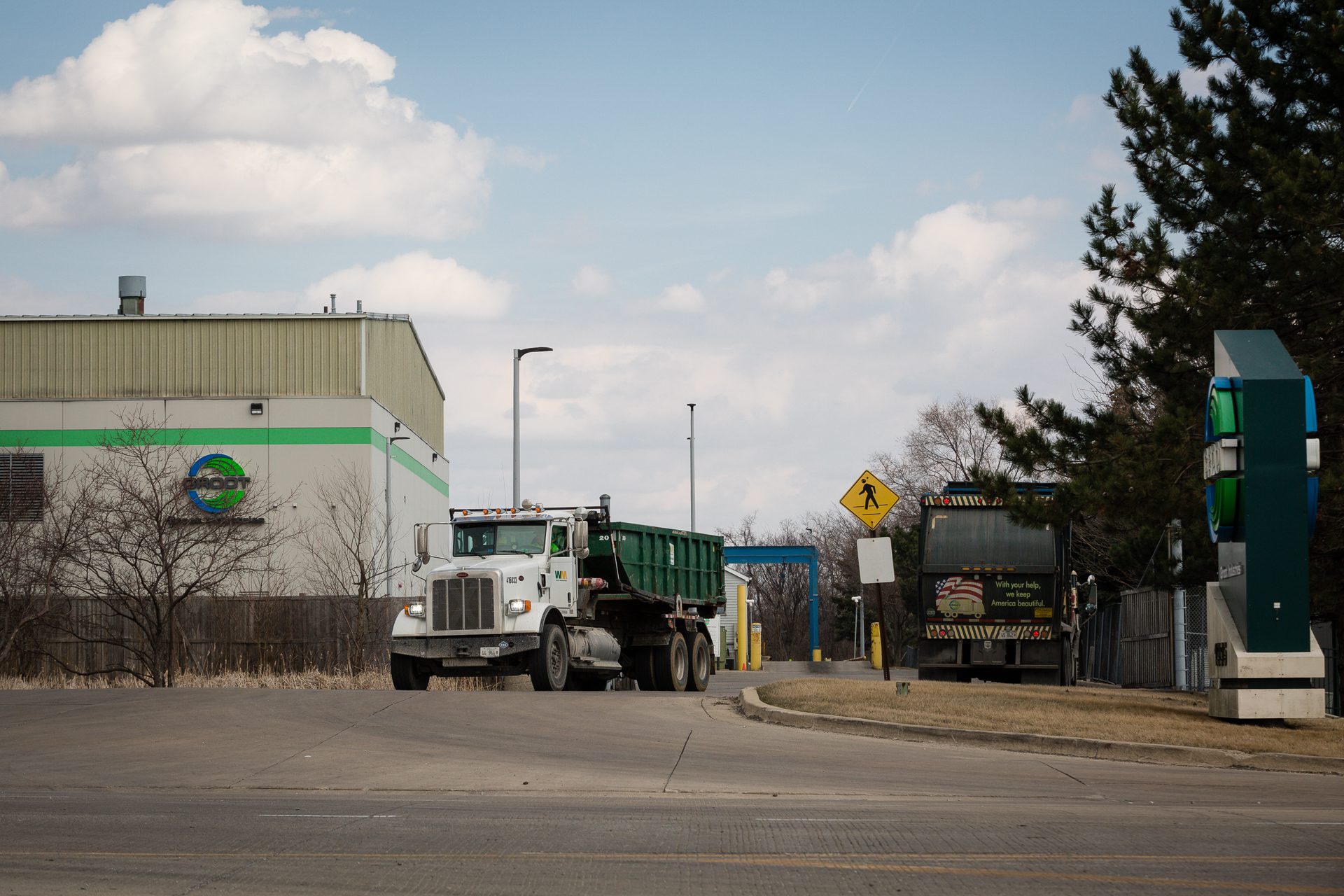 Michelle Kanaar/Borderless Magazine
Today, Groot's facility still receives well below the permitted 3,000 tons per day, causing many residents to question why they need another waste transfer station. The city is not required to do any environmental reviews before approving the proposal, and civilian efforts to receive more information have so far been unsuccessful. In early 2020, Protect West Chicago filed FOIA requests to the city to release all documents regarding LRS' intended expansion, and later a complaint when some requests were denied.
Residents also say that the city also has not supported efforts to inform community members and hold public discussions about the project. "The city has been very quiet," said Josh Ebener, a pastor at St. Andrew Lutheran Church, whose congregation is about 65% Latino. "At the outset, why didn't they lift this up and say, 'Let's have a conversation?'" 
At the same time, Ebener understands the situation as a conflict between two companies. In the early 2000s, Groot donated more than $220,000 to the community group 4 the People, which campaigned against the earlier proposed station. 
"It's complicated," he said. "There may be environmental concerns, but it seems there are also competing financial interests." Members of Protect West Chicago refused to disclose whether or not the group has received any funding from Groot. The company did not respond to requests for comment.
Residents have been left to glean information largely from a review of LRS' draft proposal, which was not made public until a DuPage County circuit court judge ordered the release of documents pertaining to LRS' intended expansion. The review, by the consulting company APTIM, notes that LRS currently recycles between 600 and 1,250 tons per day of construction and demolition debris. It plans to accept an additional daily average of 900 tons of municipal solid waste, hydro excavation waste and single-stream recycling from its service areas, which include neighboring St. Charles, Geneva and Wheaton. The review also addressed environmental issues that may arise due to an insufficient stormwater management plan. In written comments included in the review, LRS dismissed APTIM's suggestion to demonstrate adequate stormwater design features.
Michelle Kanaar/Borderless Magazine
LRS' collection trucks currently conduct municipal waste transfer at a station in suburban Batavia that is owned by another company. Having its own waste transfer station at its West Chicago site would consolidate larger hauls and cut out extra driving, said Brett Bartosik, president of the union that represents the company's truck drivers.
This streamlined process can also lead to a reduction in overall vehicle emissions and is a common reason why many communities opt to build such facilities, according to Richard Klein, whose Maryland-based firm Community & Environmental Defense Services helps communities with development-related concerns. Klein said one potential risk to communities housing these stations is that more incoming diesel traffic would increase airborne particulate matter. But he added that the likelihood of adverse effects can be reduced when waste transferring occurs indoors with good pollution filters and noise control.
LRS is expected to submit its proposal this spring, after which the city of West Chicago will schedule at least one public hearing and allow community input. Should the City Council approve the proposal, it would move to the Illinois Environmental Protection Agency for environmental permitting.

In the meantime, Connie Schmidt, chair of the DuPage chapter of the Sierra Club, wants an air-quality assessment that would determine current levels of particulate matter and potential harm from an increase in truck traffic. "The citizens of West Chicago deserve a transparent process from companies that are going in and possibly impacting their quality of life," she said. 
Immigrant Solidarity DuPage's Alcántar-García agrees on the need for transparency.  One of the things she has learned during the pandemic as a community health liaison is that people respond to accurate information. 
"If you come out to [the community] with information, official information … if you can say, 'Here's a statistic,' they will understand," she said. "That's what our municipal government fails to do — come out to the community, talk to them, and even listen to their concerns."
Clarification 3/23/22: This story has been updated to clarify that numbers for the proposed waste station's staffing come from a review of the draft proposal.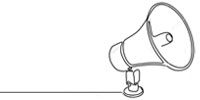 Bring power to immigrant voices!
Our work is made possible thanks to donations from people like you. Support high-quality reporting by making a tax-deductible donation today.