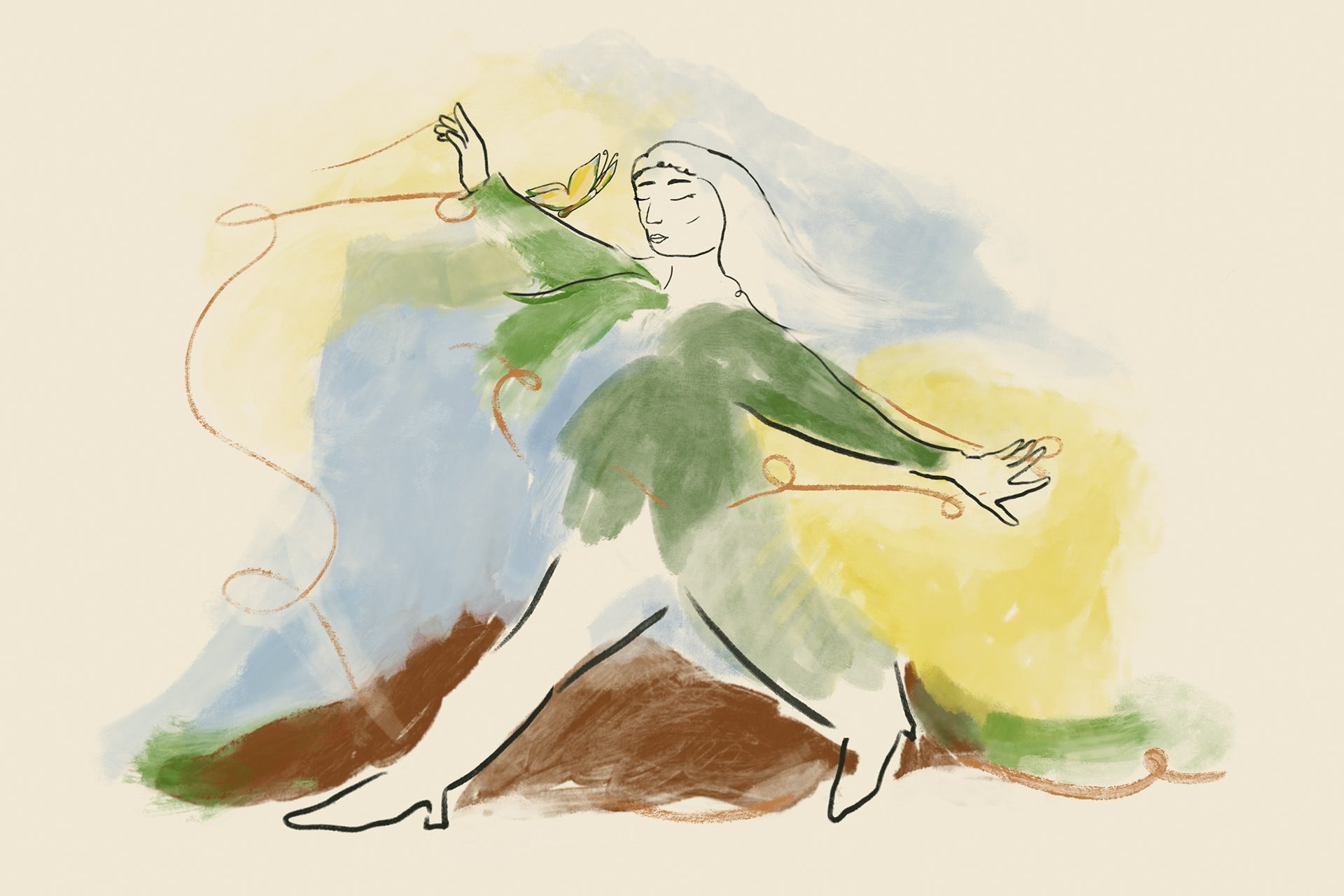 Illustration by Anna Mielniczuk for Borderless Magazine
From fleeing Afghanistan to starting a sanctuary movement, Borderless Magazine's visual journalists continued to amplify the stories of people from Chicago's immigrant communities.
Borderless Magazine's reporting process centers visuals of immigrants by immigrants. We believe in the importance of taking the time to build trust and work together. Our approach to reporting stands out at a time when news outlets across the country are continuing to cut their photography budget and undervalue visuals. Photographs and illustrations offer readers a chance to see the worlds of others. They demystify those worlds and offer human connection. That is the heart of our journalism.
Get Borderless in your inbox
Sign up for our free newsletter. Each Thursday we share ways to support immigrant organizations and stories about our communities.

Last summer, Borderless Magazine photojournalism intern Jonathan Aguilar spent weeks photographing the current and former residents of the majority Latinx city of West Chicago and the lasting impact of a harmful radioactive waste left by a former factory. Aguilar's continued trips to West Chicago ensured that the audience saw and understood the people and places impacted. His work is just one example of the kind of time and investment that Borderless Magazine puts into visual journalism when telling the stories of immigrant communities.
Our sincerest gratitude goes out to all the photojournalists and illustrators we work with who take the time to produce thoughtful and creative visuals that challenge existing narratives and compel us to get to know those around us with who we share space within this universe.
In 2022, we worked with 11 different photographers and illustrators to bring to life the stories we shared with our readers. As a tribute to their hard work, here are some of our favorite visual journalism pieces from this year.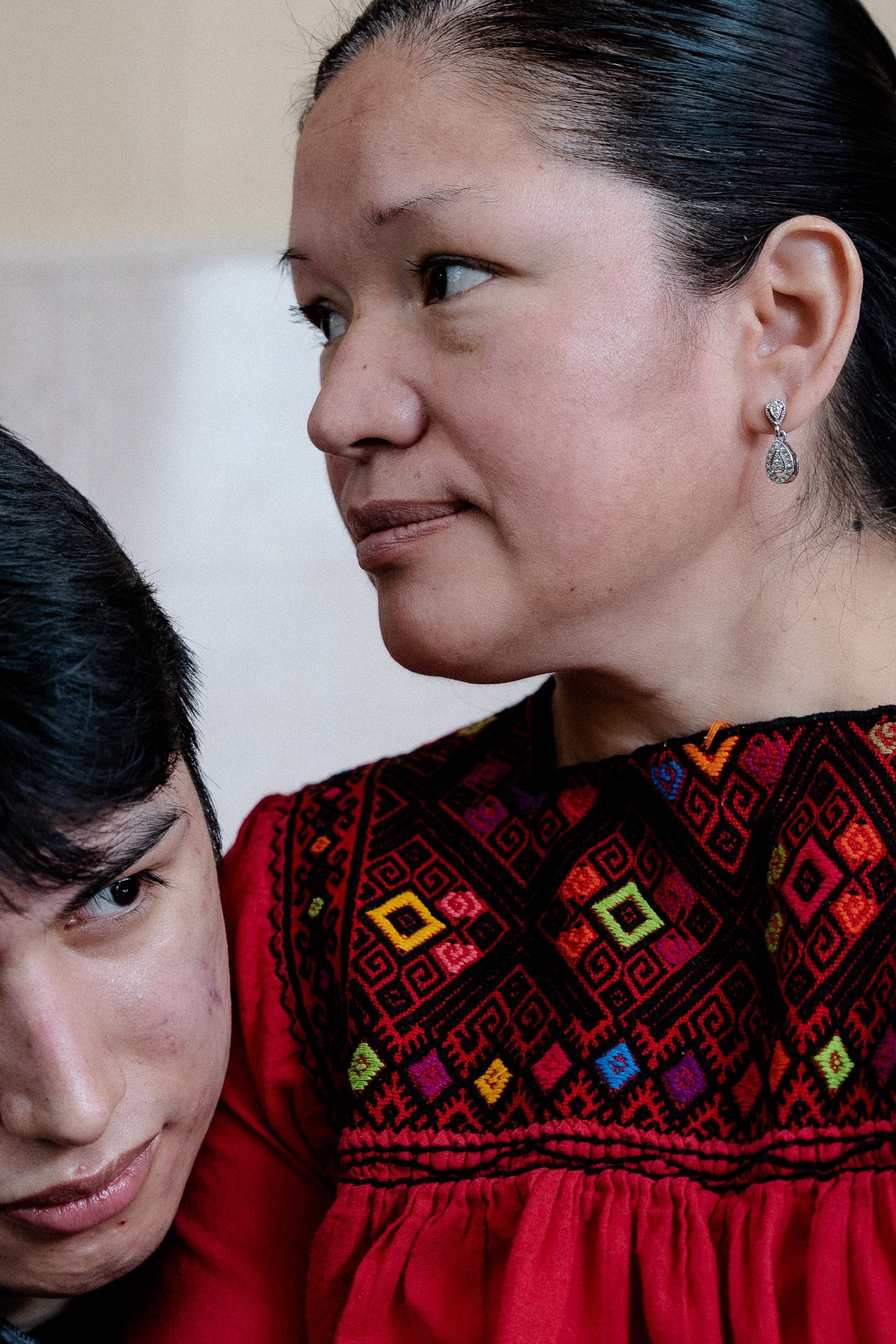 Sebastian Hidalgo for Borderless
In 2006, Elvira Arellano found herself at the center of heated discourse on U.S. immigration policy. Undocumented and facing deportation, she decided to claim sanctuary and take refuge at the church. Her choice set a precedent, prompting churches in other states to also provide sanctuary for undocumented immigrants.
"The media learned about my case," Arellano said, "and I remember telling the press that I was a mother who wanted my son to succeed in life" referencing her eldest son, Saul Arellano, who was three years old when she was detained in 2002.
Sebastian Hidalgo photographed Arellano and her sons on film using a medium format camera. He took the time to show her youngest son, Emiliano Mejia, how it worked and Mejia was able to photograph his mother as well.
Borderless led a discussion about the history of immigrant sanctuary in Chicago with activist Elvira Arellano, pastor Emma Lozano, and artist Jonathan Michael Castillo in collaboration with Chicago's Museum of Contemporary Art as part of the "Andrea Bowers" exhibition.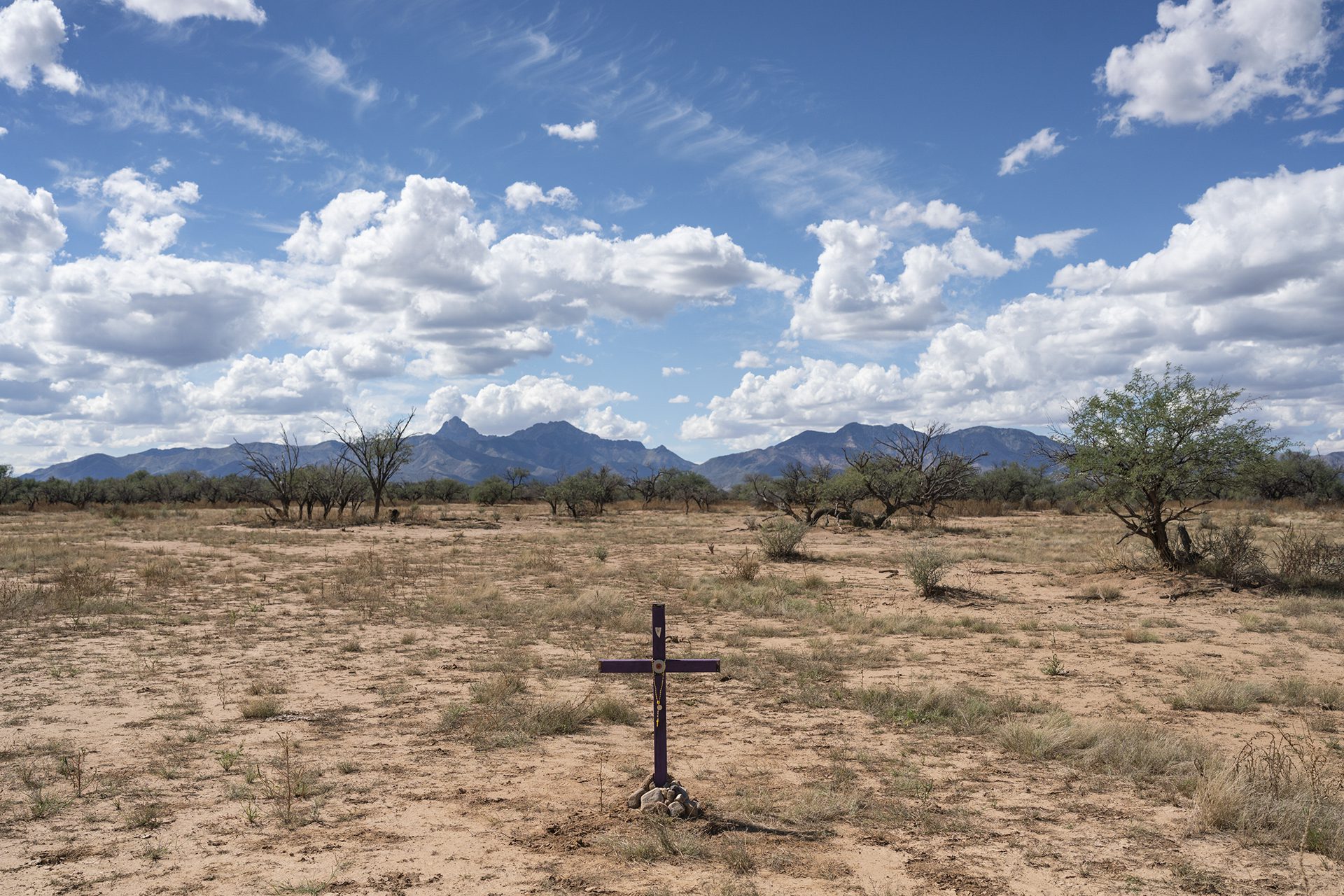 Max Herman for Borderless Magazine
Max Herman has been following the story of the migrants crossing the desert for several years now. As of July 2022, the remains of over 3,900 migrants have been found in Arizona's Sonoran Desert since 1981. Artist Alvaro Enciso works to commemorate those lives with his project, "Donde Mueren los Sueños," (Where Dreams Die).
"When you look at the deceased migrants' database, you don't see too much. You see the name of the person, if he or she was identified, the age, where the body was found, the date, the cause of death if it could be determined, and when the body was picked up," Enciso said, "Art is about making the invisible, visible. So the cross is the visible aspect of it."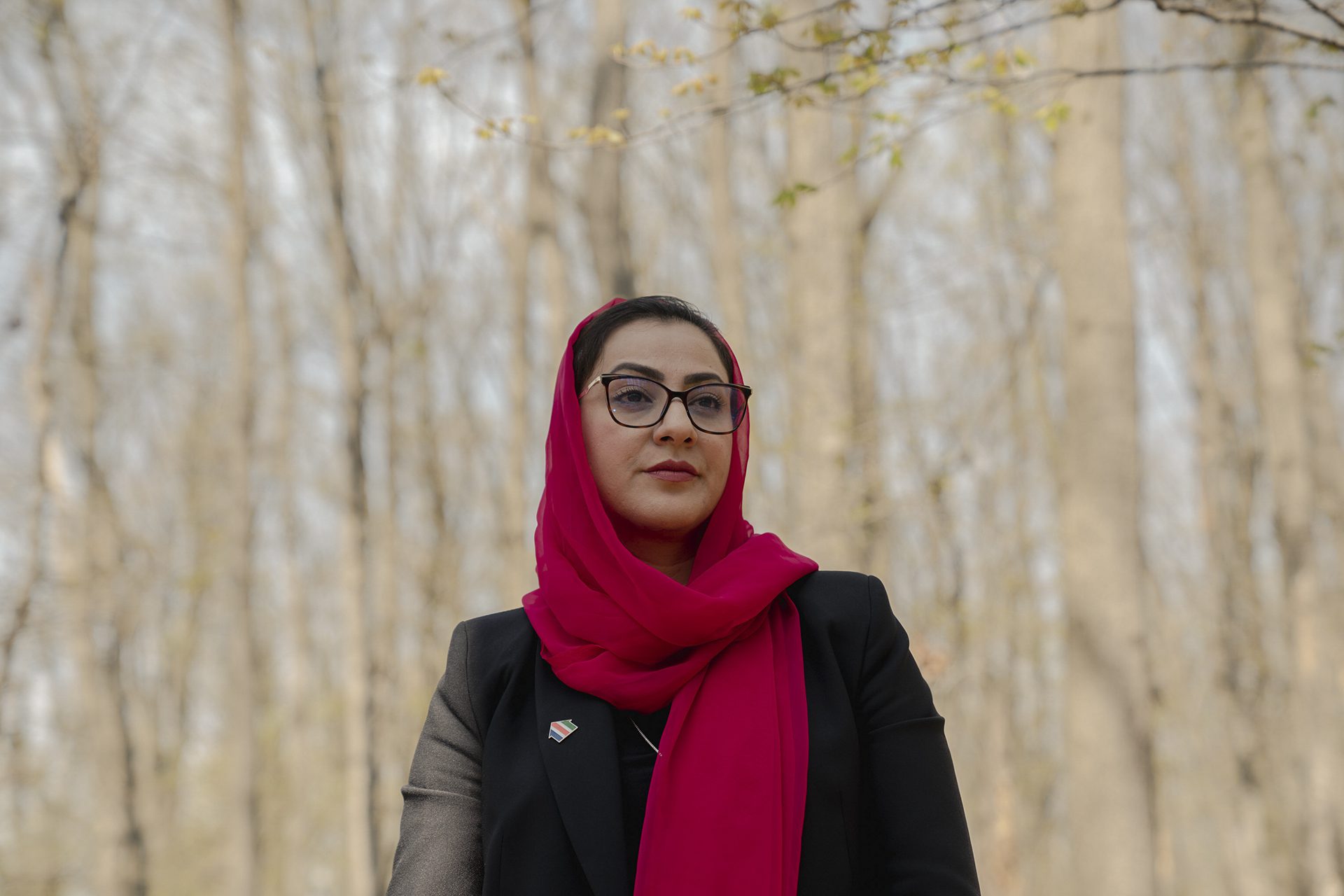 Photo by Shuran Huang For Borderless Magazine
This story is part of our series Broken-Winged Birds: Afghans in Exile by Afghan refugee journalist Saleha Soadat who, with a ride from photojournalist Shuran Huang, interviewed Farid in person last April.
As a middle school student in Afghanistan, Naheed Farid was banned from going to school. After the fall of the Taliban, she was able to resume her studies and become one of the youngest lawmakers in the Afghan Parliament, and chairperson of the Human Rights, Civil Society and Women's Affairs Committee. Since the collapse of the Afghan government and the takeover by the Taliban in 2021, Farid has been living in Maryland with her three children and her husband.
"In my opinion, a person's homeland is like their identity," said Farid, "Life has no meaning when your identity is taken away from you. I would love to return to Afghanistan, if the security of my life and my children are guaranteed."
Michelle Kanaar/Borderless Magazine
Over the course of several hours, customer after customer came into Ethio Mart to buy fresh injera from owner Hirut Assefa. It was obvious this was a staple in the Ethiopian community. Many of the customers didn't want to be photographed, but regular Aleemeshet Tsegaye came in with a big personality and acquiesced. He was in and out, but I enjoyed this interaction and how he made Assefa smile.
Assefa's husband, Felasfaw Woldegebriel says that like many local East African establishments, Ethio Mart has survived the pressures of COVID-19 and gentrification so far thanks to its loyal African customers.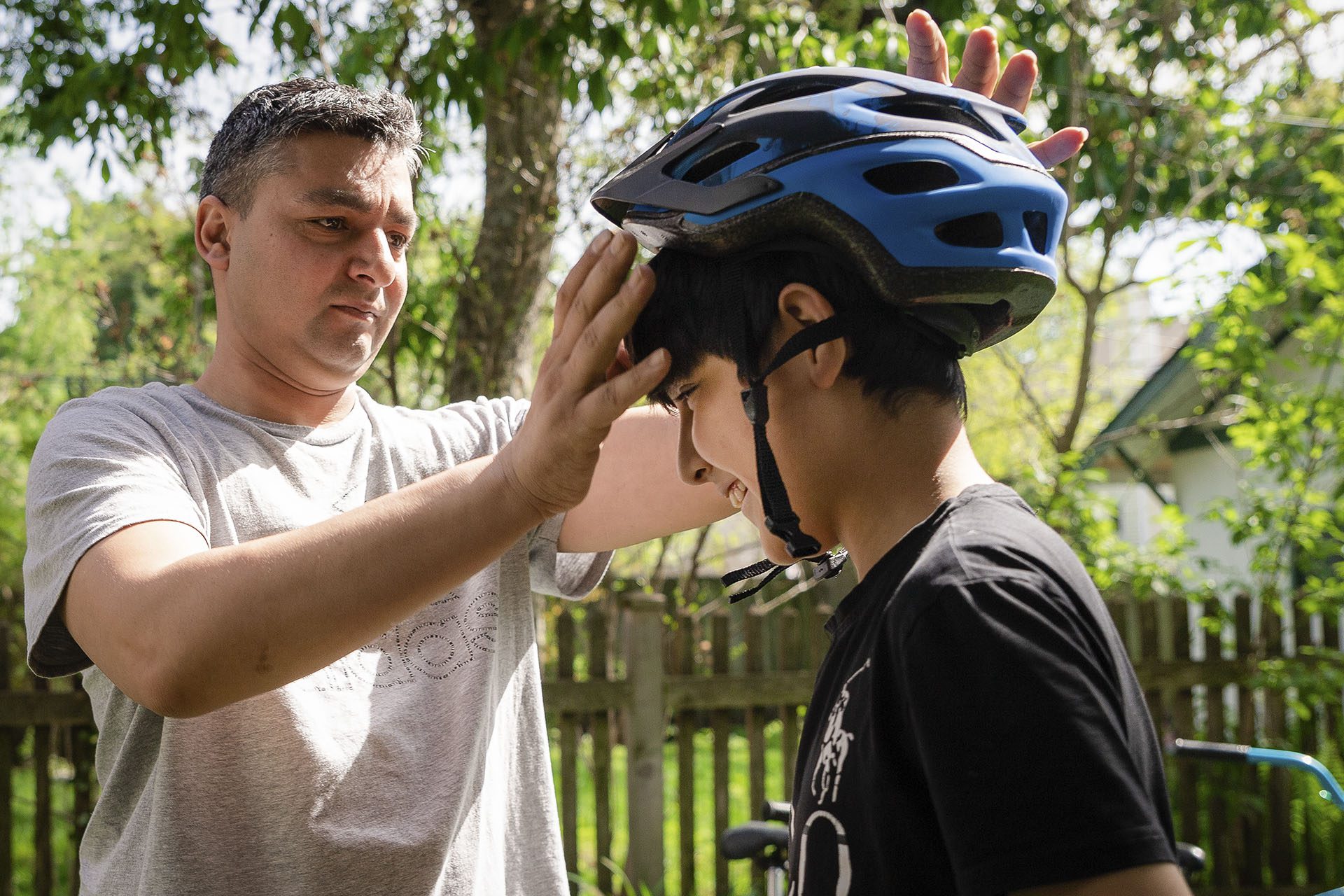 Emily Soto for Borderless Magazine
It was a treat to work with DePaul University students Emily Soto and Sofia Leal as well as their professor Robin Hoecker on this story about a Chicago-area Facebook group that is providing bikes, helmets and locks for newly-arrived Afghan refugees.
Yahya Nazari was one of more than 50 refugee kids to have received a free bike at the time last May.
"Now, with this bike, I go to the nearby shops to get groceries for my uncle's family, and bike on the park trails with my friends," said Nazari, who came to the United States from Afghanistan after the Taliban took over.
He now lives with his family on the North Side of Chicago.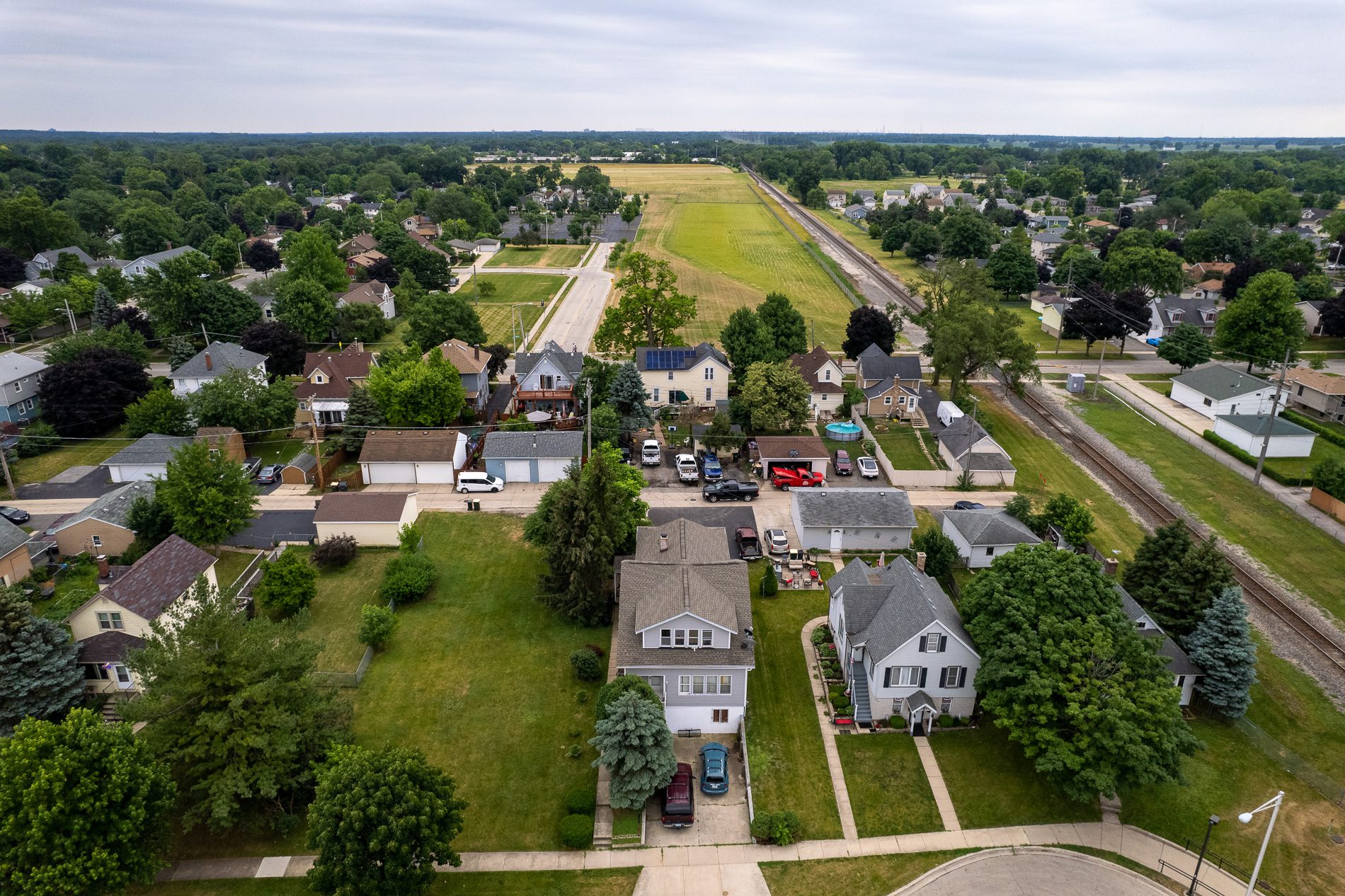 Jonathan Aguilar/Borderless Magazine
In 1995 Sandra Arzola was relaxing in her West Chicago home one weekend when a representative from Envirocon, an environmental cleanup company, notified her that there was thorium, a harmful radioactive waste, on her property.
Unknowingly, the Arzolas had bought their way into what the Chicago Tribune in 1979 called "the radioactive capital of the Midwest." Not long after they purchased the property, the U.S. Environmental Protection Agency designated it a federal Superfund site because of the hazardous waste in their yard.
The source of the danger was the former Kerr-McGee factory one block to the south of the Arzola home, which Jesse Arzola frequently went past while walking their dogs. From 1932 to 1973, the factory was the largest producer of rare earth and radioactive thorium compounds in the world.
Photojournalist Jonathan Aguilar spent weeks photographing a multitude of current and former residents of West Chicago who have been impacted by thorium's lasting legacy. I love this drone shot of his because it shows how many people live in the surrounding area and points to the immensity of the threat of a seemingly innocuous plot of land.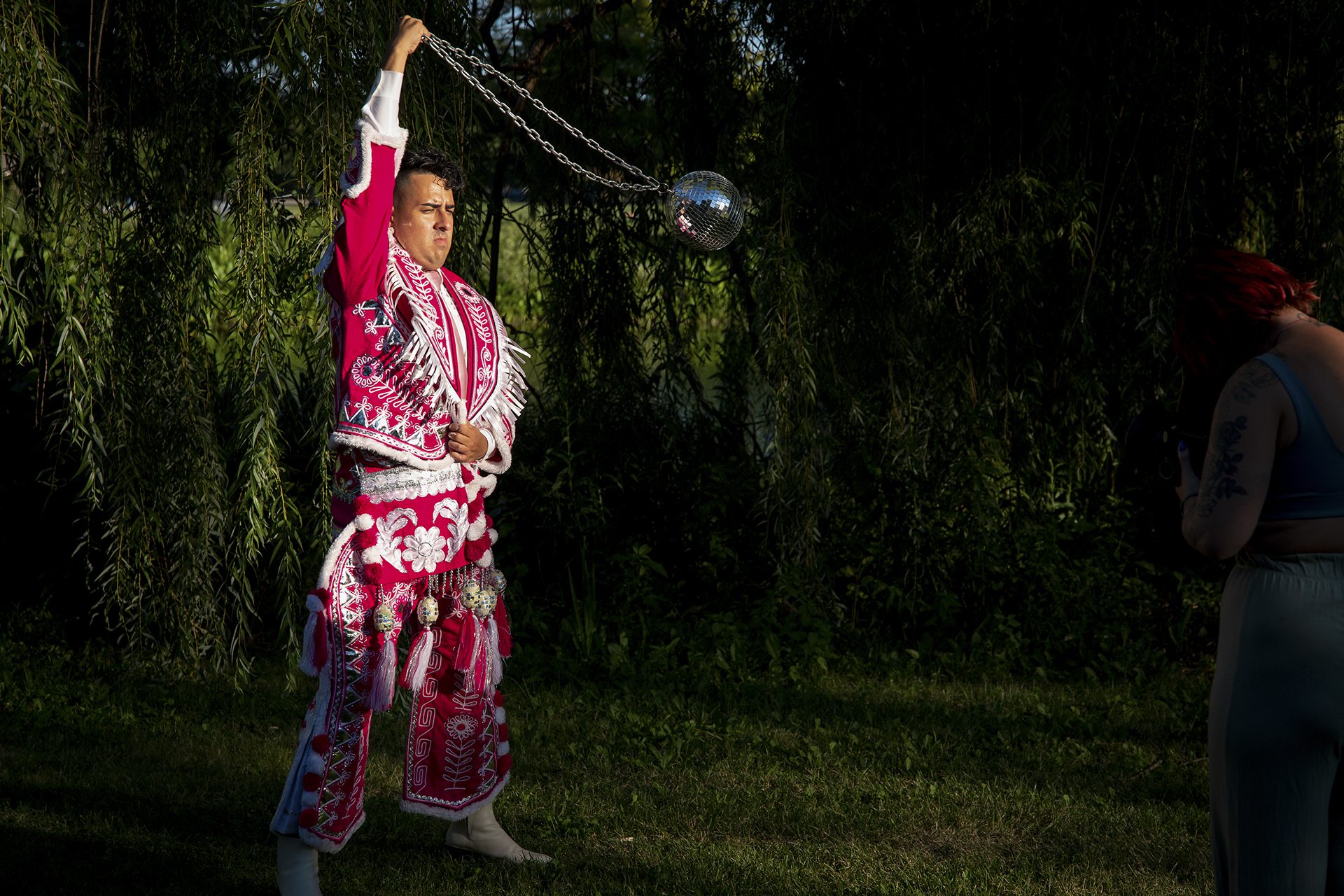 Jonathan Aguilar/Borderless Magazine
J Saxon intended to run for mayor in Chicago's upcoming 2023 election, but suspended their campaign after they did not make it onto the ballot. Saxon says their mixed identities represent Chicagoans who don't always have a say in politics.
I am drawn to the beauty and strength of the moment photojournalist Jonathan Aguilar captured in this photograph as well as the myriad of other photos he took over the course of several days. Aguilar's commitment to spending time with Saxon provided rich visual detail that helps the audience see who they are as a person.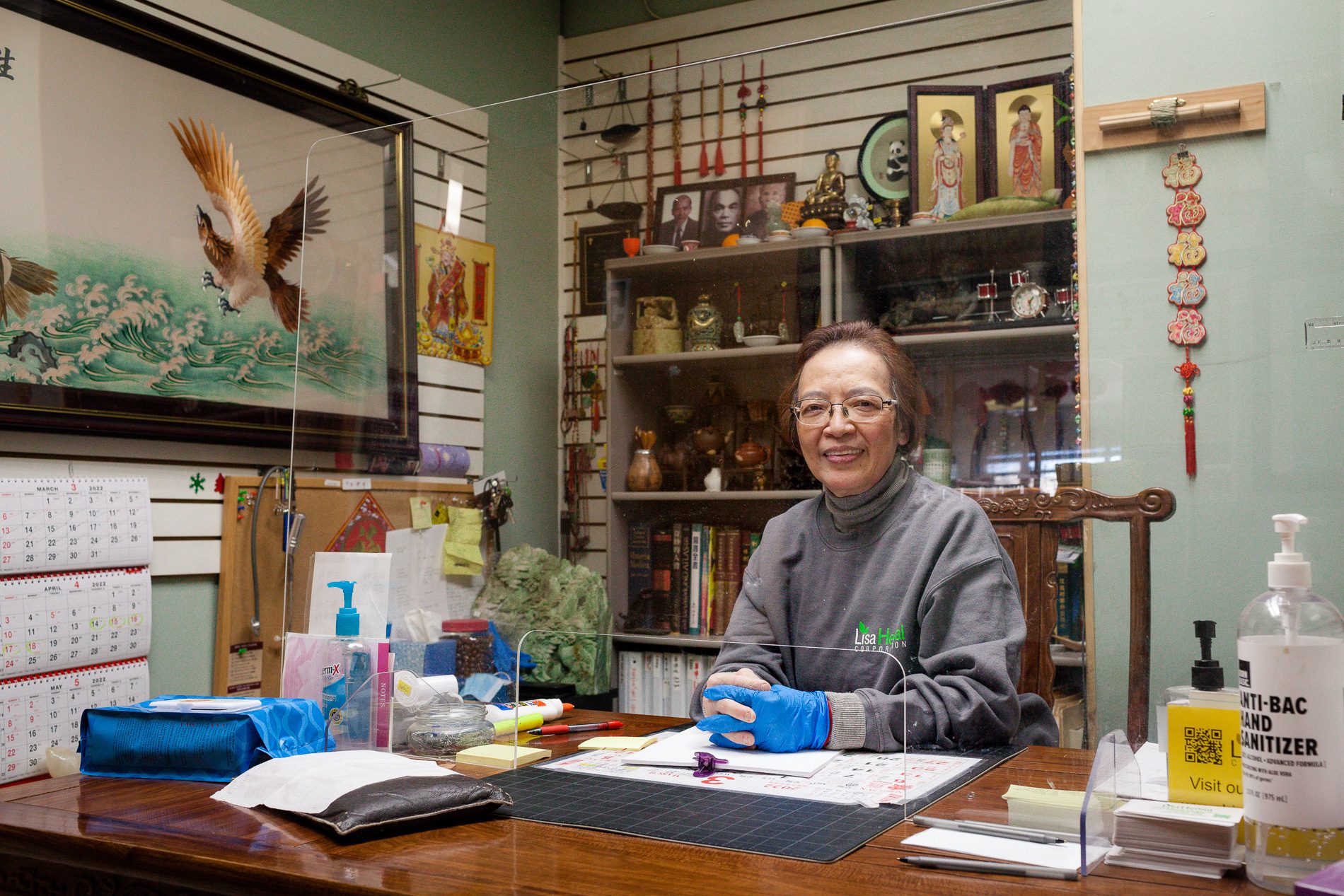 Michelle Kanaar/Borderless Magazine
This was a fun assignment. Lisa Herbal Corporation is truly a family operation that provides care for people from a multitude of backgrounds. People come from all over the Chicagoland area to receive herbal remedies ranging from cinnamon for diabetes to turmeric for chronic back pain.
"My great-grandfather used to go up a Chinese mountain and pick up herbs," Lisa Lau, owner of Lisa Herbal Corporation, said. "Later my grandfather went up a mountain to do the same thing. My father followed them, but his [herbal formula] improved. And with this generation, natural herbs have been modernized to fit everyone's needs."
In the 1970s, when Lau was 10 years old, her family immigrated to Chicago's Chinatown. Over the years, she learned about new formulas and herbs as she got to know Hispanic and Middle Eastern communities in Chicago's Little Village and the West Ridge neighborhoods. She continues to work as a herbal doctor today because she wants to use her own tea formulas to help underserved communities.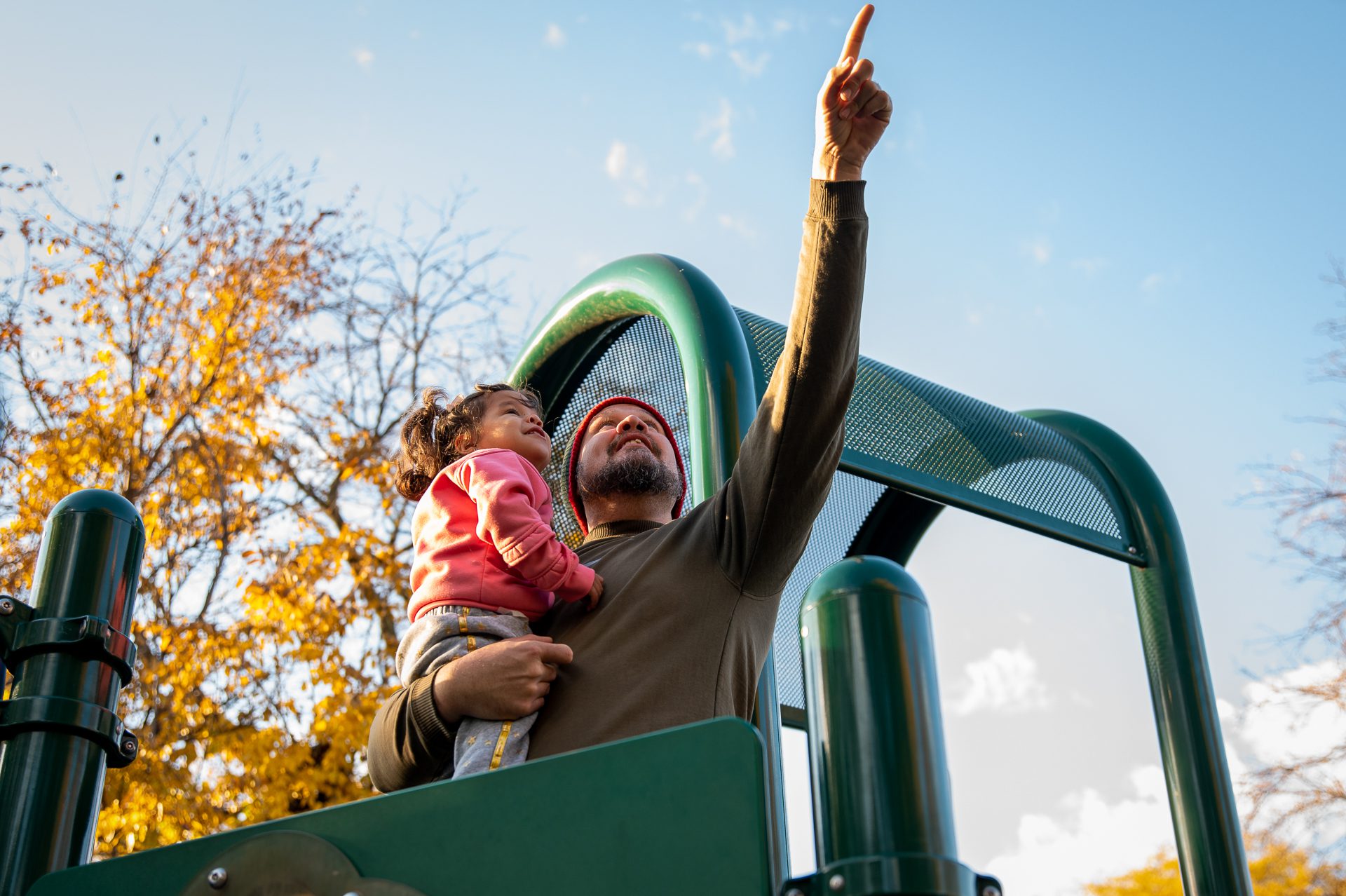 Jonathan Aguilar for Borderless Magazine
This story is part of our recent series After The Buses: Meet The Migrants At The Center Of Texas' Manufactured Crisis done in collaboration with Block Club Chicago. Tomás Alvarado and his wife Carmen Ollarves decided to leave Venezuela in 2018 when Despite working three jobs between the two of them they had barely been able to provide a meal a week for their family. They came with their now 2-year-old daughter Grecia.
"We came not only for us, but for our loved ones who stayed in Venezuela," Alvarado said "How can we help them?"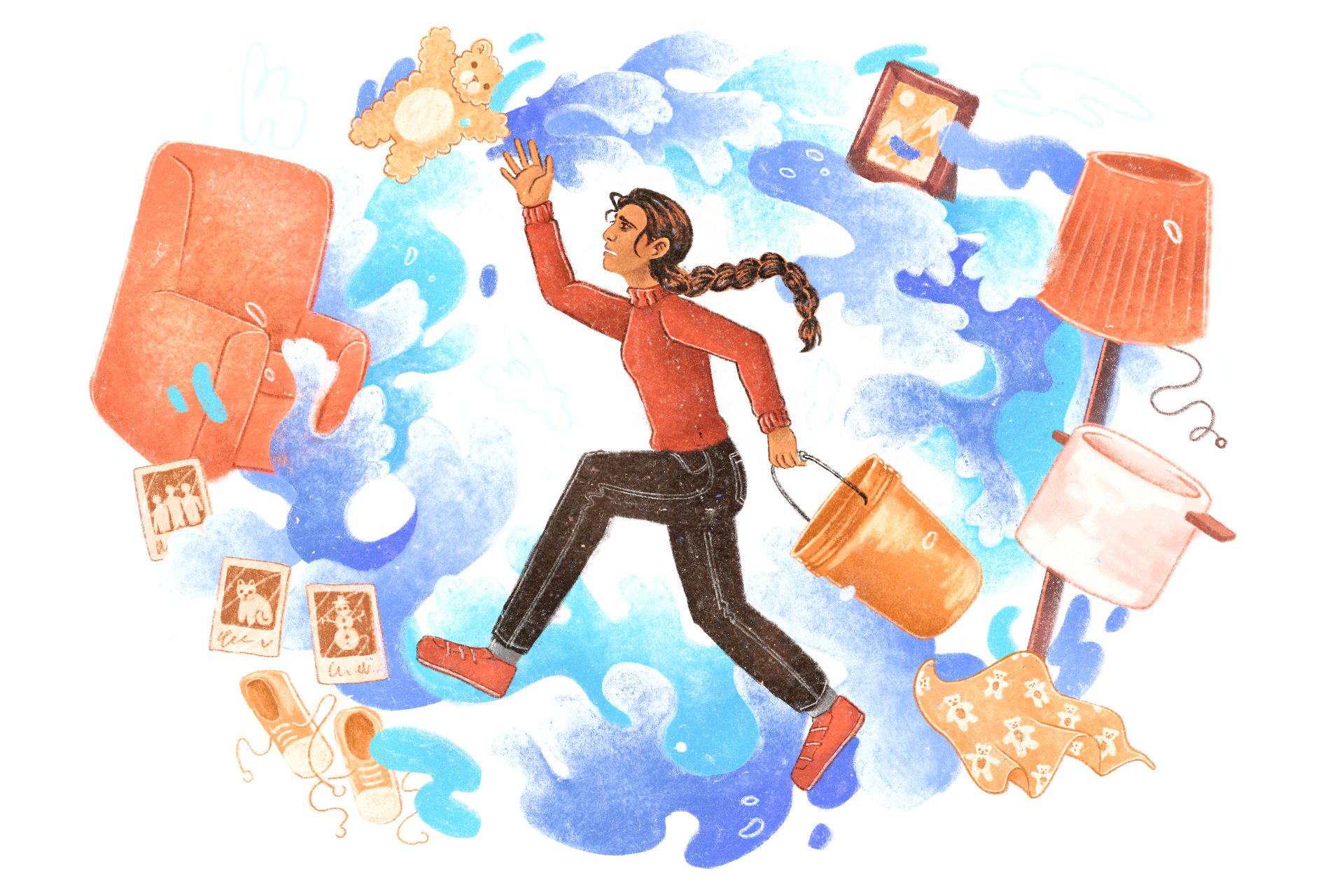 Illustration by Jennifer Chavez for Borderless Magazine
It was a pleasure to work with Jen Chavez on this illustration. As many of you may know, we cover a lot of sensitive issues in our reporting. Often an identifiable image of someone can put them at risk. Such was the case for Daniela* whose name was changed for this story to protect her safety and privacy.
Jen created this image to illustrate the feelings of loss and overwhelm that Daniela felt when her basement apartment flooded. We based the image on a scene that Daniela described where her apartment flooded up to her knees and she used buckets to bail the water out.
Daniela, the daughter of Mexican immigrants, lost many treasured photos and trinkets that had been passed on through the generations. "Those could not be replaced. Or, you know, refurbished or fixed," said Daniela. Among them was her baby blanket that had teddy bears.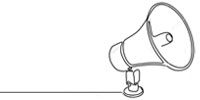 Bring power to immigrant voices!
Our work is made possible thanks to donations from people like you. Support high-quality reporting by making a tax-deductible donation today.