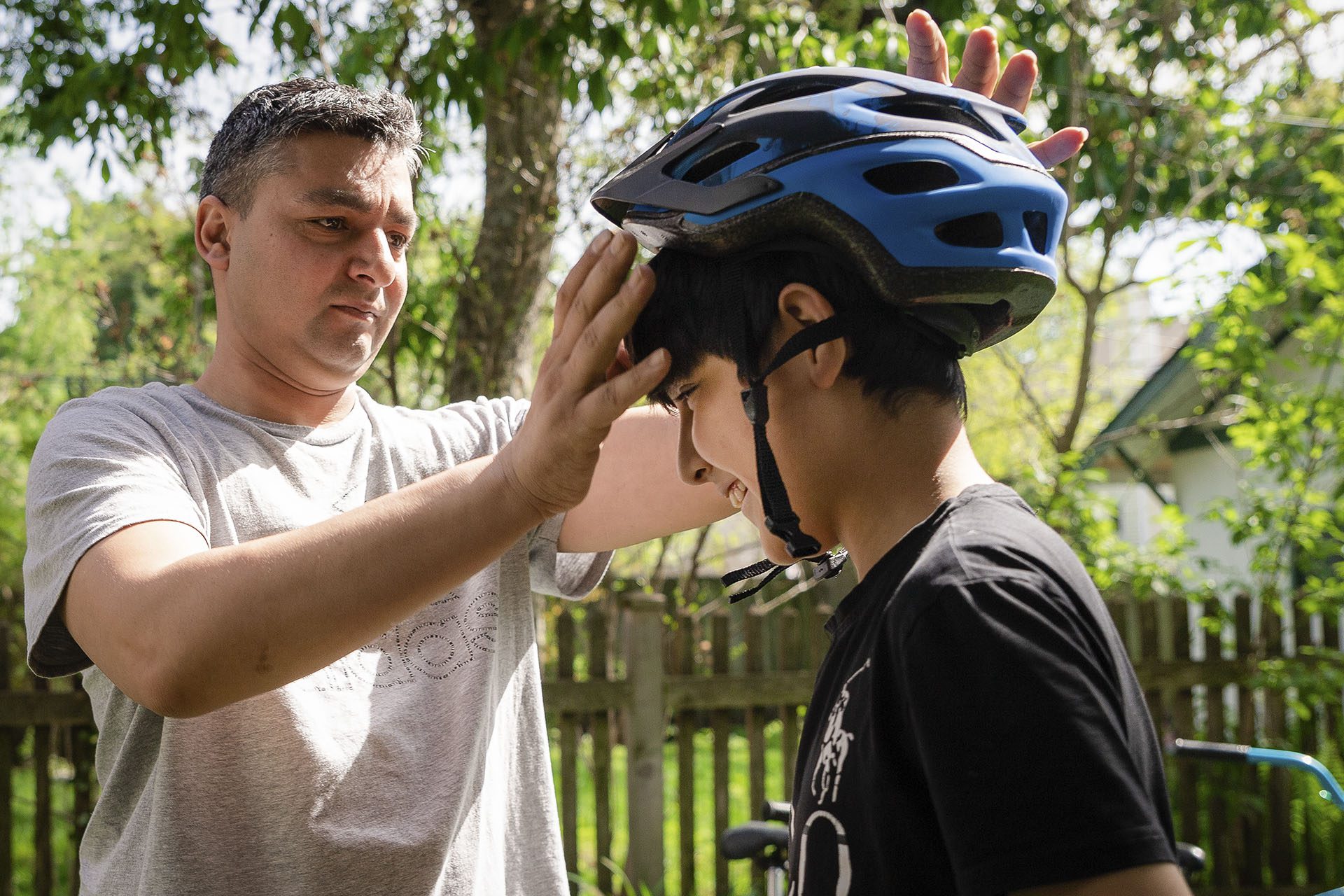 Emily Soto for Borderless Magazine
Mohammad Aimal puts a bike helmet on his nephew, Yahya Nazari, in Evanston, Ill., May 14, 2022. Nazari received a free bike, lock and helmet from a father-daughter duo that is distributing bikes to Afghan refugees. Emily Soto for Borderless Magazine
A Chicago-area Facebook group is accepting donated bikes, helmets and locks for newly-arrived Afghan refugees.
It was a sunny Saturday afternoon when 14-year-old Yahya Nazari and his uncle Mohammad Aimal walked into the backyard of Natalie Moore Topinka's home in suburban Evanston. His eyes pointed to the ground as he quietly greeted Moore Topinka and her father, Scott Moore. His uncle encouraged him forward, and the Moores welcomed him to the yard which was filled with a long row of bicycles of all sizes and colors. That was when Nazari's eyes rose and filled with excitement. They were fixed on a sleek black bike that looked to be just the right size. He walked directly toward it and grabbed the handles without hesitation.
Want to receive stories like this in your inbox every week?
Sign up for our free newsletter.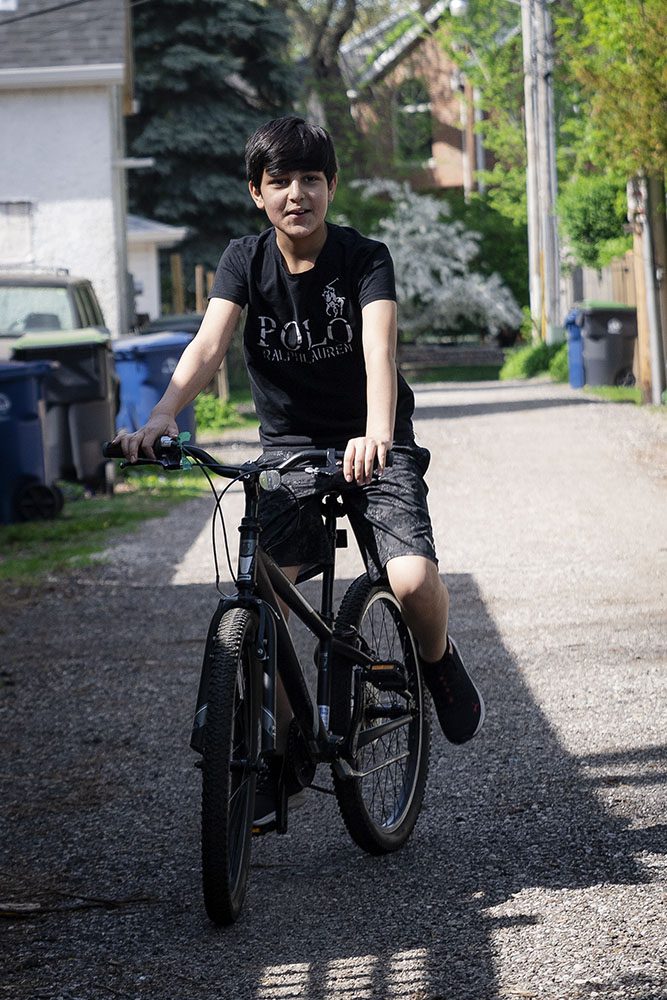 Emily Soto for Borderless Magazine
Nazari is one of more than 50 refugee kids to have received a free bike from the father-daughter duo since March of this year.
"Now, with this bike, I go to the nearby shops to get groceries for my uncle's family, and bike on the park trails with my friends," said Nazari, who came to the United States from Afghanistan after the Taliban took over. He now lives with his family on the North Side of Chicago.
Moore Topinka and her father started the operation after she helped welcome a refugee family through the local Refugee Community Connection (RCC) Facebook group. Moore fixed a bike for the family's father who planned to use the bike to get to work.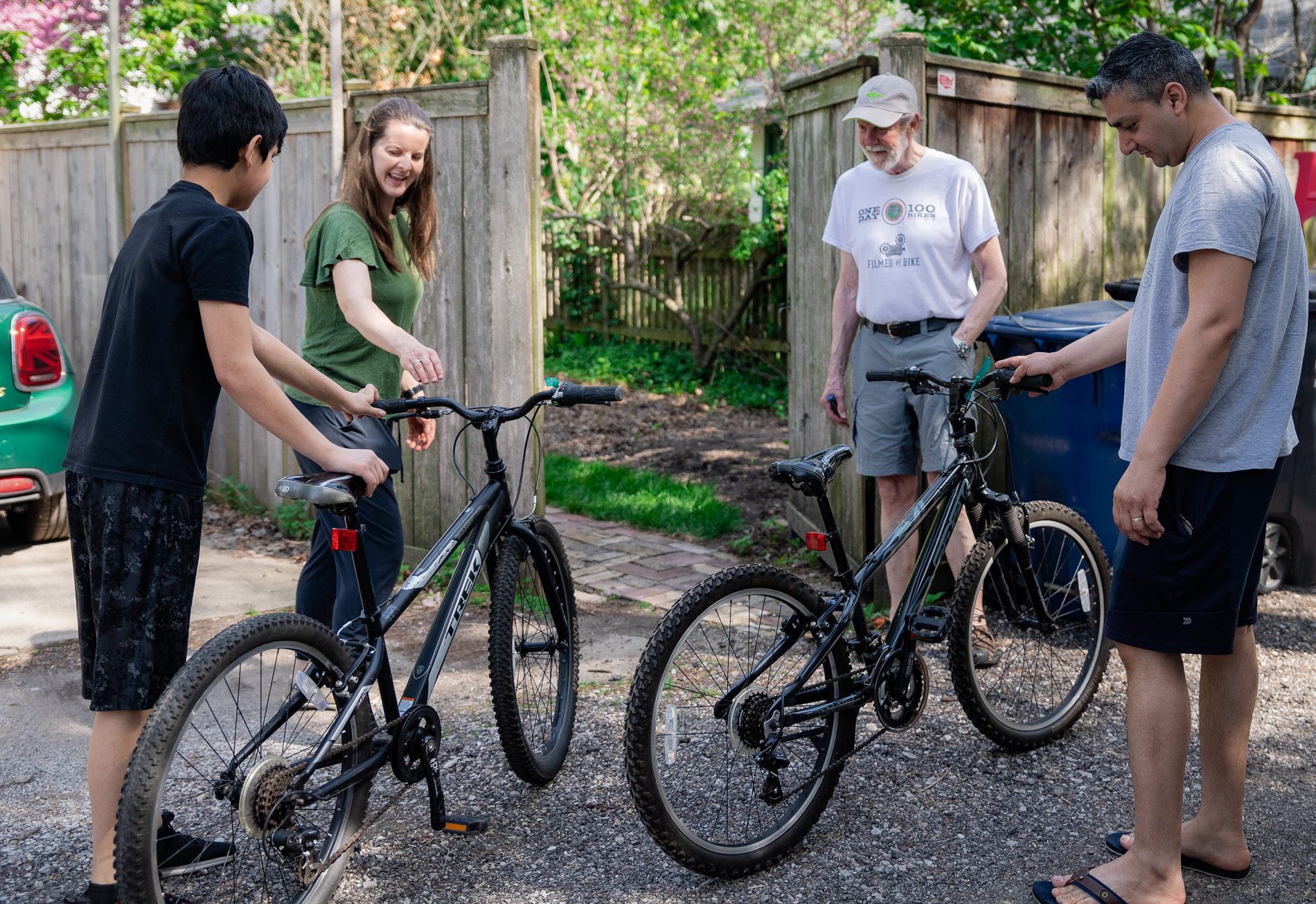 Emily Soto for Borderless Magazine
In March, they connected with Dana Smith, another member of RCC who has been coordinating bike repairs and donations for refugees since November. Smith's garage is filled with bikes that were donated by the community, Working Bikes in Chicago's Pilsen neighborhood and The Recyclery Collective in the Rogers Park neighborhood. With so many bikes to repair, Smith asked Moore Topinka to handle all the donations of kids' bikes.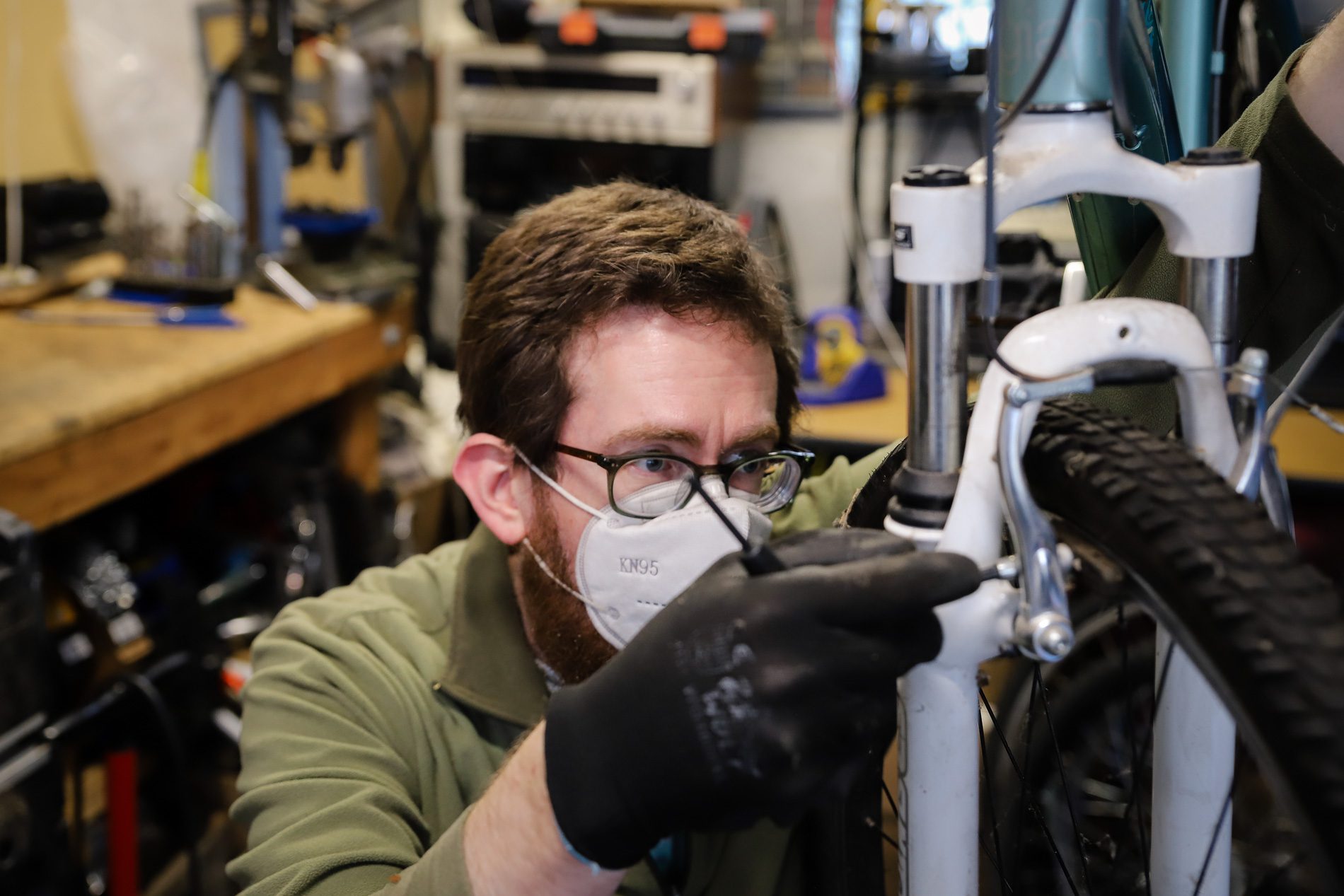 Sofia Leal for Borderless Magazine
Smith, who works for the U.S. Department of Agriculture coordinating food assistance programs, spends several hours a week fixing bikes after work. That's on top of fielding a steady flow of donations, distributing bikes, organizing volunteers and taking new requests through the Facebook group.
"The administration and coordination is much more work than the actual fixing of the bikes," said Smith, who began repairing bikes as a volunteer for The Recyclery in 2019. Now the collective supplies him with bikes and any parts needed for repairs.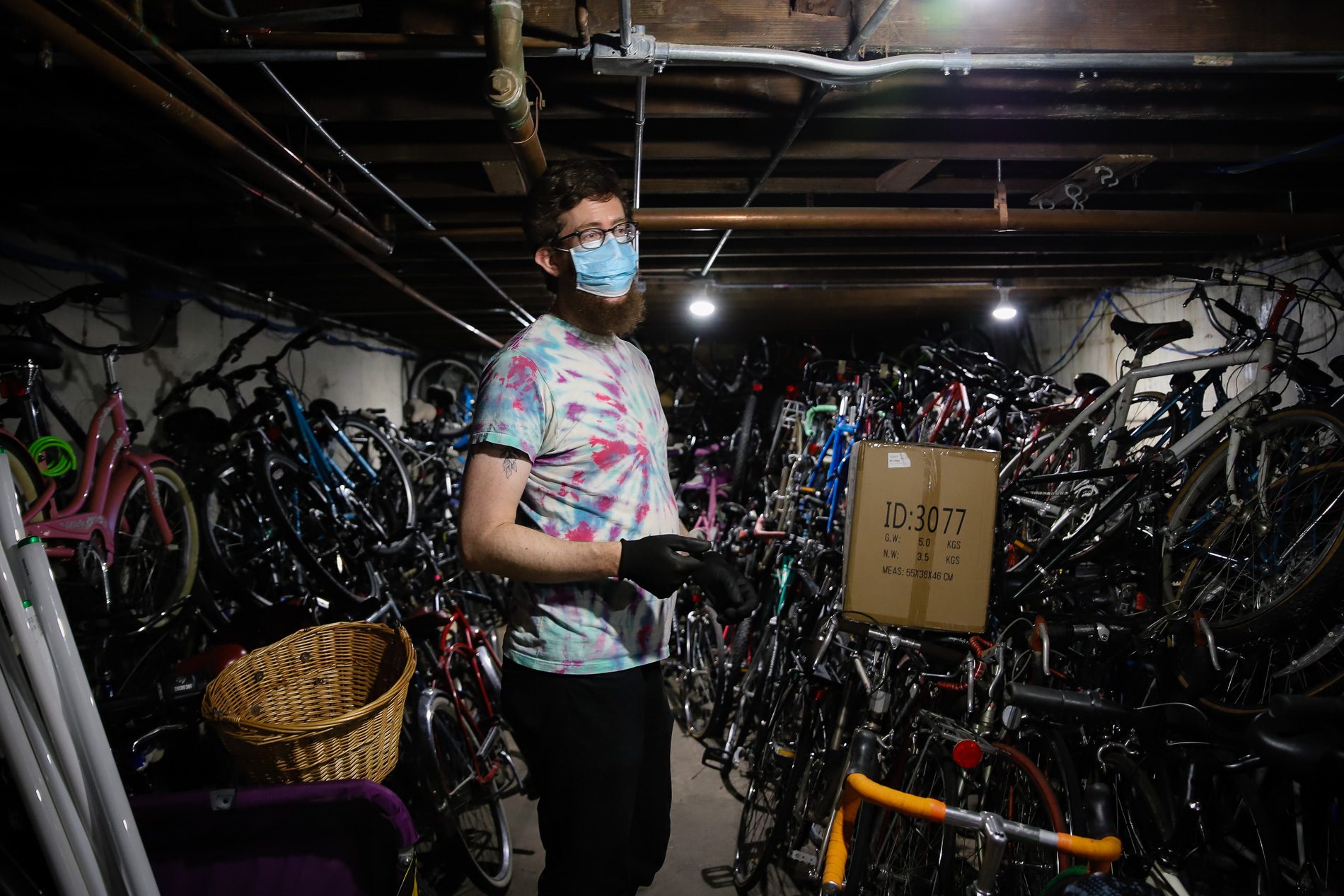 Sofia Leal for Borderless Magazine
Several months on, word about the bike giveaway continues to spread and volunteers regularly receive bike donations from the public.
Most of the donations come from families whose children have long outgrown their bikes, said Moore, who works on repairs at his home just across the street from his daughter's place. Some of the bikes arrive in decent shape, but others require new parts to make sure the bicycle is safe and working properly. This means checking the chains, pedals and wheels, and ensuring the bike has safety reflectors. In some cases, Moore pays for the new parts out of his own pocket.
"I want it to look presentable," Moore said. "I do a lot of cosmetic work, trying to bring it up to where a child will be attracted to it and proud of it."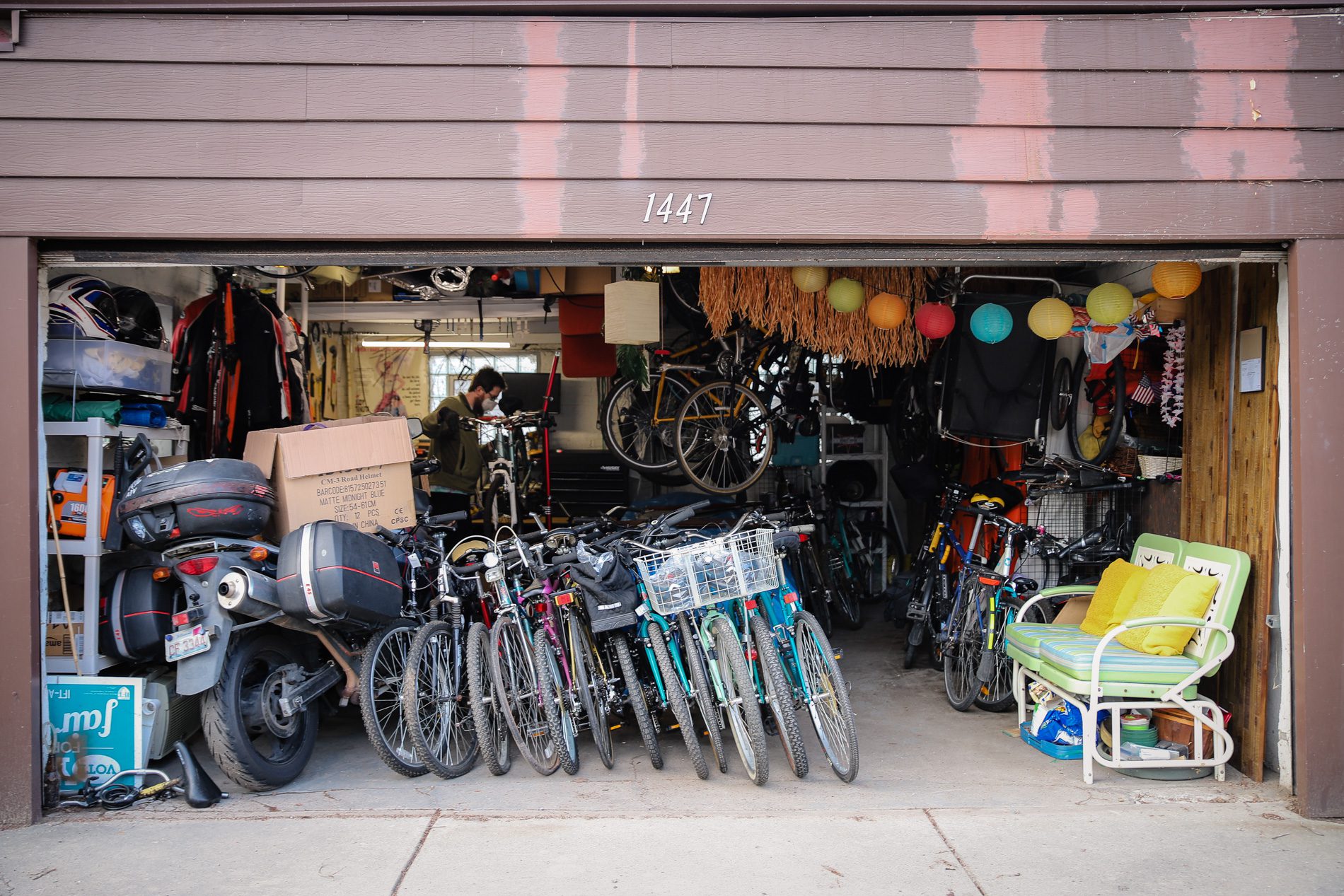 Sofia Leal for Borderless Magazine
Everyone that picks up a bike also receives a lock and helmet, which Moore Topinka says is the most important part. Without them, the kids and their new bikes wouldn't be safe. "It's really nice to give a kid their own brand new helmet and let them choose the color. They're so proud to wear them," she said.
But because these items are generally overlooked by donors, Moore Topinka often takes care of those expenses herself. She said that for people looking to help, helmet and lock donations are an easy way to get involved and they are needed more than the bikes.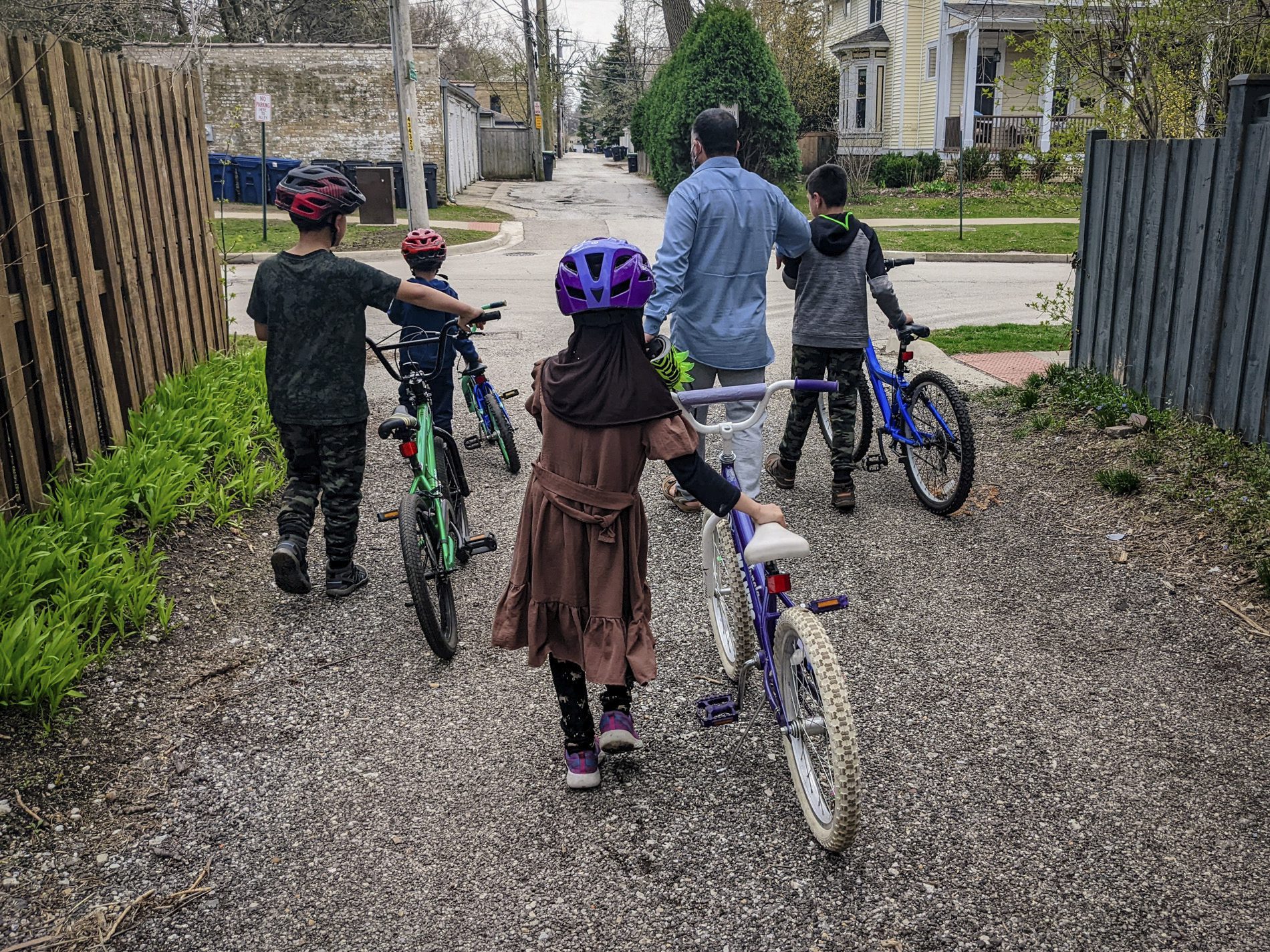 Photo courtesy of Kathleen Heneg
Moore Topinka and her father were already avid bikers long before they found the RCC Facebook group. They hope that the refugees now able to ride bikes, some for the first time, will get as much joy out of them as they do.
Moore referenced a quote from the author Arthur Conan Doyle displayed on his bedroom wall:
"When the spirits are low, when the day appears dark, when work becomes monotonous, when hope hardly seems worth having, just mount a bicycle and go out for a spin down the road without thought on anything but the ride you are taking."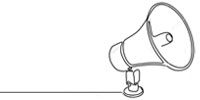 Bring power to immigrant voices!
Our work is made possible thanks to donations from people like you. Support high-quality reporting by making a tax-deductible donation today.