La ayuda mutua significa comprometerse con el bienestar de la comunidad a largo plazo. El trabajo tiene su raíz en la acción directa de organizadores y voluntarios que responden a las necesidades de sus vecinos. Nacidos de redes informales, estos grupos se diferencían de las organizaciones benéficas y sin fines de lucro que generalmente se enfocan en las necesidades de un grupo o individuo. La ayuda de los grupos de ayuda mutua abarca desde asistencia financiera y alimentaria, refugio, cuidado de menores y apoyo emocional.
Durante los últimos dos años, a medida que el COVID-19 se extendió por los Estados Unidos, exacerbó las desigualdades raciales, sociales y económicas existentes. La crisis de salud pública tensó el deficiente sistema de salud del país y dejó a millones de personas sin poder cubrir necesidades básicas como refugio, comida y ropa. Un resultado es que personas en todo el país se están uniendo a grupos de ayuda mutua para ayudar a sus vecinos.
"Seguimos viendo a los vecinos salir. Ese número sigue creciendo", dice Nicolás Hernandez, un organizador comunitario que ayudó a iniciar Casa Hernández, donde opera la Red de Solidaridad de Humboldt Park en el West Side de Chicago. Hernandez dice que muchas de las personas que vienen a Casa Hernandez son indocumentadas y temen pedir ayuda a instituciones más grandes o formales.
La ayuda mutua tiene una larga historia en los Estados Unidos. Según un informe de AP, varias formas de estos grupos han existido durante siglos y se han arraigado en el trabajo de las comunidades de color e inmigrantes. En el siglo XVIII, las comunidades afroamericanas libres unieron sus recursos para cuidar a los ancianos, las viudas y los niños, y comprar tierras. Otro ejemplo de grupos de ayuda mutua fueron las sociedades mutualistas, una red de sociedades de ayuda mutua creada en 1922 en Texas que brindó a los mexicanos en Estados Unidos un apoyo esencial, como educación y recursos legales, después de su inmigración.
Hoy en día, las redes de ayuda mutua continúan apoyando a las comunidades de Chicago y de a su alrededor en la ausencia de ayuda gubernamental. A medida que se acerca la temporada navideña, Borderless Magazine ha compilado una lista de grupos de ayuda mutua en Chicago que están construyendo seguridad comunitaria. Para donar o solicitar ayuda, busca tu vecindario a continuación y encuentra un grupo de ayuda mutua cerca de ti.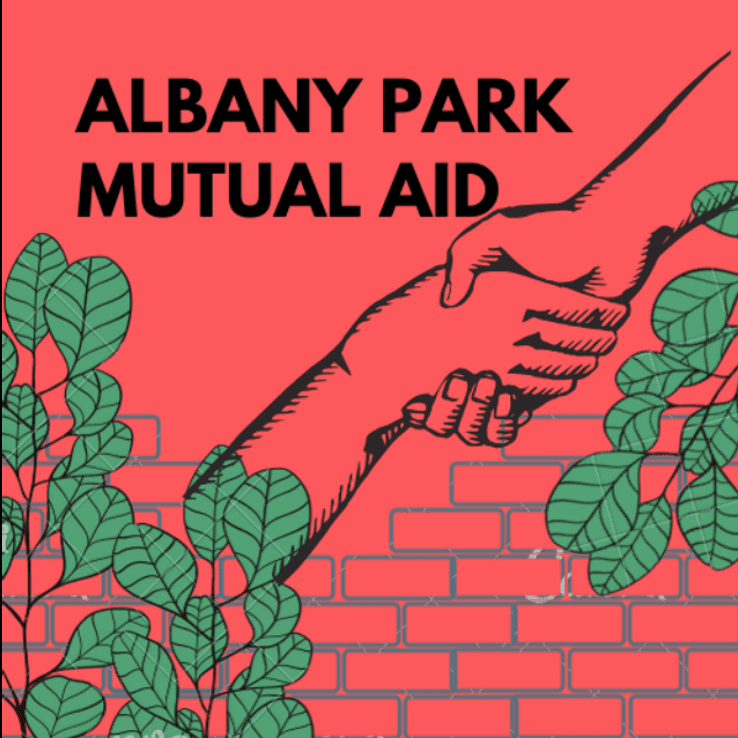 Albany Park
Albany Park Mutual Aid
312-854-9741
Avondale
Avondale Mutual Aid
708-620-7941
Belmont Cragin
Belmont Cragin Mutual Aid
Beverly
19th Ward Mutual Aid
773-980 6043
Bronzeville
Bronzeville/Kenwood Mutual Aid
312-945-6647

bronzevillekenwood@gmail.com
Cicero y Berwyn
Berwyn Cicero Mutual Aid
Edgebrook y Forest Glen
Edgebrook and Forest Glen Mutual Aid
224-698-7065 
Solicita ayuda utilizando este formulario
Edgewater
Edgewater Mutual Aid Group
312-324-4378
Bryn Mawr Warming Center

Gage Park
Gage Park Latinx Council
2711 W. 51st St
708-872-8798
Hermosa
Hermosa Mutual Aid 
773-236-7760
Solicita ayuda utilizando este formulario
Humboldt Park
Humboldt Park Solidarity Network
312-883-7526
Lolitas Bodega
Hyde Park
Hyde Park Mutual Aid
Solicita ayuda utilizando este formulario
UChicago Mutual Aid
Irving Park
Irving Park Mutual Aid 
773-231-7310
Jefferson Park y Gladstone Park
Jefferson and Gladstone Park Mutual Aid
773-270-1288
Solicita ayuda utilizando este formulario
Lakeview y Lincoln Park
Lakeview/Lincoln Park Mutual Aid Network
312-775-2391
Solicita ayuda utilizando este formulario
Lincoln Square
Lincoln Square Ravenswood Solidarity Network
224-458-4666
Little Village y Pilsen
​​Chicago Latina Moms 
​
Little Village Mutual Aid, Telpochcalli Community Education Project (TCEP) y Únete La Villita
2832 W. 24th Blvd
708-885-9388
Pilsen Solidarity Network
917-747-8651
Solicita ayuda utilizando este formulario
Femme Defensa
Chicago Community Jail Support 
2700 S California Ave
Little Village, Englewood y South Chicago
Food, Farm Familias a través de Getting Grown Collective
Logan Square
​Logan Square Mutual Aid
773-234-8313
McKinley Park
McKinley Park Mutual Aid
312-772-4806
Northern Suburbs
Suburban Solidarity Network
Northwest Side
Northwest Side Solidarity Network
Oak Park
Oak Park Mutual Aid
708-628-8373
Portage Park
Portage Park Mutual Aid
312-854-9851
portageparkmutualaid@gmail.com
Rogers Park
PO Box Collective
773- 216-5556

Rogers Park Free Store
1407 W. Morse Ave.
Roscoe Village
Roscoe Village-North Center Mutual Aid
Solicita ayuda utilizando este formulario
South Loop
South Loop Mutual Aid
708-953-8481
Solicita ayuda utilizando este formulario
Ukrainian Village
Ukrainian Village Mutual Aid
312-298-9328
West Town Mutual Aid
773-245-6846
Uptown
Uptown Buena Park Solidarity Network
312-854-9215
ubpsolidaritynetwork@riseup.net
West Side
Westside Mutual Aid
Lil' Miracles Mutual Aid a través de 360 Nation 
Tri-Taylor Mutual Aid
312-870-0760
Solicita ayuda utilizando este formulario 
Wicker Park y Buck Town
Wicker Park-Bucktown Mutual Aid
773-273-9640‬
¿No ves tu grupo de ayuda mutua? Envíale un correo electrónico a Diane a diane@borderlessmag.org con la información de tu grupo y la agregaremos a nuestra lista
Our work is made possible thanks to donations from people like you. Support high-quality reporting by making a tax-deductible donation today.                                                                                                                                   
Donate