Mutual aid means being committed to the long-term wellbeing of your communities. The work is rooted in the direct action of organizers and volunteers who answer to the needs of their neighbors. Born out of informal networks, these groups are different from incorporated nonprofits and charities, which typically focus on the needs of an individual group or person. Help from mutual aid groups ranges from financial assistance, food assistance, shelter, childcare and emotional support. 
Over the last two years, as COVID-19 spread through the U.S., it also exacerbated existing racial, social and economic inequalities. The public health crisis strained the country's broken healthcare system and left millions of people unable to afford basic needs like shelter, food and clothing. One result is that more people across the country are joining mutual aid groups to help their neighbors.
"We're still seeing neighbors coming out. That number keeps growing," says Nicolas Hernandez, a community organizer who helped start Casa Hernandez, where the Humboldt Park Solidarity Network operates on Chicago's West Side. Hernandez says that a lot of the people who come out to Casa Hernandez are undocumented and afraid to ask for help from bigger or more formal institutions. 
Mutual aid has a long history in the United States. According to an AP report, various forms of these groups have been around for centuries and have been rooted in the work of communities of color and immigrants. In the 18th century, free African American communities pooled their resources to care for the elderly, widows and children, and buy land. Another example of mutual aid groups were sociedades mutualistas, a network of mutual aid societies created in 1922 in Texas that provided Mexicans in America with essential support, such as education and legal resources, after they immigrated.
Today, mutual aid networks continue to support Chicago's communities beyond and in the absence of government help. As the holiday season nears, Borderless Magazine has compiled a list of mutual aid groups in Chicago that are building community security and safety. To donate or request assistance, look up your neighborhood below and find a mutual aid group near you.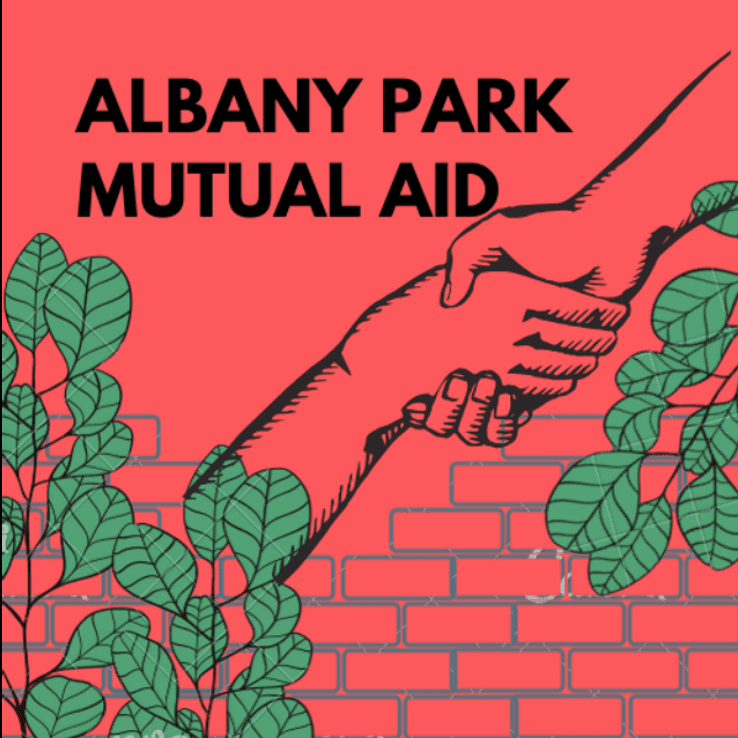 Albany Park
Albany Park Mutual Aid
312-854-9741
Avondale
Avondale Mutual Aid
708-620-7941
Belmont Cragin
Belmont Cragin Mutual Aid
Beverly
19th Ward Mutual Aid
773-980 6043
Bronzeville
Bronzeville/Kenwood Mutual Aid
312-945-6647

bronzevillekenwood@gmail.com
Cicero and Berwyn
Berwyn Cicero Mutual Aid
Edgebrook and Forest Glen
Edgebrook and Forest Glen Mutual Aid
224-698-7065 
Request aid using this form
Edgewater
Edgewater Mutual Aid Group
312-324-4378
Bryn Mawr Warming Center

Gage Park
Gage Park Latinx Council
2711 W. 51st St
708-872-8798
Hermosa
Hermosa Mutual Aid 
773-236-7760
Request aid using this form
Humboldt Park
Humboldt Park Solidarity Network
312-883-7526
Lolitas Bodega
Hyde Park
Hyde Park Mutual Aid
Request aid using this form
UChicago Mutual Aid
Irving Park
Irving Park Mutual Aid 
773-231-7310
Jefferson Park and Gladstone Park
Jefferson and Gladstone Park Mutual Aid
773-270-1288
Request aid using this form
Lakeview and Lincoln Park
Lakeview/Lincoln Park Mutual Aid Network
312-775-2391
Request support using this form
Lincoln Square
Lincoln Square Ravenswood Solidarity Network
224-458-4666
Little Village and Pilsen
​​Chicago Latina Moms 
​
Little Village Mutual Aid, Telpochcalli Community Education Project (TCEP) and Únete La Villita
2832 W. 24th Blvd
708-885-9388
Pilsen Solidarity Network
917-747-8651
Request aid using this form
Femme Defensa
Chicago Community Jail Support 
2700 S California Ave
Little Village, Englewood and South Chicago
Food, Farm Familias through the Getting Grown Collective
Logan Square
​Logan Square Mutual Aid
773-234-8313
McKinley Park
McKinley Park Mutual Aid
312-772-4806
Northern Suburbs
Suburban Solidarity Network
Northwest Side
Northwest Side Solidarity Network
Oak Park
Oak Park Mutual Aid
708-628-8373
Portage Park
Portage Park Mutual Aid
312-854-9851
portageparkmutualaid@gmail.com
Rogers Park
PO Box Collective
773- 216-5556

Rogers Park Free Store
1407 W. Morse Ave.
Roscoe Village
Roscoe Village-North Center Mutual Aid
Request aid using this form
South Loop
South Loop Mutual Aid
708-953-8481
Request aid using this form
Ukrainian Village
Ukrainian Village Mutual Aid
312-298-9328
West Town Mutual Aid
773-245-6846
Uptown
Uptown Buena Park Solidarity Network
312-854-9215
ubpsolidaritynetwork@riseup.net
West Side
Westside Mutual Aid
Lil' Miracles Mutual Aid through 360 Nation 
Tri-Taylor Mutual Aid
312-870-0760
Request aid using this form 
Wicker Park and Buck Town
Wicker Park-Bucktown Mutual Aid
773-273-9640‬
Don't see your mutual aid group? Email Diane at diane@borderlessmag.org with your group's info, and we'll add it to our list!
Our work is made possible thanks to donations from people like you. Support high-quality reporting by making a tax-deductible donation today.                                                                                                                                   
Donate