Wear the Peace combines heritage, activism, and giving back to support those in need in the Middle East and beyond.
Above: Photo courtesy of Wear the Peace. 
The Dish is our series on immigrant community businesses in Chicago. In 2016, immigrant-owned businesses in Chicago generated $659 million in income, according to a joint report from the Chicago Mayor's Office and New American Economy, a bipartisan research and advocacy organization. 
Want to share your story with us? Reach out to us at michelle@borderlessmag.org. 
---
Murad Nofal and his friend Mustafa Mabruk sat in his parents' garage in August 2016 to discuss the war in Syria. The conflict was weighing heavily on the two college students' minds. It reminded them of their families' own struggles as refugees who escaped from Palestine to Jordan before coming to the United States.
That summer, the U.S. and Russia-brokered truce had unraveled and the conflict was once again claiming lives. Nofal and Mabruk were sharing updates about the conflict on their Facebook pages and were frustrated by how little American media seemed to care about the issue.
"We were talking that day about how we can find a new way to talk about these issues," said Nofal, now 24 years old. "Situations like Syria were not being talked about enough. We wanted to shed light on issues around the world that were being pushed under the rug, but in a cool way."
They came up with Wear The Peace, a stylish clothing company that donates both money and clothing to organizations in Chicago and in the Middle East. For every T-shirt or sweatshirt bought from their online store, the pair donate a piece of clothing to someone in need. They also donate 100 percent of their profits from the sale of their jewelry, hats and other accessories to groups like the Palestine Children's Relief Fund and Helping Hand for Relief and Development. In total, they've donated over 8,000 pieces of clothing and raised over $10,000 for organizations since their founding in 2016. 
Borderless Magazine spoke to Nofal and Mabruk, who is also now 24, about their business and how the COVID-19 pandemic is impacting their work.
Photo courtesy of Wear the Peace. 
Borderless: Both of your families come from Palestine and that seems to play a big role in your designs. How do your products combine fashion and heritage? 
Mabruk: We hold our heritage close to our hearts because we can't go back to our own country. We use our heritage in the designs, but also keep it general as well to reach a larger audience. 
Nofal: Our heritage is really important to pass down to our kids. We cherish our grandparents' stories and we are born with our pride for Palestine. For our products we included the keffiyeh pattern, which is on our windbreakers, hoodies and shirts. This pattern symbolizes the journey to freedom. We think it should be a worldwide symbol of the journey to freedom for every single human. We also focus on Arabic calligraphy like our "Salam" [peace] design and our "Hob" [love] necklaces and bracelets. We try to spread awareness of peace through our clothing. 
Borderless: You now have over 136,000 followers on Instagram and are reaching people around the world. What has that global audience meant for your business?
Nofal: It is cool because you put in all this work and it is getting recognized. We have friends that would Snapchat us that they are on the train and they see someone wearing a Wear The Peace shirt. It makes my day. I also have friends in Arkansas who went to prayer and saw three people wearing our shirts. It feels good. 
Mabruk: I have my cousins in Jordan whose friends are sharing our posts without knowing it's their cousins that own it. It is cool to hear. It is great going to big events and seeing people come up to our booth telling us they see us on social media.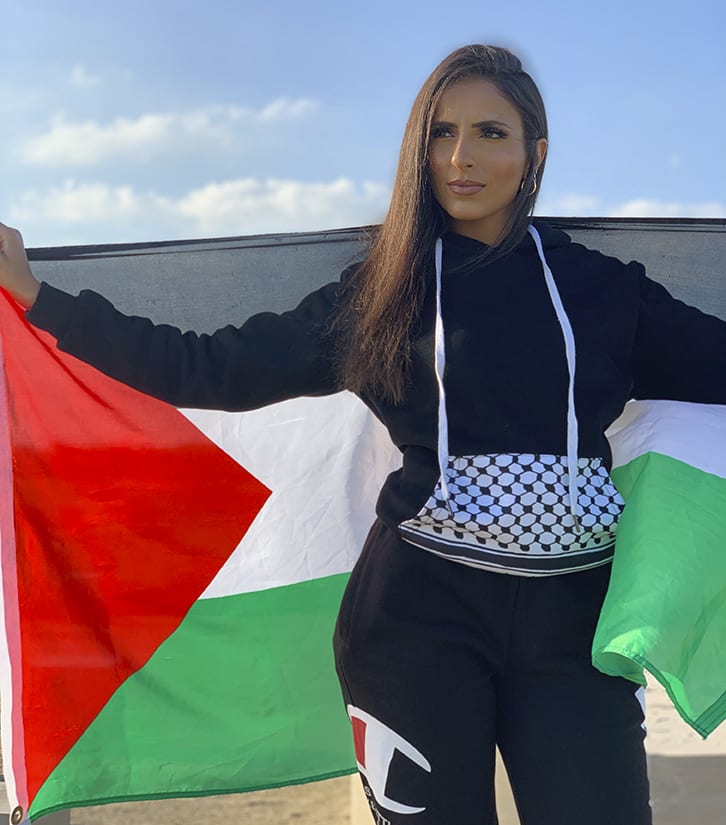 Photo courtesy of Wear the Peace. 
Borderless: What has your company funded so far?

Nofal: We try to focus on a lot of food-based projects, clothing, medical facilities, and educational centers. We have donated to organizations such as Cradles to Crayons, The Palestine Children's Relief Fund and Helping Hand for Relief and Development.
We thought of our Yemen Instagram campaign during Ramadan of 2019. We set up the clothes and we made a donation for every person who shared the post. The point of that post was to give people an outlet to share and donate to Yemen and also learn what is going on there. Within the first 36 hours it caught like wildfire and raised around $48,000 dollars. We were able to donate 15,086 meals and got 297 food packages that fed a family in Yemen for a whole month. It was an awesome initiative. 
We worked with Pious Projects, which also partnered up with Mercy Bakery in Yemen. They sent us a video from Yemen thanking us by displaying a banner of Wear The Peace in the kitchen where they made the food as well as where the children were eating. That was our proudest moment, seeing that video. We have made friendships through Wear The Peace around the states, in person, and on social media, and meeting up with people at events. 
Borderless: How has your business been impacted by the COVID-19 pandemic? 
Mabruk: We were supposed to go to Houston last week and D.C in two weeks. But those events were canceled. Our way to get our message out there is through selling the clothing, so having those events canceled has an effect on our business.
In terms of sales, I think people are scared to spend their money right now. We have seen a small decrease in sales, and I think in the coming month we may see even more as people start to panic as the number of cases rise. 
Nofal: It is also affecting our manufacturers, which are all local. It is affecting what we have planned out in terms of new collections and styles we were going to announce. We can't do photoshoots anymore. It is slowing everything down, but it is what it is. Many businesses are taking a hit right now. But we will get through it and I hope everybody gets through it because many businesses are taking a hit right now. 
Mabruk: We are also thinking about the people we serve, especially refugees. Most people who are not refugees or less fortunate have a house to go to. They social distance as they please. With refugees, they are stuck inside refugee camps where they might be in rooms with 10 to 15 people. If one person gets sick, it can easily spread through the whole refugee camp. Regular people have that blessing because they can social distance as they please, be comfortable in their own homes and have access to essentials, such as food and sanitation. Those who are in their homes safe during this virus should be thankful. 
Have questions about the coronavirus and how to protect yourself from COVID-19? Read the CDC's guide to the coronavirus here.
Our work is made possible thanks to donations from people like you. Support high-quality reporting by making a tax-deductible donation today.                                            
Support Us