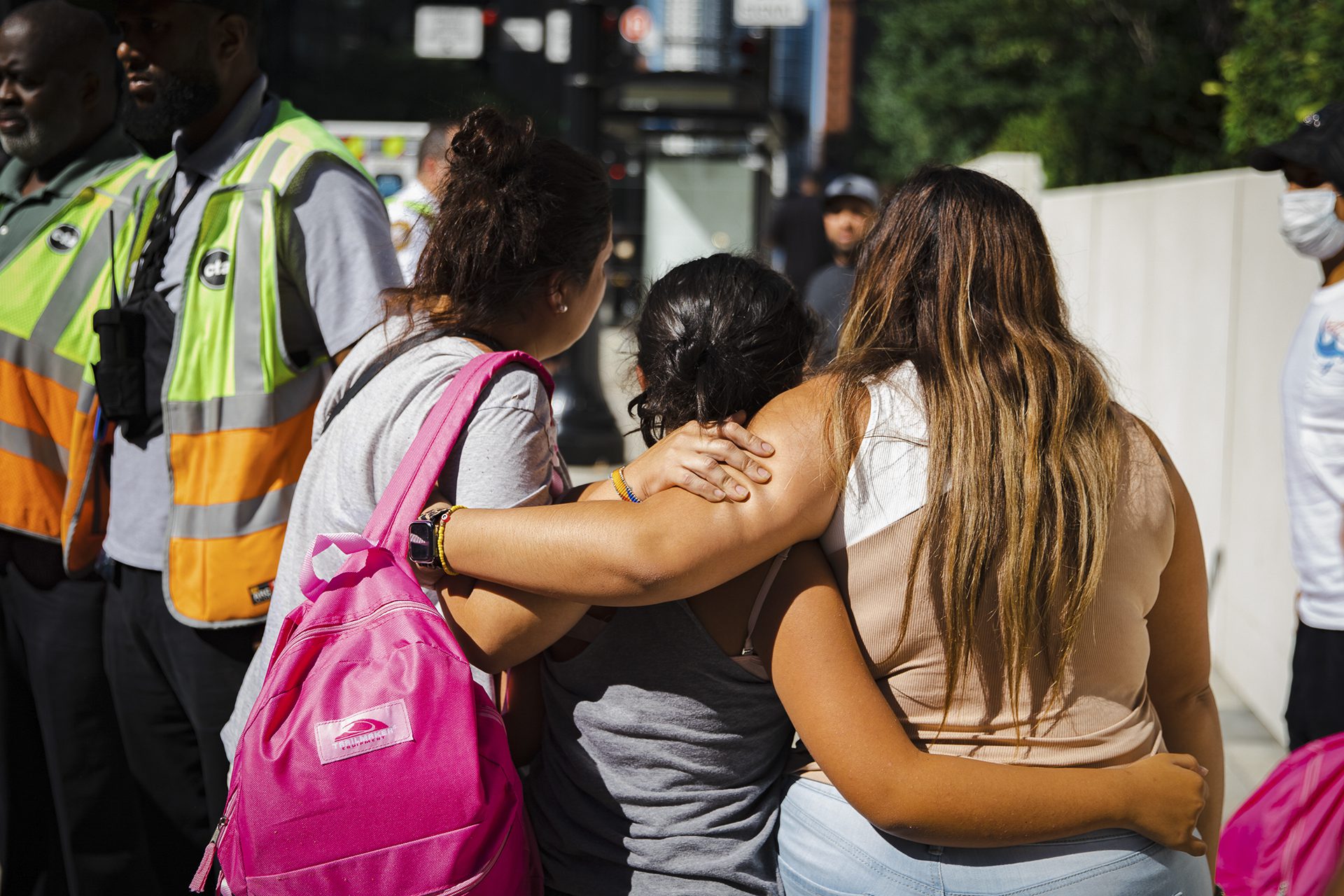 Jesus J. Montero for Borderless Magazine
Juliana Isaza, right, embraces her family after they arrived by bus from Texas at Union Station in Chicago, Ill., Sept. 7, 2022. Isaza's family came from Colombia originally and were among 151 migrants who arrived in Chicago from Texas that day.
As buses continue to arrive in Chicago carrying migrants from Texas, advocates are concerned about long-term housing and employment support.
A Venezuelan family of three, Keibel, 26, and Eglianny, 19, and their toddler Angel, 2, have been on a three-month journey from Venezuela to Chicago.
Keibel told Borderless last Wednesday that he and his family traveled from Venezuela to Colombia to Panama to Costa Rica to Nicaragua to Honduras to Guatemala and to Mexico. They crossed the "la selva," the wilderness, both by bus and on foot to get to the United States to apply for asylum. After entering the United States, they were bussed from Texas to Chicago.
Want to receive stories like this in your inbox every week?
Sign up for our free newsletter.

"We are very tired," said the mother, Eglianny.
The family is just a few of over 360 migrants who have arrived in Chicago by bus since Aug. 31 as part of Texas Gov. Greg Abbott's attempt to pressure Democrats to enact stricter immigration policies.
Chicago is just one of several cities, including New York City and Washington, D.C., that have been receiving migrants in recent weeks as part of Texas' Operation Lone Star. Additionally, some migrants who were sent to New York City and Washington, D.C., have made their way to Chicago in recent days in search of resources and support.
"Sometimes people who go to New York realize that they don't have family there. And I have heard that. Chicago opened its doors to people in Chicago who have great resources for immigrants. So a lot of people are coming [to Chicago] from New York and D.C.," said Amy Fischer, an organizer with the migrant solidarity mutual aid network in D.C.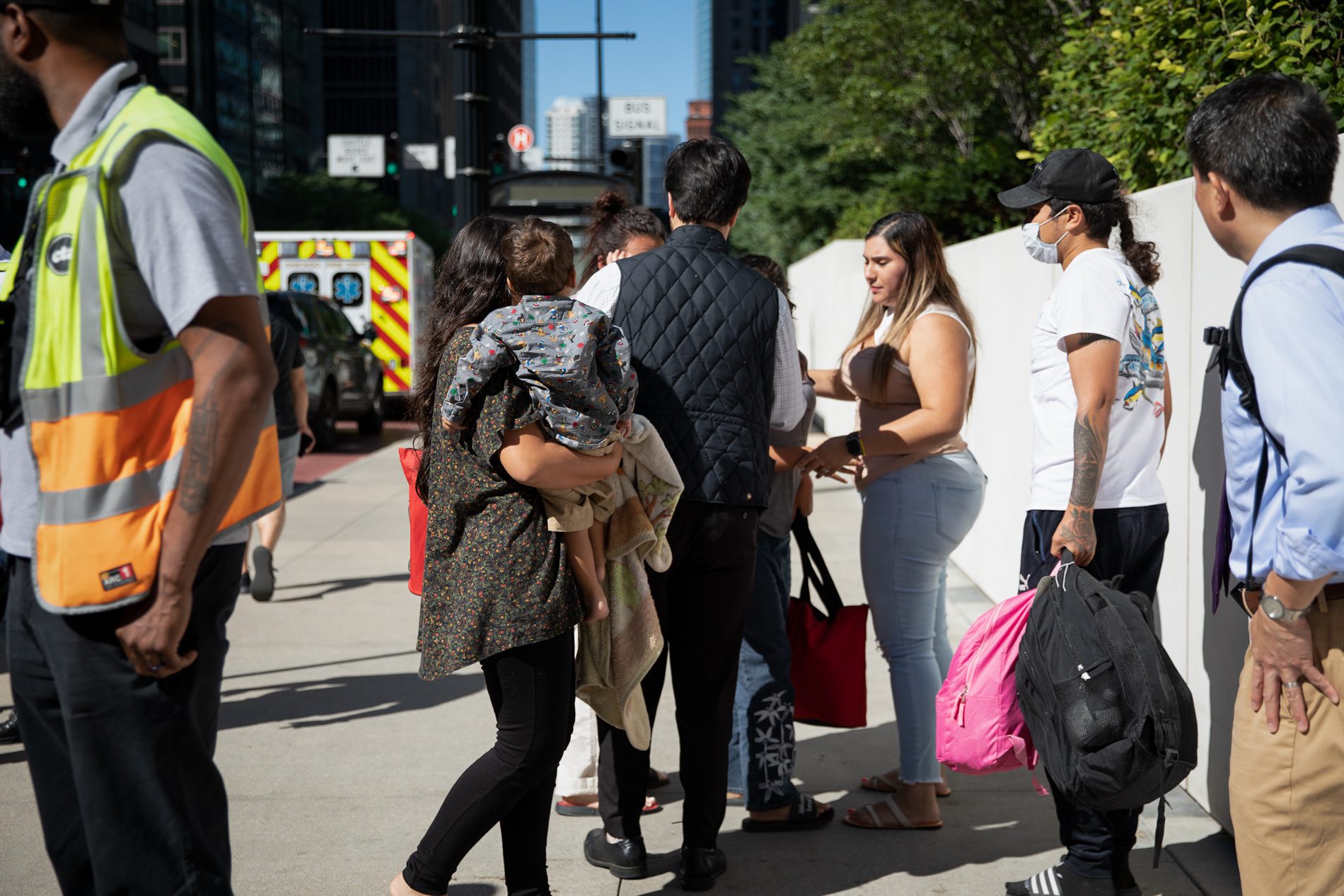 Jesus J. Montero for Borderless Magazine
As migrants continue to arrive in Chicago, advocates worry that the city is unprepared to give them the long-term support necessary for them to thrive. This support includes help finding jobs, permanent housing and legal assistance to apply for asylum.
In a statement to Borderless on Monday, city officials said that they were providing individuals and families with immediate shelter and support to meet their basic needs upon arrival in Chicago. Migrants also receive "in-depth case management and connections to services from city, state, and community-based agencies," according to the mayor's office.
Migrants coming to Chicago have been dropped at Union Station in downtown Chicago. Some migrants reunited with local friends and family members at the station while others were directed onto CTA buses to go to temporary housing at the Salvation Army's Freedom Center on the city's West Side.
However, resources appeared to be running low by late last week as many of the arrivals were instead taken to hotels in the suburbs. Some were taken to the Hampton Inn in Burr Ridge and the Holiday Inn in nearby Countryside — a similar scene to over a year ago when Afghan refugees began arriving in the city.
Read More of Our Coverage
While short-term housing is the most immediate concern for migrants arriving in Chicago, long-term support is needed for them, say advocates.
"What will happen on a particular day when the center or shelter can no longer have them? How would they survive? So, in addition to long-term housing, we must advocate for them to have employment authorization documents as soon as possible. So they can work and sustain themselves and also lean toward long-term housing solutions where they can," said Johannes Favi, with Interfaith Community for Detained Immigrants. Favi is the program director for ICDI's Chicago Immigrant Transit Assistance program.
Many migrants arriving at Union Station told Borderless that they came to the United States to find work.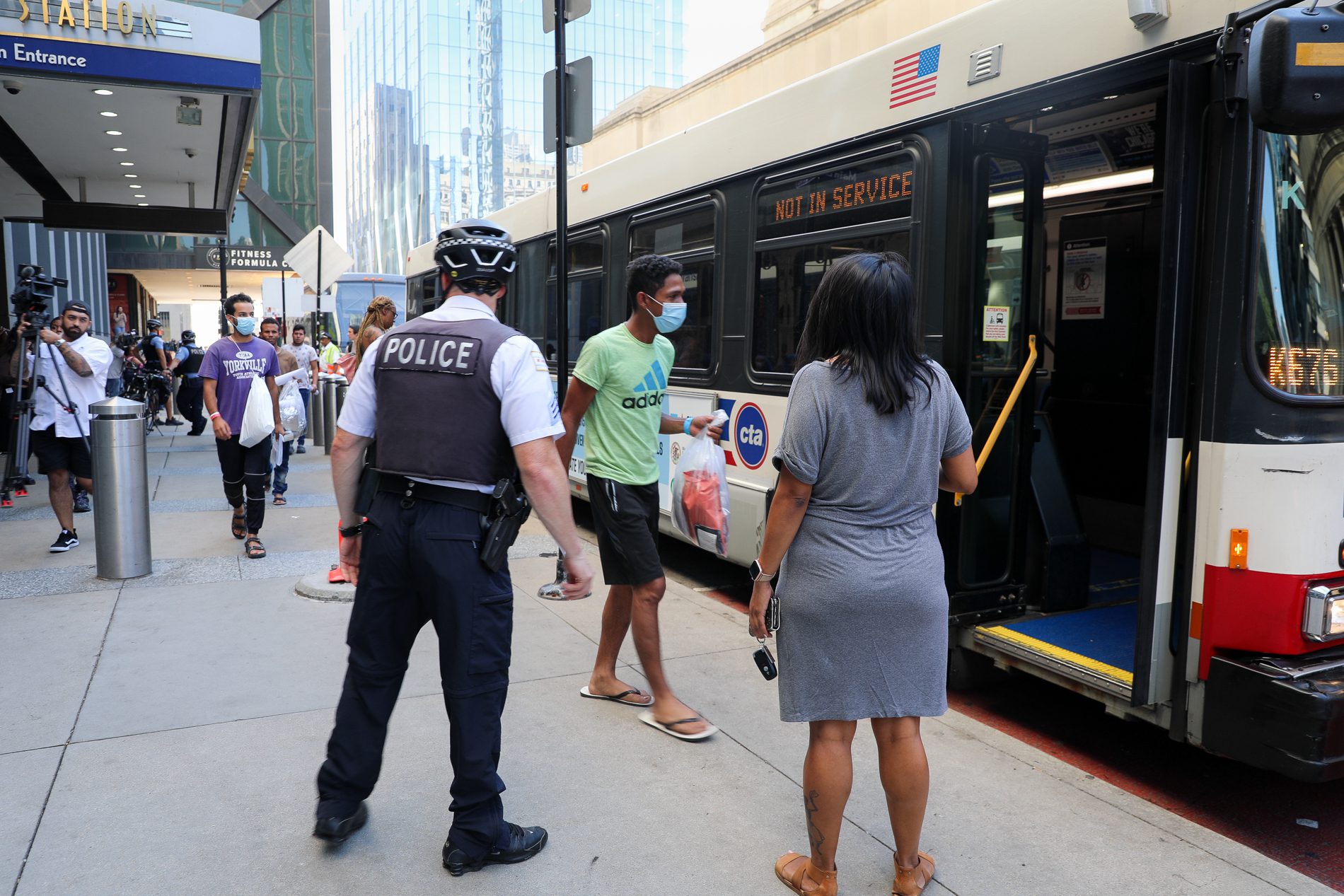 Jesus J. Montero for Borderless Magazine
Angel Machado, 26, arrived by bus on Friday and said it took him a month to make the journey to Chicago from Venezuela. "I'm looking for a better future, if they'll let me," Machado said.
Rafael Herrera and Israel Diaz told Borderless they crossed into the United States with a group of 32 people, which grew organically while they traveled north through Central America from Nicaragua.
Herrera told Borderless he left Nicaragua to search for a better life, to find work and to help his family get ahead by sending money home to them.
Diaz had a similar idea.
"I came to help my family," Diaz said. "In Nicaragua there are no jobs." He told Borderless he was meeting a friend who would help him get to Madison, WI where Diaz's brother lives.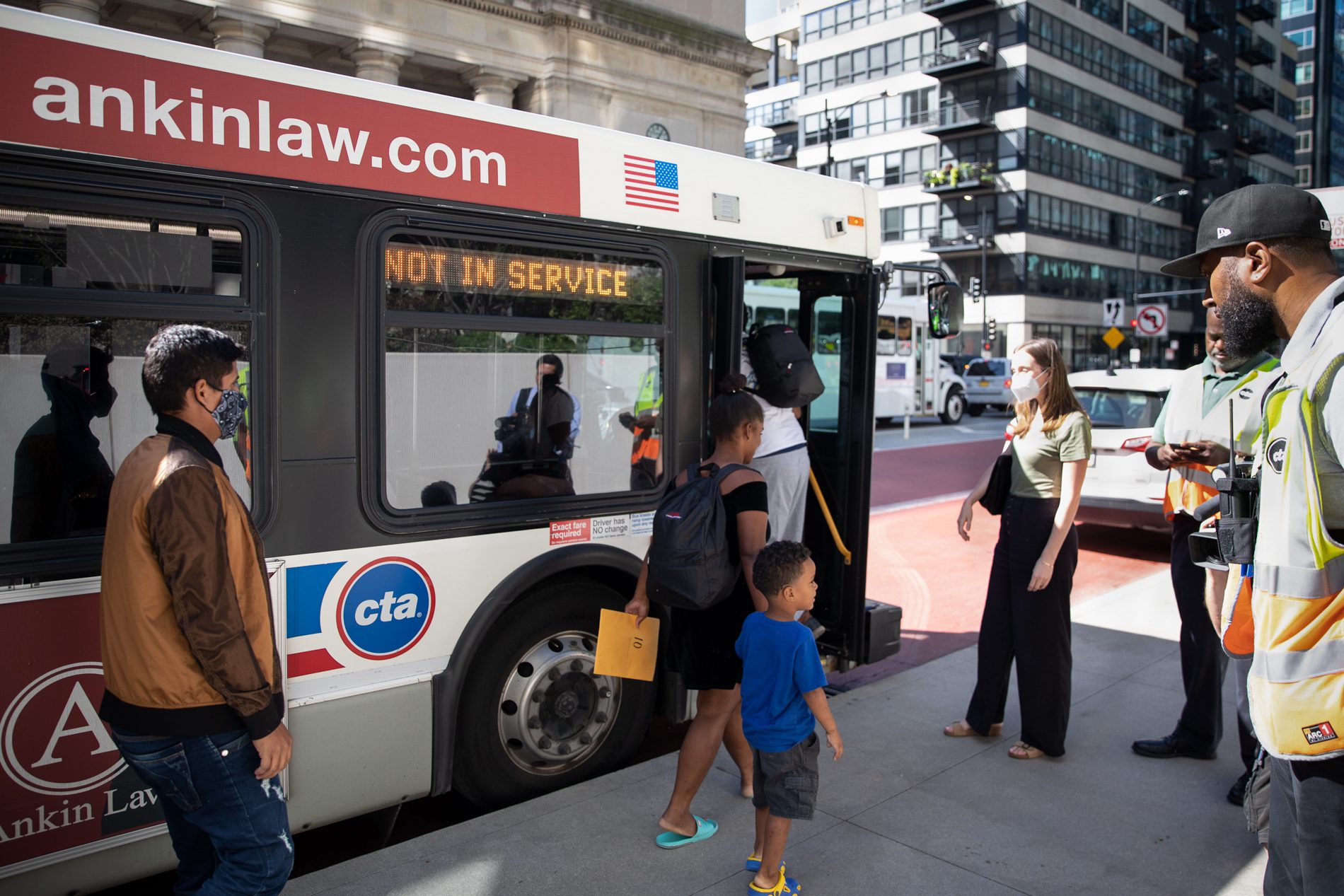 Jesus J. Montero for Borderless Magazine
Ronald Reyes arrived on a bus last Wednesday. He told Borderless he had come from a 700-person caravan, made up of people from El Salvador, Venezuela, Ecuador and Guatemala.
"I was at the [U.S.] border for two months. I was waiting to enter to see if an immigration judge would see me," Reyes said. He said that he now has a judge and is applying for asylum in the United States. However, he said there are "still many people waiting to see a judge at the border."
There is no indication of when the buses from Texas will stop. And there is little clarity or details about the short, or long-term plans to provide migrants with resources and support services.
Read More of Our Coverage
Several community groups and nonprofits are now gathering supplies and donations to support migrants arriving in Chicago. These include the Humboldt Park Solidarity Network and the Pilsen Solidarity Network, among others. Help will continue to be needed in the coming weeks, say advocates.
"We've been meeting people at the Greyhound station and we're still receiving people every day," ICDI's Favi said. "So now that many buses are coming in, we still do the same thing: We send in volunteers to the city and state to help however we can and coordinate with them."
Michelle Kanaar contributed to this reporting.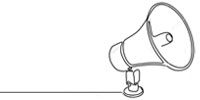 Bring power to immigrant voices!
Our work is made possible thanks to donations from people like you. Support high-quality reporting by making a tax-deductible donation today.