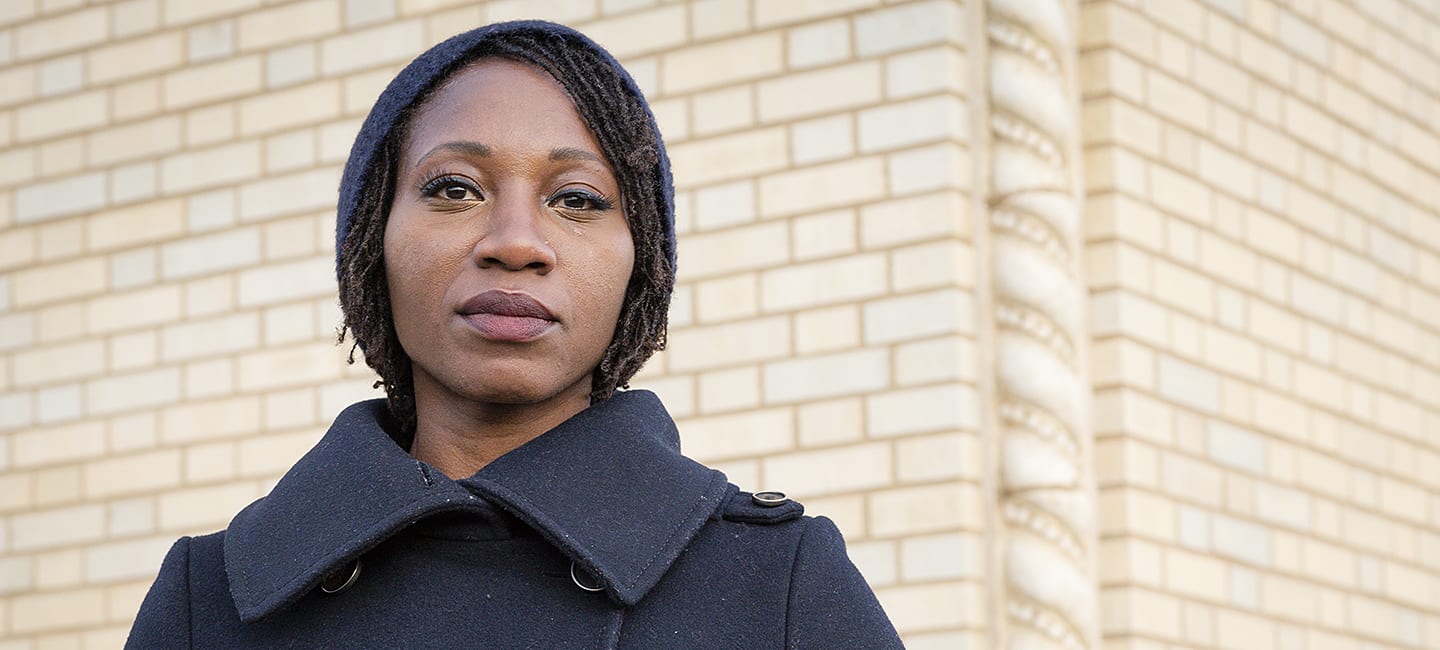 Michelle Kanaar/Borderless Magazine
Black Lives Matter protests and the growing movement to disband Nigeria's controversial SARS police unit are driving urgent conversations on race and identity among people of the African diaspora.
Above: Amara Enyia at the Garfield Park Fieldhouse on Nov. 18, 2020 in Chicago, Ill. Michelle Kanaar/Borderless Magazine
Growing up in the Chicago area, Amara Enyia remembers men from Nigeria coming to her family home. 
"[They] visited our house a lot," the former Chicago mayoral candidate said. "I always thought they were just our parents' friends, but later on my parents told me they were emissaries from the government trying to dissuade and intimidate us."
That memory came back to her in recent weeks as youth-led protests in Nigeria continue, with organizers demanding the end of the Special Anti-Robbery Squad (SARS), a notorious police unit accused of torture, ill treatment, and extra-judicial execution. Since October, thousands have taken to the streets in cities from Lagos to Abuja and drawn global attention. Created by the Nigerian government in 1984 to combat an escalation in violent crimes including robberies and kidnappings, SARS has increasingly faced public criticism.
Triple your impact today. Between November 1 and December 31 NewsMatch will match your new monthly donation 12x or triple your one-time gift, all up to $5,000.                                                                                                                    
Donate
President Muhammadu Buhari, a key architect of SARS, has attempted to placate protestors by redeploying SARS officers in other departments and most recently creating SWAT, a police unit aiming to fill the roles left by SARS. But the movement continues to grow: It has expanded to include calls to end police brutality and corruption, with support spreading throughout the world on social media through the hashtag #ENDSARSNOW.
For Enyia, the struggles in Africa and ongoing uprisings in the United States have grown to become one and the same. Now 37, the public policy strategist and two-time Chicago mayoral candidate has witnessed mass demonstration in her home city, including the protests that followed the 2014 police murder of Laquan McDonald and subsequent cover-up. As she continues to advocate for social justice in her communities, she believes that these systemic issues run deep and not only link but also disproportionately affect Black people in the African diaspora. The connections are hard to ignore. 
"There are parallel experiences," Enyia said. "We're fighting the same fight, and we need to learn from each other."
Today, Black Lives Matter is reportedly the largest movement in American history, with an average of 140 demonstrations per day since the murder of George Floyd by police on May 26. Over the years, as the movement has gained more national recognition and support in the face of ongoing police brutality, African immigrants in America have increasingly had to grapple with their role in discussions surrounding race relations in the United States. 
While Black and Brown Americans have led nationwide debates over social justice reform and the defunding and abolition of the police, discourse surrounding the BLM movement has become more prominent within the African migrant community. In Chicago alone, a reported 72 percent of Black Americans and 15 percent of Hispanics have been victims of police violence between 2005 and 2015. Chicago Police Department internal files have also shown that officers are 14 times more likely to use excessive force against Black men than white men. And an influx of African migrants to the United States in recent years has led to a growing conversation of diverse voices surrounding these issues. According to The Chicago Tribune, Chicago's African immigrant population quadrupled between 1990 and 2013 to an estimated 42,300 with groups largely from Nigeria, Kenya, Sierra Leone and Ethiopia.
Enyia's parents came to Chicago from Nigeria with the intention of returning home. But they had been vocal against Nigeria's dictators and decided it was safer for them to settle in the United States. 
In Chicago, her parents joined the Nigerian National Alliance, which was founded in 1989 as an umbrella organization for the 20 or so Nigerian organizations that existed in the Chicago metropolitan area at that time. NNA's goal was to unite the greater Nigerian community and to push for democracy, human rights, and environmental justice in Nigeria. 
While earlier generations were more concerned with assimilation, fresh conversations are now emerging within the Chicago African immigrant community about rethinking what cultural identity means for them. For some, BLM has marked a turning point: They are beginning to view the struggles of Black Americans as their own.
"We're still building a culture of unity," said Enyia. "People are being more open to how we work as a collective, and we're learning who we are. There's a greater sense of understanding each other even though we have differences."
On October 30, Enyia participated in a webinar that brought together a diverse lineup of Africans in the greater Chicago area to discuss the historical circumstances that have led to today's overlapping atmospheres of civil unrest in Nigeria and the United States. Hosted by Chicago Nigerians and other local community groups, the seminar attracted dozens of viewers and sparked discussions of white supremacy, government corruption, and police brutality.
Dr. Olivier Kamanzi, chairman of the Africa Global Chamber of Commerce, expressed his support for Pan-Africanism during the panel and emphasized that indigenous and diaspora peoples of African descent should be unified. "We must show our solidarity," he said. "We must rely on ourselves and continue the Pan-African founding fathers' fight."
But Bibiann Lebechi, director of the healthcare provider Doctors Unlimited Service Corporation, believes that the source of today's civil unrest in the Black community lies in rules and power structures instituted by white supremacists and colonists in years past. "Whether it's End SARS or it's Apartheid or Black Lives Matters, we are all in the same root cause," she said. "White supremacy is the main issue that actually links all of these no matter where it's happening in any part of the Black world." 
Chidinma Olu, a young protestor based in Nigeria, echoed a similar sentiment. She said she and other protesters were shocked by the October 20 Lekki massacre, where the Nigerian Army shot and killed at least 12 End SARS protesters during a peaceful rally. "It was beyond low and it was unexpected. We have seen many things over here but we have not seen the Nigerian government decide, 'OK, we want to eradicate these people because they are speaking up for themselves,'" she said. "It makes you wonder: How is this government going to change when its people are suffering and speaking up they are still covering their ears up and saying we don't want to hear you?"
For Emmanuel Abidemi, a Nigerian and owner of the local restaurant group Bolat African Cuisine Inc., the recent youth-led actions in both continents should recognize the potential of homegrown campaigns to become global movements. "It's an awakening of a people, I don't want us to lose sight of that" said Abidemi. "Out of all the slaves you have in the United States, 3.5 million out of the 12.5 million [enslaved people] that came to the [Americas] are Nigerians … So the struggle of every Nigerian that is going on right now relates to the struggle that we are having in the United States."
Enyia remains hopeful and believes that both the End SARS and Black Lives Matter protests represent just the beginning of a long overdue movement.
"We need to redefine what public safety means and learn what creates safe communities because it's not the police," she said. "When you only have a hammer, everything looks like a nail, and we've used policing as the hammer. We have to force systematic change and not just cosmetics. There's no going back now."