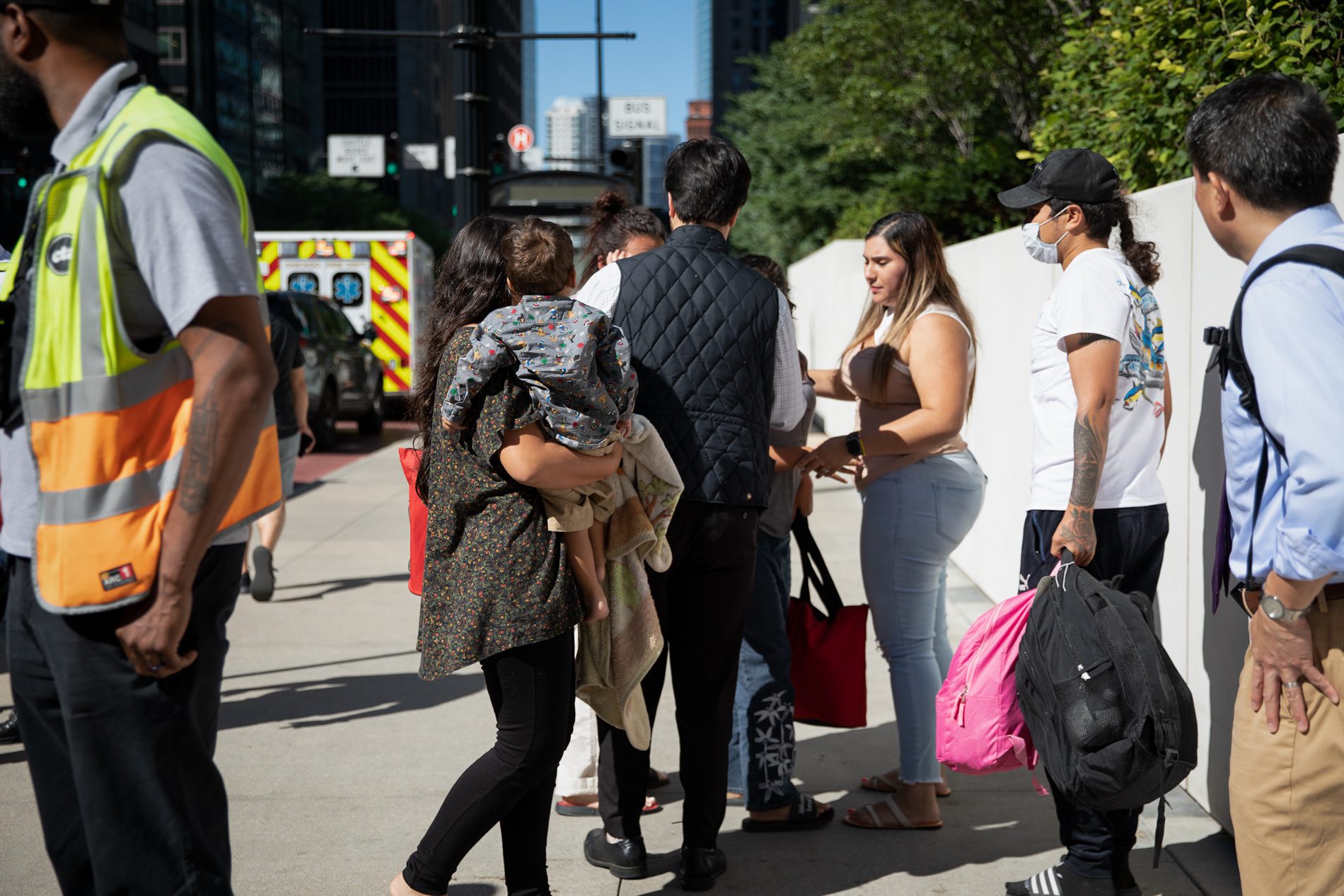 Jesus J. Montero for Borderless Magazine
Egliany, 19, holds her son, Angel, 2, as they wait outside Union Station for friends to pick them up after arriving from Texas by bus to Chicago, Ill., Sept. 7, 2022. The family arrived in Chicago after leaving Venezuela three months prior. They now qualify for Temporary Protected Status.
The Department of Homeland Security announced Wednesday they would be extending and redesignating Temporary Protected Status for Venezuela, allowing Venezuelan immigrants to receive temporary permissions to live and work in the United States.
Venezuelans who arrived in the United States on or before July 31, 2023 are now able to apply for temporary protections that will allow them to receive a social security number and work and live in the country legally, the Department of Homeland Security announced Wednesday.
These authorizations are through the Temporary Protected Status, or TPS, immigration program. Created in 1990, TPS provides temporary immigration status to immigrants from countries that the Secretary of Homeland Security has determined are dealing with emergencies such as civil wars, hurricanes, or epidemics.
Want to receive stories like this in your inbox every week?
Sign up for our free newsletter.

Chicago has received over 13,500 migrants, many of whom are Venezuelan, since last August. Chicago Mayor Brandon Johnson and other local legislators have repeatedly called on the White House to provide work authorization for the migrants, who have been largely reliant on donations and under-the-table work for survival. Johnson applauded the new move.
"This is also an important step in protecting individuals who seek work without fear of exploitation, wage theft and trafficking," Johnson said in statement released late Wednesday night. "But where there are labor shortages in our city … it is clear that authorizing new arrivals for work … would have a significant public benefit – both to our local and regional economies, and to the families and individuals who are new arrivals to our great city."
Venezuelan immigrants already qualified for Temporary Protected Status if they arrived before March 8, 2021, but this announcement redesignated Venezuela for TPS and extended the qualifications to those who arrived before July 31. 
But the extension will only last for another 18 months through March 10, 2024. After March, the U.S. will have to either extend TPS for Venezuela again or end the protection status.
The Biden administration made the decision to extend TPS because of the "extraordinary and temporary conditions that prevent certain Venezuelan nationals currently in the U.S. from returning safely to Venezuela."  Under the new designation, some 472,000 Venezuelan nationals may now be eligible for protection.
However, the program leaves behind immigrants from countries such as Colombia, Ecuador and Peru, which are not designated for TPS. 
According to data from Chicago's Aldermanic Committee on Immigrant and Refugee Rights, as of September 15, roughly 4,900 of the 7,400 migrants in Chicago's shelters are Venezuelan. But that means there are hundreds of migrants in Chicago's shelters who are not Venezuelan and do not qualify for TPS, despite the calls to find ways for migrants to work.
"The arguments that led to a new TPS designation for Venezuelan nationals, as was done for individuals from Ukraine, are also relevant to the cases of nationals from El Salvador, Honduras, Nicaragua, Nepal, and Guatemala who already reside in the United States," said Yanira Arias, Alianza Americas' national campaigns manager who lives under TPS protection. "Therefore, the Biden-Harris Administration must grant this same protection to such persons. If not, many families could be torn apart." 
For the thousands of Venezuelan migrants this extension will help, Borderless compiled a guide to the TPS program including who qualifies and how you can apply. 
Who qualifies for Temporary Protected Status?
TPS allows Venezuelan immigrants who already arrived in the U.S. on or before July 31, 2023 to apply for work authorization and be protected from removal. 
Other countries designated for TPS include Afghanistan, Burma (Myanmar), Cameroon, El Salvador, Ethiopia, Haiti, Honduras, Nepal, Nicaragua, Syria, Somalia, Sudan, South Sudan, Ukraine, Venezuela and Yemen. Up-to-date listings of countries included in TPS can be found on the U.S. Citizenship and Immigration Services website.
Who doesn't qualify for Temporary Protected Status?
The status is not applicable to Venezuelan immigrants who are coming or came after July 31, 2023. 
TPS also leaves out thousands of migrants living in Chicago's shelters who are not Venezuelans. Immigrants from Colombia and Ecuador, for example, do not qualify for TPS.
What can Temporary Protected Status holders do?
– They can work here. Employment authorization is part of the application process for TPS. 
– They can travel. Often, TPS holders can get a travel document that allows them to visit their home country and return to the United States safely and legally. 
What can Temporary Protected Status holders not do?
– They cannot get Green Cards or U.S. citizenship through the program. Despite being in the United States in some cases for over 20 years, TPS holders cannot get permanent residency. This differs from refugee or asylum programs, which also support immigrants facing humanitarian crises.
– They cannot keep their TPS status indefinitely. TPS holders must re-register during designated periods in order to keep their status.
To apply for TPS, you can fill out an online form or file a paper application. However, if you also want to apply for employment authorization, you also have to complete an employment authorization application separately.
You can request an Employment Authorization Document by submitting Form I-765 online. And you can apply for TPS through Form I-821 online. You can file your work authorization application separately from your TPS application, but filing them together may allow you to receive your work authorization earlier.
There is a $50 fee to apply for TPS for the first time. For people over the age of 14, there is an additional $85 fingerprinting fee. But if you need financial assistance or can't pay the $50 fee, you can fill out a fee waiver form online (Form I-912).
What you will need for your Temporary Protected Status application
When you submit your TPS application, they will ask you for:
– Identity and Nationality Evidence that shows you are either a national from Venezuela (or another TPS country) or that you have no nationality and last lived in Venezuela (or another TPS country)
– Date of Entry Evidence that shows when you entered the United States
– Continuous Residence Evidence that shows you have been in the United States at least since July 31
**if your document is not in English, you have to provide an English translation from someone who speaks fluent English and the language of the original document
What happens after I apply?
If your application is approved, you will receive an Employment Authorization Document that allows you to work legally in the United States. You will also be contacted by United States Citizenship and Immigration Services so they can collect your photograph, signature and/or fingerprints.
You must appear in person for these appointments to collect your information, and if you don't show up at your appointment without rescheduling or if you repeatedly miss scheduled appointments, your TPS application may be denied.
If you're also seeking asylum, you'll be able to continue working on your asylum application throughout the duration of your TPS status protections, as long as the one-year period since you first arrived in the United States has not passed yet.
If you need more help with your application, you can go to the U.S. Department of Justice's web page that shows places that provide free or low-cost legal assistance by state. 
This story is for information purposes only. Borderless Magazine does not provide legal assistance or legal advice.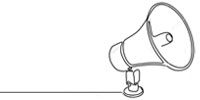 Bring power to immigrant voices!
Our work is made possible thanks to donations from people like you. Support high-quality reporting by making a tax-deductible donation today.