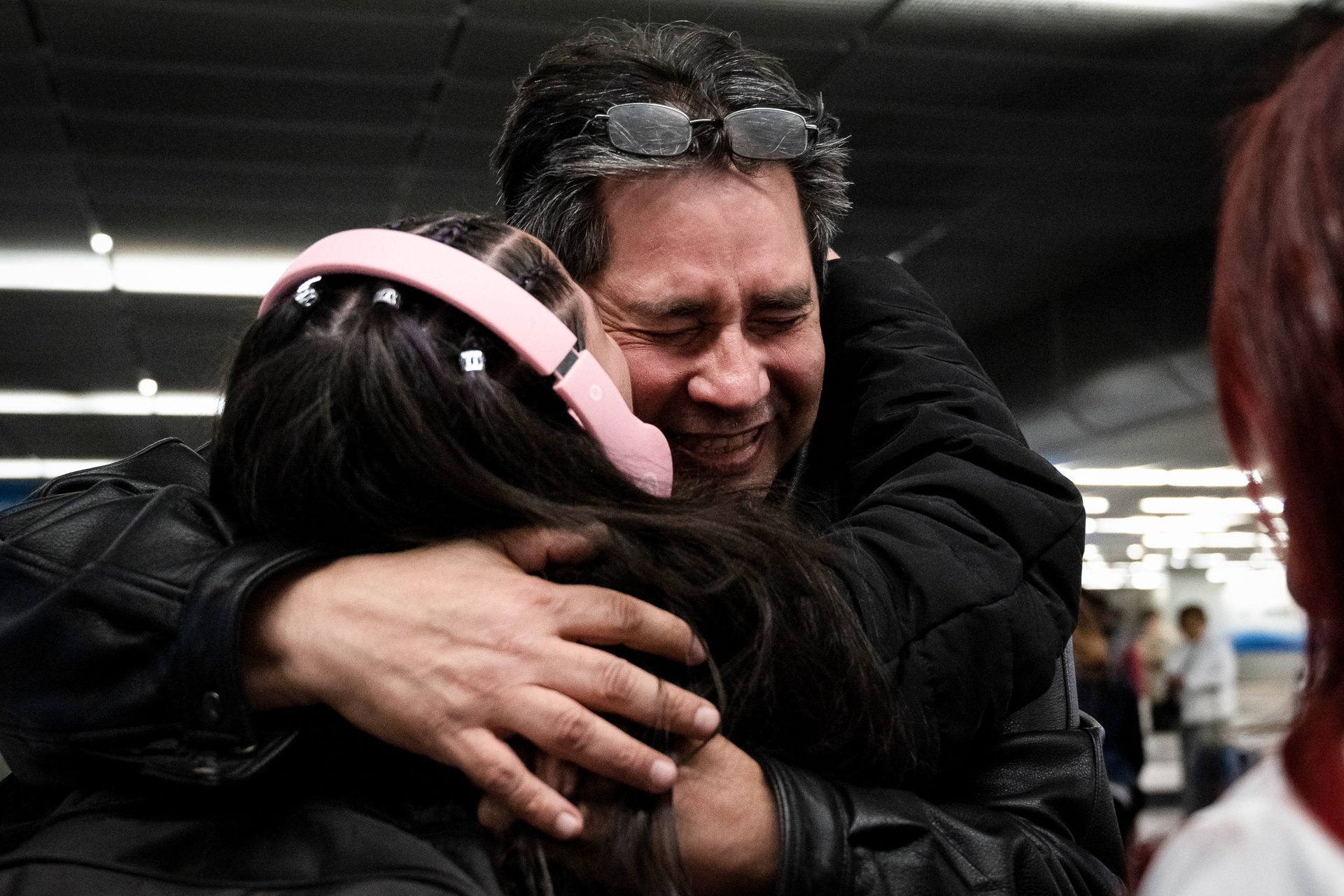 Anthony Jackson for Borderless Magazine
Frank Sandoval hugs his daughter, Massiel Sandoval, 21, as they are reunited at O'Hare International Airport in Chicago, Ill., Friday, May 26, 2023. Massiel hadn't seen her father in more than five years.
Frank Sandoval had to leave Venezuela to save his life. He became a lawyer to help others seek asylum. After a five-year process, he was reunited with his wife and daughter in Chicago.
Frank Sandoval stood fidgeting at the baggage claim in O'Hare airport at nearly two in the morning on Friday May 26. In his left hand, he held a bouquet of red roses and balloons tied with an American flag bow. His wife and daughter's flight had been delayed almost eight hours, and this would be the first time they'd see each other in five years.
"I'm the happiest man alive right now," Sandoval said as he stared down the airport corridor, scanning the crowd for his family.
He'd hardly slept the night before in anticipation of this moment. To surprise his family, Sandoval had arranged a limo with champagne to drive them home, but the driver had to leave as he was hours past his expected start time. Instead, Sandoval's good friend sat in the airport parking lot, waiting to take the family back to his apartment in Lockport, a southwest suburb.
Get Borderless in your inbox
Sign up for our free newsletter. Each Thursday we share ways to support immigrant organizations and stories about our communities.

More than 8,500 Venezuelans have come to Chicago since August 2022 on buses at the direction of Texas Governor Greg Abbott. This is just a fraction of the over seven million refugees and migrants that have left Venezuela since 2014 to escape the economic crisis and political violence. Like Sandoval, many have sought asylum in the United States, a form of protection where individuals who fear persecution or harm are allowed to stay in the country. But winning asylum here is long and difficult.
Compounding this crisis is the shortage of asylum lawyers and an overburdened immigration court system, leaving one in three asylum applications filed since October 2000 still pending.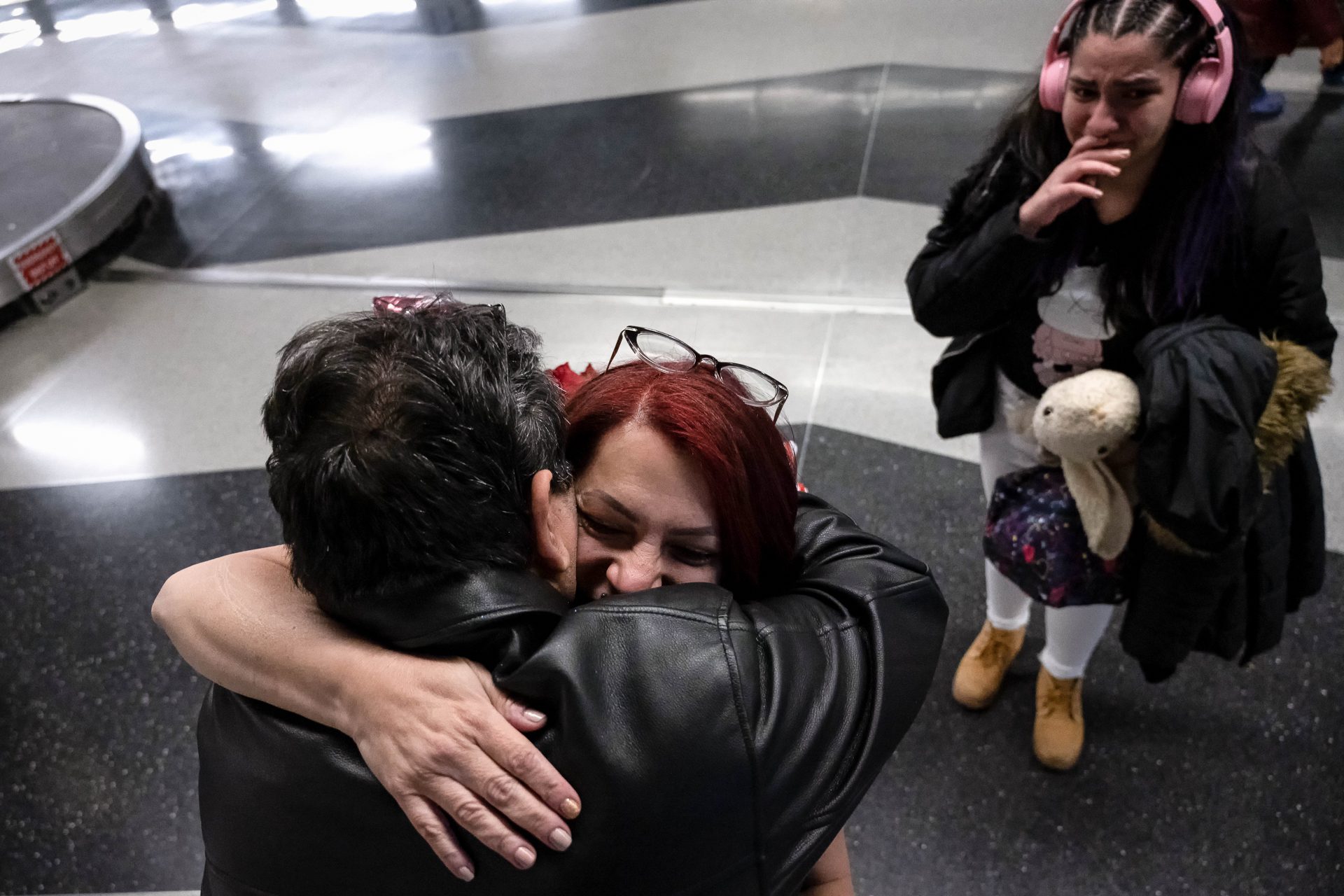 Anthony Jackson for Borderless Magazine
Borderless first met Sandoval in 2022 during the early days of the Venezuelan migrant crisis. He was volunteering with Illinois Access to Justice to help with intake at local shelters, and shared his story about his long and difficult journey to asylum.
Sandoval came to the U.S. in 2018, fleeing persecution in Venezuela for his affiliation with an anti-government group. He made the difficult but life-saving decision to leave his wife and daughter behind in Venezuela.
A lot has changed for Sandoval and his family since they were last together.
He moved from New Jersey to New York and finally to Chicago, where he began working as a paralegal. He was granted asylum after four grueling years of paperwork and court appearances, representing himself in court because he couldn't afford an immigration lawyer and was unable to find pro bono legal assistance. He then started the process over again, petitioning the government for asylum that would allow his wife and daughter to move to the United States.
In their five years apart, Sandoval learned to live on his own. He taught himself to cook because he missed his wife's "all-homemade, never bought" meals. The restaurants near him just didn't compare to Carolina Alemán de Sandoval's delicious cooking. Frank said that he missed everything she cooked, but he especially loved her crispy grilled chicken.
He also dealt with the sometimes overwhelming loneliness he felt being away from his family. In the last five years, his brother, eldest sister and nephew all died. He could not attend any of their funerals and mourned from afar. And on the day he learned that his wife and daughter were granted asylum and allowed to come to the United States, Sandoval got a call that his mom had died.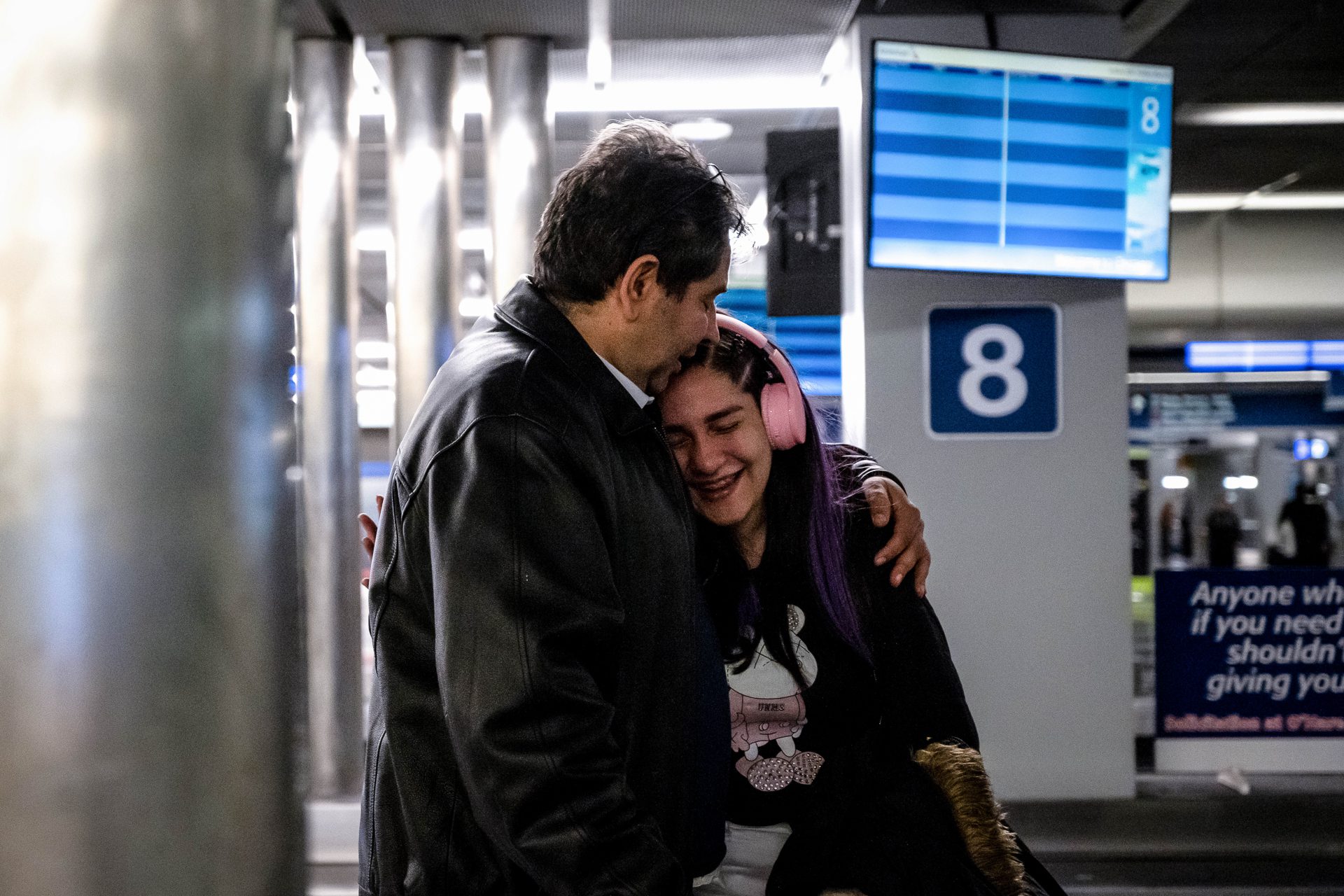 Anthony Jackson for Borderless Magazine
"I said, 'this is a gift from my mother,'" said Sandoval. "She knew I was going to be by myself."
Sandoval said his mother always asked about the status of their case and that she wanted them to be reunited as soon as possible. Now, despite his losses, the years on his own were about to end.
Carolina Alemán de Sandoval had been sharing photos and videos of their journey to the United States from Venezuela, documenting their flights and her and Massiel Sandoval's excitement. The most recent video he'd received was of their takeoff from Bogota, Columbia, where Venezuela's U.S. embassy is located.
After counting down the days until he could be with his family again, he was just minutes away from holding them in his arms.
A Family Reunited
At the airport, Sandoval started to tear up as he saw his wife and daughter approach. They let out exclamations as they embraced, and Massiel Sandoval held back tears. At last, they were back together.
"[Our time apart was] terrible, horrible, and I had very strong depression every day," said Carolina Alemán de Sandoval, clutching the bouquet and balloons. Even though Carolina Alemán de Sandoval has had her American visa for several years, she stayed in Venezuela until Massiel Sandoval was able to come, too. "I stayed for my daughter, offering her protection, love, and guidance since she was at a very difficult age [then], 16 years old."
For Massiel Sandoval, going through her teenage years without her father was really tough.
"It has been quite hard, even emotionally, psychologically, everything," said Massiel Sandoval through her own tears. "My mother sacrificed herself to be with me, and I love her, but to be back with my dad is simply the best thing that has happened to me in all these years."
The three continued to hug, smile, and cry. And though they were exhausted from nearly 24 hours of traveling, they were thrilled to be able to be face-to-face once again.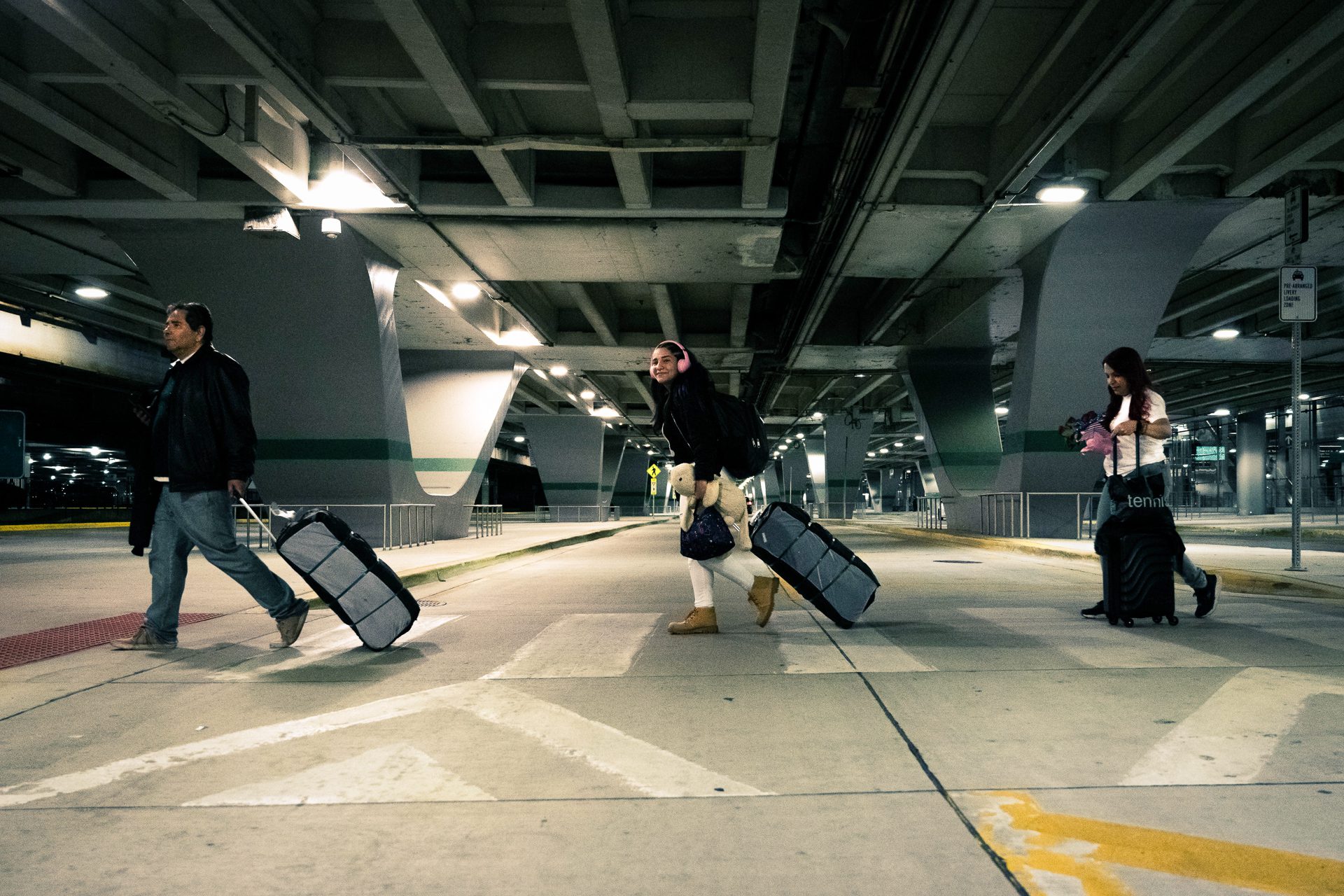 Anthony Jackson for Borderless Magazine
What's Next
The family are looking forward to every part of their new life together in Illinois. Sandoval has filed for his green card, and Carolina Alemán de Sandoval and Massiel Sandoval will file for theirs on Nov. 17 of this year. For now, they are planning a trip to the Brookfield Zoo and a local park. They also plan to get Massiel Sandoval and Carolina Alemán de Sandoval Social Security cards, phones, and bank accounts. Carolina Alemán de Sandoval plans to brush up on her English by taking classes at Joliet Junior College, and Massiel Sandoval is planning to start school full time as soon as she gets her Social Security card.
And as for making up for lost time, that's starting right away.
"We want to recover all that time that we lost from not developing as one, sharing day to day, cooking together, supporting each other, and moving on," said Carolina Alemán de Sandoval.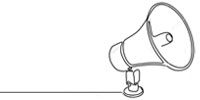 Bring power to immigrant voices!
Our work is made possible thanks to donations from people like you. Support high-quality reporting by making a tax-deductible donation today.