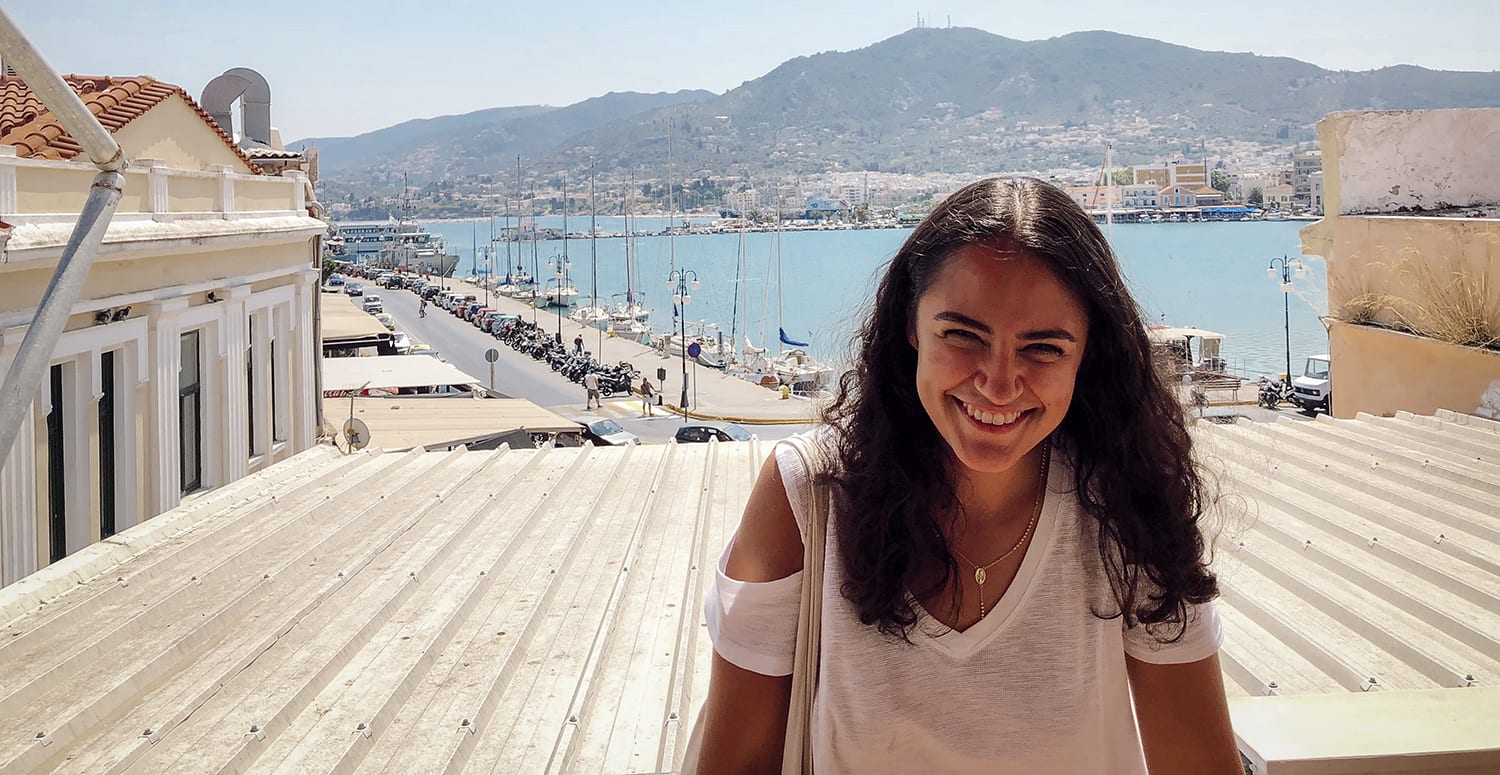 Photo courtesy of Alexandra Tarzikhan
Alexandra Tarzikhan pictured in Lesvos, Greece in August 2018.
After volunteering at refugee camps in Greece, human rights lawyer Alexandra Tarzikhan created a virtual community to amplify the individual stories of refugees.
In the spring of 2015, the global refugee crisis escalated as more than 1 million refugees fled war and persecution, migrating to Europe by sea. Half a million were Syrian refugees who arrived in Greece. 
Syrian-American human rights lawyer Alexandra Tarzikhan was among the many volunteers in Lesvos, Greece who helped provide aid to the influx of migrants. In 2017, she created an Instagram account called "Meet a Refugee" to share stories of the people she met while volunteering in Greece as well as in Lebanon and Jordan. She wanted to raise awareness about and humanize refugee stories from around the world.
Tarzikhan, 27, grew up in Aleppo, Syria. Before the civil war, Syria was safe and had a thriving economy. She left in 2011 at the start of the war to study at Northeastern University in Boston. Just 18 years old at the time, she never thought she would be away from home indefinitely. 
In 2018, as "Meet a Refugee" gained traction, Tarzikhan delivered a TEDx Talk at Northeastern University School of Law and Tufts School of Medicine about her Syrian friend Sarah Mardini. Mardini, seeking refuge in Greece, had helped save 18 other migrants from drowning but was later incarcerated in Athens for more than 100 days. Last year, the pair launched a weekly podcast on Instagram Live called "Conversations over قهوة"—"Conversations over Coffee." It features casual discussions with refugees, volunteers and business owners about their everyday lived experiences.
Borderless Magazine spoke to Tarzikhan about her work with refugees and why she continues to fight for human rights. 
---
Borderless Magazine: What made you passionate about assisting refugees? 
Alexandra Tarzikhan: I went to college to study medicine, specifically healthcare delivery in war zones. I wanted to understand if there are any safeguards in place to protect healthcare professionals and civilians in war zones. It got me researching the different Geneva conventions and international human rights laws. Eventually, my path changed, and I pursued law. In 2013, the problems in Aleppo escalated quickly, and it also became real to me that I'm probably not going to be able to go back.
When I was in law school at Northeastern, the refugee crisis escalated. Three-year-old Alan Kurdi, who drowned along the shorelines of Lesvos, was from Aleppo. Seeing those images compelled me to go see the refugee crisis in Lesvos for myself and focus on migration issues to advocate for refugees — to know their rights, including their rights to access work and safe environments. I especially wanted to understand the legal humanitarian corridors so people don't have to make these dangerous journeys in the Mediterranean. I have a responsibility to give back, as someone who had access to opportunities and didn't have to go through legal barriers.
Lesvos is a gateway island. It's one of the closest points to Europe if you are crossing there from Turkey. I went four times. A lot of the people I met during my first trip [in 2016] were still stuck on the islands during my last trip. During my second trip I decided to work for the Emergency Response Centre International, and that consisted of rescuing people from the shoreline.
Borderless Magazine: Why was it necessary to create the "Meet a Refugee" page?
Alexandra Tarzikhan: During volunteering, you are in a fight-or-flight mode because too many things are happening in one day. You do not have time to process what you have seen. After my trip, I felt guilty that I was living a privileged life with a U.S. passport while migrants were stuck on the island. I reflected on the experience by writing about these people on the "Meet a Refugee" page. I was able to raise awareness on social media about those who are stuck there.
View this post on Instagram
The posts vary. Some of them are about refugees whose stories inspired me, and having them shared on a platform was empowering for them. I also highlight volunteers I have met. Some posts are also about refugees who have their own businesses. Others are about immediate emergencies that have happened, like the [2020] Beirut explosion and the Moria refugee camp fires in Greece. 
For me, it was super empowering because it allowed me to realize that I don't necessarily need to be on the ground to be helping. 
Borderless Magazine: Can you tell us more about the affiliated podcast?
Alexandra Tarzikhan: With the pandemic, we haven't been able to travel, so my friend Sarah Mardini and I created this podcast as a way to catch up and create a space for refugees to have a voice and be a source of inspiration for others. We also feature volunteers. We've had episodes about the Beirut explosion and the Lesvos refugee crisis where guests highlighted their experiences and shared advice on how to help.
I met Sarah while I was volunteering in Greece, and we became good friends. Her story became really famous because she and her sister Yusra were on a dinky boat from Turkey that capsized, and they swam for three-and-a-half hours to make it to the shoreline of Greece. Yusra ended up competing on the refugee Olympic swim team.
Borderless Magazine: What are you doing in Chicago now?
Alexandra Tarzikhan: I'm a clinical fellow in Health and Human Rights at Northwestern University School of Law, which specializes in issues on international human rights. Although I am not focusing on immigration during this fellowship, this fellowship helps me better understand the field and what tactics and strategies have been successful that can be replicated in the migration context. On the macro level, issues like homelessness and hunger are all intertwined. 
One project I worked on was with Basmeh & Zeitooneh, [an NGO] that is based in Beirut, Lebanon. They work in the refugee settlement Shatila that was initially built for Palestinians, but now a lot of Syrians live there. I work with them through a health and human rights project called Access to Health that's housed at Northwestern University. It works with marginalized communities across the globe, including in Nigeria, Botswana, Ghana and Greece. Since Basmeh & Zeitooneh wanted to go from an NGO model to a social enterprise model, they wanted us to draft a proposal to incentivize investors to fund their enterprise.
Borderless Magazine: What do you hope to see more of in immigration laws with the new U.S. administration?
Alexandra Tarzikhan: There were a lot of faults in immigration policies with previous U.S. administrations. It's going to take a lot of time to undo all the negative impacts from all the executive orders that the Trump administration issued.
I would also like to see the U.S. working with other governments on a global response to the refugee crisis while ensuring that all stakeholders are involved in this response and have access to work, health insurance and education. One of the only good things I've heard is that the current administration is going to increase the number of refugees allowed to enter the U.S. and resettle here, even beyond the numbers issued during the Obama administration. I would like to be hopeful. There's still so much work to be done. 
This interview has been edited and condensed for clarity.
Our work is made possible thanks to donations from people like you. Support high-quality reporting by making a tax-deductible donation today.                                                                                                                                   
Donate