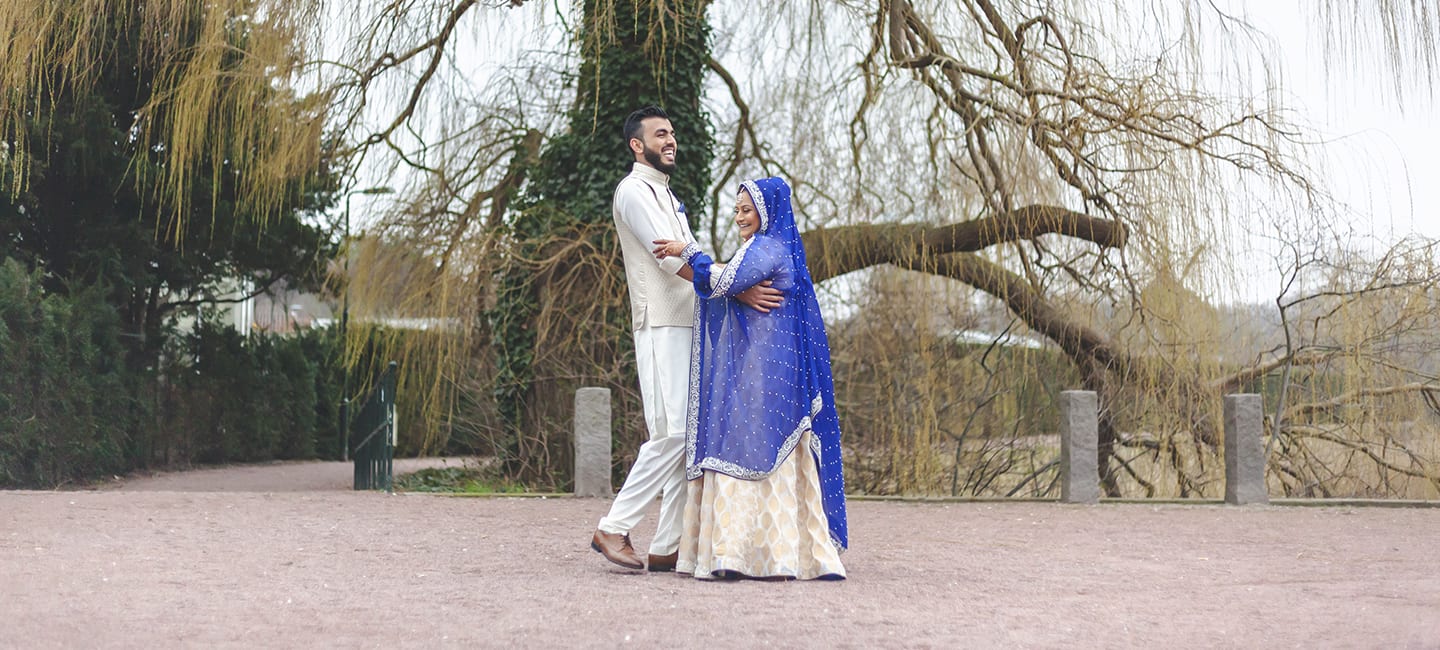 For one Chicago teacher, Trump's Travel Ban has meant living a continent away from her Syrian husband.
Above: Rezan Al Ibrahim and Aysha Shedbalkar pictured on the day of their wedding, March 22, 2019 in Malmo, Sweden. Photo Courtesy of Sairah Camilla Photography.
Next month, Aysha Shedbalkar and Rezan Al Ibrahim will celebrate their first wedding anniversary. But the couple won't be able to celebrate it in Lombard, the Chicago suburb where Shedbalkar lives or in Northlake where she has worked as a high school math teacher for nearly 20 years. 
Under President Donald Trump's Travel Ban, Shedbalkar's husband, a Syrian refugee, is not allowed to live or even visit with her in the United States. Nor is it clear when, if ever, he will be able to come here.
Since January 2017, President Trump has issued a series of executive orders and presidential proclamations to restrict citizens from more than a dozen countries from coming to the United States. Last month, Trump announced the latest expansion of the ban to include citizens applying for certain visas from Eritrea, Kyrgyzstan, Myanmar, Nigeria, Sudan and Tanzania. The expansion is expected to go into effect later this week.
To better understand the ban and its impacts on American citizens over the last three years, Borderless Magazine spoke to Shedbalkar about her own experiences.
In addition to being a teacher, Shedbalkar is a longtime international volunteer. After taking a two-month service trip in 2007 to work in an orphanage in Tanzania, Shedbalkar went on to volunteer with children in Ethiopia, India, Indonesia and Greece.
In 2016, Shedbalkar was moved by the story of Alan Kurdi, a three-year-old Syrian boy who drowned while trying to cross the Aegean Sea in an inflatable boat. His family had escaped Syria and were attempting to travel from Bodrum, Turkey to the island of Kos in Greece.
Shedbalkar decided to spend her summer vacation volunteering at the Oreokastro refugee camp near Thessaloniki in Greece. The camp was home to 1,500 refugees, mostly Syrians. There were snakes, no running water and only about 40 portable toilets for the entire camp.
It was there that she found love. 
---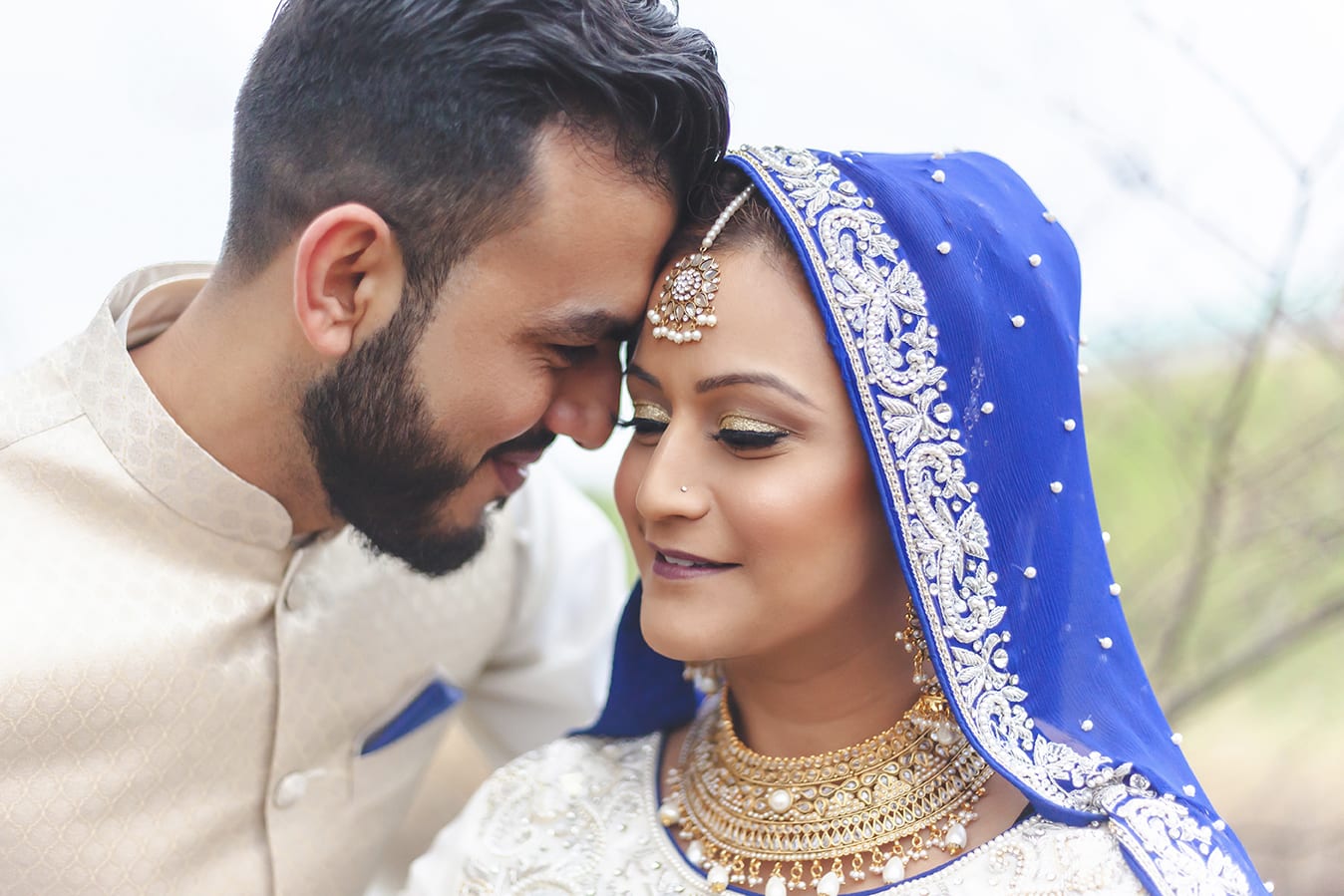 Rezan Al Ibrahim and Aysha Shedbalkar pictured on the day of their wedding, March 22, 2019 in Malmo, Sweden. Photo Courtesy of Sairah Camilla Photography.
Aysha Shedbalkar
As volunteers, we were trying to cover bullet wounds with Band-Aids. We could not nearly fix what needed to be fixed, but we tried the best we could with what we had available to us.
My work was to distribute food and clothing. Sometimes I would bring people to their doctor's appointments outside of the camp or go to the warehouse to pick up donations like diapers and formula. A lot of women had lost their ability to breastfeed because of the trauma and lack of nutrition. 
The camp was very, very cramped with tents everywhere. One day a fight broke out between two groups of people and they started taking poles out of the tents and hitting each other with them. 
At the time, I was visiting a baby and her mother. When we heard the fight outside, I grabbed the baby, his mom grabbed passports and important documents, and we ran to another section of the camp. They shut the gates that divided the camp behind us so that the fight didn't spread to the rest of the camp. With over a thousand people, the last thing you want is an entire camp filled with chaos.
Rezan lived in the camp with his family, but he also volunteered as a translator, helping volunteers like me or interpreting for other refugees. Any free time I had, I used to interview the refugees and write up their story to share on Facebook and Instagram to raise awareness about what was happening in the camps. And a lot of times, Rezan would be the one who was translating for me. So that's how we met. We started working together every day and at the end of the day he'd say, "Come eat dinner with my family."
And I always tell him, "I fell in love with your family before I fell in love with you."
His family was probably the sweetest people in the camp. 
Rezan is half Kurdish and half Syrian, and he was born and raised in Syria. When the war started there, his family left right away to Turkey. His dad and sister then went to Sweden, while Rezan stayed behind with his mom and three brothers until his father could send for them. 
After about a year, Rezan's dad sent for the rest of the family to join him in Sweden. Rezan didn't want to go. He liked Turkey. But his mom asked him to come with them on the journey and then he could return to his life in Turkey.
The journey was supposed to take 10 days. But because of the refugee crisis, people were flooding Europe at the time and Macedonia had built a fence at their border with Greece. There were troops there 24/7 to make sure that nobody was able to get through. 
At first they let 50 people through every day. Then it trickled down to 10 and then five. Then at one point, nobody was able to leave. So what was supposed to be a 10-day journey stretched to a three-month ordeal. Rezan and his family were stuck in Idomeni, the largest open air refugee camp since World War II.
It was the middle of winter and people were cold and frustrated. Big families were living in one-person tents. They were suffering a lot and people were really, really upset. At one point in the springtime, the refugees tried to tear down the border fence and the Macedonian troops responded by firing tear gas and rubber bullets at them. 
After that, the government decided to break up Idomeni and put everyone in different camps. That's how Rezan and his family got to the Oreokastro camp in Greece. They ended up staying there for a full year.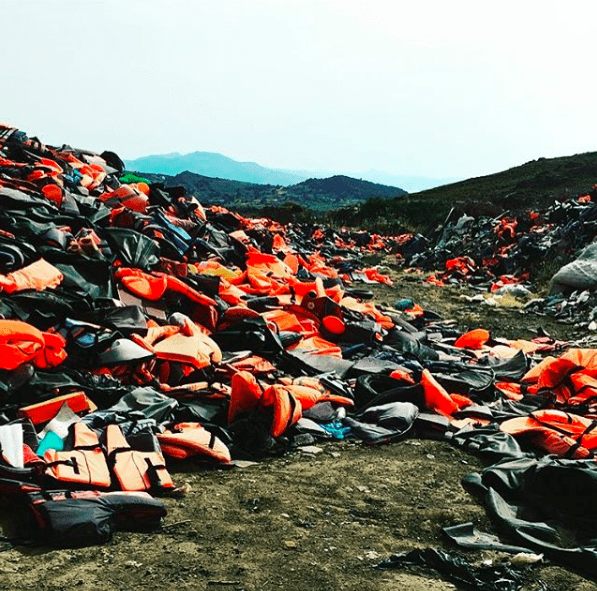 Discarded life jackets pictured in Molyvos on the island of Lesvos in Greece in the summer of 2016. Lesbos functioned as the main point of entry to Europe for hundreds of thousands of Syrian refugees. Photo Courtesy of Aysha Shedbalkar.
Rezan always says, "I didn't even want to leave Turkey." But I tell him, "It's a good thing your mom made you take them, because if you hadn't gone on that journey, we would have never met."
We spent all of the summer of 2016 working together. And then when I got back to Chicago, we video chatted every week to see how they were doing. I went back to the camp on my winter break to see Rezan and then shortly after that his family was given an apartment in Greece. 
In the summer of 2017, the United Nations finally approved their family reunification. Rezan's mom and younger brothers were allowed to go to Sweden to be with his dad and sister. But because Rezan was over 18, the UN could place him anywhere. They sent him to the Netherlands. They purposely don't place refugees with their families if you're older, because they don't want people to expect to automatically go to the countries where their families live.
So Rezan lived in a refugee camp in the Netherlands for some time and then they gave him an apartment in Amsterdam and that's where he is today. 
I'm just so proud of him. He is really determined to get his life back on track. He learned Turkish when he was living in Turkey, and now he's learned Dutch. In the Netherlands, he went to a coding school and now he's a junior developer. I'm glad that he can dream about the future now, because for a long time he didn't know if there was a future for him.
Rezan and I got engaged in 2017. We applied for a fiance visa for him to come to the United States, but we kept hearing about people who were being put on administrative hold because of the Travel Ban. We decided to wait to see what the Supreme Court would decide. We really had faith that the Supreme Court would strike down the Travel Ban.
The day of the decision, in June 2018, I was with two of my friends and Rezan. We were dropping off my best friend Sarah at the airport, talking and laughing in the car. I got a notification on my phone saying that the Supreme Court had ruled on the ban and that they had sided with Trump. I didn't say anything, I just started crying. They all thought I was crying because Sarah was leaving. When I told them about the decision, we all just sat in the car in silence. It was devastating.
We had been engaged for almost a year and a half. Our goal was always to get engaged and then get married in America and do the fiance visa process. But when the Supreme Court decision happened, we decided we were not waiting any longer. We decided to get married and just apply for the spouse visa. 
We got married on March 22, 2019. It was my spring break. I was with him for 10 days and then I had to go back to Chicago. I go and see him anytime I get a break, even on a three-day weekend. I'll take an eight-hour flight to Amsterdam, stay there for Saturday and Sunday and then fly back on Monday. It's very, very difficult but it's completely worth it because if I don't see him once every one or two months, I feel like I go insane. 
For a long time, I was really, really scared to even talk about my situation. I decided it's more important to speak out against something that's wrong than to keep quiet. I think a lot of times, people of color don't speak out because they're scared of what could happen. I think representation matters. I think our stories matter. When we speak out, maybe it will hit somebody hard and they'll join us in the fight against these injustices. 
I know eventually we'll be together. If I have to move, I will. My hope is that everything will work out and Rezan will be able to come here. Every dream I have is that he will be here with me.
Borderless Magazine is your source for stories that transcend boundaries. You can support our work with a tax-free donation today.
Donate