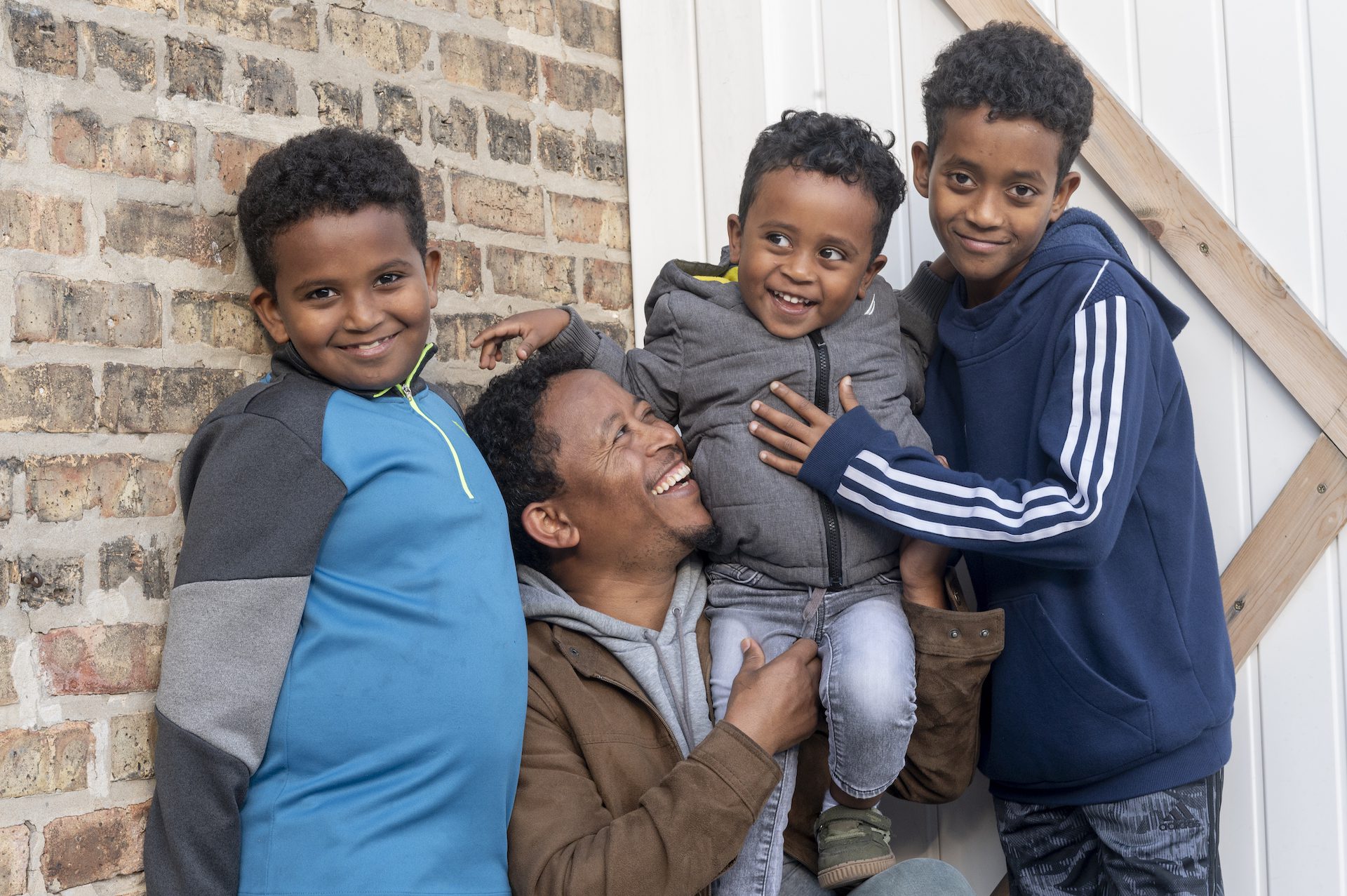 Gonzalo Guzman for Borderless Magazine
Tsegay Gebreyohanes stands with his three sons, Eben Afeworki, 8, Abel Afeworki, 3, and Simon Afeworki, 12, behind the home he recently purchased in the Rogers Park neighborhood in Chicago, Ill., Oct. 20, 2023.
He risked his life to flee Eritrea. Now, the father of three has started a new life in Chicago.
Tsegay Gebreyohanes was in his early 20s when he first tried to leave Eritrea in 2008. He was among a mass exodus of young people leaving the northeastern African country, fleeing a lack of political, social, and economic freedoms — and forced military service.
Over the past two decades, more than one million Eritreans have escaped what they call one of the world's most repressive and authoritative governments. 
Want to receive stories like this in your inbox every week?
Sign up for our free newsletter.

Bordered by Ethiopia, Sudan and Djibouti, Eritrea is described as Africa's North Korea. For over 30 years, the country has been ruled by Isais Afwerki, first elected president in 1991. Amid the ongoing conflict with Ethiopia, Afwerki, the commander-in-chief of the Eritrean Defence Forces, imposed mandatory national service for all Eritreans. The forced conscription has been one of the reasons many have fled the country.
Human rights groups have accused the Eritrean government of running a national network of jails and detention facilities like the one where Tsegay was detained for four months. The Eritrean government barred the United Nations from entering the country to investigate several allegations of human rights violations.
Borderless Magazine interviewed Tsegay, now 38, who shared his testimony of fleeing Eritrea to avoid military service, being imprisoned in Sudan, Egypt and Eritrea, and seeking safety and opportunity in the U.S. 
I left my home in Eritrea in search of freedom. My village of Ksad Emba is not far from the Ethiopian border. I traveled to Ethiopia on foot with nothing but my school ID and my dog, who was turned away at the border. I learned six months later from my family that he had returned home safely. 
For two months, I stayed in the Mai Aini refugee camp in Ethiopia. The camp was filled with other Eritreans also fleeing our country. I left Ethiopia two months later. My goal was to reach Israel, but I first had to make a seven-day trek through Ethiopia and Sudan.
I'm very strong. I grew up on a farm with mountains. I have fallen hundreds of times, burned my legs, and lived in poor conditions, but the journey to Sudan was far more challenging than anything I experienced.
Dozens of Eritreans, including eight women, were on this very dangerous journey where we all risked our lives. In our culture, you don't leave anyone behind. Eritrean refugees were targeted by Ethiopian soldiers and civilians who took money and phones or attacked people like me fleeing our country. The only safe place was the refugee camp. Thankfully, I was safe from these types of attacks. 
When we reached Sudan, we paid people to drive us to the Sudan-Egypt border. Among the caravan of cars with dozens of refugees attempting to cross, there were also other cars trailing behind transporting weapons and explosives. As we slept outside one night, an airstrike hit many of the vehicles in the caravan. We escaped and stayed in the Sudanese desert without water or food for days until we reached Kassala, Sudan. There, I was interrogated by Sudanese soldiers and sent to jail for two weeks before being deported back to my country. 
Back in Eritrea, the government sentenced me to six months in prison. Over several days, I was moved through five prisons: two in Barentu, one in Prima Country and one in Asmara. At the fourth prison, I was given lentil water as food — my first meal in days. 
They transferred me to a fifth detention facility known as Wia military prison, an underground prison shaped like a concrete sewer. There was no light, no water, and little oxygen — just a tunnel. The temperatures were hot and humid. There were hundreds of people in one room, and we slept like sardines, one on top of the other.  
Overhead, the underground prison was secured by guards with rifles, fences and a desert covered with jagged rocks and cactuses with sharp needles. In my four months at Wia, a group of prisoners came up with a plan to escape. We talked in code so others could not understand us. I knew the guards would shoot, but we were ready. We knew the risks. 
Just after midnight one night, hundreds of prisoners rushed through a door and scattered. We ran for our lives in the dark, barefoot through cactuses as guards fired their rifles. Some people were captured, while others, including myself, got away. The prison wasn't far from where I lived, but I couldn't stay home because the government would find me. I would rather die or be eaten by wolves than be captured by the Eritrean soldiers. 
Read More of Our Coverage
My leg was badly injured, and a trip that should have taken two days took much longer. I was emotional and starved. When I finally reached my city, I saw my pregnant cousin, who burst into tears seeing my injuries and sun-cracked skin. I was scared that she would make a scene and bring attention. If the soldiers saw me, my life would be over. I also saw my mom for two hours, but it was so hard. [Tsegay broke down in tears, remembering his last face-to-face conversation with his mother.] 
Despite the dangerous journey, I set out again for the Mai Aini refugee camp in Ethiopia. This time, I met my beautiful wife, Rufta. We shared a one-month honeymoon before I resumed the journey to Sudan. 
My dream was to go alone and bring my wife when it was finally safe. It took me one week to reach the border of Egypt and Israel, where I was caught and sent to an Egyptian prison. A representative from the Ethiopian embassy visited me, and I asked to be taken under their wings as a refugee. I explained that I was documented with the United Nations High Commissioner for Refugees at the Mai Aini refugee camp where my wife lived. I reunited with my wife after six months in an Egyptian prison, and we had our first beautiful son in 2010.
Meanwhile, news stories detailing the death of young Eritreans drowning in the Mediterranean Sea garnered international attention. The crisis prompted some refugee approval for dozens of minors, including my 10-year-old brother.  My brother chose me to accompany him. Although we got refugee status in 2010, the process took a long time because my wife and I welcomed our second son in 2015. Before leaving, my father, an Orthodox priest who had cancer, briefly joined us in Ethiopia for medical treatment.
In 2017, my small family, including my brother, wife and sons, left for the United States and settled in the West Ridge neighborhood on Chicago's Northwest Side. We were welcomed by the Ethiopian Community Association of Chicago.
Those first few months were hard navigating the United States. I was shocked by the living conditions and the lack of attentiveness from my caseworker. No one helped me with healthcare or translation services. I had no money and struggled to find a job for a few months. 
Then, in early 2018, we got a call that my father passed away. I was stunned. I didn't have anyone. I was responsible for my younger brother, wife and kids. I had to stay strong for them.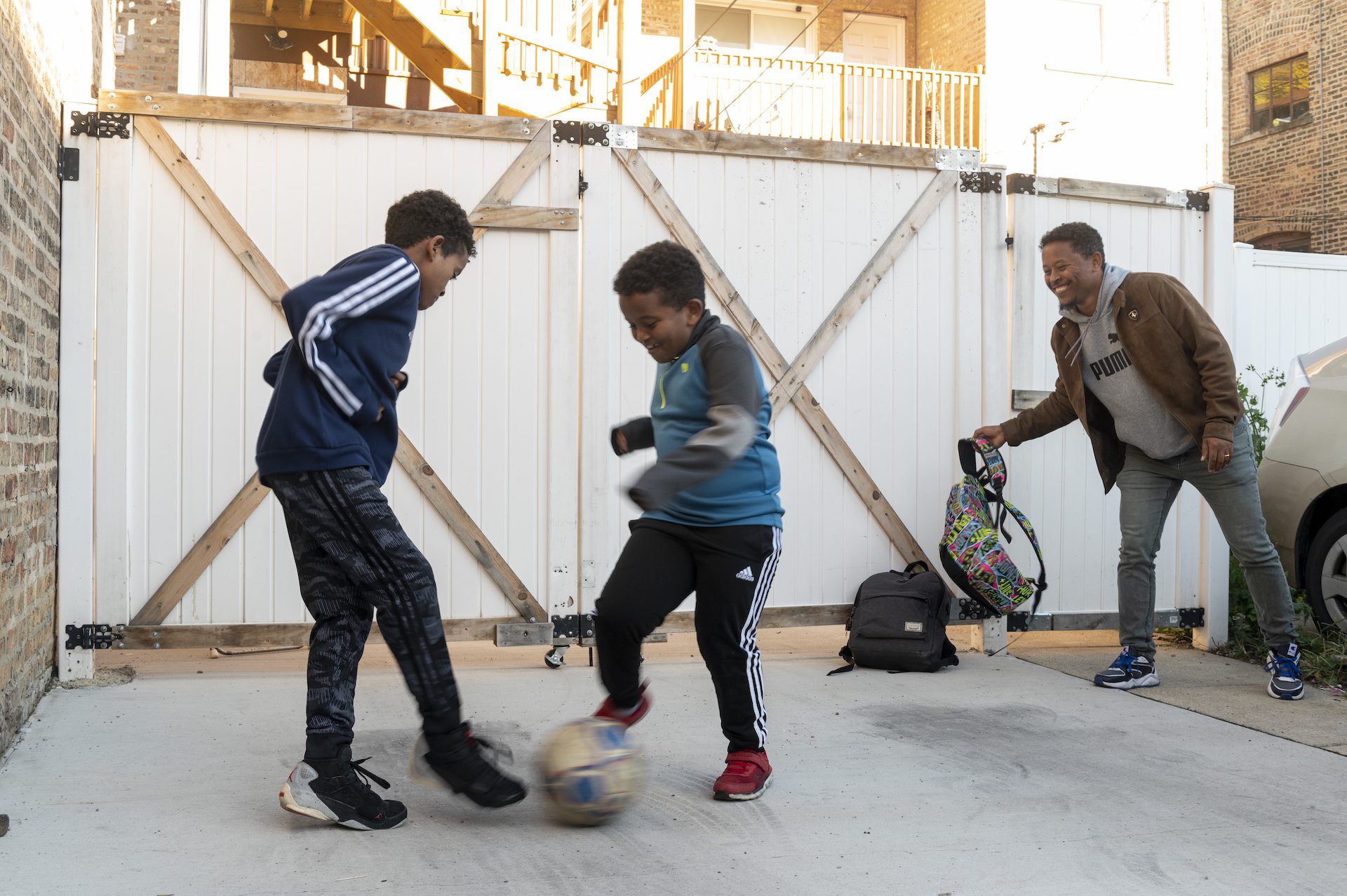 Gonzalo Guzman for Borderless Magazine
During those early months, I took English as a second language classes in Evanston. I shared my story with my teacher and expressed my concerns about needing a job. She directed me to hospitality training, where I learned to work as a janitor, cleaning and preparing food. 
Although I didn't speak English well, I had a lot of confidence. I completed hospitality training, and Soho House in West Loop hired me as a dishwasher. I was promoted to help prepare food in the kitchen two years later. The job allowed me to save enough money to buy my first car in the fall of 2019. 
Even though I was working, I wanted to make sure I had a safety net. That is why I planned on becoming a taxi driver on the side. During the COVID-19 pandemic, my youngest son Abel Afework was born, and I started to take taxi lessons and earned my chauffeur license. 
This year, my biggest priorities were to become a U.S. citizen, get a taxi cab license, and purchase a house. I drove Uber and saved enough money to buy a Medallion cab in March 2023.  I work in the Soho House kitchen during the day and drive at night.
Gonzalo Guzman for Borderless Magazine
Not long after purchasing my cab, I bought my house in West Rogers Park with the help of my brother, who now lives in Utah.  
While working to meet my goals, I met an Eritrean woman who introduced me to RefugeeOne, a Chicago-based organization that helps refugees with immigration and citizen services. With the organization's help, I continued to learn English and prepared for my citizenship classes. In September, I became a U.S. citizen with my first two sons, born outside of the U.S.  
I am proud of my wife and family. My wife knows my story and my history. She understands me and has been here with me every single day. My lovely wife makes delicious food and cares for our children. Our goal is for her to get her driver's license and citizenship. I want her to succeed and excel. 
As we build our life here, I want to give my kids things I didn't have. They play soccer with an Evanston team. I am investing in better and brighter opportunities for my children.
I have come a long way after chasing freedom for 15 years.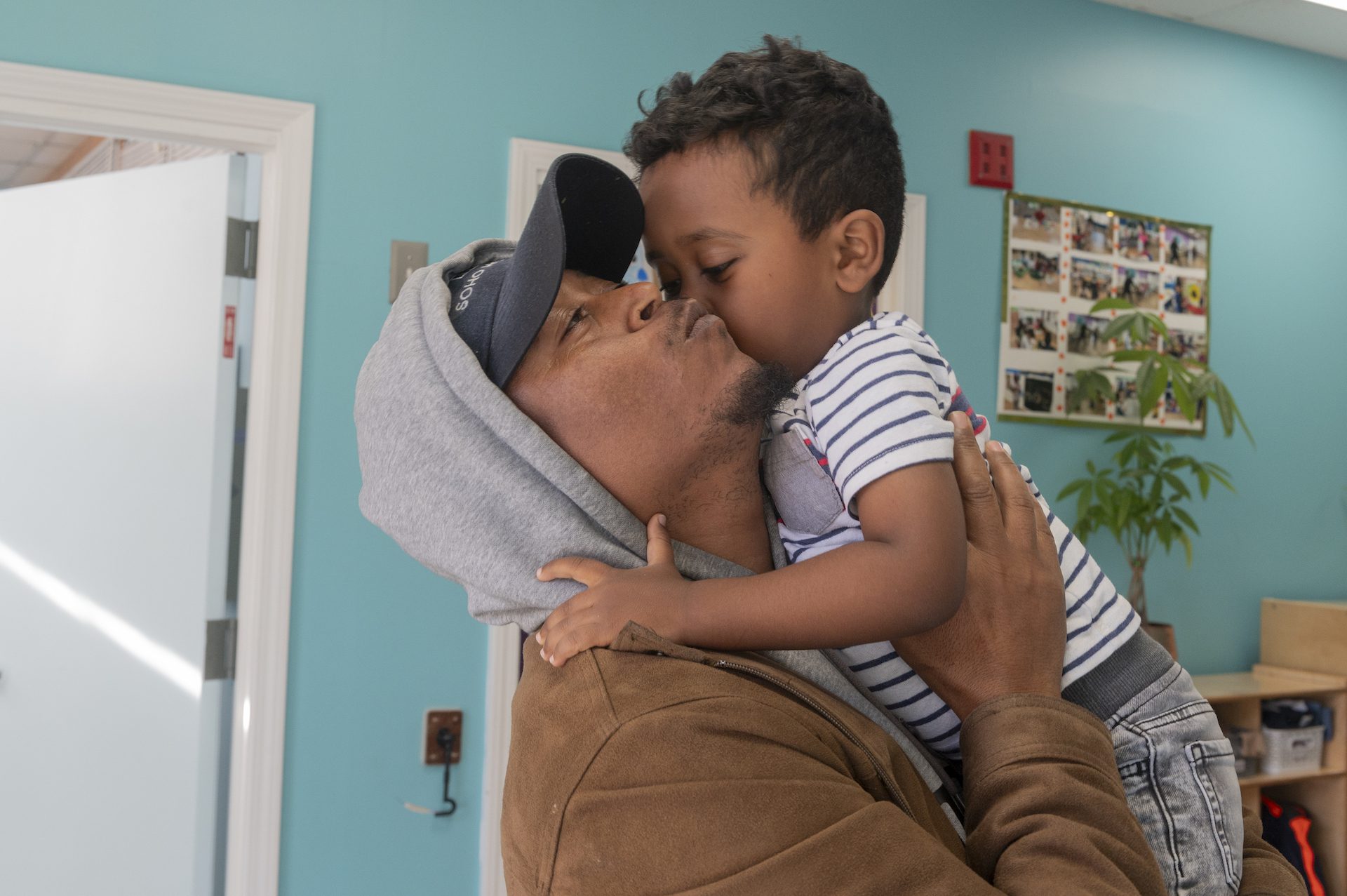 Gonzalo Guzman for Borderless Magazine
This story was produced using Borderless Magazine's collaborative as-told-to method. To learn how we make stories like these, check out our as-told-to visual explainer.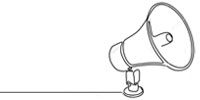 Bring power to immigrant voices!
Our work is made possible thanks to donations from people like you. Support high-quality reporting by making a tax-deductible donation today.