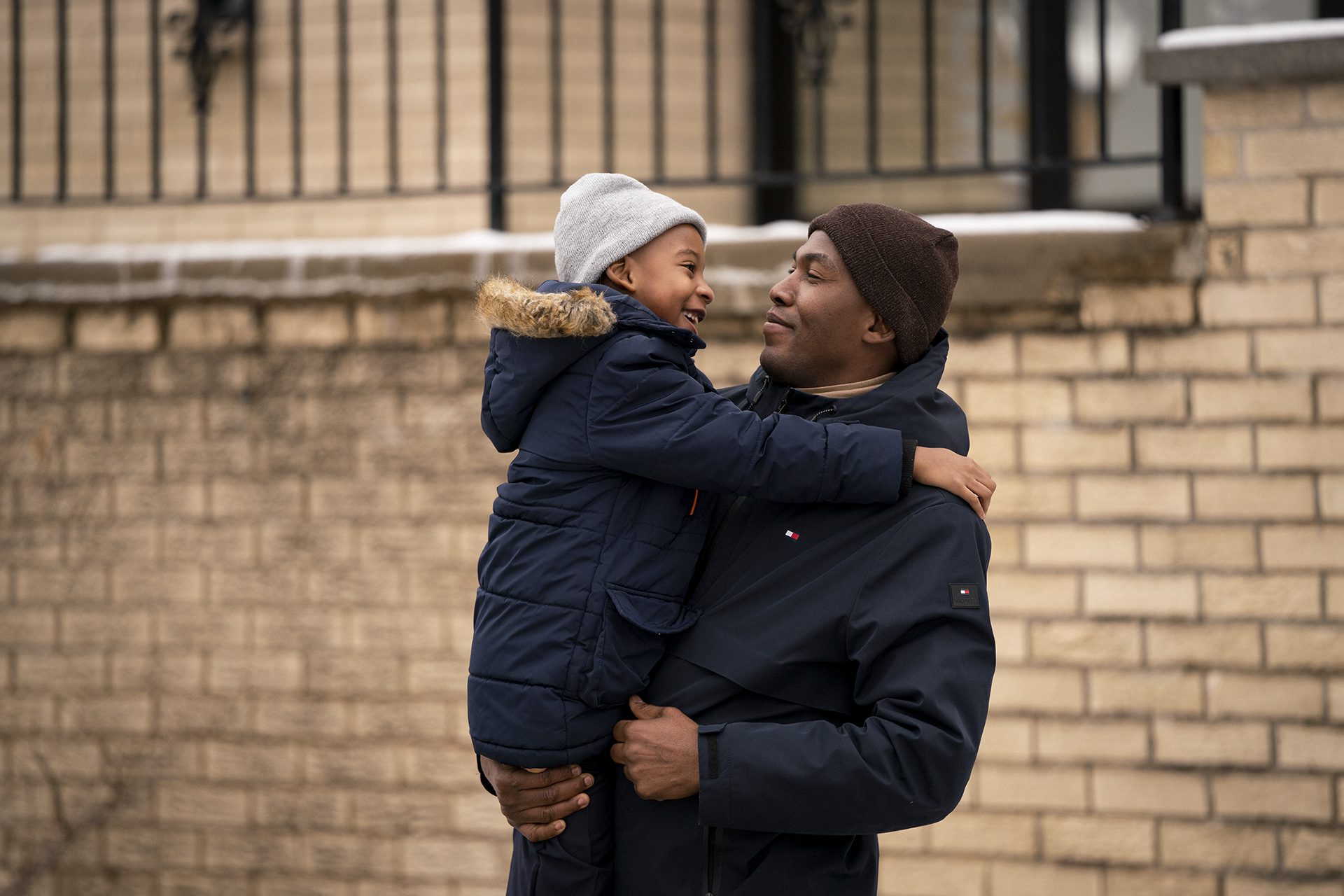 Martine Séverin for Borderless Magazine
Jean Chrisbene Justin and his son Oliver Ryan Justin, 5, outside Bethlehem Chicago Seventh-day Adventist Church, where they attend services every Saturday, in Chicago, Ill. Feb. 25, 2023.
He was a police officer in Haiti. He left with his son after being threatened by gang members. Now he awaits his family in Chicago.
Get Borderless in your inbox
Sign up for our free newsletter. Each Thursday we share ways to support immigrant organizations and stories about our communities.

"It wasn't safe," Justin told Borderless. "I said to myself, this isn't good. I must leave. In 2021, I arrived in Chicago with my son. Now I'm waiting until later this year in September, when the immigration courts make a decision on my [asylum] case."
RefugeeOne is a nonprofit that annually serves more than 2,500 refugees and immigrants of all ages and backgrounds. They are currently expanding their asylum seeker program for Haitians and are helping Justin with his asylum case.
Borderless Magazine spoke to Justin about the growing turmoil in Haiti, his journey to the U.S. with his son and the wait to reunite his family in Chicago.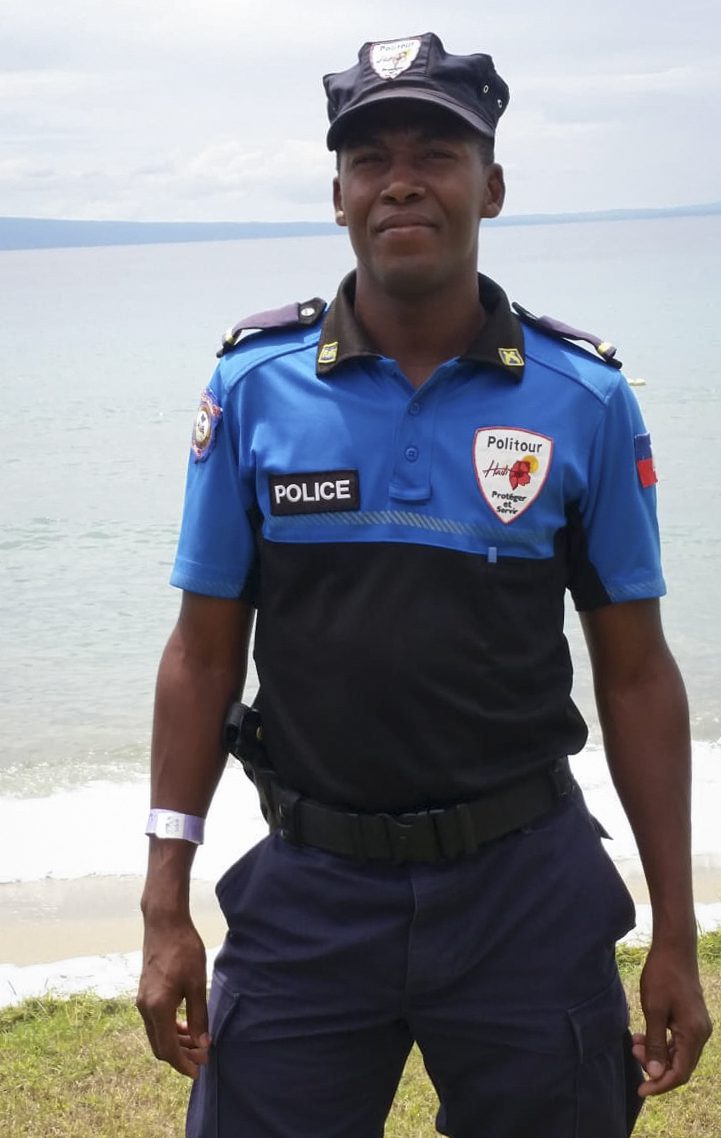 Photo courtesy of Jean Chrisbene Justin
I was born and raised in Croix-des-Bouquets – the birthplace of the rapper Wyclef Jean – and am the oldest among my brothers and sisters. The official languages of Haiti are French and Creole, so I speak several languages including English and Spanish.
I wanted to become a police officer because I wanted to serve and protect the people. I joined the Haitian police department on December 27, 2013. I was in the tourist police team, PoliTour, and was with them for seven years until I left Haiti. I loved the work. I did my job with all my heart and knowledge.
I worked at the Toussaint Louverture International Airport and would see a lot of people trying to leave the country. The rise in gangs and violence began because of the desire to have power. Deputies and senators use their campaigns to distribute weapons to gang leaders. There's a lot of corruption with our politicians that is directly tied to the gang movement and gang mentality. Every neighborhood has a gang. Schools and public services close down when the gangs grow more violent.
One of my friends was shot and killed. If the gangs find out that you are police, they will come to your house and kill you. The police have no control. More than once, gang members tried to kill me. I was working in external security at the international airport, and I would receive threats because I often had to arrest people who wanted to intimidate tourists. I would have trouble every day after I finished my shift, receiving threat after threat, so I decided that it was time for me to leave. It was enough.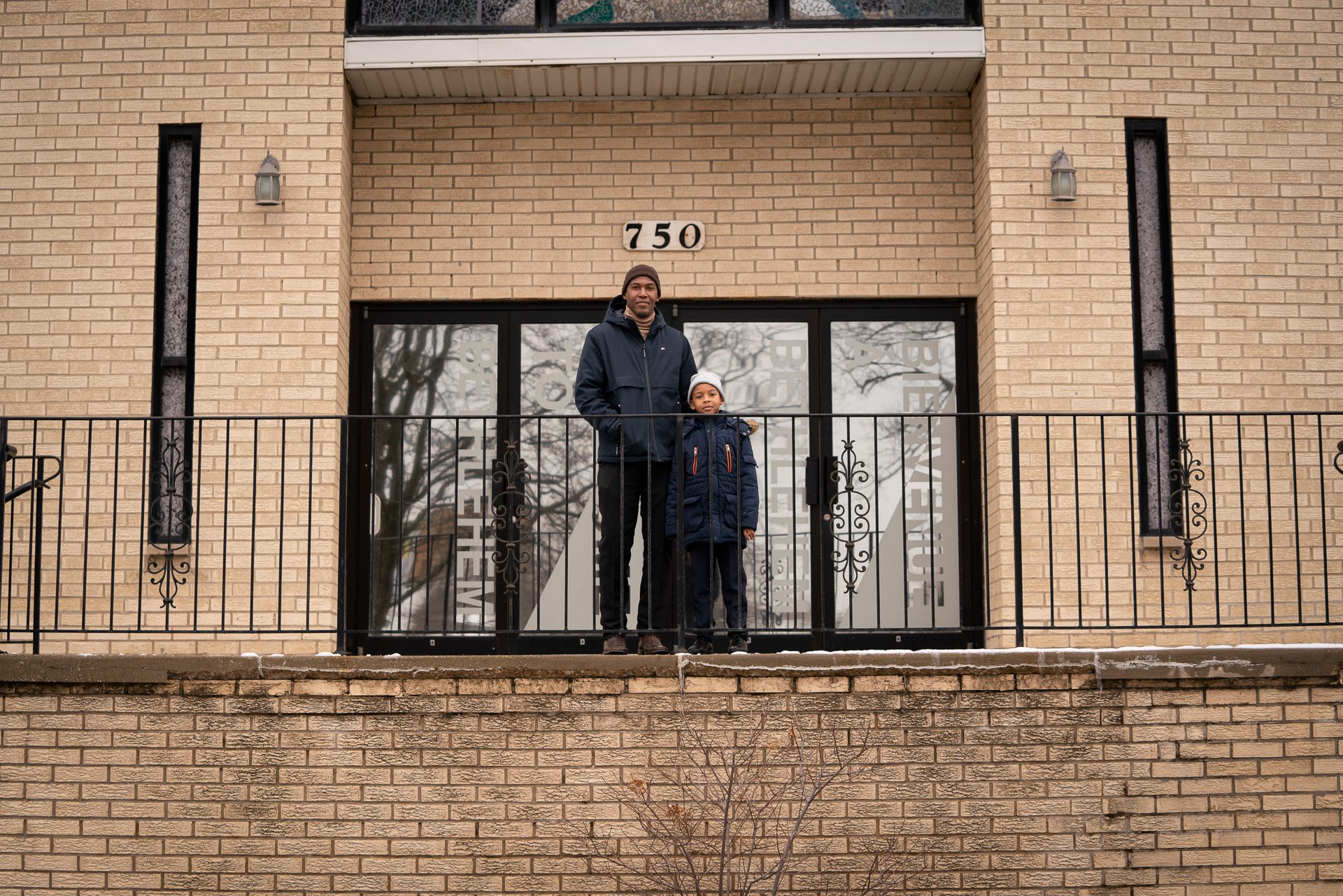 Martine Séverin for Borderless Magazine
I took my son, Oliver, with me, who was four at the time, and left my wife and three-month-old daughter. From Haiti, I made it to Brazil, but I only stayed for a little over a year because the situation there wasn't good either. To make a living, I would sell picolé, which are Brazilian-style popsicles, and other things for money, but it wasn't enough. I tried applying for a visa for my wife in Brazil, but they were denying everyone because of the instability in Brazil.
I had my family to take care of, so I decided to leave Brazil in August 2021 and then my son and I traveled through Bolivia, Peru, Ecuador and Colombia. From there, we walked through the forest for 11 days until we reached Panama. It is a passage that is taken by many. The entire way, we met other immigrants.
I lost weight during those days in the rainforest in Panama. I don't like thinking about that time because I saw many people die. There were deceased people in the rainforest and water. Some children and babies too. Sometimes, my son will remind me, saying, "Dad, do you remember the people we saw in the forest?"
We arrived in Mexico, after passing through El Salvador and Guatemala, and stayed for a few months, but it wasn't easy there either. Because I didn't have my papers, I couldn't work so I couldn't send any money back home to my family. Eventually, I decided to get to the U.S. by boat, but we got caught. I was imprisoned for 13 days, but I was finally released and allowed to move to Chicago where my friend, who is also Haitian, lived.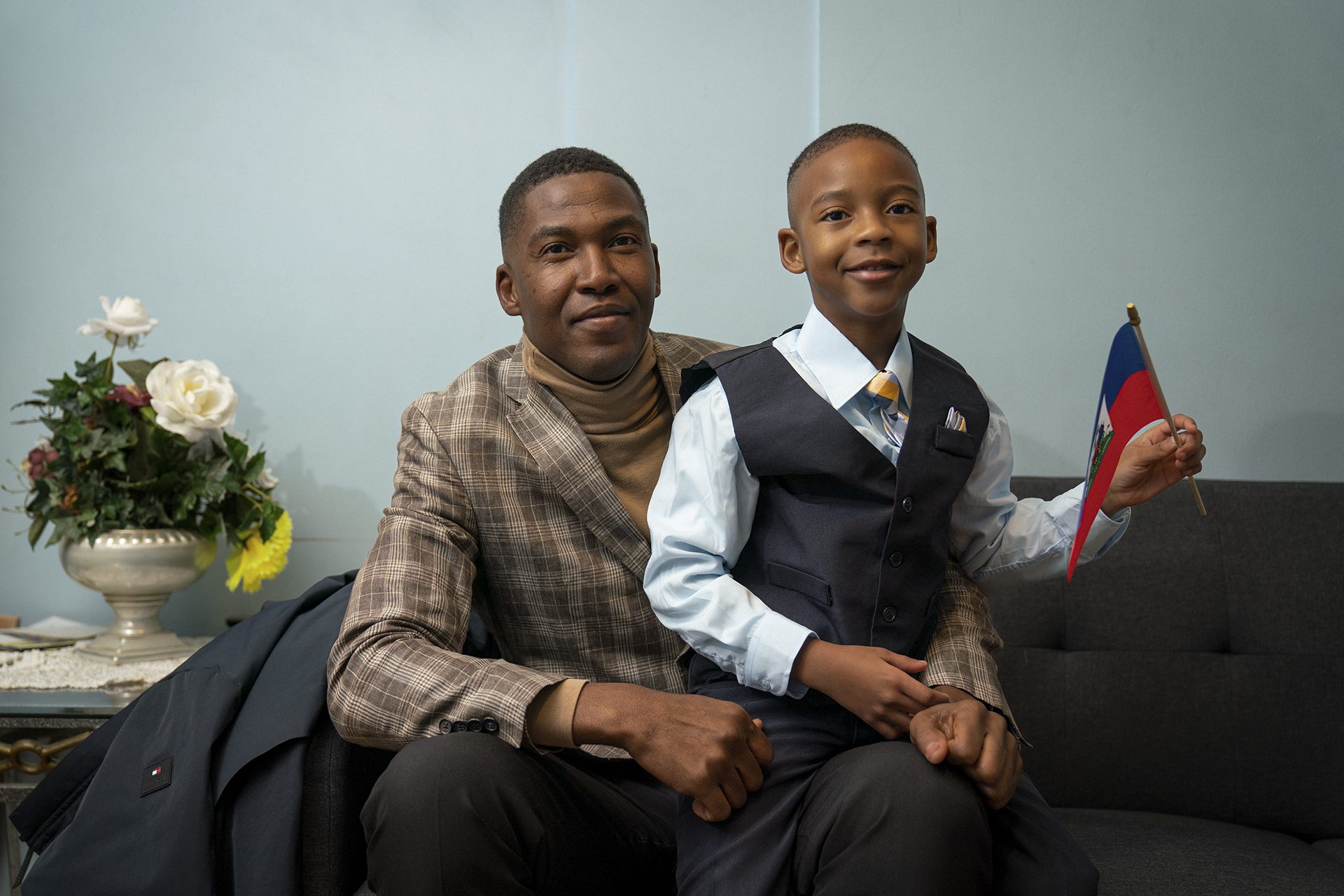 Martine Séverin for Borderless Magazine
I have been in Chicago for one year now. I live with my friend, and I don't have any papers so I'm not working. Later this year in September, I have a meeting with the courts in immigration where they will decide my asylum case.
I want to work – my dad was a carpenter back home in Haiti, so I learned the same skills from him. With the help of RefugeeOne, my son, who is now five, is enrolled in school. I found out about RefugeeOne through a friend, and the organization is helping me with my paperwork.
My time in Chicago has been good, and the people here are kind. They have accepted me. Every Sunday I go to a church that has a lot of other Haitians. I take classes at Olive-Harvey College and am working on my English. I'm at a fifth-grade level.
I would like to go back home eventually. Haiti is a great country: the sea, the sun, and the sand. It's a place where you can take it easy. But the politics of my country aren't good. The gangs are out of control. There are protests on the streets and people burn tires. I can't go back now.
All Haitians want to leave, and the only reason that they stay is that it's difficult for them to get out. I want all my family with me here, and I am working to bring my wife and daughter here. But now all I can do is wait. I wait for my immigration court date. I wait for my family to join me. I wait until I can someday go back to my country when it's safe.
This story was produced using Borderless Magazine's collaborative as-told-to method. To learn how we make stories like these, check out our as-told-to visual explainer.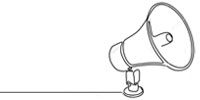 Bring power to immigrant voices!
Our work is made possible thanks to donations from people like you. Support high-quality reporting by making a tax-deductible donation today.