Mustafa Hussain for Borderless Magazine
Shamama soccer team coordinator, Hussein Rezaee, far right, socializes with the rest of the team after a game at West Park in Wilmette, Ill., May 21, 2023.
After fleeing the Taliban, a group of Afghans in Chicago have found each other – and strength – through playing soccer.
After Sept. 11, 2001, Hussein Rezaee sought refuge in America. He left behind almost everyone he knew in Kabul due to his lingering fear of Taliban violence in Afghanistan. Determined to secure a better future, he chose to settle in Chicago, where he had friends he could rely on to help him navigate the challenges of immigration. 
"Leaving one's home, family and friends is never easy, but sometimes circumstances force us to endure hardships to survive. The violence of the Taliban compelled me to flee to America," Rezaee told Borderless in Dari/Farsi.
Get Borderless in your inbox
Sign up for our free newsletter. Each Thursday we share ways to support immigrant organizations and stories about our communities.

He still remembers the challenges of those first days in the United States vividly. He didn't speak English. He didn't have a job. And he felt unbearably alone.
But standing at the center of a soccer field on a recent Sunday morning in West Park in suburban Wilmette, over 20 years since he arrived here, he has found his community.
The Salsal and Shamama soccer teams had gathered for a friendly match. As Rezaee prepared to signal the teams to start, a blend of English and Dari murmurs filled the air. 
"Let's go!" said one player in English. 
"Ba omid perozi," came a response – "With the hope to win!"
The players have been meeting each week to play for over a decade. Made up of Afghan refugees and asylum seekers, the soccer games give local Afghan community members a chance to meet, exchange stories and acquaint themselves with American culture, explained Abdullah Ghafari of the Salsal team.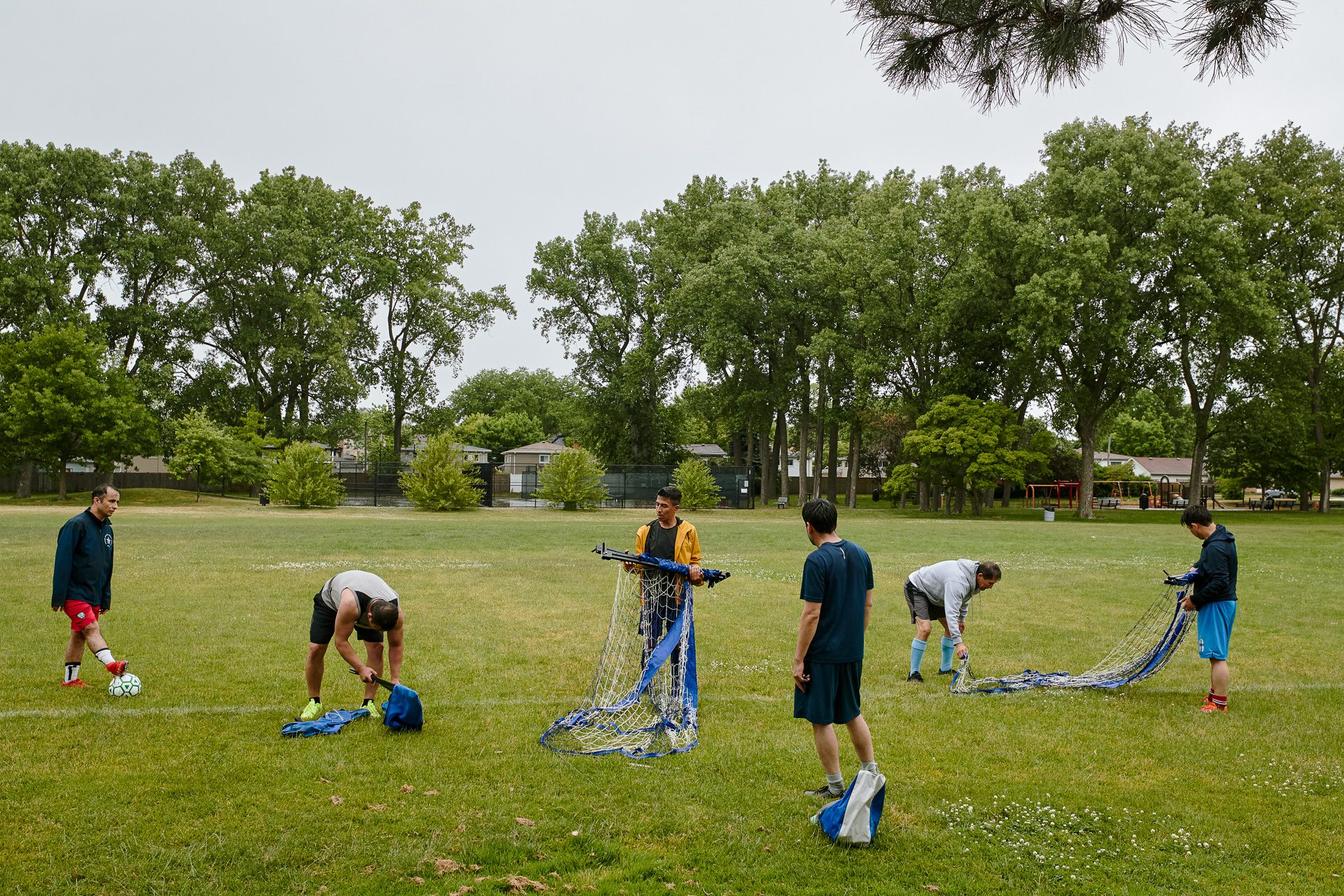 Mustafa Hussain for Borderless Magazine
"The soccer games are more than just a way to pass the time; they provide a sense of belonging and unity to our community," Ghafari said in Dari.
Ghafari knows firsthand the darkness and misery of life under the Taliban. After working as an interpreter with the U.S. forces in Afghanistan, he fled the Taliban and came to the U.S. in March 2022 through a Special Immigrant Visa. 
"After enduring the darkness under the Taliban's rule, I finally felt alive when I arrived in America," Ghafari said. "This country offered me safety and opportunities that were unimaginable back home. My greatest hope is to bring my family to join me in Chicago, where they can experience the freedom and security we have found here."
Mustafa Hussain for Borderless Magazine
The Taliban's resurgence and subsequent takeover of Afghanistan over the past two years have reduced the freedoms of many Afghans, particularly women. The Taliban banned girls from going to high school and university, the only country in the world with such restrictions, according to the United States Institute of Peace. Many Afghans fear that the banning of education will have a dire and long-term impact on the economy and society in Afghanistan. 
"The Taliban's rule has shattered the dreams of countless Afghan girls and women," said Nafissa Rezaee, Hussein Rezaee's wife. "We yearn for the freedom to pursue education and make our own choices, but under their regime, we are denied these basic rights."
Read More of Our Coverage
Seven thousand miles away, on a soccer field in suburban Chicago, Afghans who were displaced from the Taliban are now supporting each other. The names of the teams themselves allude to the resilience of Afghan refugees. Salsal and Shamama were the names of two giant, ancient Buddha statues that once stood in the Bamyan Valley in Afghanistan. The statues were dynamited by the Taliban in 2001. But despite their destruction, Salsal and Shamama remain a testament to Afghan's rich culture and long history before the Taliban emerged.
"The soccer team has been a lifeline for me. It's not just about the game; it's about finding a community that understands our struggles and supports one another," said Aziz Parsa, a key player on the Shamama team. 
Mustafa Hussain for Borderless Magazine
Parsa first came to Chicago to get a degree in civil engineering from Loyola University. After graduating in November 2016, he decided to remain in the U.S., leaving his family and friends behind in Afghanistan. 
Parsa loved the security and tranquility he discovered in America while working at Amazon. He learned about the soccer team while trying to make new friends with other Afghan refugees and learn more about American culture.
During their recent game, Parsa's Shamama team trailed by two goals when the teams broke for halftime. But Shamama wasn't going to go down without a fight.  
Mustafa Hussain for Borderless Magazine
When the second half started, Parsa and his teammates came out with renewed vigour. The team's youngest member – Hussein and Nafissa Rezaee's son Ali Sina, just 11 years old – smiled widely.
 "I feel proud to be part of this team. Playing soccer with my father and his friends makes me feel strong and capable of facing challenges, regardless of age. It's not just a game; it's a bond that brings us together and gives us the confidence to overcome obstacles," said Ali Sina.
Hussein is proud of his son's involvement with the Shamama team. As team coordinator, Hussein said he organized the game to inspire other young refugees to work together to overcome the obstacles life throws at them. 
When the game ends, Salsal has won with a three-goal advantage. But despite the loss, Hussein looked at the field and the players and beamed. 
"In this game, we find a common language that transcends all barriers," said Hussein. "We create a united front against the darkness that tries to extinguish our hopes and dreams."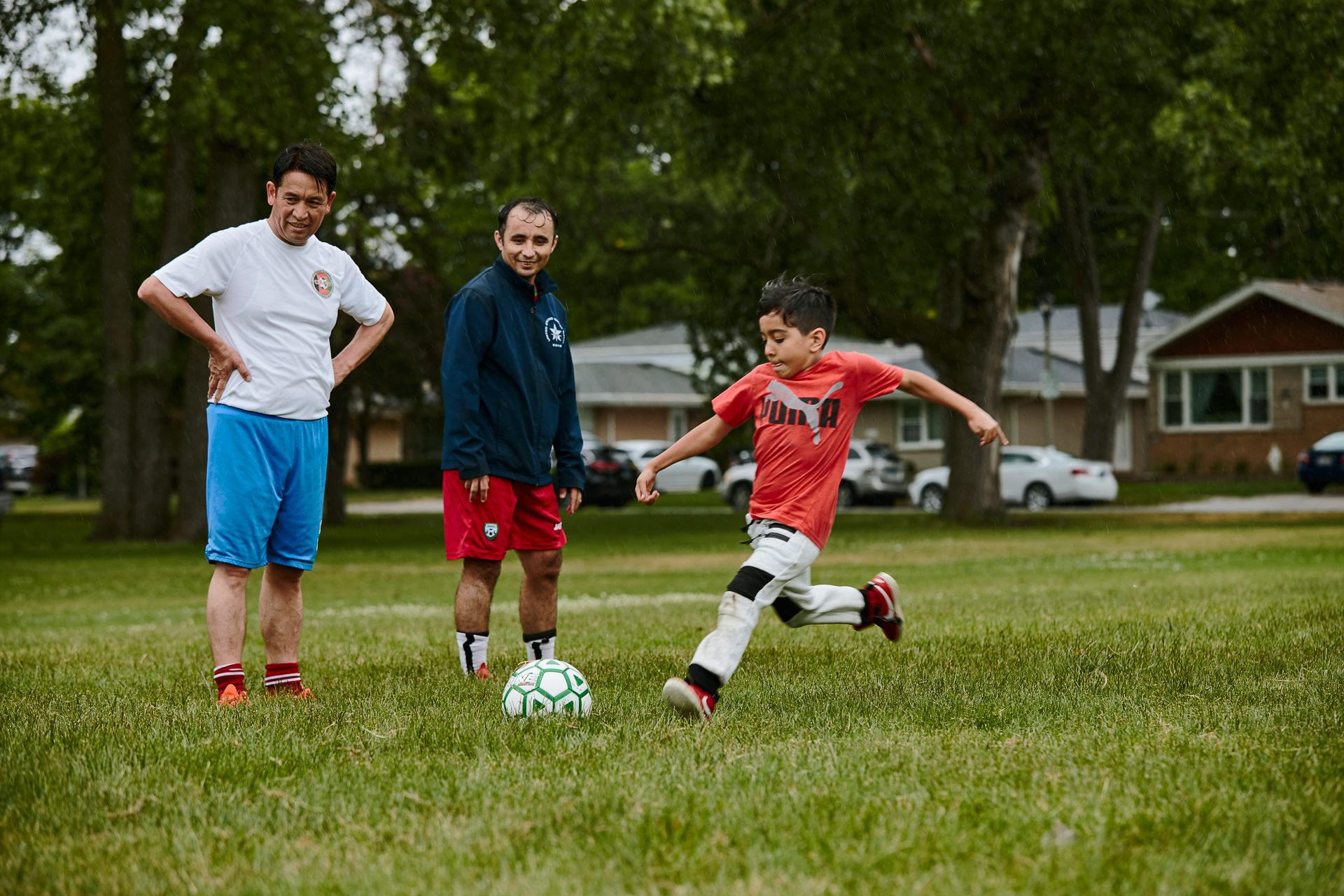 Mustafa Hussain for Borderless M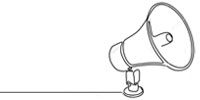 Bring power to immigrant voices!
Our work is made possible thanks to donations from people like you. Support high-quality reporting by making a tax-deductible donation today.