See the works of Puerto Rican artists, learn how you can use the Freedom of Information Act, or discuss the ethics of global storytelling.
Get Borderless in your inbox
Sign up for our free newsletter. Each Thursday we share ways to support immigrant organizations and stories about our communities.

🇵🇷 Fri. March 10, 10 a.m.
Join the National Museum of Puerto Rican Arts and Culture (3015 W. Division St.) for the opening of Soy Boricua. This free, collective exhibition brings together the works of local Boricua artists for a celebration of Women's History Month.
📄Sat. March 11, 3:40 – 4:35 p.m.
Borderless Magazine's Engagement Reporter Diane Bou Khalil will moderate a panel on immigration and the public records process. Learn from Chicago journalists about working with immigrant communities and how to use the Freedom of Information Act as part of the Chicago Headline Club's annual FOIA Fest. Tickets are $5 for virtual and $20 for in person at the Civic Opera House building (20 N. Upper Wacker Drive, 12th Floor).
🌎 Wed. March 15, 9 a.m. – 1 p.m.
Join Borderless Magazine's Executive Director Nissa Rhee at the Simmons Center for Global Chicago's Symposium on the Ethics of Storytelling. Nissa will be joined by other nonprofit leaders in discussing how storytelling has evolved in recent years and how nonprofits should center community voices. This event will be held at 303 E. Wacker Drive, in the 2nd floor conference center. Ticket prices start at $25.
🎭 Starting March 3 [Sponsored]
Goodman Theatre presents "Layalina," a surprising new play about how families fall apart — and find each other again — amidst turbulent global and social change. In 2003, newly-wed Layal and her family prepare to immigrate from Baghdad, Iraq, to a Chicago suburb. Seventeen years later, Layal's life looks unimaginably different from what she had envisioned two decades prior, as she and her siblings explore queerness, face their grief, and discover what it takes to make home in a new place. Don't miss this moving, powerful new play's world premiere on the Owen Stage — fresh from Goodman's New Stages and Future Labs programs.
Do you have an event that you'd like us to feature? Email us at info@borderlessmag.org and we'll try to include it in the future!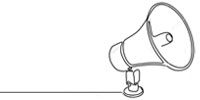 Bring power to immigrant voices!
Our work is made possible thanks to donations from people like you. Support high-quality reporting by making a tax-deductible donation today.