Hone your editing edge, croon for a cause, or take in a mini documentary festival!
Want to receive stories like this in your inbox every week?
Sign up for our free newsletter.

✍️ Thurs. Nov. 3, 6 – 8 p.m. Join Borderless Magazine's Managing Editor Jillian Melero and representatives from six other news outlets, including the New York Times, in this special 'So You Want to be an Editor?' workshop. Media editors will talk about their careers and how they got into editing. This event will be hosted in-person at the City Bureau office (3619 South State Street, Chicago) with an option to live-stream via Zoom. Reservations are required.
🎤 Fri. Nov. 4, 6 – 10 p.m. Sing out for a good cause! The Rogers Park Free Store will hold a karaoke fundraiser at PO Box Collective (6900 N. Glenwood Ave.). Songs will cost $5 each. Drinks will be available but guests can BYOB to share.
📽️ Sat. Nov. 5, 6 – 8 p.m. What happens when a suburban Chicago mom befriends a baby squirrel while her son studies abroad in Poland? Find out at the Doc Chicago Short Film Showcase. This free screening at the Gene Siskel Film Center (164 N. State St.) will close out a day of panels and conversations around filmmaking held at the Cultural Center. Audiences will enjoy a variety of new, short documentaries by established and emerging artists including Tom Krawczyk's award-winning "My Duduś." Filmmakers will be available after viewings for a Q&A.
Do you have an event that you'd like us to feature? Email us at info@borderlessmag.org and we'll try to include it in the future!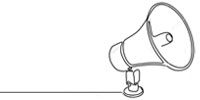 Bring power to immigrant voices!
Our work is made possible thanks to donations from people like you. Support high-quality reporting by making a tax-deductible donation today.