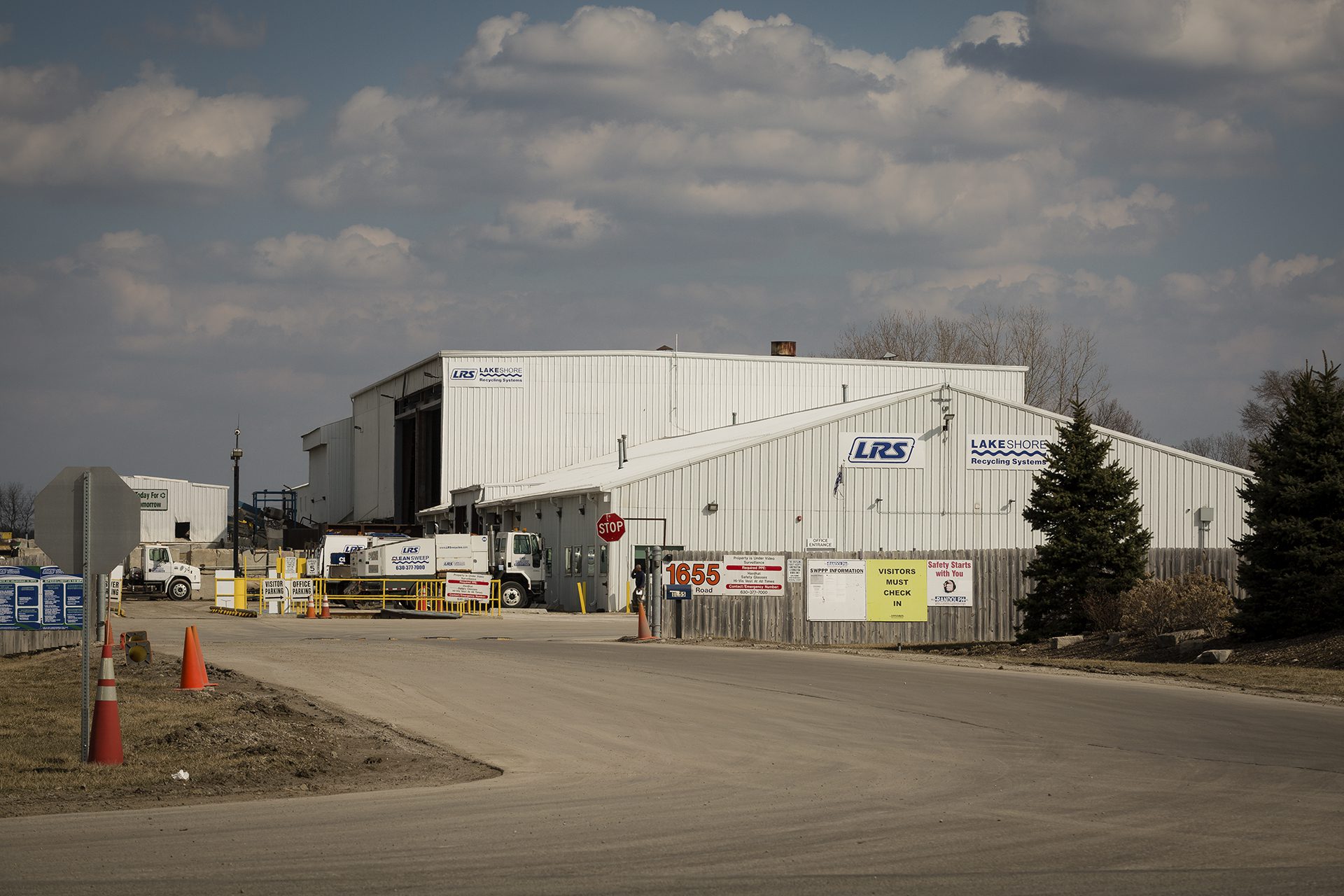 Michelle Kanaar/Borderless Magazine
Waste hauler LRS, or Lakeshore Recycling Systems, in West Chicago, Ill., March 16, 2022. LRS has submitted an application to expand its operations at 1655 Powis Road to also accept municipal waste.
West Chicago residents are concerned about the environmental impact of Lakeshore Recycling Systems' proposed waste transfer station, half a mile from an existing station.
West Chicago residents and organizers from Immigrant Solidarity DuPage are concerned over plans to add a second waste transfer station to their community.
Lakeshore Recycling Systems (LRS) plans to expand its operations to also accept municipal waste in the suburb 30 miles west of Chicago. The company currently only recycles construction and demolition debris at its 1655 Powis Road site. If a second waste station opened — half a mile from an existing waste transfer station operated by Groot Industries — residents are concerned it will create more air pollution, odor and exposure to dangerous chemicals and radiation in the area.
LRS began exploring opening their own waste transfer station in West Chicago two years ago. Since then, residents have been waiting to see the proposal and learn what it might mean for their community. LRS submitted their application and proposal Sept. 16.
Want to receive stories like this in your inbox every week?
Sign up for our free newsletter.

West Chicago is a majority Latino city. Activists and organizations like Immigrant Solidarity of DuPage see this plan as continuing a pattern of environmental racism, where Black and Brown communities in the Western suburbs bear the brunt of heavy industry and pollution.
Steve De La Rosa, a West Chicago resident and volunteer at ISD, told Borderless that he and the organization are trying to raise community awareness of how they can respond to the plans for a second waste transfer station.
"We have certain things that we can do to impact this transfer station. If we don't want the waste transfer station in the community, then we need to attend public meetings. We need to be present. And we need to weigh in to let the community know because these people will be the ones who vote on whether or not this passes."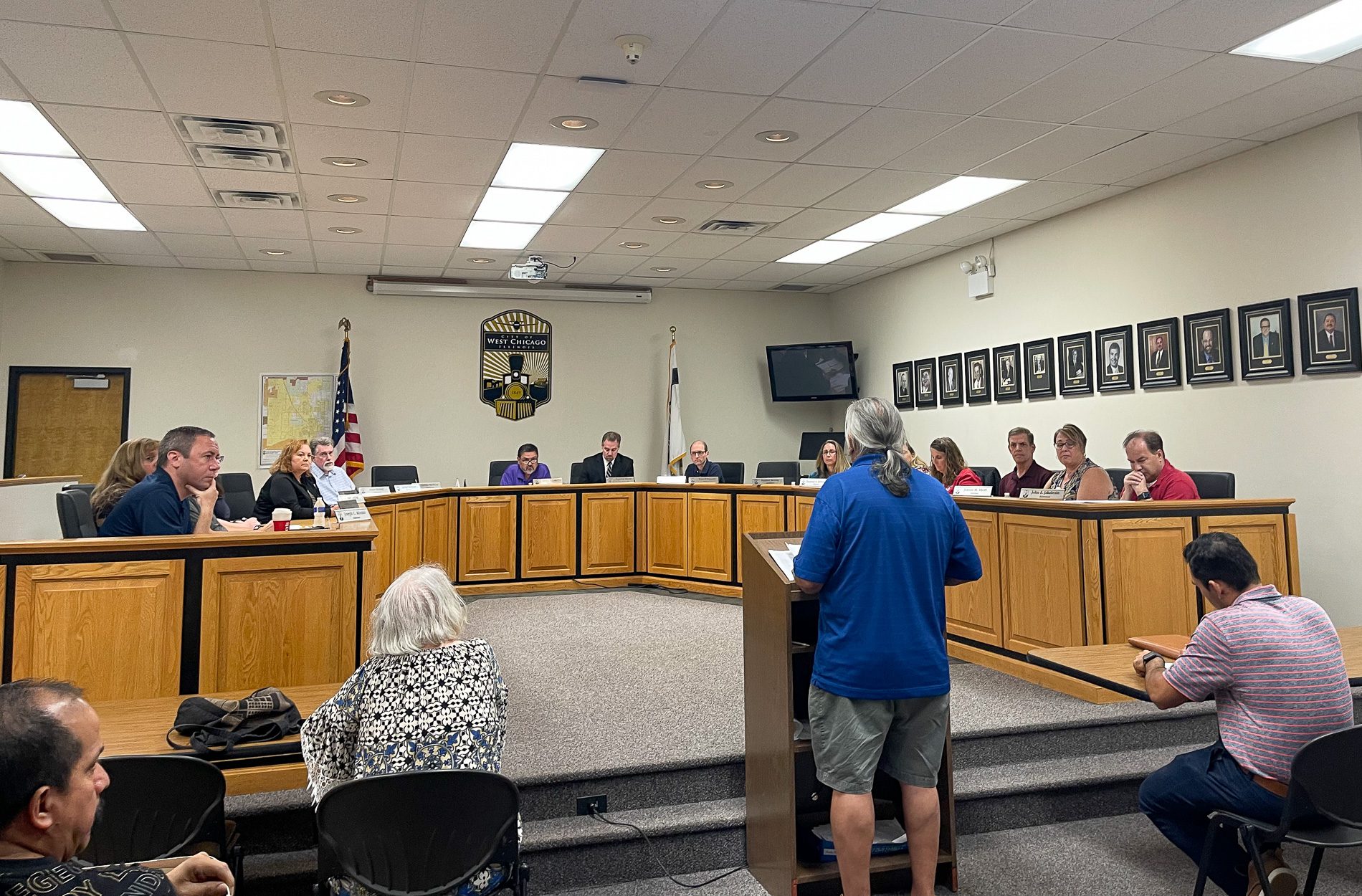 Diane Bou Khalil/Borderless Magazine
Many inhabitants are still impacted by the legacy of the Kerr-McGee factory, which for 40 years spread radioactive pollutants over the community. In an investigation earlier this year, Borderless Magazine found that even as many residents suspect their cancers and other debilitating illnesses are linked to their radiation exposure, language barriers and discrimination in West Chicago have made access to information and support challenging.
There are currently two Superfund sites in the city that are connected to this toxic waste, and groundwater treatment is still required at the original production location.
"We want to stop things now before we have a repeat history of Kerr-McGee Corporation. We have a history of contamination due to thorium in our lands. And so we don't want another catastrophe like that," said Julieta Alcántar-García, a lifelong resident of West Chicago and community health liaison for Immigrant Solidarity DuPage.
Now that LRS has submitted an application, the business is required to have at least one public hearing, per the Illinois Environmental Protection Act, where residents can give testimony and express their concerns over the plans.
The company will need to meet nine criteria in order to obtain site approval for the transfer station. Criteria range from making sure that the waste transfer site is not located in a floodplain to that the planned facility is "designed, located and proposed to be operated so that the public health, safety and welfare will be protected."
The West Chicago City Council has the final word on whether to proceed with the application, and the council members serve as judges to determine whether the nine standards have been satisfied.
A public hearing is set to take place between Dec. 15, 2022 and Jan. 14, 2023. However residents say they are unhappy with the timing of this hearing during the busy holiday period.
"We are concerned as members of the community that the hearings for the transfer station are scheduled to occur during Christmas time, a time when a large number of Mexicans and the Latino community will be visiting relatives," said De La Rosa during public comments at the city council meeting Sept. 19. "We would hope the city realizes this transfer station is going to impact all the residents. Because of that we ask that the date for this hearing be changed to January and February away from the holidays, in the interest of getting more participation from the community and making the transfer station issue more transparent."
Organizers from Immigrant Solidarity DuPage say they will continue attending the West Chicago city council awaiting further updates and opportunities to be heard.
"We just feel like we're just being targeted because of the primarily Latino community," said Alcántar-García. "It's not that good for us, it's not good for our well being or our community. And we deserve respect."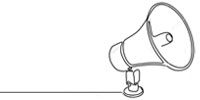 Bring power to immigrant voices!
Our work is made possible thanks to donations from people like you. Support high-quality reporting by making a tax-deductible donation today.