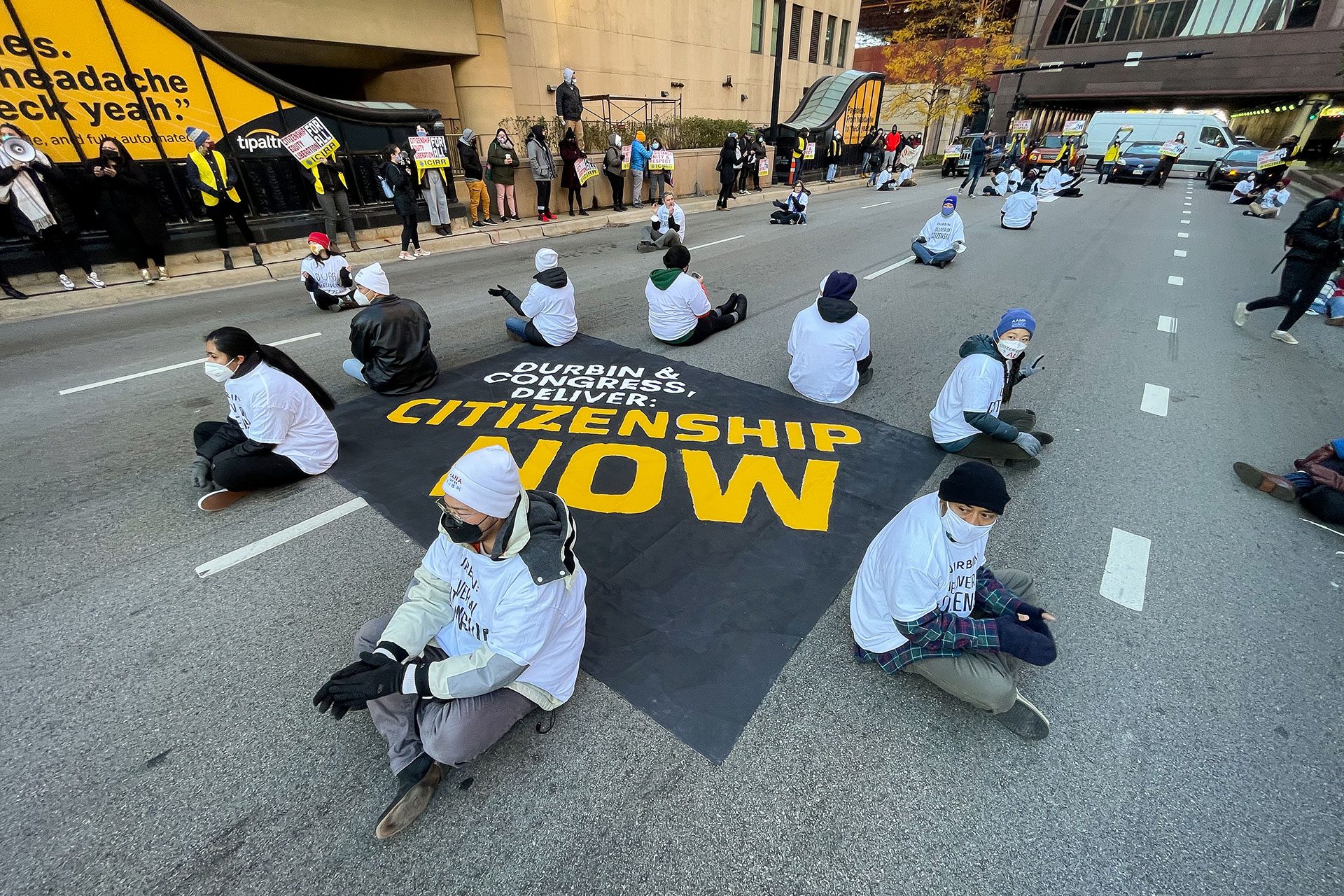 Photo courtesy of the Illinois Coalition for Immigrant and Refugee Rights
About 50 people protest outside of the Immigration and Customs Enforcement Chicago field office in downtown Chicago, Ill. on Nov. 3, 2021. Organizers were calling on Congress and Sen. Dick Durbin to deliver citizenship for all.
Protestors halted traffic as they called for a pathway to citizenship for 11 million undocumented immigrants in the U.S.
Protesters shut down part of West Ida B. Wells Drive in Chicago on Wednesday morning as they called on Congress to support a pathway to citizenship. The action comes amid debates on what should be included in the budget reconciliation package, which immigration advocates view as key to bringing sweeping changes to an immigration system burdened by backlogs and red tape. For 90 minutes, 29 protesters blocked the street outside the Immigration and Customs Enforcement's headquarters at 101 W. Ida B. Wells Dr., just a few blocks from Sen. Dick Durbin's office.
Want to receive stories like this in your inbox every week?
Sign up for our free newsletter.

Among them was Melissa Texcahua Reyes, a DACA recipient who has been in the U.S for over 26 years. Born in Mexico, Reyes came to the country as a baby and lived most of her life undocumented.
"There is a long back and forth of us waiting for the latest news to see if we are able to stay in the U.S. or not," Reyes said. "We are tired of it. Just because we are DACA recipients does not mean we have stability. There are a lot of limitations and risks to do with identification, green cards and not being able to travel outside the U.S." Reyes runs a club called "Students without Borders" at Schurz High School in Chicago's Irving Park neighborhood and said she joined the protest because many students and other people she sees regularly are undocumented or have been impacted by challenging immigration policies. There are at least 600,000 undocumented kindergarten through 12th grade students living in the United States today, according to a FWD.us estimate.
"We need citizenship," Reyes said. "This is home. We build families here."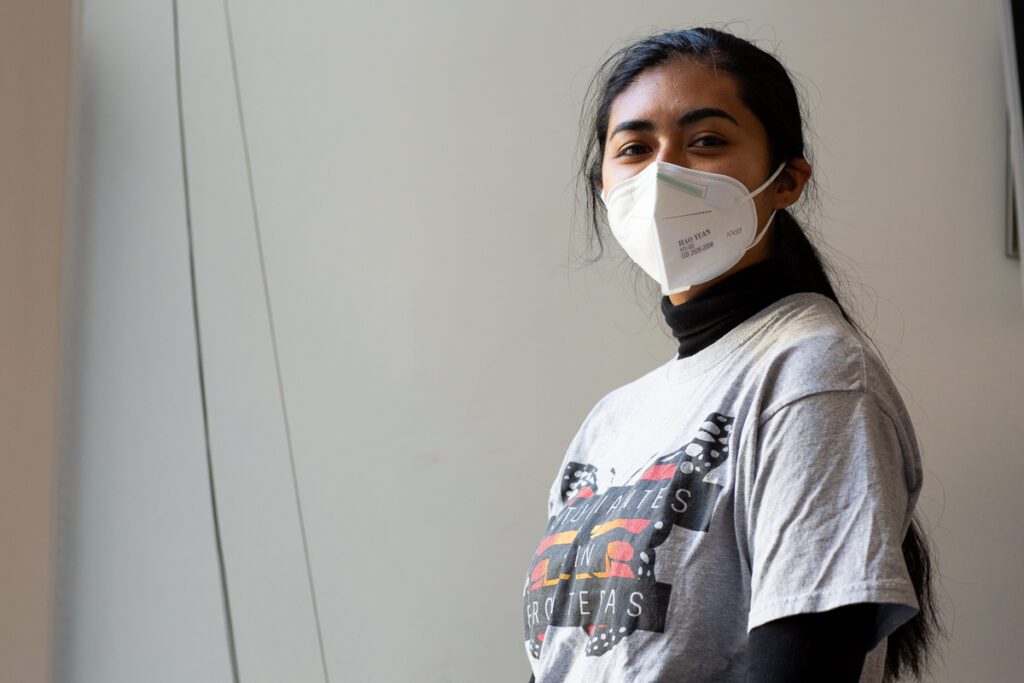 Photo by Michelle Kanaar/Borderless Magazine
In late October, the Biden administration revealed a new budget framework that includes a $100 billion allotment for immigration reform. But each piece of the bill must receive the approval of the Senate. In September, Senate Parliamentarian Elizabeth MacDonough struck down two of the Democratic party's proposals to provide a pathway to citizenship for 11 million immigrants, fueling nationwide calls for Democrats to overrule the decision.
The current legislative package, known as Build Back Better, includes provisions to allow undocumented immigrants who entered the country between Jan. 1, 1972 and Dec. 31, 2009 to qualify for permanent residency and receive green cards. This policy was last updated in 1986, which means that people who entered the U.S. without authorization before 1972 may be ineligible for lawful permanent residence. House Democrats are preparing to give some of the millions of undocumented immigrants in the U.S. five-year work authorizations as well.
On Tuesday, Durbin spoke on the Senate floor about the need to pass the Build Back Better package.
"If we want to rebuild our economy and drive its growth for years to come, we should begin by ensuring these immigrants can earn their place in the American story," Durbin said. "It's far past time to reform our immigration system."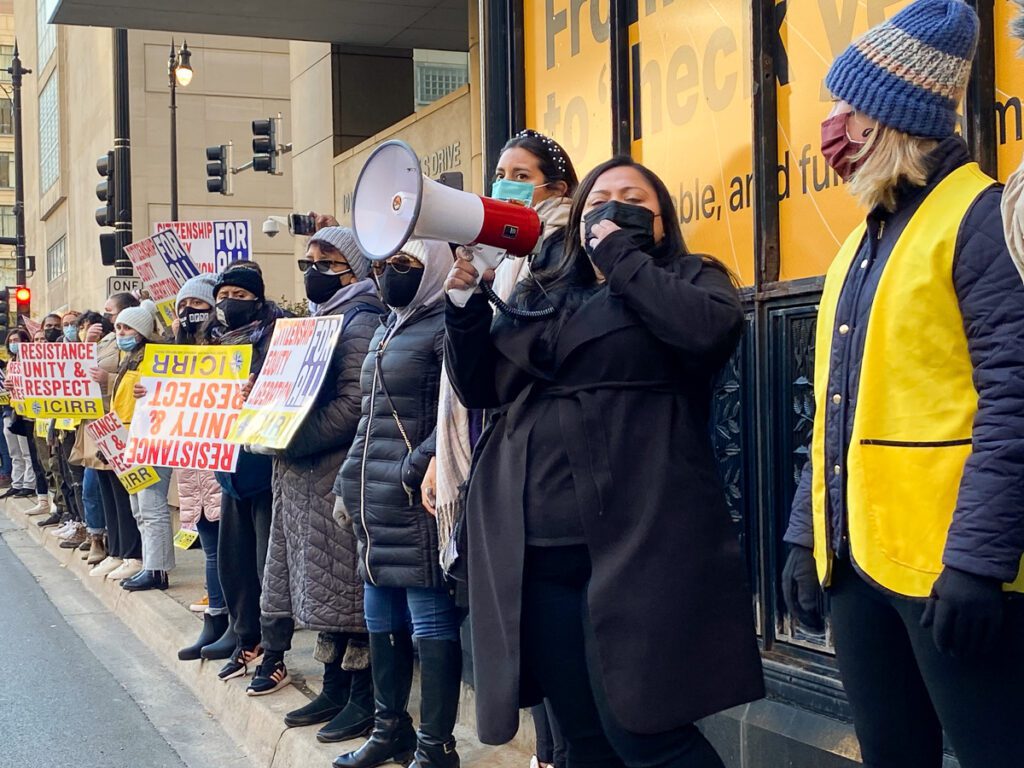 Photo courtesy of the Jewish Council on Urban Affairs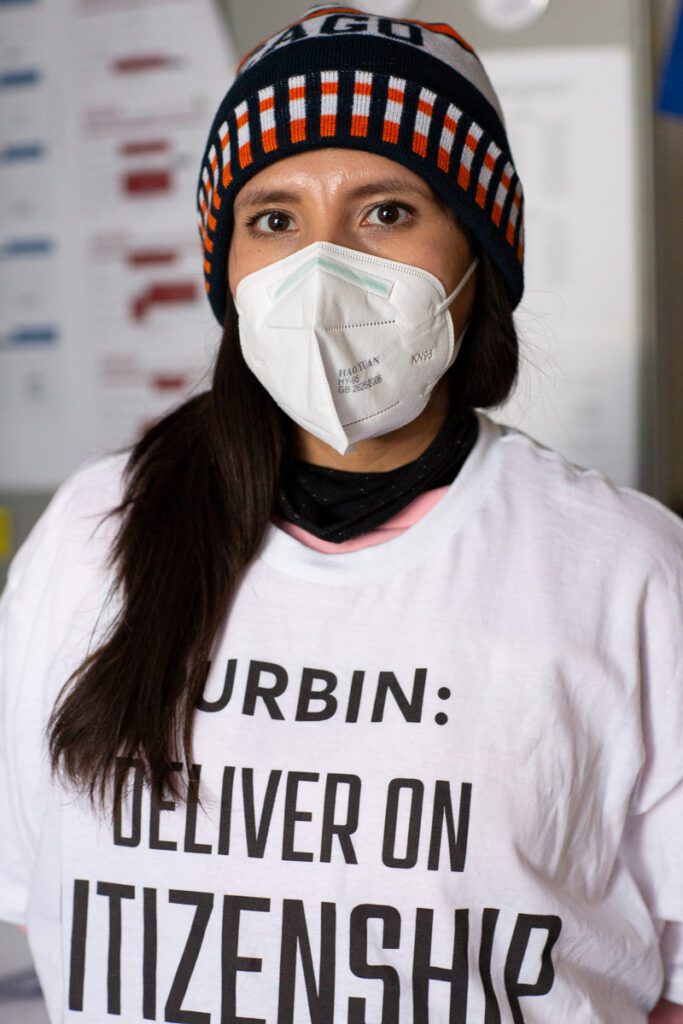 Photo by Michelle Kanaar/ Borderless Magazine
"It has been 35 years since we have been fighting for a permanent solution," Eli Cervantes, a DACA recipient who is cofounder of the Southwest Suburban Immigrant Project and vice president of ICIRR's board, told Borderless Magazine. "We are really, really close to reaching our goal but our senators and leaders are not doing the right thing. What they are presenting to us is a watered-down version of what we actually need, which is a pathway to citizenship."
Cervantes was born in Mexico and came to the U.S. at age two. She has been living in the United States for over 30 years and has been a DACA recipient since 2013.
"Parliament rejected an opportunity to legalize a million people through the registry option, also to legalize farm workers and essential workers," Cervantes said. "It is really hard to live in two-year increments knowing it can be taken away any day at any moment. There are millions of people just like me living in constant uncertainty."
Ray Rivera, a member of Asian Americans Advancing Justice | Chicago, said he was there in solidarity for those fighting for citizenship. "I come from a family of immigrants," he said. "We are all citizens. I have the privilege to put my body on the line and to get involved and help as an ally and to fight for a pathway to citizenship for 11 million undocumented immigrants."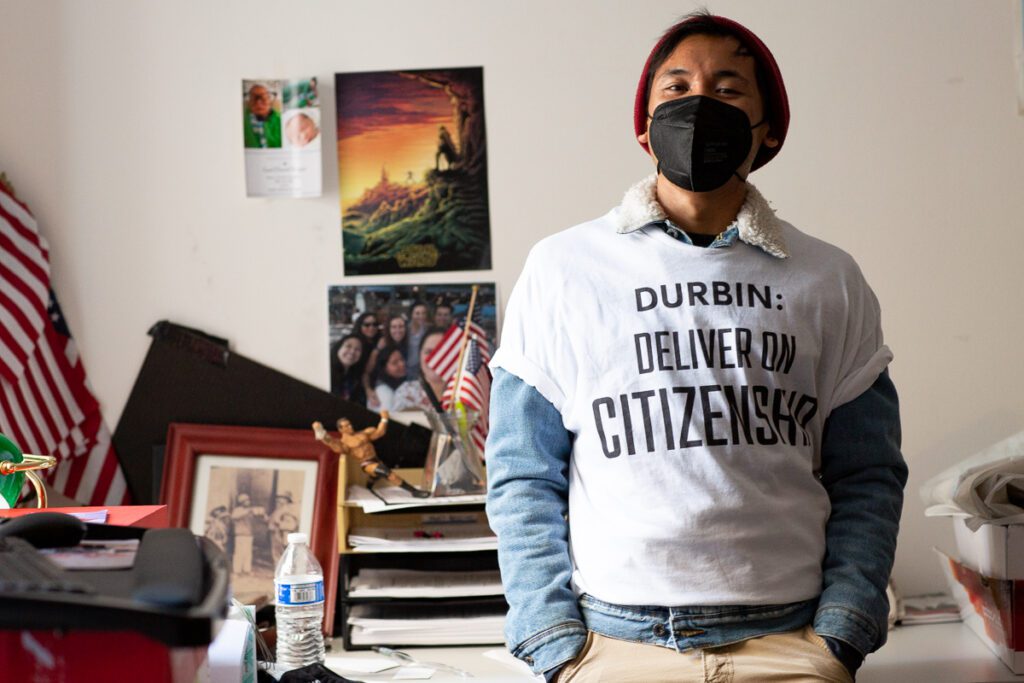 Photo by Michelle Kanaar/Borderless Magazine
"We want to do as much as we can to hold Dick Durbin accountable with the power he has," Rivera added. "Sen. Durbin is the one who is second in command, [the] second most powerful in the Senate, because he is the majority whip."
Twenty-six of the demonstrators were arrested but were let go after police ticketed them for blocking traffic, according to action organizers.
Among them was Glo Choi, an organizer with the HANA Center, which fights for social, racial and economic justice. Choi, whose family is from South Korea, is undocumented, but he risked arrest because he wanted to make his voice heard.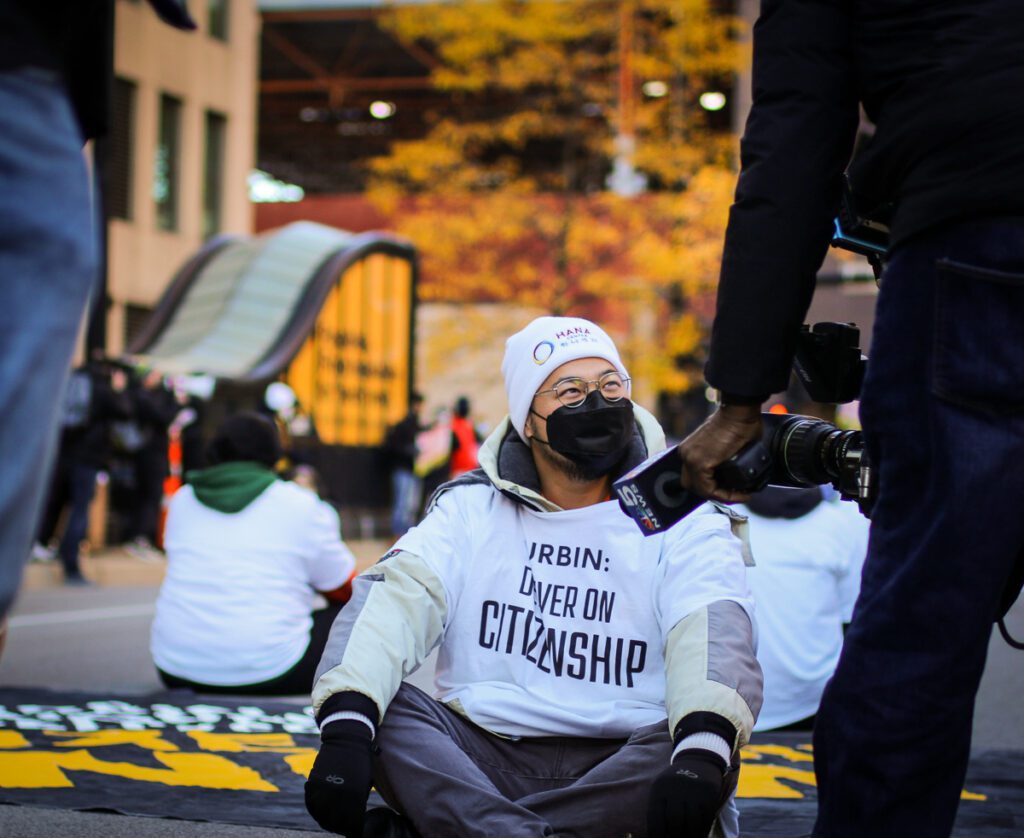 Photo courtesy of Chana Shapiro
"Time and time again politicians will say how essential we've been during the pandemic, how immigrants are a critical aspect of this nation," he said. "And yet when push comes to shove, they break, and everything they've ever promised us is just thrown away. We're sick and tired of it. We came here today to let them know that we're serious about a pathway to citizenship, and we need Democratic leadership to hold the line and to make sure that we get permanent protections and not temporary ones.
"The members of this group want nothing less than a pathway to citizenship for all 11 million undocumented people, regardless of their age, their country of origin, their history with incarceration, or more their economic contributions because we believe. It is a human right," Choi said.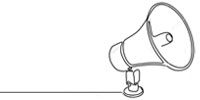 Bring power to immigrant voices!
Our work is made possible thanks to donations from people like you. Support high-quality reporting by making a tax-deductible donation today.