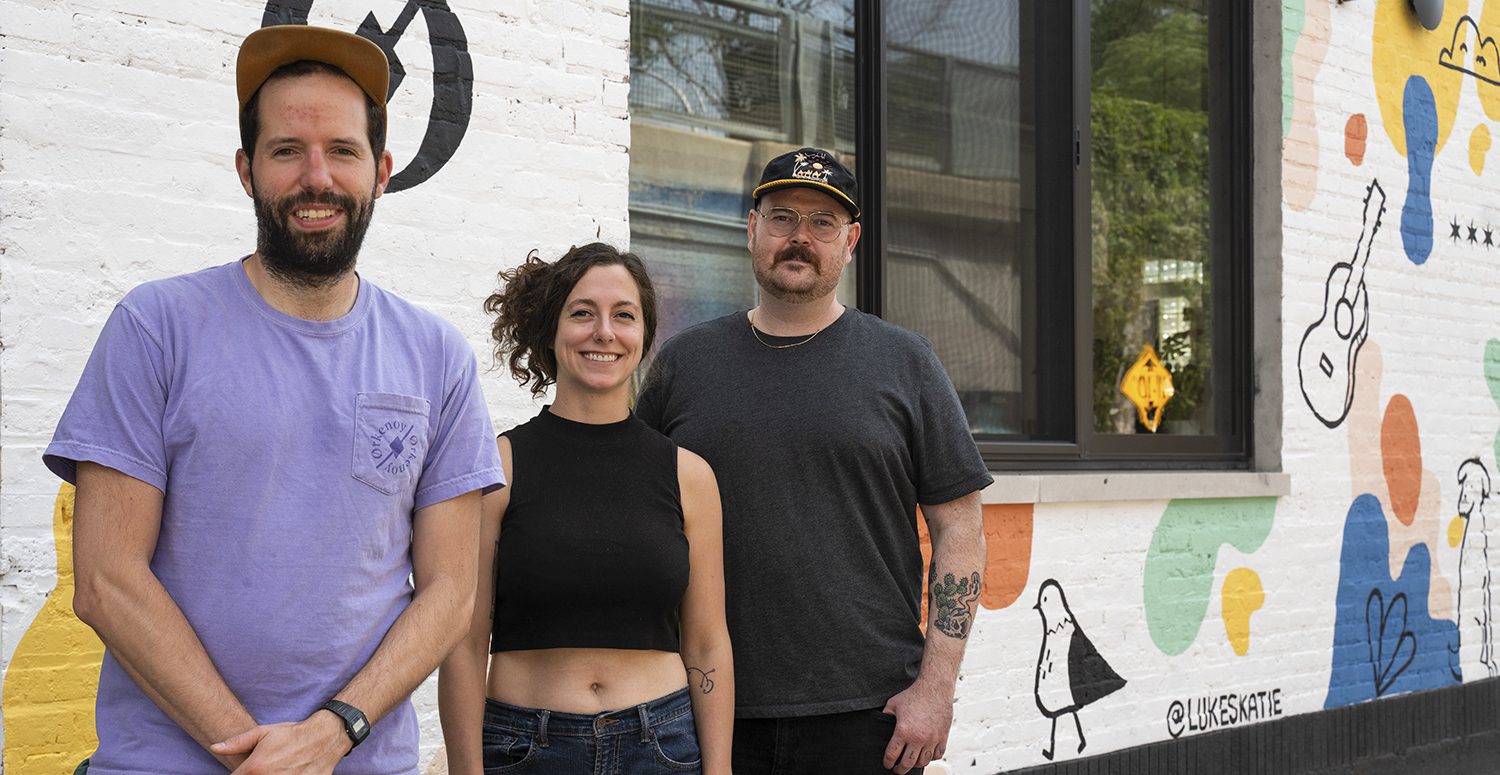 Camilla Forte
Ørkenoy co-owners Jonny Ifergan, Briana Hestad and Ryan Sanders drew on their cultural backgrounds and experiences to create their restaurants' look and menu.
Supported by grants and loans, the Nordic brewery Ørkenoy now looks to become a Humboldt Park community hub.
Ørkenoy, a trendy, Nordic-influenced restaurant, is Humboldt Park's first brewery. The restaurant is located at the Kimball Arts Center, which bills itself as a "hub of Chicago creativity," where neighborhood businesses and artists can set up shop.
Want to receive stories like this in your inbox every week?
Sign up for our free newsletter.

The restaurant reflects the varied backgrounds of co-owners Briana Hestad, Jonny Ifergan and Ryan Sanders. Hestad, whose father hails from Norway, is a specialist in Scandinavian culture and craft brewing. Ifergan, who has roots in Mexico and Morocco, is a former guitarist for local indie band The Kickback. And Sanders, originally from Palm Springs, brings experience working as a chef at various Chicago pubs.
After renovation delays due to the COVID-19 pandemic, the trio opened Ørkenoy's doors in September 2020. They credit rent forgiveness and numerous grants and loans received during the pandemic — including from the Small Business Administration, Paycheck Protection Program and Chicago Hospitality Fund — with helping keep the restaurant afloat. Ørkenoy is currently open for indoor and outdoor dining from Wednesday to Sunday. After a challenging year, it aims more than ever to be a community hub for creatives and local organizers.
As part of our series on how immigrant restaurants have survived the pandemic, Borderless Magazine spoke with Hestad and Ifergan about why they decided to open Ørkenoy and how the COVID-19 pandemic has challenged their endeavor.
Jonny Ifergan: I spent all my teens and my 20s touring all over the country and Canada. I became severely enamored and passionate about craft beer. In my downtime touring, I always ended up in a coffee shop or local craft brewery. After volunteering at breweries and home brewing for many years, I got really sucked into what was happening with beer in the Nordic and Baltic regions. And I had a desire to create a space for artists, a safe haven for artists and people of all walks of life to share their ideas.
Briana Hestad: Jonny and Ryan actually met first. They used to work together. And they were the co-founders of the space in the sense that they dreamt up this idea of building something a little bit different. And then maybe a year after that, I heard about the project. And I just sent a cold email, like, "You're trying to open a Nordic-influenced brewery, and those are the two things that I actually specialize in — beer and the Scandinavian culture. So if you need anything, please reach out. I'll be happy to just be someone working behind the bar."
They were like, "Actually, we are looking for so much more than just that. Would you like to join the team?" And I was like, "100 percent." I was looking for something that had a little more uniqueness to it but also that was a little more heavily focused on community. It combines those two passions of mine.
Camilla Forte
Ifegan: Briana's insanely talented. We'd be completely lost without her. She's even been in touch with the Midwest chapter of the Norwegian American Chamber of Commerce. And there's lots of cultural history in Humboldt Park. It was a big Scandinavian area, so it all makes sense.
Hestad: My father's from Norway, and I spent a lot of time there as a child and as an adult. I've also studied brewing in Denmark. So that is something that has always been a part of me. It was only later in life with my Ph.D. in Scandinavian studies that I was like, "I should connect these two things." I've had a love for the language and also a passion for food and beverage, beer especially.
At Ørkenoy, the open-face sandwich became that vehicle for us to introduce people to Scandinavian cuisine. You can really do lots of variations on it. For example, we've got this one deconstructed Nashville hot chicken sandwich. So it's just taking all these things from our different backgrounds and saying, "How can we re-envision the open-face sandwich as something more than that?"
We're taking cues from Scandinavian and Nordic dishes and figuring out how we can transform those into something that we can make our own. It's not totally traditional, but it's sort of a storytelling mechanism as well.
Camilla Forte
Ifergan: Inspired by Scandinavian and Mexican designs, we created a space with a welcoming and warm atmosphere. It's minimalist, but bright and fun and colorful. The neighborhood felt like an island, with all these cultures and peoples and artists in one place. So we chose the name Ørkenoy, loosely meaning "desert island" in Norwegian. That's our way of telling the story.
To name the beers, we also let customers submit pet names and pictures and stories. We were trying to create names that mean something and have an emotional connection, because stories and memories bring those characters to life. It really resonates with customers and guests. The beers are the memories of the pets, and we call them inhabitants of this desert island. When you leave, you take the experience with you. It's all very whimsical.
We're also really vocal in community work, in letting those voices that need to be heard, be heard. Let the organizations take the lead, let them be the ones that are heard. In 2020, we worked with Humboldt Park Solidarity Network to be a place where people could come and run a food drive or community pantry. We'd set up out here on the weekends, volunteer our time, as well as provide storage space.
Camilla Forte
Hestad: It was one of the smaller portions of what we would be doing for the community, were it not for the pandemic. And then, of course, hooking up with different people, artists or activists or organizations, so we can donate what we can, either through beer sales or food sales or giving them a platform. There are so many organizations based right in this area, so we thought, "We've got this beautiful space, and we'd love them to feel welcome." So that was the initial idea, and naturally, COVID has taken away in-person events and getting a lot of people together. We're moving into a time in which we will start doing events very soon.
When things closed down in the fall, unfortunately at that time, we hadn't received any grants, and we didn't have any money at all. We were living payroll check to payroll check. And we did have to let our five or so employees go. Fortunately, everybody wanted to come back to work as soon as we were able to get them back in.
And after that, loans and grants were probably the only way we would have made it through the pandemic. And our landlords have been really great to us, very forgiving. And that is not the case for everyone. We were lucky in that respect. Now we're moving forward. Every day is busier than the last. We're just one of the small success stories of the immediate post-COVID.
Camilla Forte
Ifergan: The loans were a huge help. We still had accounts receivable lingering with independent contractors, and that money really helped offset those accounts. The money ensured we had enough funds to operate during the tough winter months and to buy raw materials for the kitchen, bar and brewery. But the money has been going to payroll mostly, utilities and rent. It was tough, it was a brutal few months for us.
Hestad: Now we've been trying to figure out the best way to maneuver through our work with the community. What does it look like to actually give back to the community? Is it just donations? Is it just having a platform that they can use?
How do we also make sure that we're not just giving back to the community in the way that we're thinking the community wants. We are really asking, "What does the community need?" Does the community really need another bar? Probably not. Our next step right now is to start finding the heads of the organizations, and reaching out to the community to say, "Hey, what do you need? What do you want? What would you benefit from?"
This story was reported with help from the Metro Media Lab, a project of the Medill School at Northwestern University aimed at strengthening journalism in Chicago. It is funded by the Robert R. McCormick Foundation.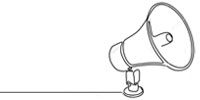 Bring power to immigrant voices!
Our work is made possible thanks to donations from people like you. Support high-quality reporting by making a tax-deductible donation today.