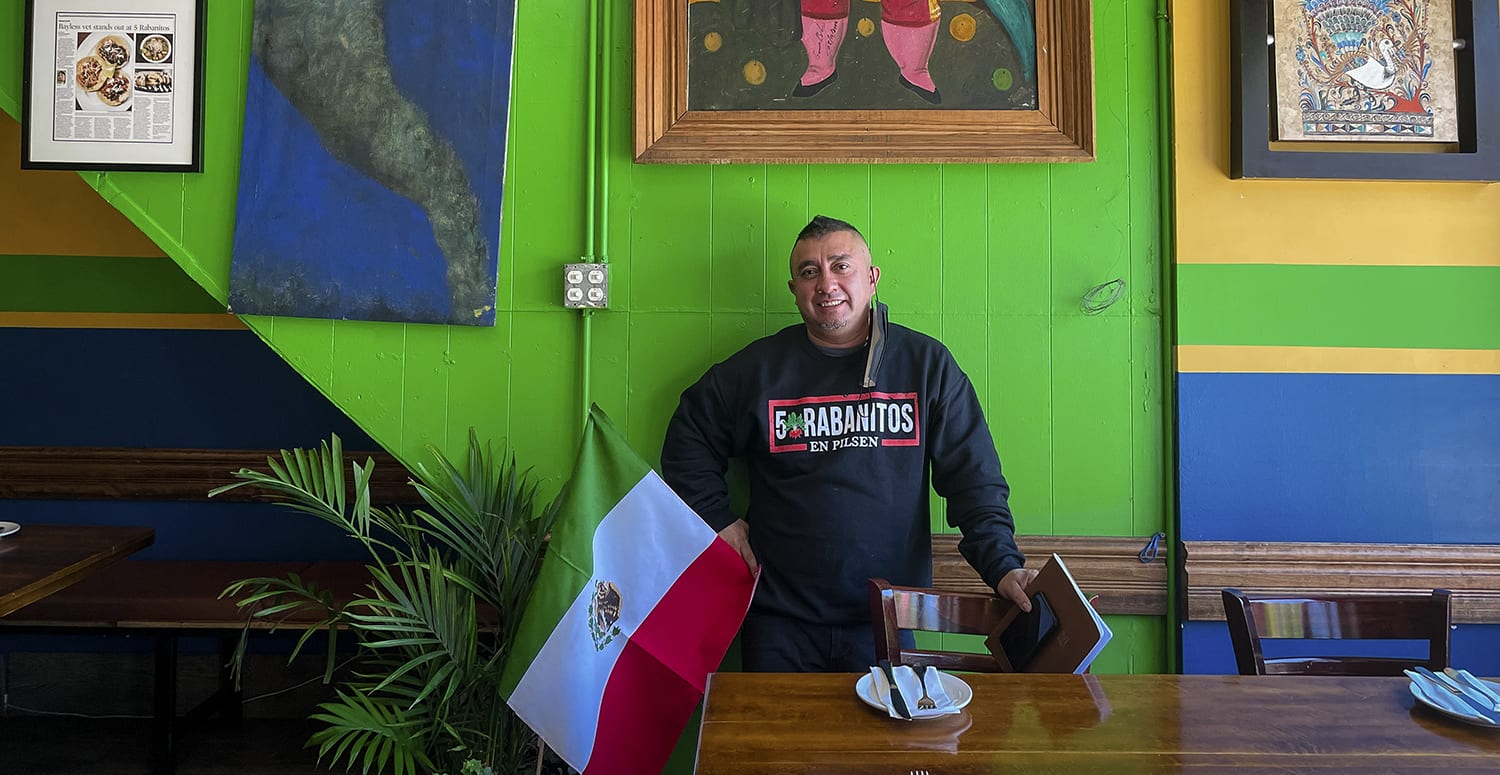 Photo by Kelly Milan for Borderless Magazine
Alfonso Sotelo, owner of 5 Rabanitos, stands next to a Mexican flag in his restaurant on May 12, 2021 in the Pilsen neighborhood of Chicago, Ill.
Chef Alfonso Sotelo's Mexican restaurant and taqueria, 5 Rabanitos, is rooted in family.
Never miss a story. Sign up for our Thursday newsletter to learn the latest about Chicago's immigrant communities.
The taqueria 5 Rabanitos sits on the corner of 18th and Wood St. in Chicago's Pilsen neighborhood. Here, this Mexican immigrant-owned restaurant fits right in. Vibrant murals of Mexican folk art brighten the storefronts, a man steams elotes in a nearby pushcart and kids run around playing. The air always smells like cooked meat, the fragrance drifting from locally owned businesses. 
In 2018, Forbes deemed Pilsen one of the top "12 Coolest Neighborhoods in the World" alongside neighborhoods in Amsterdam, Barcelona and Cape Town. The neighborhood's increasing prominence has escalated gentrifying forces that continue to displace many of the Mexican immigrant and Mexican American families who have long called the area home. A fixture of this community is 5 Rabanitos owner Alfonso Sotelo, who left his home in Ixcapuzalco, a small town in Guerrero, Mexico, when he was 15 years old in 1991. He landed in Pilsen after living in California and has long been dedicated to helping Pilsen sustain its Mexican identity while also welcoming newcomers. 
For more than two decades, Sotelo has worked in Chicago restaurants, including Frontera Grill and the now-shuttered West Town Tavern, before owning his own restaurant. But this last year was unlike any he had experienced in the restaurant industry.
Though 5 Rabanitos received support from the city during the COVID-19 pandemic through the Chicago Hospitality Grant Program, Sotelo still struggled to keep his restaurant alive. 
As part of our series on how immigrant restaurants have survived the pandemic, Sotelo told Borderless Magazine his story. 
---
It was really hard when I arrived in the United States. Nobody knew who I was. I wrote on a small piece of paper, "I looking for job." This was my first sentence — to ask for a job. If people didn't understand, I took my English-Spanish translation book and I showed the words to them.
It's just really hard, especially when you arrive very young. But I was so happy because I learned a lot from experience.
I was always thinking of the neighborhood: Pilsen. Always. Pilsen has a lot of Spanish guys, a lot of Mexican guys. There's Mexican music and a lot of different races come to listen to the music. There are a lot of murals and a lot happening. When I found this restaurant, I saw my opportunity to own my own business. I like Pilsen. I like the corner. 
I always had good communication with my family. I told them, "I'm going to open a place," and my dad said, "Why? You have a very good job." 
I said, "No, it's time to open my own place. It's time to open my wings. It's time to fly — let my imagination fly, you know? And I'm going to put 5 Rabinatos as the name."
"Why 5 Rabanitos?" my family said. 
When I was a baby, my father had a small farm. They grew rabanitos, or radishes, and we used them in the kitchen. When the rabanitos were ready to sell, my padre would say, "Guys, you have to go sell rabanitos in the small town."
I was one of five brothers. The customers would look at the five children and say, "Los rabanitos, los rabanitos." When they looked at one child, they said, "El rabanito," but when they looked at the five, "Cinco rabanitos."
So I told my dad, "It's part of my family."
And you know what? People really love it. 
During the pandemic, it has been hard. Really hard. We closed for three months, from March to June. It's hard for me, wanting to pay bills, wanting to pay insurance, wanting to pay all the utilities. 
I received the city grant. It's not much — $10,000 — but in this difficult time, a little does a lot. We applied for the Paycheck Protection Program and they gave it to us. I called in all 19 employees and said "Come, everybody," because the money is for them. All my empleados (workers), that money is for them. We don't use anything for the restaurant.
Everybody has been working for me for a long time. The cooks and the prep guys have been working with me for the last 20 years. 
That's why I say it's a family restaurant. They are part of my family.
Pilsen is part of my life. Fifty years old is not too old, and I lived for the most part in Pilsen. Right now it's too hard. But at the same time, I am really happy because we opened back up little by little, and neighbors support this place.
This story was reported with help from the Metro Media Lab, a project of the Medill School at Northwestern University aimed at strengthening journalism in Chicago. It is funded by the Robert R. McCormick Foundation. 
Our work is made possible thanks to donations from people like you. Support high-quality reporting by making a tax-deductible donation today.                                                                                                                                   
Donate