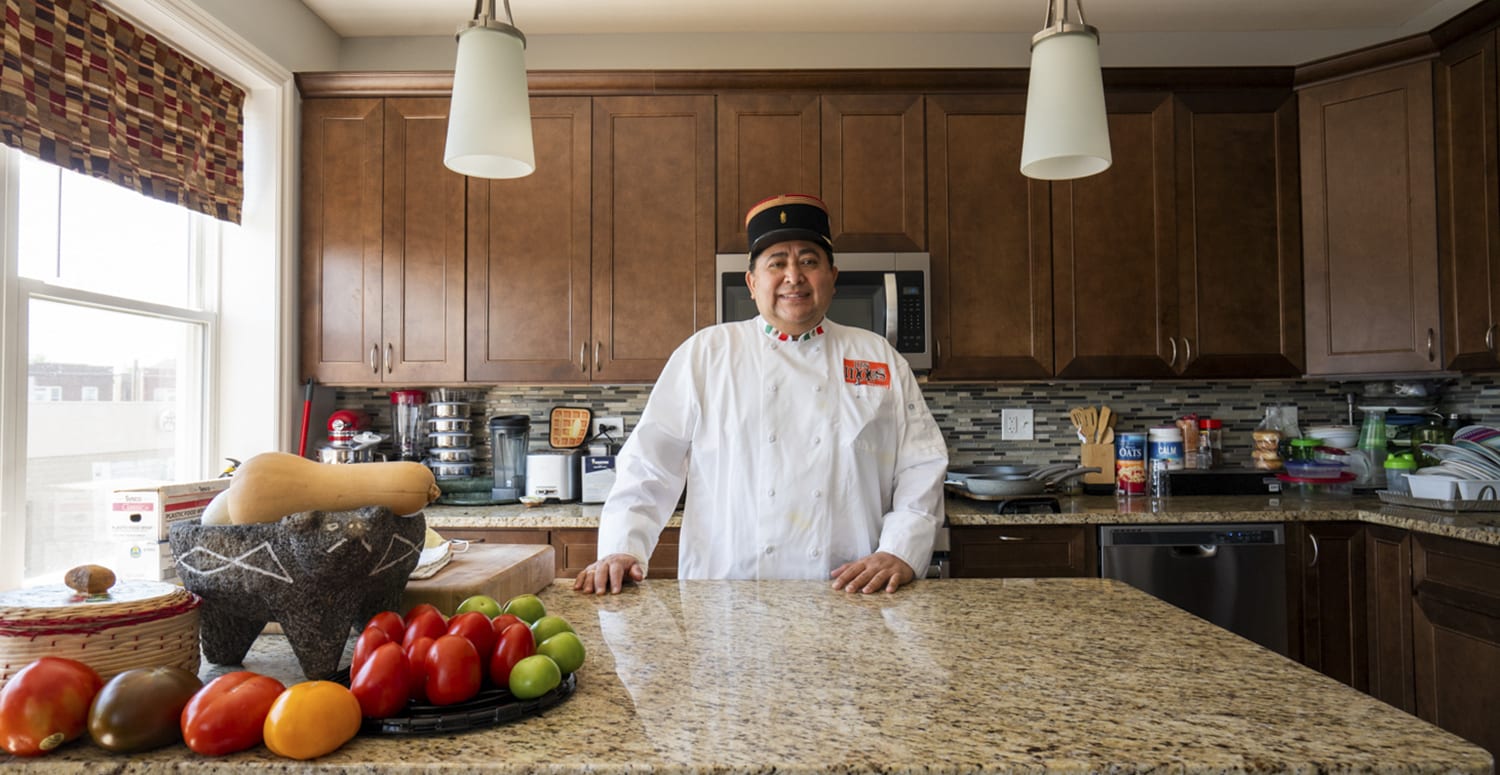 Photo by Camilla Forte/Borderless Magazine
Genoroso Bahena, partner and executive chef at Mis Moles Restaurant, in his home kitchen June 4, 2021 in Chicago, Ill.
Legendary Mexican chef Geno Bahena is dealing with long-haul COVID, staff shortages and financial strains at his mole restaurant.
Never miss a story. Sign up for our Thursday newsletter to learn the latest about Chicago's immigrant communities.
"I would help by adding the chiles, one by one," Bahena said. "We would add each of the 32 ingredients in little saucepans. Imagine that, 32 saucepans."
Bahena learned the secrets of one of Mexico's famed dishes as his grandmother had him measure each ingredient, from smoky pasilla chile to raisins, for sweetness. 
"She would tell me the purpose of each ingredient. We added bread and tortillas so the food would be more abundant, chocolate to give it more flavor," Bahena said.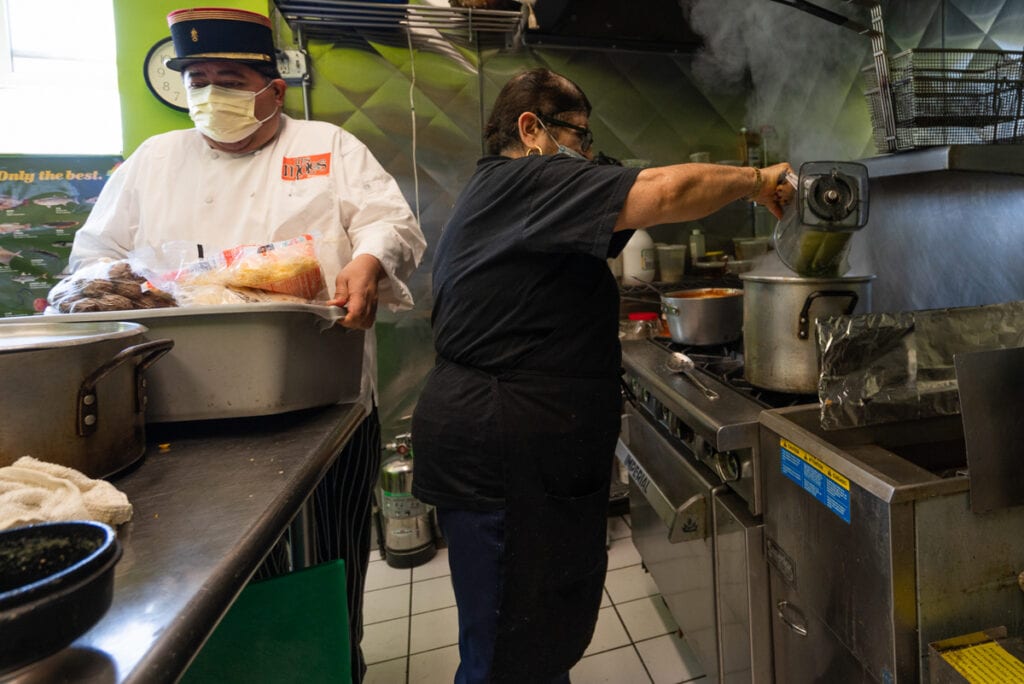 Four decades later, Bahena is a mole expert and renowned chef who has cooked for figures such as former President George W. Bush and former Mexican President Vicente Fox. He has opened, and later closed, restaurants of his own around Chicago, including Ixcapuzalco, Chilpancingo, Geno's Bar & Grill and Mi Sueño Su Realidad. 
Bahena is now a partner and executive chef at Mis Moles Restaurant in Chicago's Irving Park neighborhood. The business opened during the pandemic and, like countless others nationwide, has had to contend with changing government restrictions and a slow economy. Despite advertisements for workers posted online and outside of the restaurant, Mis Moles remains understaffed.
Bahena himself has also been struggling. He contracted COVID-19 in November and was hospitalized for nearly three weeks. To this day, he suffers from shortness of breath and fatigue while cooking and carrying food up and down the flight of stairs to the restaurant's freezer. But he has to work: He's currently the restaurant's only full-time cook. Between staffing shortages, financial woes and Bahena's long-haul COVID, Mis Moles' future is now in jeopardy.
"Elegance from the Heart of Mexico"
Bahena's fascination with cooking began in the kitchen with his grandmother, but he became fixated on it after making his very first meal during an argument with his mother. 
"I wanted to cook something, but I was already full," he said. "I had eaten mangoes and plums, but I wanted to make something and cook it myself. My mom told me, 'No, sit at the table and eat what I serve you.''' Playing the middleman, Bahena's father allowed him to cook as long as he finished every morsel. Bahena made chilaquiles and ate every bite.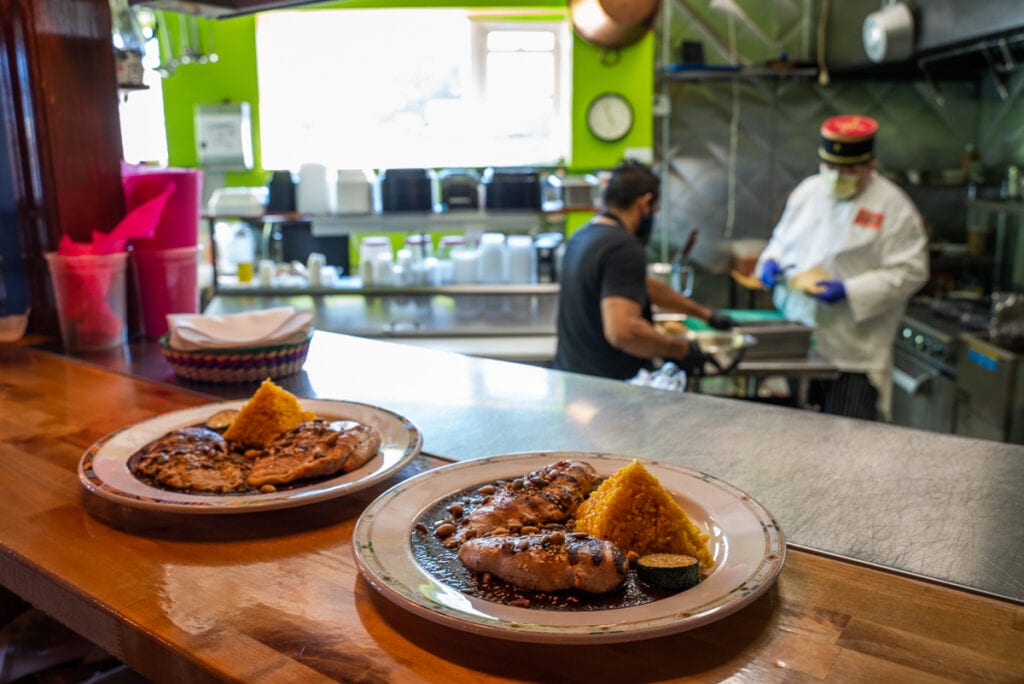 In 1982, Bahena left Mexico for Chicago, where he knew a couple of people who had worked at his father's ranch in Tepatulco. "I came when I was a teenager because I had a broken heart," he said of his breakup with his first girlfriend. "I thought it was the end of the world."
A few months after arriving in Chicago, Bahena tried to enroll in the culinary program at St. Augustine College, but he was waitlisted and had to prove himself a better cook than the other prospective students. True to form, Bahena made chicken with mole for the entrance examination. He got in. 
At the college, Bahena honed the skills he had developed alongside his grandmother, and more. After graduating, he launched a catering business whose name, A Taste of Elegance from the Heart of Mexico, encompassed the cooking style that would make him a nationwide success. At the same time, Bahena became the managing chef for Rick Bayless at his restaurants Frontera Grill and Topolobampo. Bahena later opened several restaurants, gradually selling each to move onto new ideas and businesses.
In 2020, Bahena was working in Massachusetts when he received a message from Branko Podrumedzic that would bring him back to the Midwest.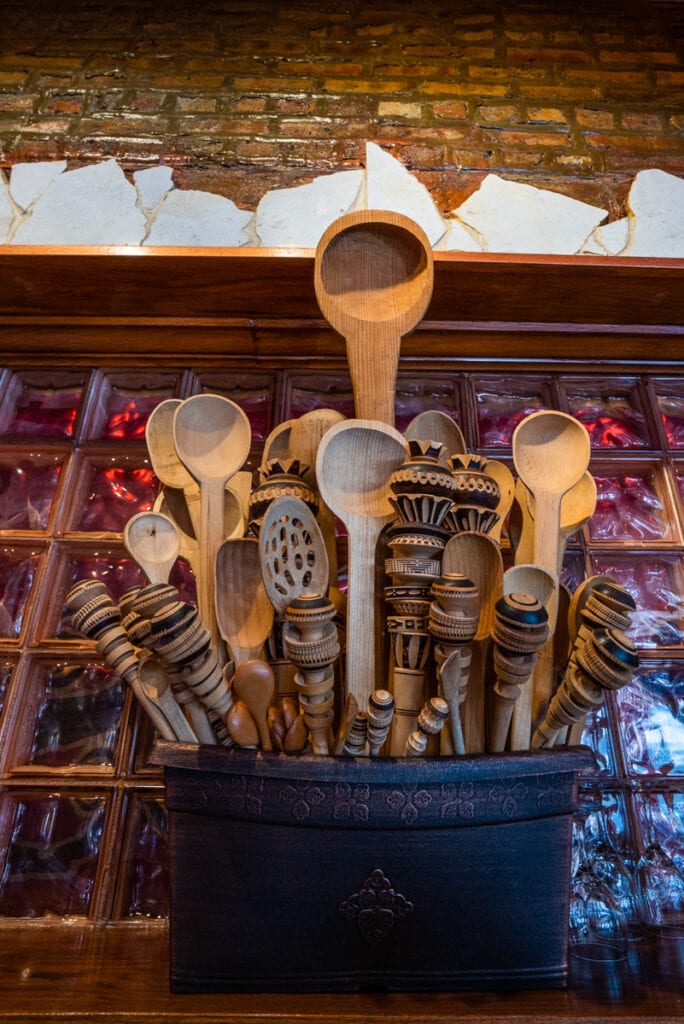 Podrumedzic, a Serbian immigrant in Chicago, was about to close Little Bucharest Bistro, his 50-year-old Eastern European restaurant that spent its final decade in Irving Park. He was ready to transform it into a new restaurant, and he needed a partner.
Podrumedzic reached out to Bahena with an offer to run the restaurant. "I wanted to retire, and then we found Geno, and I saw how he is one of the best mole chefs," he said.
Bahena took to the idea. He was ready to open another restaurant, and he wanted to be closer to his mother, who had moved to Chicago in 1992. 
Bahena decided the restaurant's focal point would be the dish that he first learned to cook alongside his grandmother decades before. The chef, who says he has traveled to every municipality in Mexico and tried each state's moles, set four of his favorite moles aside for the idea for Mis Moles' menu: negro, rojo, verde and manchamanteles (which translates to "black," "red," "green" and "tablecloth stainers"). Bahena also added regional specialties such as enchiladas, duck in a creamy chipotle sauce and cochinita pibil, a slow-roasted pork dish. 
Beyond writing the menu, Bahena redesigned Little Bucharest Bistro interior to suit Mis Moles' cuisine. He spent $50,000 to paint the restaurant walls blue and pink, buy art depicting scenes from Mexican markets and redo the floor.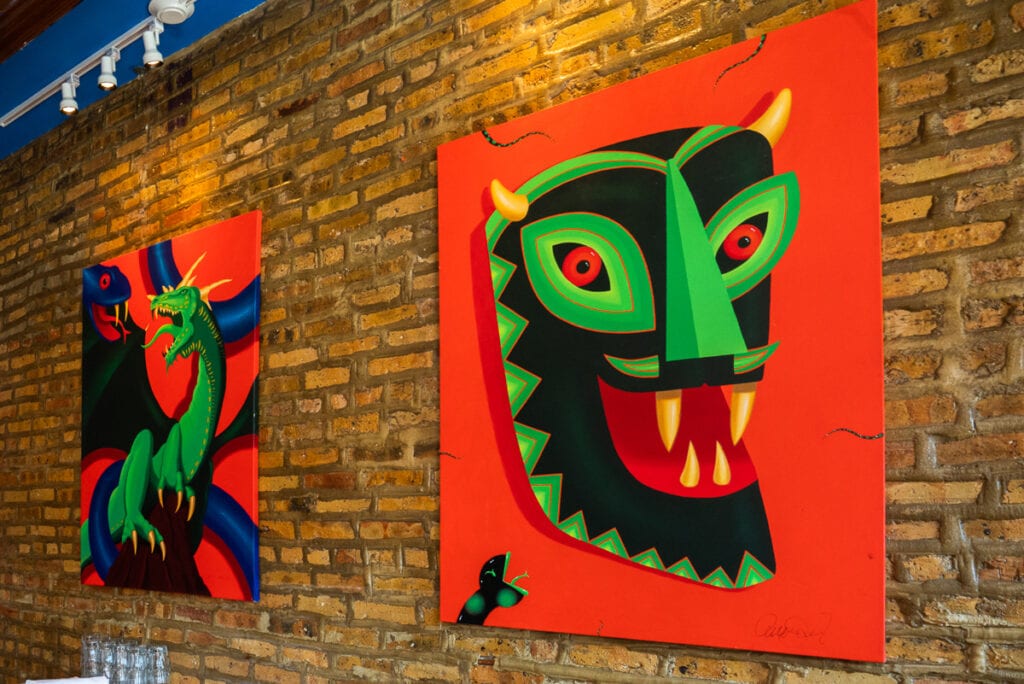 Bahena also moved into an apartment above Mis Moles, where he planned dishes for the restaurant's June 2020 opening.
In the meantime, COVID-19 was sweeping across the United States. The number of new reported cases was around 50,000 cases per day, according to the Centers for Disease Control and Prevention, and restaurants were at partial capacity. Many were closing their doors for good.
"We Don't Have the Power"
As challenging as opening a restaurant amid a pandemic may be, Mis Moles did relatively well after launching last June. It was open six days a week for patio dining, which was often full. Bahena ran the kitchen, which initially had six other cooks, including Bahena's mother Clementina Flores, herself a chef. He made every mole from scratch and oversaw many of the restaurant's operations and its 13-person staff. Few people on Yelp have given Mis Moles fewer than five stars. 
When COVID-19 spiked in the fall, the restaurant moved to takeout only. For the first time in his long career, Bahena put his restaurant on delivery platforms DoorDash and Grubhub. He quipped that the food was too elegant for takeout and delivery and bemoaned the platforms' steep fees, but he saw no other options.
The restaurant managed to stay afloat despite the challenges it faced. "The restaurant did not pay rent for only one month," said Podrumedzic, whose wife helps him run the restaurant. "Me and my wife, we're not collecting any salary. We're just working to stay open." 
Bahena applied for a subsidy through High Road Kitchens, an organization supporting ethical restaurants but was denied. 
When winter came, things only got worse.
The first day in November, Bahena was overcome with exhaustion. He didn't have enough energy to leave his bed, much less work, and his appetite was gone. A few days later, he had trouble breathing and was coughing constantly. He was diagnosed with COVID-19. As his condition worsened, he went to the hospital, where he remained for nearly three weeks, spending much of that time connected to a ventilator.
For a while, it was unclear whether Bahena would come back to the business, much less leave the hospital alive. "What saved me was the blood transfusion," he said.
In November, while Bahena was fighting for his life, the city earmarked $10 million in emergency funding to support Chicago restaurants and bars in need. Podrumedzic didn't know about the program, known as the Chicago Hospitality Grant, because he didn't know how to search for and apply for grants. 
"I'm old school," he said. "I will pay someone to help me [apply for grants]. I just don't know how to." Podrumedzic's last business had received a Paycheck Protection Program loan, but only because one of its employees applied for it on his behalf. 
By winter, with no grants and Bahena in the hospital, the family-owned business was searching for a way forward. 
"We are the bone of the economy, but we don't have the power like corporations," Podrumedzic said of small restaurants.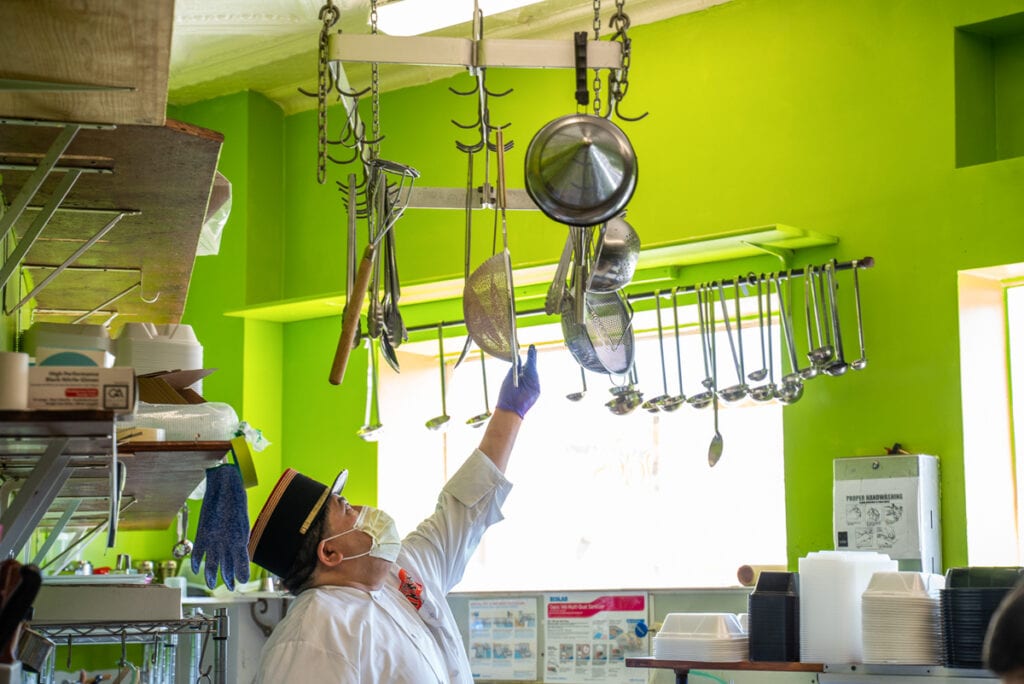 Bahena left the hospital on November 24. Any physical exertion was beyond him, and leading a restaurant kitchen seemed all but impossible. He was frustrated by his symptoms. Even his short commute to work, down one flight of stairs and then a short walk to the restaurant's front door, was a challenge.
But with nobody else to head the kitchen, he felt like he had to return, working fewer days per week and fewer hours per day. All but five of the original seven kitchen workers had left or been laid off, and those that remained weren't able to work full time. When the one remaining cook left the business to open a juice shop, the restaurant reduced its hours to dinnertime on Fridays and weekends.
Podrumedzic has struggled to hire enough workers to reopen the restaurant during the week. 
"It's not that they come to ask for us to pay $15 or $20 an hour. It's that they do not come." Podrumedzic said. 
"Obviously, we're not Lettuce Entertain You — where we can put one person only for [the grill], one person for salad," Podrumedzic said. "We are a small family-owned restaurant of immigrants, and we provide the best food [that] exists. That's why we are five stars on Yelp and Google."
But Podrumedzic says that good food and a good story haven't been enough to save the business and attract new employees. Nationwide, restaurants are facing worker shortages, partially because restaurants and their kitchens are COVID-19 hotspots. Researchers analyzing morbidity rates in California, for example, found that deaths among line cooks increased by 60% during the pandemic. While the pandemic is receding across much of the United States and more people are getting vaccinated, many restaurants are still struggling to find workers.
"The Truth Is, We Don't Know"
This April, Podrumedzic gave the restaurant six weeks to stay open unless business got better. By May, as the weather warmed and more Chicagoans received COVID-19 vaccines, things had improved marginally.
"We are really busy Friday, Saturday and Sunday," Bahena said. "But we have no help. We have the signs, and I have to put out another advertisement for a dishwasher." 
Without much-needed employees, Mis Moles can't bounce back from the pandemic. Its owners want to open for weekend brunch but cannot do so with its current five-person team.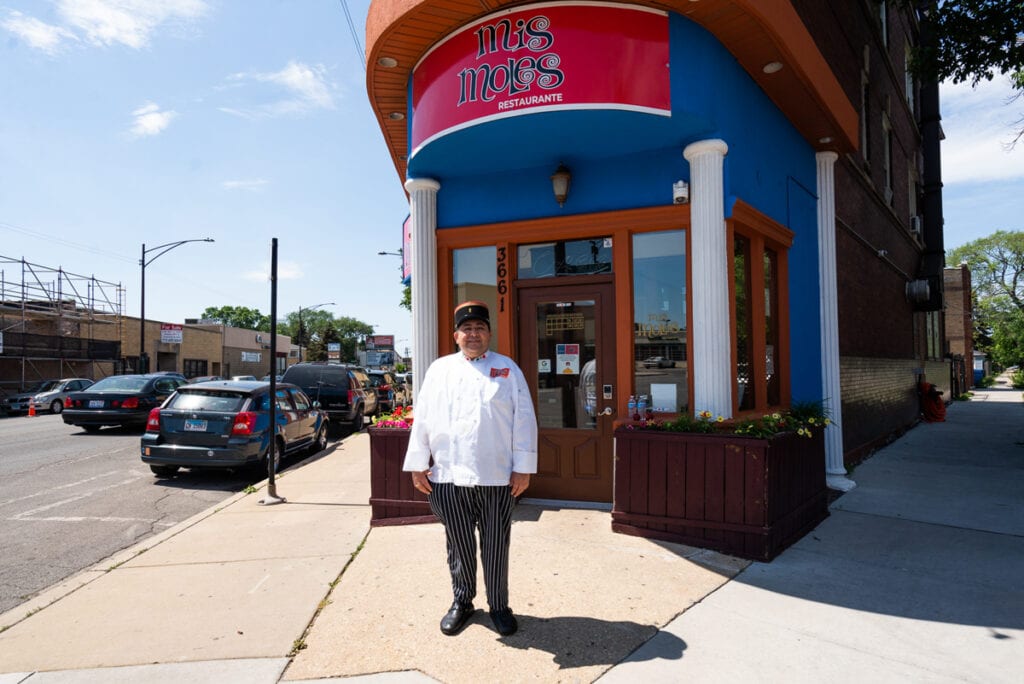 Bahena still has symptoms from COVID-19 and cannot work more than a few days a week. He has enlisted a doctor to monitor his health. "When I tell her that I'm sick, she tells me that I should thank god that I'm alive," he said.
In the meantime, he does the best to get by, coming into work Friday, Saturday and Sunday. His mother also helps out, but at 73 years old, she no longer has the energy to work full shifts or every day. 
Bahena wants the restaurant to continue, but he faces an uncertain future. "The truth is, we don't know," he said.
If the business doesn't work out, Bahena's plan B is to open another elegant Mexican restaurant. He does not feel comfortable providing details about this possible next step, fearing that somebody could steal the restaurant's menu and name.
What he did say was that the potential restaurant would focus on, and be named after, the dish he learned to cook in his youth in Tepatulco, prepared for two North American presidents and served to countless people from around the world: mole.
This story was reported as part of the Metro Media Lab, a project of the Medill School at Northwestern University aimed at strengthening journalism in Chicago. It is funded by the Robert R. McCormick Foundation.
Our work is made possible thanks to donations from people like you. Support high-quality reporting by making a donation today.                                                                                                                                                                   
Donate