Chef Arturo Barbosa was born in Guadalajara, Mexico and currently lives in Chicago's Pilsen neighborhood. He was laid off from his restaurant job during the pandemic and decided to provide family-style meals to people in his neighborhood. 
The hospitality and food service industries often rely on undocumented workers but many have nowhere to turn when they are laid off. Once these workers lose their jobs they're often shut out of federal relief programs like unemployment benefits and are hit harder by the harsh effects of the COVID-19 pandemic. But undocumented immigrants like Barbosa find ways to rise above the challenges this global health crisis has created. Barbosa spoke to Borderless Magazine about his experiences during the pandemic. 
---
I was always taught you have to work. It's one of those things that was instilled into me at a young age. I've always been working and this pandemic didn't change that. 
Even though I was out of a job I couldn't just stand still and not do anything at home. I've been working in restaurants basically all my life and I've always admired chefs for all the things that they do. 
But I wanted to do my own thing. I love that my cooking is very unique and it brings people together at a table where they can just talk.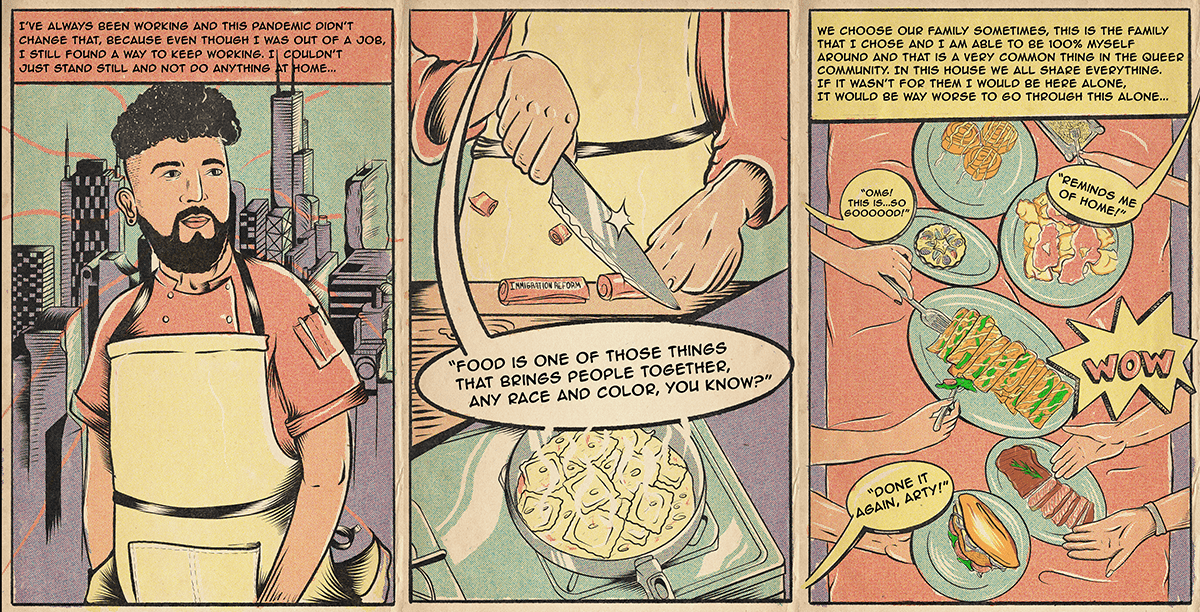 Food is one of those things that brings people together of any race or color, you know? Everybody gets along when there is food involved. So, I started working on my own thing.
I sold family-style meals people could pick up at  the beginning of the pandemic. The idea came to me because in restaurants, usually before a shift starts, everybody sits down and has a family-style meal. I thought it was a good idea to go with that idea since I was already making family style food for my roommates. 
I was cooking pasta, mole, and fried chicken — which was my best seller. My friend Yaritza Guillen hit me up to make dinner for her birthday and I accepted of course.
I've been doing outreach on Instagram when I was doing family meals and most if not all people that came to buy food were people that lived in Pilsen or Little Village or the other neighborhoods around here. 
It helped a lot — being able to confide in my community and understand that everybody is going through a tough time and everybody is trying to do their own thing to come out of this.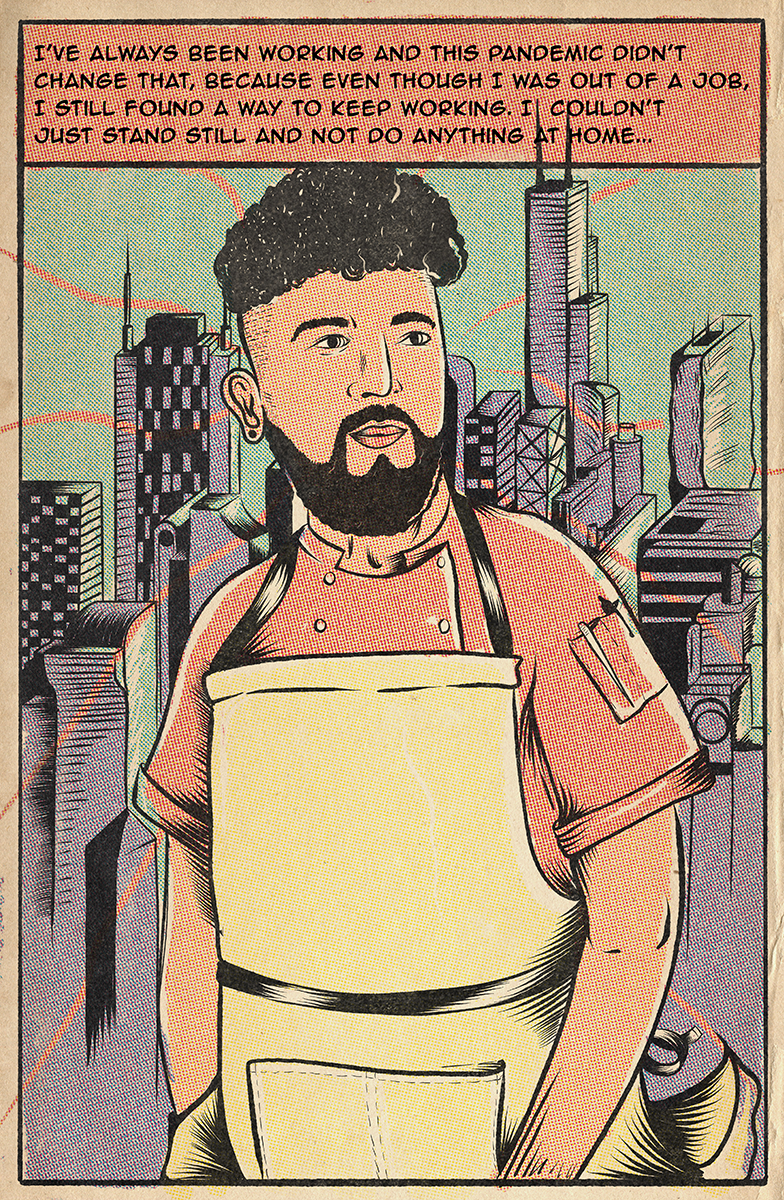 I knew that people couldn't always afford to pay for the food and I'd give food away because being able to just give food away to someone who needs it is just something instilled in me by my parents. 
Food is meant to be eaten and enjoyed and not just sold. But everybody that ordered my food tried to drop some money off for it. Yari is a big contributor in getting people to order that I wouldn't normally have contact with. She's also been a very big help and just getting my name out there and just pushing me to do what I want. And my friends and my partner, they are definitely helping a lot too.
I really like Yari and she was giving me an opportunity to do what I love, which was to make people food.
When I came to the United States I was four years old. My family moved to Waukegan, which is like an hour away north of Chicago and has a big Mexican population. I lived there till I was about 23. 
Read more
After I moved out I looked for work in the city. I had worked at a restaurant back home but all the restaurants in Waukegan are corporate like Applebee's and I grew tired of that environment. 
I wanted to move closer to this city full of great food. I wanted to be a part of it. I moved to Humboldt Park for a year and that was pretty fun while I worked at a pizza place. Then I moved to Pilsen and that's where I've been for the last four years.
Living in Pilsen really opened up my mind because of the community based activities and just a different way of thinking.  I was working at The Bristol as a cook where we did things like whole cuttings of hog. 
I learned so much from Chefs Chris Pandel and Abbie Sweeny in the two years I worked there and I definitely thank her for teaching me. Once she moved to another restaurant: The Willow Room, which is in Lincoln Park across the street from Alinea. I went with her and was her sous chef for a year. I was working about 80 to 100 hours a week, but I needed to do it.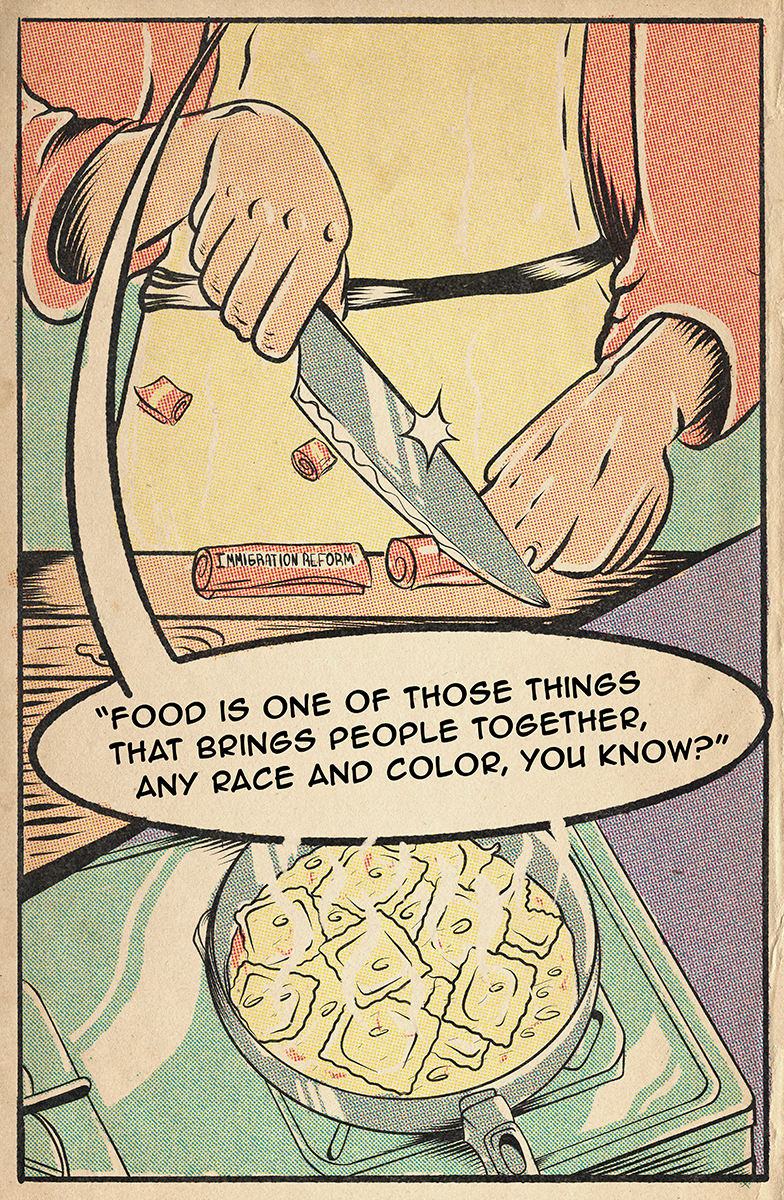 But while I was working at Willow Room I got into a car accident and because of the burdens outside of work I couldn't handle it. 
I was literally breaking down and it wasn't fair to my coworkers or Chef Abbie Sweeny so I made a choice and left The Willow Room. 
Later I started working at Dusek's in Pilsen, which is where I was working at when the pandemic hit and I lost my job due to staff cutbacks. To help pay the bills I'm working at Lao Peng You, a great dumpling house, two days out of the week.
I applied to as many emergency funds and grants as I could. I need the support for sure. I applied for the National Restaurant Association one at the beginning. And then I applied for the Illinois Culinary Education Project and got that. Then Dusek's itself got a GoFundMe that they were doing, they did two rounds of that fund. So I was definitely applying for help because I needed it, because I couldn't get unemployment. I mean I have money saved up and everything but I didn't know how long the pandemic was going to last. 
Being a gay and undocumented Mexican man from a very old school Mexican family, I have still yet to fully come out to my parents. My sisters know and everybody here in the city knows. I don't try hiding here. This is the family that I chose and I was able to 100 percent be myself around them. 
That is a very common thing in the queer community — having a family that raised you but also having a chosen family that will support and won't judge you. I think it's very important to have people that will care for you and will always be there even in the darkest times. 
Being both queer while being undocumented makes life harder. It's hard to just be myself and be successful in this world in my own way. 
I feel like being undocumented it's like one of those things where there is certain adversities that happen to us all the time. And even though it's hard we still find a way to be successful and be like the people that we want to be. 
In the future I would really love to just have my own restaurant or a food truck where I can make my food. I want to show the world that this is what I can do. This is what I can offer. I know restaurants are very expensive and they aren't always successful. But I want to have a place where I can make people happy by giving them my food. 
This story is part of the Instilled Resilience series by CatchLight Local Fellow Brian Herrera. The project illustrates stories of successes, challenges and resilience during the COVID-19 public health crisis as shared by members of the undocumented immigrant community in Chicago, Illinois. It was produced in partnership with CatchLight Local and the Institute for Nonprofit News.
The stories are part of our series, Mi barrio me respalda [My neighborhood has my back], a monthlong bilingual series reported by, for, and with Latinx Chicagoans.
Our work is made possible thanks to donations from people like you. Support high-quality reporting by making a tax-deductible donation today.                                                                                                                                   
Donate