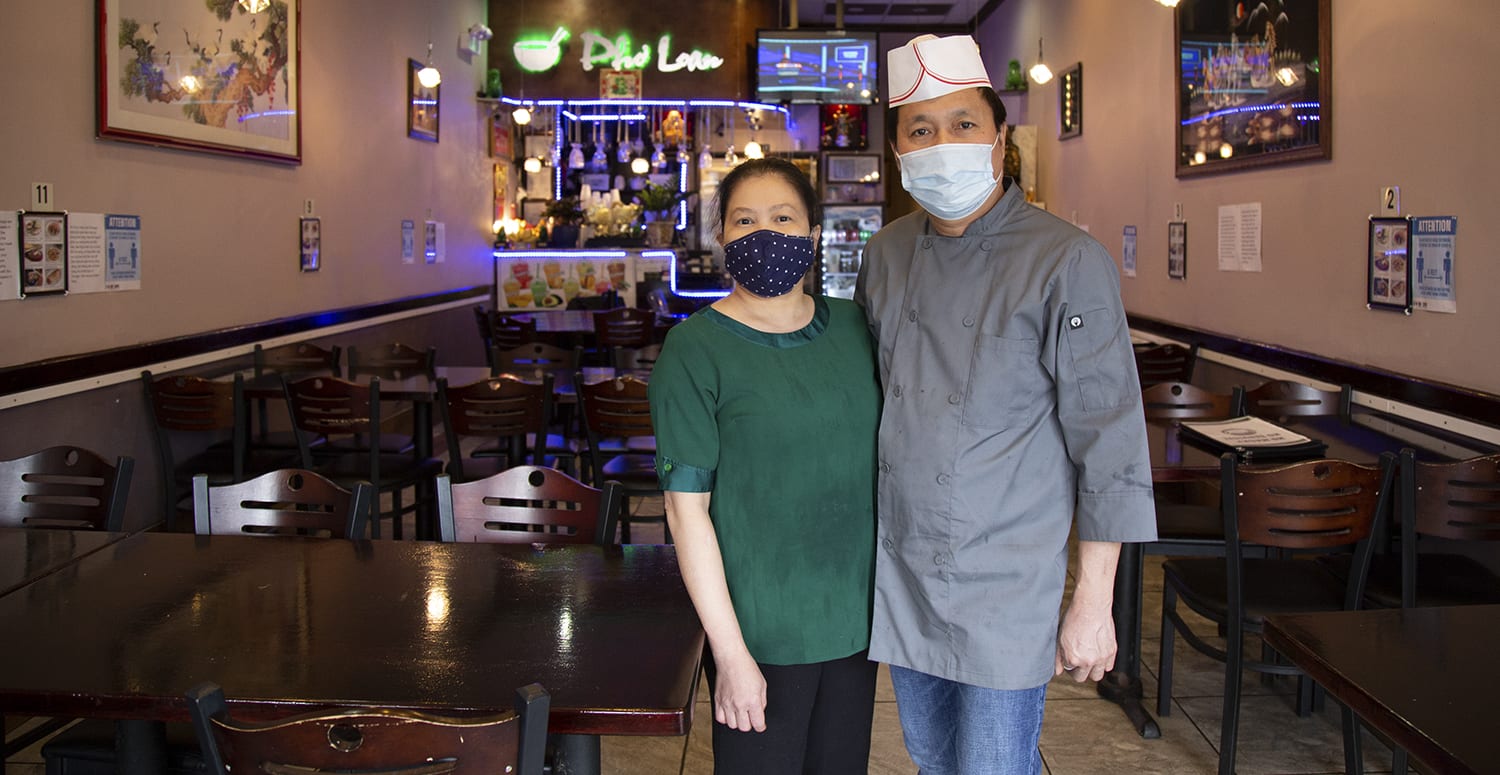 Photo by Woojae Julia Song for Block Club Chicago/CatchLight Local Chicago
Loan Thị Thu Nguyễn and Quang Minh Lê, the owners of Phơ Loan restaurant, pose for a portrait inside their restaurant on March 12.
La orden de quedarse en casa y las reglas de capacidad reducida presentadas durante la pandemia del COVID-19, son solo algunas de las batallas que enfrentan propietarios de negocios como Quang Minh Lê y LoanTh'Thu Nguyễn, dueños del restaurante Phở Loan.
UPTOWN — Steps away from the Argyle L station, Loan Thị Thu Nguyễn and Quang Minh Lê keep themselves busy during a mid-afternoon lull at Phở Loan restaurant.
While Chef Nguyễn prepares a tray of morning glory stems, her husband Quang Minh Lê packs and places takeout orders on a table by the front door. The couple and one employee alternate between working and grabbing bites of their late lunch.
The sound of a passing Red Line train interrupts the quiet.
"Because of the construction and the pandemic, there's less pedestrians and a lot of sadness," said Lê in Vietnamese.
Entering 2020, the couple hoped to find some firmer footing during their sixth year as restaurateurs. Business was picking up and, for the time being, construction outside their doorstep had stopped.
But the pandemic upended those goals. Over the last year, Phở Loan has lost about 60 percent of its business. Without any patio seating, the small Argyle spot subsisted mostly on take-out orders and, since January, limited indoor dining.
Though they hope for business to return as the pandemic situation improves, Nguyễn and Lê worry about the long-term future of their restaurant.
Just starting to recover from the pandemic's impacts, Phở Loan's owners are now bracing themselves for the massive Red Line overhaul project that includes construction on a new Argyle station in May. Asia on Argyle's business owners and organizers, who have long faced Uptown's rising business costs and development, have worked to bring their community through overlapping challenges over the past year.
"We're in great need of assistance from the government," said Lê, "I don't know what future lies ahead."
Phở Loan is one of dozens of businesses along a commercial district of West Argyle Street in Uptown. Most are Southeast and East Asian food businesses, from restaurants and grocery stores to bakeries and bubble tea stores. A slew of other, mostly smaller shops including plant stores, a coffee shop, dry cleaners, pharmacy and community organizations also pack the area.
While Le and Nguyễn have suffered the impacts of the pandemic and the environment more severely due to their restaurant's location and size, Tam Van Nguyễn, a longtime organizer in the Vietnamese community, said their experiences reflect those of many business owners in Argyle.
"At least 80 percent of the business people have difficulties with the situation. [There are] three events: streetscaping, COVID-19, now, CTA development," said Tam Van Nguyễn, who currently works with the Chinese Mutual Aid Association, a social service agency on Argyle that serves low-income immigrant and refugee communities throughout Chicago.
"They try to survive because they don't have any choice," he said.
Before 2020, Tam Van Nguyễn said, business owners in the area already faced financial challenges and disruption from construction and rising rents. Since the pandemic, nine businesses in the Argyle corridor have closed, according to community group Celebrate Argyle.
Business owners of color have reported pandemic-related troubles at a greater rate than their white counterparts. Asian American and Pacific Islander business owners reported the highest likelihood of closing their business permanently due to the pandemic's impacts, according to a January 2021 poll by the Small Business Majority. Over half of the AAPI entrepreneurs surveyed also reported difficulty paying rent or mortgages.
Relief programs meant to help marginalized business owners survive have fallen short of their goal. The federal Paycheck Protection Program failed business owners of color, numbers show. In Illinois, the state awarded 55 percent of Business Interruption Grant funding to white business owners, compared to 6 percent to Black business owners, 0.4 percent to indigenous business owners, 7 percent to Latinx business owners and 17 percent to AAPI business owners.
Asian-owned businesses in the Argyle area have faced significantly low revenues amid a documented surge in racist violence against Asians and Asian Americans over the past year.
"We come in, open the restaurant, hope for a busy day to serve our customers." said Lê. "If it's a rainy day, a bad day. we just have to recoup, move on."
The owners of Phở Loan and the area's other Asian immigrant restaurateurs have persisted through a tumultuous year. But they and community liaisons say the government needs to provide more financial resources and address the specific needs of the community in the programs they do offer, to ensure that the area's business owners can weather longer-term challenges beyond the pandemic.
Nguyễn and Lê adapted their operation once the pandemic started. They had to lay off four of their six workers but have stayed open from 9 a.m. to 9 p.m. six days a week, posting more actively on their Facebook page and even starting a YouTube channel where Lê showcases his cooking and family meals.
They've kept their food consistent, continuing to simmer their phở broth in industrial-sized stockpots that occupy their own section in the kitchen. The menu, which uses recipes passed down from Nguyễn's grandparents, also includes specialties like bún bò Huế, a spicy beef and pork noodle soup and Louisiana-style seafood boils.
Like many other restaurants, they offer delivery through Grubhub, Uber Eats and DoorDash. Recently, they also began offering in-house delivery to avoid steep third-party platform fees.
Still, these efforts couldn't fill the hole left by lost revenue.
"Expenses are a major thing," said Nguyễn in Vietnamese. Though the $6,297 Paycheck Protection Program loan and $20,000 Business Interruption Grant they received did help, she said, the one-time funds couldn't cover regular costs like rent, utilities, labor and ingredients for long.
Many small business owners who are Vietnamese immigrants face specific challenges, said Jerry Trần, a certified public accountant who has worked with Vietnamese entrepreneurs throughout Illinois from his Uptown office for almost 20 years.
Trần and his employees spent much of the past year helping the owners of nail salons throughout the suburbs and food businesses on Argyle through relief program applications.
Part of Trần's work with clients, who often face logistical challenges due to language differences, is guiding them through legal jargon and technical details in applications. He and his coworkers have also found themselves mediating with banks to expedite approval processes for his clients.
Phở Loan's former employees are getting by, said Lê, but also need support. Although they check in on each other, he said, the couple doesn't ask their former employees or other business owners too much about personal financial matters. They respect each other's privacy, he said.
"Not a lot of people, us or Americans, want to share our financial struggle with anyone else," said Lê. "We only ask, how are you doing, how's your health?"
Nguyễn and Le spent years working as nail technicians in Joliet and Plainfield and saving for their longtime goal of opening a restaurant in Chicago. In 2013, they made their long-awaited move to Uptown, determined to share their passion for cooking in a rich culinary hub.
"We like belonging to a Vietnamese community," said Loan Thị Thu Nguyễn. "Argyle was one of the busiest streets within the Vietnamese community."
Tam Van Nguyễn said he and business owners, who have gotten to know each other over the years, treat each other "like family."
"They call me Chú Tam, Uncle Tam," he said. "Lucky for me, my house is nearby, whenever they need me I just go there and meet them."
Chinese and Southeast Asian immigrant communities including Vietnamese, Cambodian, Laotian and Thai folks began moving into the neighborhood in the 1960s, building a growing community and business presence around Argyle. Several nonprofit organizations that serve immigrants and refugees citywide are headquartered there.
In the 1990s, the area's emptier streets began filling up with new businesses, said Tam Van Nguyễn. Community members and local government officials invested heavily in local development, successfully attracting more businesses and visitors.
Growing up, Patricia Nguyễn remembers playing inside local stores while her dad, Tam Van Nguyễn, assisted the owners with everything from figuring out business licenses to liaising with the chamber of commerce.
"There were a lot of restaurants, a lot of people in the streets, a lot of summer festivals. It was diverse in so many different ways," said Patricia Nguyễn, co-founder of Axis Lab, a community organization that fosters ethical development in the Argyle area for immigrants and refugee communities through art and public events.
But in recent years, Tam Van Nguyễn said, development has changed the neighborhood too quickly. "We have a good thing and a bad thing," he said. "The Argyle area developed too much."
New apartment complexes built by large companies have replaced older residential buildings and even a synagogue, said Tam Van Nguyễn, and the rising housing prices have displaced existing residents.
Housing prices in Uptown increased by almost 30 percent between April 2011 and April 2021, according to Zillow.
Soon after Phở Loan opened in 2014, the city announced a $3 million dollar streetscaping project to turn Asia on Argyle into Chicago's first shared street, seeking to make it a more pedestrian-friendly destination.
The construction began in summer 2015 and lasted for over a year. It also included upgrades to the Argyle Red Line station. Construction sometimes caused power and water stoppages at the restaurant, Lê said.
"They were blocking the whole street. There were no cars passing by." said Lê. "It was very, very dusty and difficult for people to walk by."
As a result, he says, the restaurant lost a lot of business.
"We had to take personal loans to keep our business running. And we haven't paid off that debt until now."
Following several other construction projects, the Red Line construction may push out existing local businesses who are just recovering from COVID's impacts, said Tam Van Nguyễn.
Loan Thị Thu Nguyễn said she has emailed city officials and CTA six times about issues over the years but has not heard back, except for occasional construction updates.
"The next CTA construction project is for the next five years. So it's unknown that we will last," said Le. "Is there any possible assistance that will help us in any way?"
The business community wishes local officials would make more of an effort to listen to local business owners' opinions on what changes they want the government to invest in, said Trần, who also works with the Vietnamese Chamber of Commerce.
"There's no serious consideration, input from the local business [about] how to make Argyle look nicer and [more] safe. With the train stop going through the next couple years, it will hurt more. "
"Argyle is not as it used to be," said Trần, noting that the area has been less busy and that some older businesses "are slowly, slowly becoming a dinosaur." The area needs more parking spots and "trendier" new businesses to attract more visitors like Chinatown, he said.
City officials have acknowledged that the multi-year shutdown will take a toll on nearby businesses, and the CTA is providing marketing support through the Open for Business campaign.
The efforts, which encourage customers to spend local and business owners to advertise that they will stay open, do not include direct financial support for impacted businesses. And so far, the materials are available in English only.
Community groups and government partnerships aim to reverse some of the economic pain local Asian-owned businesses are suffering during the pandemic.
Chinese Mutual Aid Association opened a small business development center last July, as part of the state's endeavor to boost economic development resources in immigrant communities. It is the only such center statewide that is located in an Asian American business community, Sylvia Garcia, acting director of the Illinois Department of Commerce and Economic Opportunity, said at a press conference this year.
Another new effort to support the local business district is called Celebrate Argyle. Formed by Southeast Asian American community organizers with ties to Uptown, the campaign seeks to boost local businesses through social media, events and even cash grants.
Phở Loan is one of five Argyle businesses whose story will be featured in a Celebrate Argyle video. The restaurant also received a small cash grant for participating.
"As a business owner, you always hope for something that will bring the area back," said Trần. "It's a namesake for the Vietnamese locals here in Chicago, but we have to do something about it. Just to make sure it's alive and viable for the next generation."
As the pandemic's grip on Chicago begins to loosen, business is slowly picking up. Since Nguyễn and Lê are working with fewer part-time workers, they're busy prepping and cooking when they don't have customers to tend to. On Thursdays, the one day that the restaurant closes, they shop for the week's ingredients and catch a breath.
For now, the couple await the vaccine, perfect their operation and greet every customer who opens their door. They hope to maintain their livelihood in their neighborhood, well beyond the pandemic's end.
"We put a lot of our savings into this restaurant. We have faced a lot of difficulties along the way. The construction, the pandemic," said Nguyễn. "But my focus is, I will strive to keep my restaurant and my dishes for the Vietnamese community."
Phở Loan, located at 1114 W. Argyle St. is open daily from 9 a.m. to 9 p.m. and closed Thursday. Find the menu and order online on the website or through most online ordering platforms. 
Joe Ward contributed to this story.
This story is part of a series on how immigrant business owners and workers of the bustling restaurant scene in Uptown have navigated the COVID-19 pandemic. It was produced in partnership with CatchLight Local and the Institute for Nonprofit News.
Our work is made possible thanks to donations from people like you. Support high-quality reporting by making a tax-deductible donation today.                                                                                                                                   
Donate