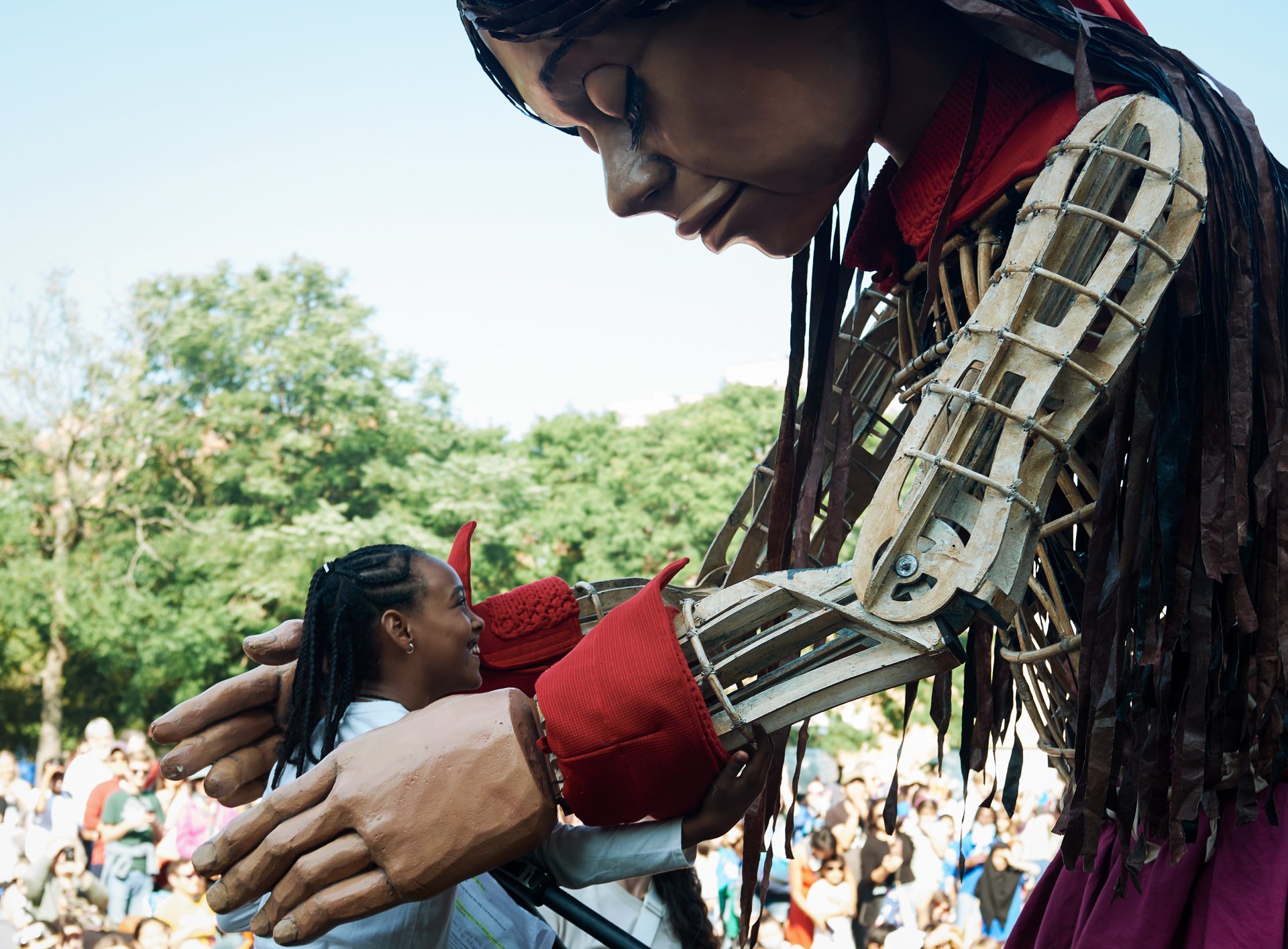 Mustafa Hussain for Borderless Magazine
Little Amal greets a child in Margate Park along the lakefront in Chicago, Ill. Sept. 30, 2023. Little Amal, a 12-foot puppet of a 10-year-old Syrian refugee girl, was part of a theatrical show put on by the Chicago Children's Theatre, in which Little Amal makes "stone soup" with the help of children.
The 12-foot-tall puppet tells the story of a 10-year-old Syrian refugee separated from her family.
On Saturday, over 400 people met in Margate Park in Chicago's Uptown neighborhood to celebrate the arrival of Little Amal. On the park's field near Lake Michigan, members of Chicago's immigrant communities and their allies formed a pathway for Amal to walk down while the Civic Orchestra of Chicago played. Children held welcome signs and toy butterflies on sticks, jumping in excitement and cheering in the sun.
Want to receive stories like this in your inbox every week?
Sign up for our free newsletter.

"It is really important for our youngest learners, and youngest community members, to feel a sense of belonging, have a sense of space, and have a sense of stability," said Asma Akhras, a community volunteer, advocate and educator who attended the event. 
Amal, which means hope in Arabic, is a 12-foot-tall puppet telling the story of a 10-year-old Syrian refugee girl. Performances featuring Little Amal show the struggles migrants encounter and the strength refugees demonstrate in the face of hardship, according to the event organizers. It takes four puppeteers to bring Little Amal to life, and a team of nine puppeteers accompany Amal on her journey, rotating teams of three as she walks. The puppet has traveled over 6,000 miles through 15 different countries.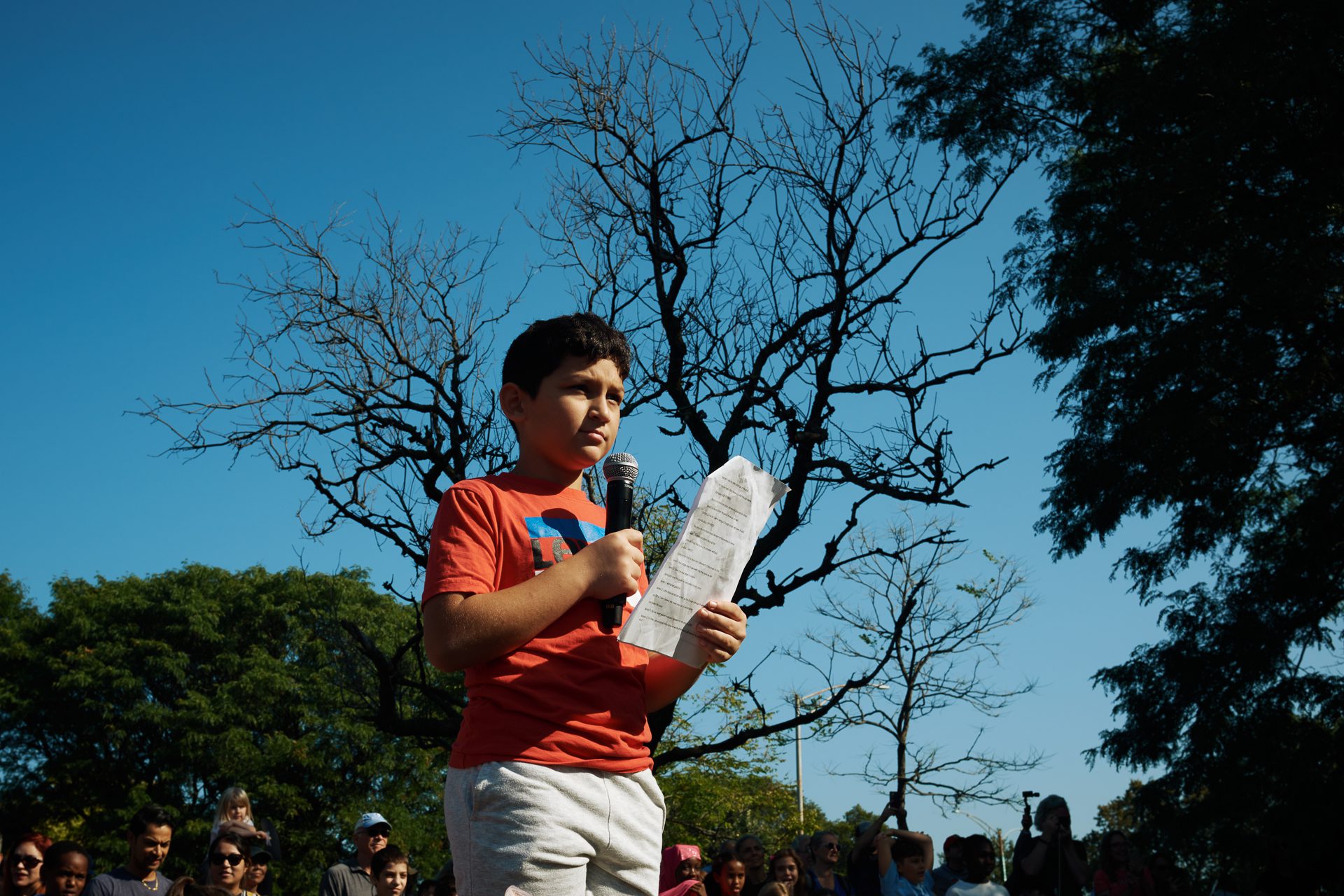 Mustafa Hussain for Borderless Magazine
Amal Walks Across America is one of the world's largest free public art engagements. This year, she is traveling across 35 U.S. cities and towns. 
The Uptown event was organized by the Chicago Children's Theatre in partnership with the Uptown-based CircEsteem and the Syrian Community Network. 
Since she arrived in Chicago on Sept. 28, Amal has been spotted at many iconic sites – walking through Navy Pier, crossing Chicago's river walk, and visiting Rogers Park's Jordan Community Elementary School and the National Museum of Mexican Art.
Uptown has long been a welcoming community for refugees and immigrants; over 24% of the residents were born outside of the United States, according to the latest American Community Survey data. As soon as Little Amal made her way down the park's field, people clapped. Some people teared up, remembering their own journeys to the United States. 
During Saturday's performance, Amal learned how to make "stone soup" with the help of local children. The performance was based on the European folktale wherestrangers persuade a town's residents to share a small portion of their food to make a community meal that feeds everyone.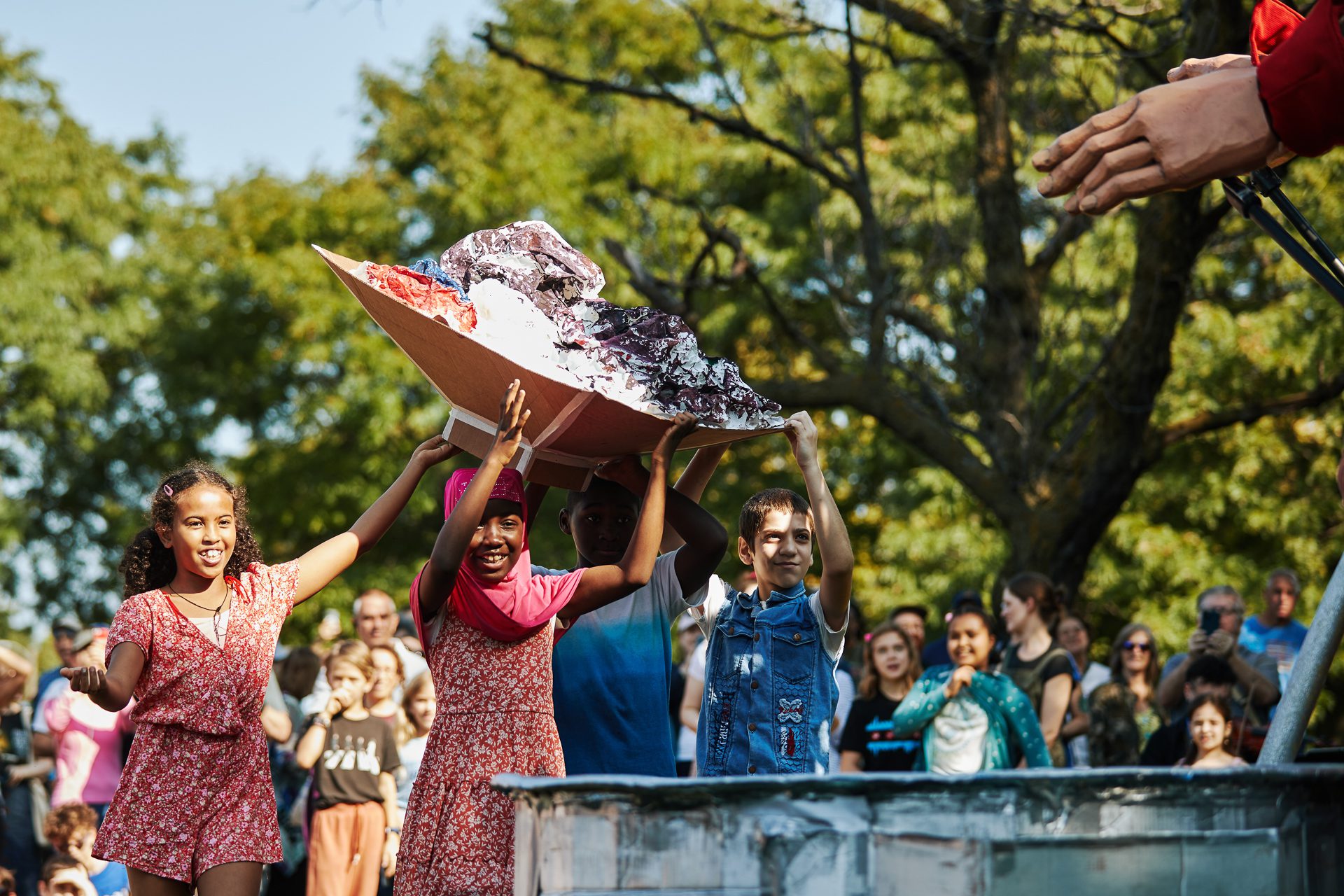 Mustafa Hussain for Borderless Magazine
"When I first came to the United States in 1982, I was ten years old, just like Little Amal," said Suzanne Akhras, cofounder and executive director of the Syrian Community Network. "One of the first stories my grandmother read to me was the story of 'Stone Soup.' So this to me is like, oh, my god, a reminder of the past. Amazingly, our kids will be participating in that."
After playing a game of soccer organized by the Syrian Community Network, community members ate together as in the story. Soup and Bread, a community-based meal project in Chicago, provided free lentil soup and pita bread from the local Syrian restaurant Falafel Kebab Station. Attendees also donated food for refugees to the Nourishing Hope food pantry.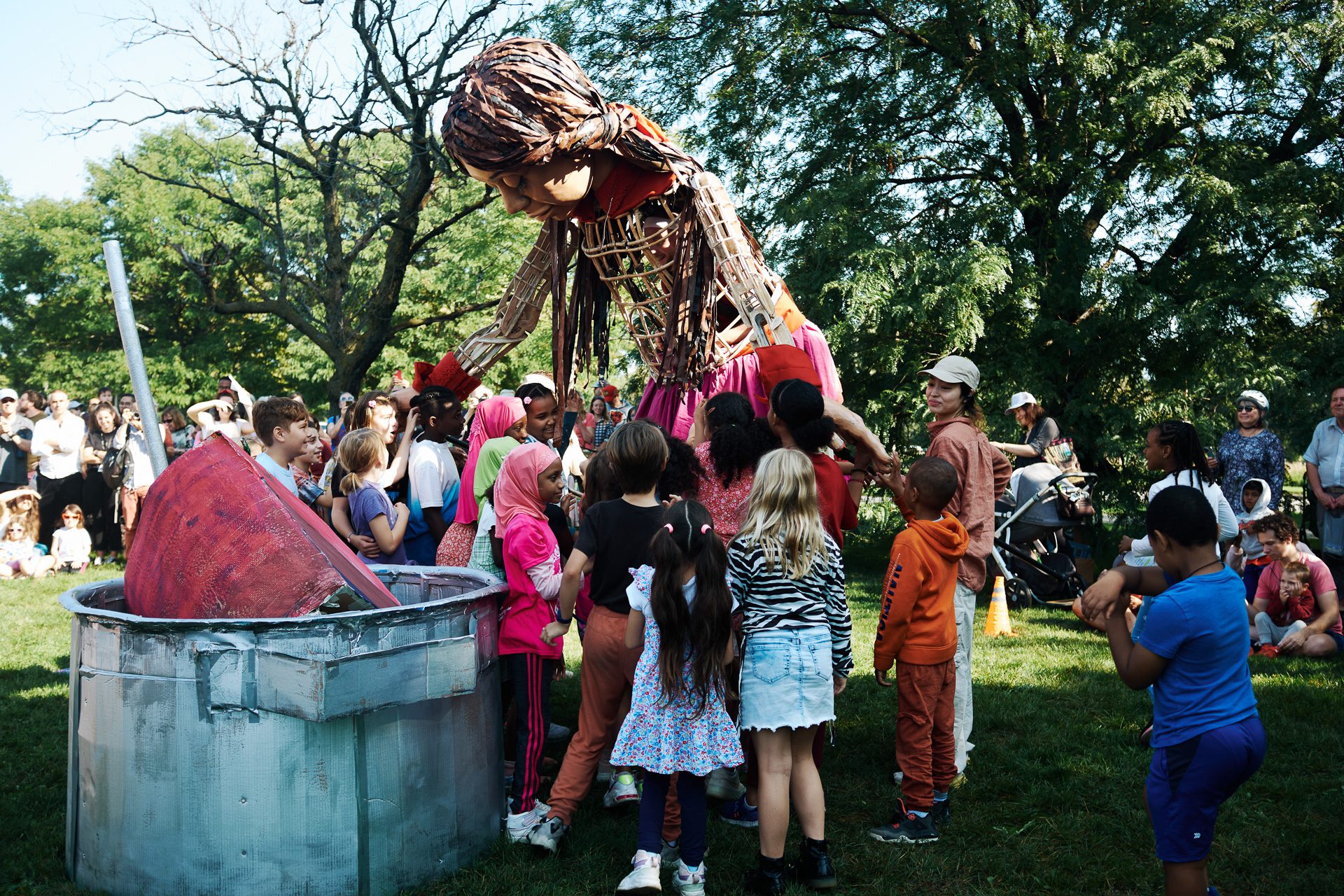 Mustafa Hussain for Borderless Magazine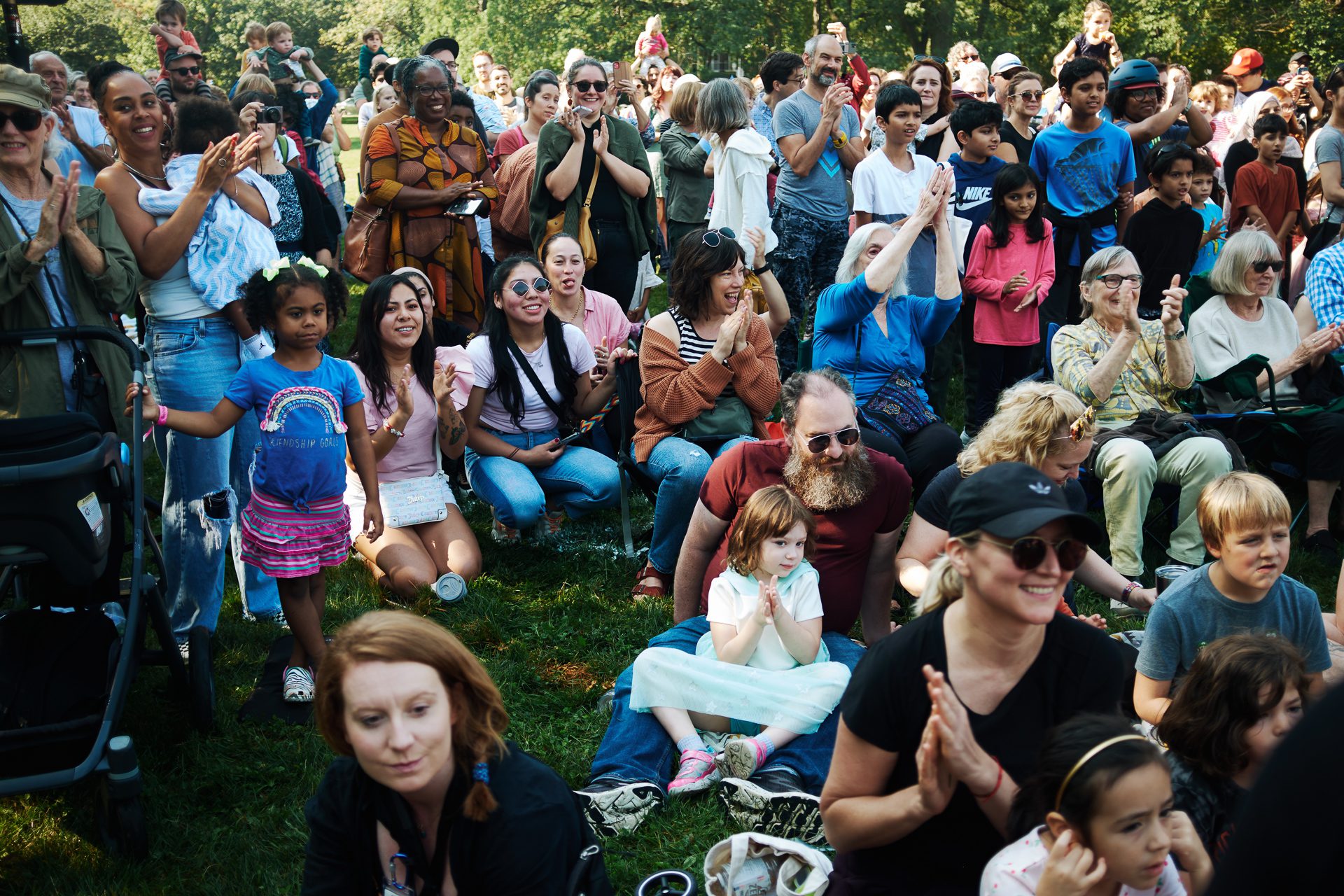 Mustafa Hussain for Borderless Magazine
Samira Alhamwi from Homs, Syria, was there with her husband and two daughters. Alhamwi is an educator herself, serving as the adult education manager at the Syrian Community Network. 
"Amal represents a lot of Syrian refugees and refugees around the world. This is a pretty good idea. For someone to hear us and to know about what happened in Syria. It's not only in Syria. This is a message for everyone and about refugees around the world," said Alhamwi. "Refugees have dreams and are here to be safe and be educated. They are looking for safety and a home to continue their life."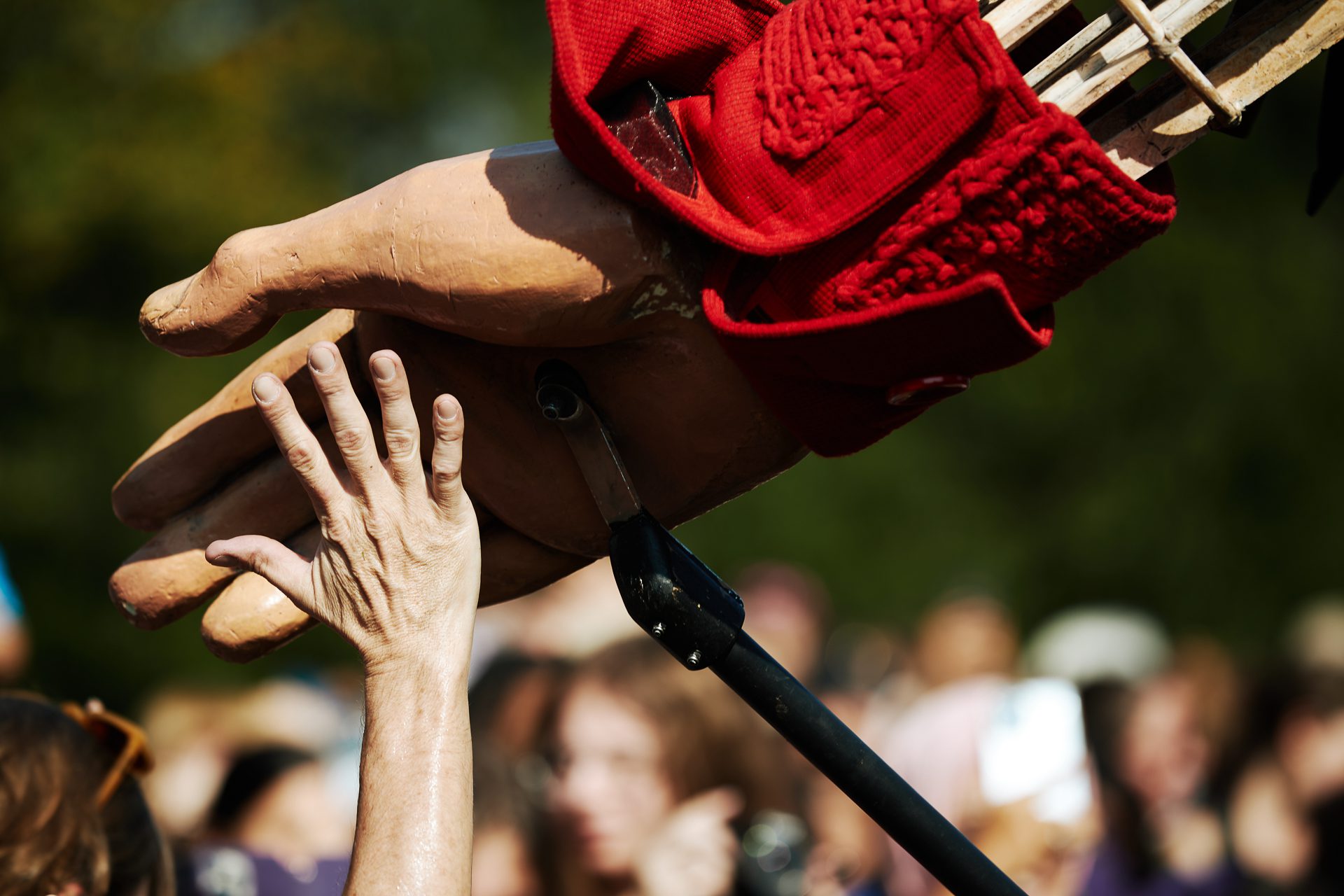 Mustafa Hussain for Borderless Magazine
Also in the crowd were three volunteers from Witness at the Border walking around with puppets and signs reading "Welcome Amal" and "No Borders." Lee Goodman, one of the volunteers, told Borderless that the puppets were made 20 years ago and were used at various protests, including a protest in 2003 against the U.S. invasion of Iraq. 
"We hear so many negative messages. We hear so many people complaining, 'Don't let them in my neighborhood,' and, 'Send them back where they came from.' All the negatives. But it is affirming to see that there's lots and lots of people, welcoming people."
Following the children's soccer game, Little Amal walked around the field. Hundreds of kids embraced the puppet, saying their goodbyes before Amal left the neighborhood for her final Chicago performance at the Maggie Daley Park. 
*Borderless Magazine is withholding their last name due to safety concerns.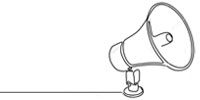 Bring power to immigrant voices!
Our work is made possible thanks to donations from people like you. Support high-quality reporting by making a tax-deductible donation today.