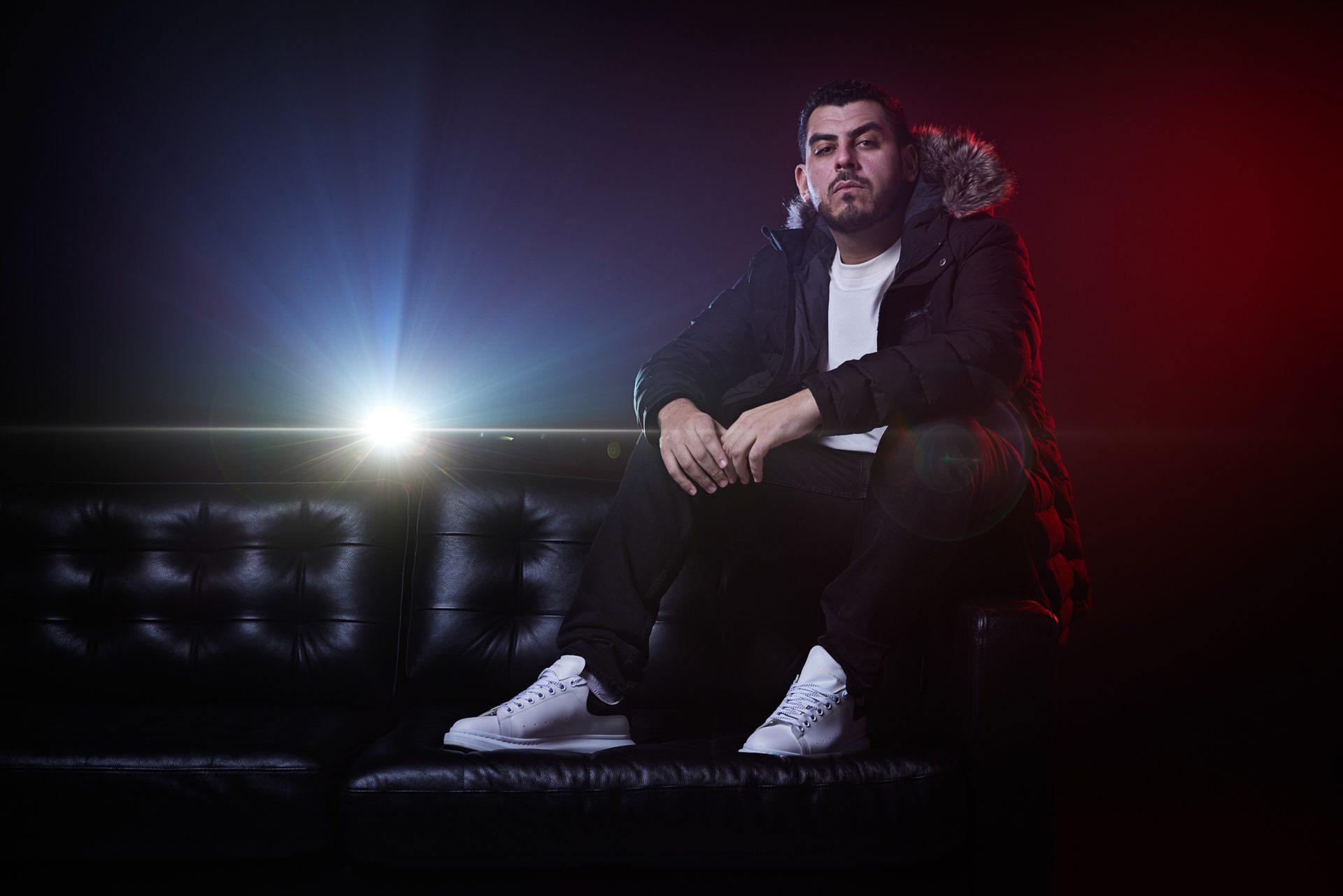 Samer Almadani for Borderless Magazine
Palestinian-Jordanian musician Bilal Shouly, moved from Amman, Jordan to Chicago in 2014, pictured in Chicago, Ill, March 16, 2023.
The Palestinian-Jordanian hip-hop artist talks about identity as inspiration, his growth since his debut album and what's next.
Bilal Shouly calls his music socio-political Arabic rap.
Shouly is a Palestinian-Jordanian musician who raps about identity politics, Arab stereotypes in American film and media, and his take on the Palestinian and Arab American experience. He says his goal is to "humanize the Arab experience in the West."
Since the late 1990s and the events of the Arab Spring, Arabic hip-hop has gained notoriety for its blending of traditional melodies and modern beats, its efforts to raise political awareness for Palestine, and its calls for peace and unity. These are some themes Shouly touches on in his music.
Want to receive stories like this in your inbox every week?
Sign up for our free newsletter.

Shouly's passion for music and the arts started in middle school in Amman, where he grew up. But even after he moved to Chicago in 2014 to earn his bachelor's degree in history and political science from St. Xavier University, his love for storytelling through music persisted.
His music catalog, including his debut album, "Empty Quarter," has over 10 million views across YouTube, SoundCloud, Spotify and Apple Music. He has collaborated with Arab artists such as Al Basha, Emsallam and Smokable. He has performed in Chicago, New York, Los Angeles, Abu Dhabi and in his home of Amman. He is now working on his second solo album called "Mawsam El Zaal" (which means "Season of Sorrow" in Arabic).
Borderless talked with Shouly about how his Palestinian Jordanian American identity influences his music.
How did you first get into music and rap?
I was always a fan of hip-hop and the arts. As a kid, I started as a theater student, and I did poetry, participated in battle-style poetry competitions, and won. I bought a five-dollar mic in middle school. I just had a little setup. Writing music started as a form of just self-expression.
Being Palestinian and born in Qatar, I had to immigrate to Jordan when I was five. But, I have been aware of this double identity since childhood. I never felt like an outsider in Jordan; it felt like a natural home. But when you're 18, you have a new freedom; I found myself looking outwards, and even then, coming here [to the U.S.], I started struggling with a part of my identity, feeling neither Arab enough or American enough.
Music has always been a way for me to quell that, make that less severe, because who can you talk to about these things? These philosophical or existential debates? So, I just put my Arab American experience into music.
Samer Almadani for Borderless Magazine
What are some misconceptions about Arabs or Palestinians that you try to address through your music?
One of the things Palestinians lost since the occupation was the ability to speak for themselves. We were drawn out as a community only defined by occupation apartheid. That's the best case. And the worst-case scenario, we're defined as this homophobic, antisemitic, hate teaching/preaching community because that's how we were drawn by these neoliberal agendas and Hollywood. In films, especially in the '50s, the villain was always wearing a Keffiyeh or portrayed as Arab people. We were drawn as hateful and radical-Islam-loving people. Because if you talk to anybody about the Palestinian cause, all they say is, "What about Hamas?"
When you tell someone you're Palestinian, it is automatically an uncomfortable setting. Because to them, when they hear Palestine, that's the enemy of Israel.
Being Palestinian is such a politicized problem that the moment you stand on the weaker side, you automatically support a, b, and c. Ideally, identity should be who you are, with no ramifications. You should be able to just exist and receive basic human rights, the benefit of the doubt, and all those great things without having to struggle, lie, or pretend to be someone else.
At first, I thought [the music] was only talking to my audience in the Middle East, Palestine, Jordan, and Egypt. And then, when it got traction, views, and listenership in Jordan, I realized the music I wrote in my bedroom doesn't only speak for me; it speaks to other people; going through a similar thing. There were guys just like me that when they moved here, went to school and worked two other jobs to make ends meet.
Where does your inspiration stem from when writing a song?
As someone who lives a somewhat corporate life, doubling as an artist, I need to break out of the daily routine. I do that by blocking out people and Monday problems and focusing on my part of the world, the Middle East. Reminding myself of who I am at my core, meaning my problems, my people, our issues and not this alternative reality that I live in here in the U.S. On paper, I work for one of the biggest companies in the world. I live in a big flashy city. But I am not really from here. I lock myself in my studio, which is home. I start writing. I am inspired by music from the region and my peers. And it grounds me. I have a feeling that I will never belong here, and music is a great way to express that. I don't live a typical rapper life. Music allows me to get in touch with a deeper side that I cannot access on a daily basis. I do anything to find that place and express that part.
"Without a pulse, there's no life, and the pulse is the music." I use this analogy because that's how I write music. I like to write relatable and conversation-style music. I create a topic in my head, and I start freestyling. I record noises, beats and harmonies. Then I listen to it over and over, then write to fill in the blanks based on the freestyle I did.
What are the themes you explore in your first album, Empty Quarter?
"Empty Quarter" explores the concept of being lonely in a very foreign place; distance and heartbreak. It represents the journey from Rub' al-Khali (which means "the Empty Quarter" in Arabic), the largest sand sea, to a more fertile and forgiving place. Empty Quarter is also a metaphor for my first 25 years.
The song "Taboor" [in-line] talks about being an Arab American man. We do all these things to come to the United States, but suddenly you could be a victim of random and belligerent violence. I could be shot for the way I look or speak. I could be in the supermarket, Taboor "in line," and be a victim of random and belligerent violence. It was written after George Floyd's death, and after a Palestinian [man] with autism was shot [by Israeli police].
And what might we see in your next album?
The second album, "Mawsam El Zaal" (which means "Season of Sorrow" in Arabic), is more of a coming-of-age project, coming out at the end of 2023. I experience life in a different form, more confident, less dependent and overall mature. It touches on the aftermath of my decisions as an independent young Arab man in the diaspora. The themes in the second album are growth, stability, overcoming obstacles and doing what you can with what you have.
Identity is such a fluid concept at this point. I am using music to address who I am and my identity. I am being more proactive and exploring a brighter side of my culture using music, whether that means finding new sounds from our region or exploring my own.
Writing is a journal of where I am right now. When I was 25, I thought I was a lost millennial in a strange land, so my music sounded like that. Now, I realize that my identity is what I make, and I get to approach it more liberally. I don't have to look or sound a certain way. Since I lean on music for self-expression, it allows me to explore my identity and a component of who I am wherever I am. I am learning in this new album to be unapologetically myself while leading a less isolated life, like in the first album. In simpler terms, I thought identity was supposed to be a problem, and now it fuels my endeavors in life artistically and professionally. Also, identity is to be yourself unapologetically, without fearing for your life and without fearing that you being you will limit your livelihood or your prosperity.
This interview has been edited and condensed for length and clarity.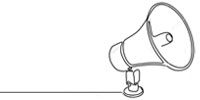 Bring power to immigrant voices!
Our work is made possible thanks to donations from people like you. Support high-quality reporting by making a tax-deductible donation today.