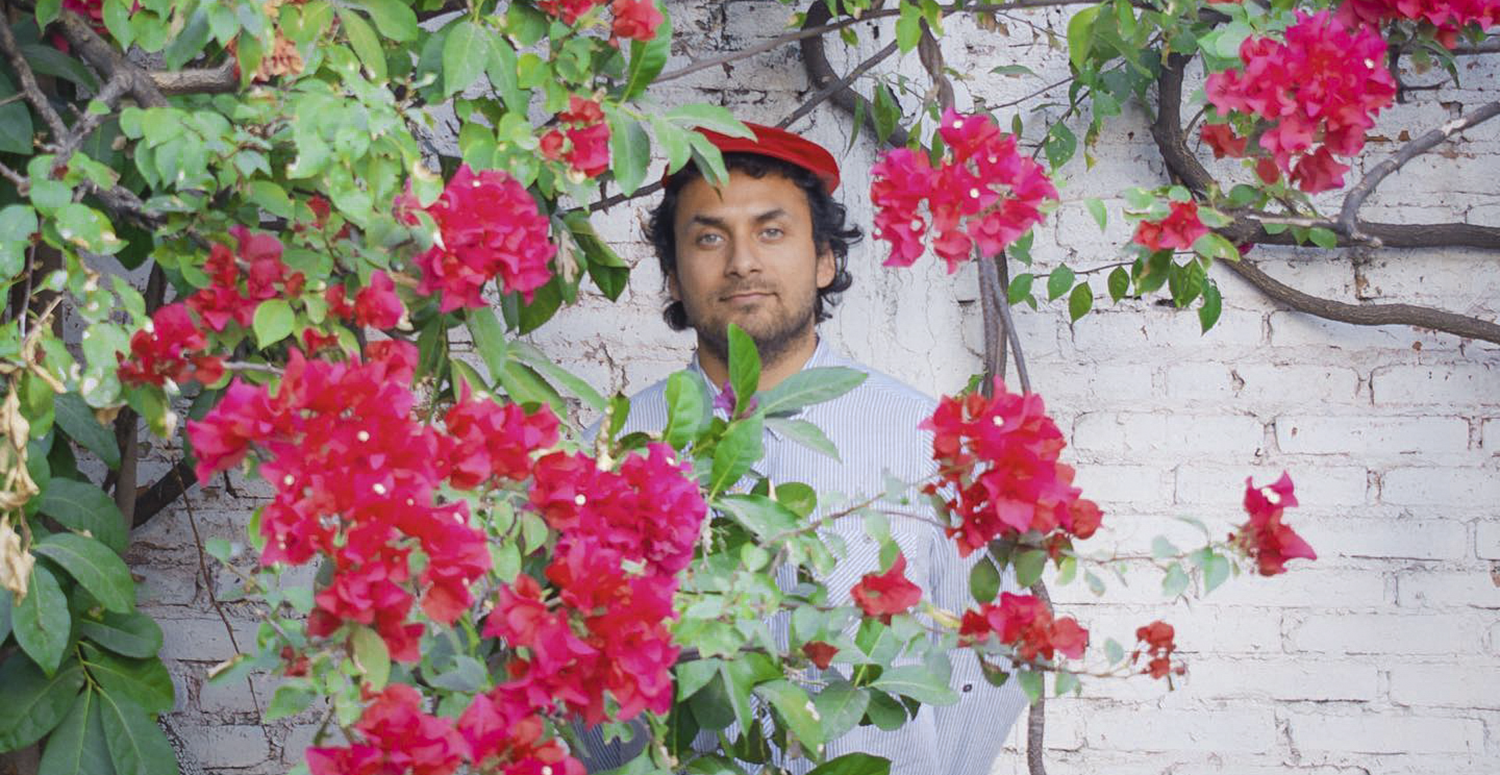 Foto por Janneth Diaz
On the heels of a new series of music videos, Mexican-American artist Gabacho reflects on his creative path.
Holding painted cardboard cutouts of trains, planes, a boat and a spaceship, two men in yellow overalls go on a fanciful journey, singing lines such as, "Cien dollar bills won't get me this high/Siento los feels when I'm by your side." ["One hundred dollar bills won't get me this high/I feel the feels when I'm by your side."] Their audience, a group of children, grows increasingly enchanted as the exuberant performance builds in sound and sight. 
Indie Latinx artist Siul Esoj Reynoso, who goes by the artist name Gabacho, created this music video for his song "Los Feels," which features Mexican musician Dromedarios Mágicos. It is part of a small collection of videos released in February to accompany Gabacho's psychedelic but sentimental Latin rock songs. Each has a vintage aesthetic that makes viewers feel almost as if they are looking at an image captured on film. Performing on whimsical, colorful sets that are hazily lit, Gabacho often sings, dances or plays guitar in place while details around him shift.
Born in Chicago, Gabacho moved to Mexico as a child when his parents, who are from Toluca, decided to return to the city and open a restaurant. Now back in Chicago, he spoke with Borderless Magazine about his background, inspirations and personal growth.
---
Borderless Magazine: How did you decide to name your band Gabacho?
Gabacho: When I was 8 years old my family and I moved to Mexico. I had to leave all my friends here and live my life over there. When I started school and started to meet people, I had an accent that sounded different from native Spanish speakers in Mexico. My classmates started making fun of me because of my accent. They named me gabacho [foreigner], which is kind of like "gringo." They used them interchangeably. It also helped that I have green eyes.
I was thrown off because I knew I was American, but my parents were Mexican, and I was brown. I was like, "Oh, okay. That's my name. I'll embrace it." I would even help the kids with their English. I would even correct the English teacher. So it was funny to see all that. It made me stand out in ways good and bad. 
Borderless Magazine: Did you pick up music while you were there?
Gabacho: In Mexico, when you graduate from university, you have to spend six months donating your skills that you learned, through community service. When I was 13 or 14 years old, these musicians gave six months of free guitar lessons at my school. I had never played an instrument or even been musically inclined. I told my mom I needed a guitar for class, and if I didn't get a guitar they would fail me. I lied.
The school teacher taught us a scale exercise, and for that whole week I practiced that scale. When the volunteers came in the following week, they had us play one by one, show our skills and what we could do so they could divide us into beginners and advanced players. I had practiced so much that I was pretty good. So they moved me to the advanced group. 
Borderless Magazine: Your music has a sense of nostalgia. Why are you inclined to make art that longs for the past?
Gabacho: Latinxs like to be overly dramatic, we are super sentimental. You can even hear that in las rancheras, cumbia, salsa. We overdramatize small situations. Even when we go to parties, we start singing our hearts out to sad songs. We like to make ourselves suffer, in a way. It's in our genes.
Someone who has really inspired me is Gabriel García Márquez. He's my favorite author — top three, at least. He writes about really sad things but in an optimistic way. What I really like about his writing is that he likes to talk about the past. He uses time a lot. Time is such a melancholic tool or theme. You can't get it back. I think it's really easy to develop nostalgia. We romanticize the past, even when things weren't that great.
Borderless Magazine: Do you feel that your music is romantic? Are you a hopeless romantic?
Gabacho: I would say as a person, I'm not. I was, and I learned my lessons. But it's nice to take yourself to that place by playing music, listening to music or reading a book. I live more or less as a realist, but once in a while, as a dessert, I dive into hopeless romanticism. 
Borderless Magazine: Your music videos are so fun and colorful. They even feature kids as your audience. Do you channel that energy from specific places?
Gabacho: I am a huge fan of "Nacho Libre." That's my all-time favorite movie. I've probably watched it 50 times or more. I'm not exaggerating when I say I can literally say the whole dialogue while watching it. It's not necessarily about the plot; it's about the aesthetics. But most importantly, Jack Black pulls off [the role] well so that no matter what he says or does, it's funny because he's so charismatic. The same goes with Cantinflas. It's just so great to watch because of what he's doing and how.
Similarly, the music videos are entertaining and funny. They really get your attention. The focus is very specific, concentrating usually on me. And I like to have a set. This is what's going on, nothing else is going on. I feel like my music videos usually tend to be goofy and colorful. Something I want to capture is a sense of positivity and quirkiness. The vibe is not necessarily happy but is kind of a positive quirkiness.
Gif by FRILLZ
For my most recent music video "Los Feels," I had a chance to collaborate with this great musician from Mexico, Dromedarios Mágicos.That guy is really charismatic and really funny. He was the perfect person to do that video with me. I met him in Chicago about a year and a half ago at a party. I think he was here for a show, and we just ended up chilling and decided to collaborate. 
Borderless Magazine: What was the thought process behind creating that video?
Gabacho: Usually we don't sit at a desk with a pencil and pen and think, "Okay, I need a music video." Usually I'll just get random-ass thoughts.
I was just chilling in my bedroom, and I was like, "Oh it would be really cool if we are sitting in a car and there was an old-school setting where the background is moving, but you can tell it's really bad quality, and the driver is moving the steering wheel all crazy like in one of those '40s or '50s movies. 
It was my grandma who was like, "What if the audience was little kids?"
Borderless Magazine: You're also really into film photography. Does that come from your same attraction to vintage aesthetics?
Gabacho: I started shooting photography four or five years ago because film has that old vibe to it. I didn't really know how to edit pictures so they looked like film, so I thought, "I'm just gonna do film." I was actually doing street photography in Pilsen. I would interview people walking down the street, take pictures of them, make prints and give the portrait to them. I felt like no one really gets physical pictures anymore, so I wanted to do that for people.
Borderless Magazine: Are you working on anything new?
Gabacho: I'm definitely working on new music, little by little. I was recording vocals, and little by little, it's coming out. I don't have a plan on how or when I will release new music.
During the pandemic I had a lot of time to relax and chill and think, "Am I a hobbyist? Am I really a musician or do I just like to play music?" I really got my priorities straight and thought that if I really like making music, I really have to do this 100 percent. Now I consider myself a musician. That was one of the great revelations I had.
This interview has been edited and condensed for clarity.
Our work is made possible thanks to donations from people like you. Support high-quality reporting by making a tax-deductible donation today.                                                                                                                                   
Donate