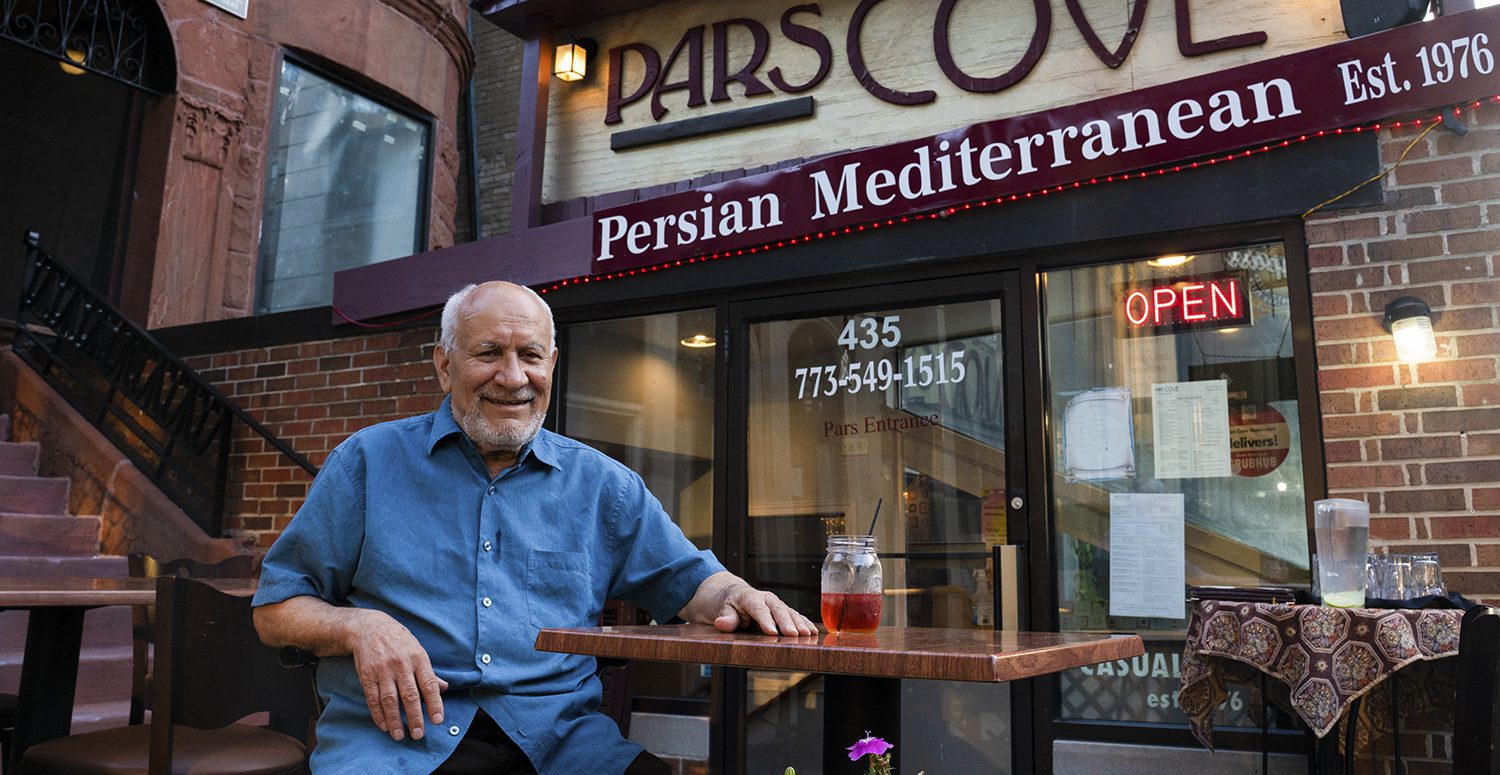 Photo by Camilla Forte/Borderless Magazine
Max Pars, the owner of Pars Cove, in front of his Persian restaurant in Chicago's Lincoln Park neighborhood.
Max Pars, owner of Pars Cove, said that the COVID-19 pandemic has been the biggest challenge in his four decades in the restaurant industry.
Pars Cove is a Chicago institution. The cozy and romantic Persian eatery has been in Lincoln Park since before Michael Jordan was drafted by the Bulls. Its namesake, Max Pars, has been an established restaurateur even longer, with nearly 50 years of experience owning restaurants in Chicago.
---
Subscribe to our Thursday newsletter and never miss a story about Chicago's immigrant communities:
---
Born and raised in Iran, Pars moved to Illinois in 1969, at age 24, to study economics at Southern Illinois University. He later received a master's degree in economics and quantitative methods from the University of Illinois. All throughout his number-crunching education, he could never shake his love of food and cooking. In 1976 he bought his first restaurant in Chicago's Albany Park neighborhood, a fried chicken spot he transformed into a neighborhood mainstay for those craving lamb kabobs or fesenjan, a Persian chicken stew with walnuts and pomegranates.  
In almost a half-century in the industry, Pars says he has faced no greater challenge than the COVID-19 pandemic. Still, he perseveres and maintains a positive outlook on the future of Pars Cove — an attitude driven by his unwavering love of people and food. 
As part of our series on how immigrant restaurants have survived the pandemic, Borderless Magazine spoke with Pars about his Persian eatery.
---
When I was in Carbondale in Southern Illinois, I worked as a cook before getting promoted to manager at a big steakhouse. I went to a birthday party in a restaurant in Chicago and started chatting with the owners. I ended up buying the place because they couldn't keep up with the bills. 
It was a really famous chicken place in Chicago called Mandy's Chicken. But I really didn't like frying things. I ran that for six months, then I changed it to a French restaurant for a year or so. It didn't take off. Then I changed it to a Persian restaurant, which did very well. There wasn't any Persian food in Chicago at the time, and I thought people would go for it. I was a four-star restaurant in the Chicago Tribune for four years in a row in the '80s.
I love food. My brother was a doctor in food and nutrition, and he was in charge of inspecting the army's food system, making sure everything was appropriate with the cooks and staff. He studied in France, and I was around him a lot. When I was training in the army, I managed food operations for around 200 soldiers. I wasn't cooking, but I watched everything accordingly. 
My education does help. I can put two and two together, and this is probably one of the reasons I've been able to run this restaurant for 45 years nonstop. And I'm really nonstop. I don't take many vacations. Every few years I travel to Iran, but that's it. Other than that, I just work and work and work. I love it. I love people. I have a lot of respect from them, but I earn it. I'm here every night. 
COVID-19 was the toughest time I ever had in 45 years here. I never really promoted delivery because I was busy with the restaurant inside. I had to do everything myself from washing the dishes to sweeping the floor to helping the two people that I kept to work for me. Before the pandemic I had six or seven employees, but I had to cut down. Now the staff is up to five people total. 
I didn't get much help from the government. It was kind of chaotic for everybody, from the city to the restaurateurs. We were all dealing with something we really didn't know about. I won't complain, because the city probably did the best that they could. I filled out an application for state, federal and city aid, and I got one $10,000 grant from the [Chicago Hospitality Grant Program]. I didn't have the time or knowledge on how to reach out to different organizations to get help. 
Outside of the restaurant I just sleep, and then I come back. I don't have a lot of money to get many people involved. I don't have extra time to sit and think or even get sick. 
In my area, several restaurants have come and gone. I update myself on what everyone is doing, but I'm not competing. I focus on myself and my customers. I'm pretty sure people know about this place. I've been highlighted in a book and was even rated the No. 2 best Persian restaurant in the world outside of Iran. I don't believe that one, but we get a lot of publicity.
Really, I do what I think is best for me and my customers. Mainly, I do this by being very involved, especially during coronavirus. I am serving and talking to every customer that comes. When the plate comes back, I can tell if they like it. My customers are from all over the world, and I believe in a restaurant where anyone is always welcome. 
Even during this pandemic, I never feel down. I feel very positive, and I know we will be getting out of it. I live day by day, and I don't worry about tomorrow. I do the best I can today. That's all I can do. 
This story was reported with help from the Metro Media Lab, a project of the Medill School at Northwestern University aimed at strengthening journalism in Chicago. It is funded by the Robert R. McCormick Foundation.
Our work is made possible thanks to donations from people like you. Support high-quality reporting by making a tax-deductible donation today.                                                                                                                                   
Donate