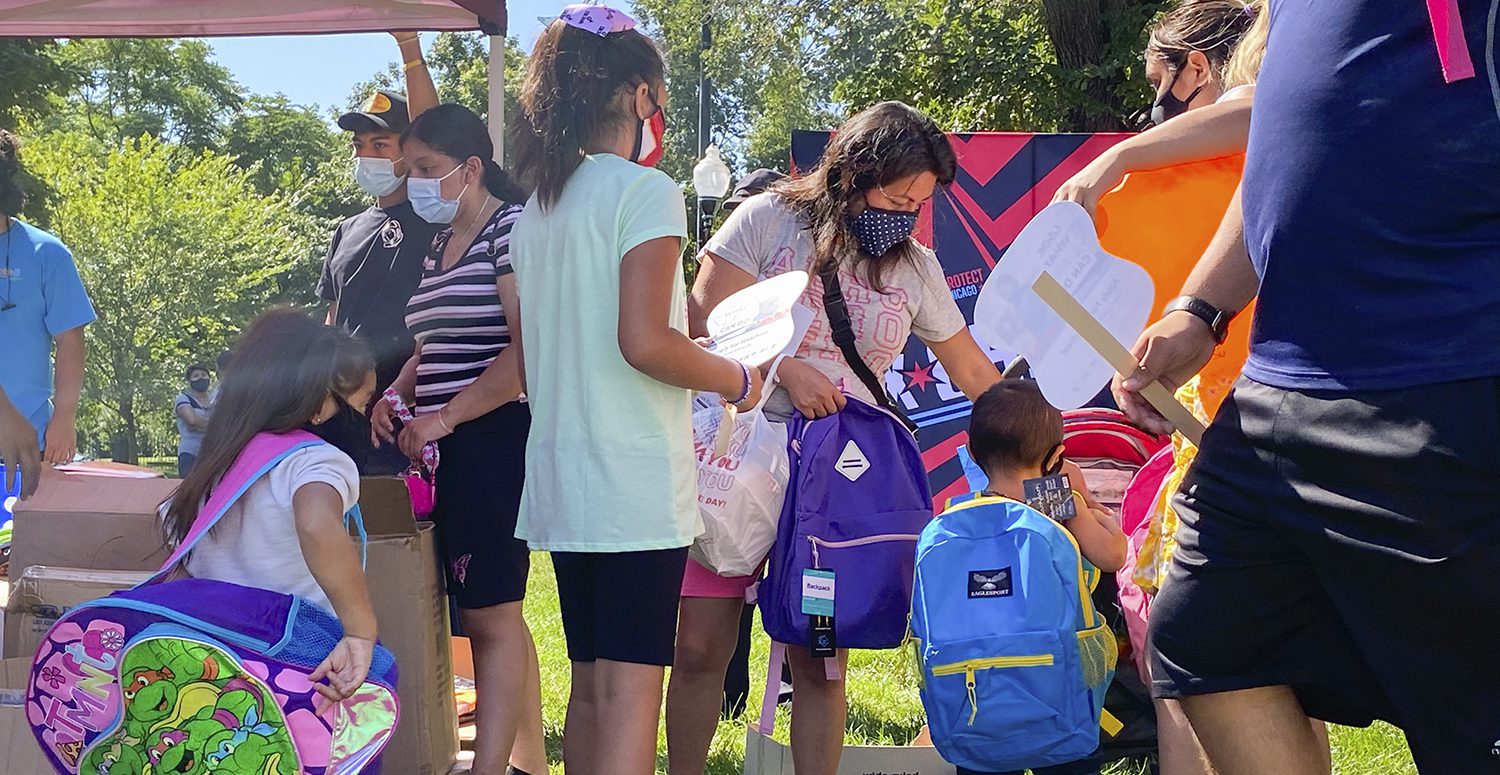 Photo by Adriana Rezal/Borderless Magazine
More than 100 people attended the Back-to-School Fair on Aug. 26, 2021 in Chicago, Ill. In addition to receiving free school supplies, families had the opportunity to get vaccinated at a COVID-19 vaccine station hosted by the Chicago Department of Public Health.
Remote learning exposed cracks in the CPS system, hurting some students more than others. Are schools prepared for their return?
On one of her last days of summer break, Milagros Tellez sat in the grass talking with a friend amid the bustle of the Back-To-School Fair hosted by Telpochcalli Community Education Project. 
---
Subscribe to our Thursday newsletter and never miss a story about Chicago's immigrant communities:
---
For Milagros, this new school year is special: In addition to starting the sixth grade, she will finally step inside a classroom in person after 17 months of learning from home. Although Milagros enjoyed remote learning, she said it's easier to learn in the classroom because she can receive in-person help from her teachers.
This week, Milagros joined 340,000-plus Chicago Public School students returning to in-person learning after over a year of quarantining, isolation and virtual instruction due to the coronavirus pandemic.
Milagros came to the event with her mom, Maria, and her little sister, Ruby, to pick up goodies from the event's participating organizations. Community organizers passed out new pencils, books and backpacks to students and their families in preparation for the new year. Milagros enjoyed getting to eat the enchiladas offered at the event and received a brand new pink backpack for the school year. 
But amid the friendly exchanges between families and community members were uneasy conversations about the ongoing COVID-19 pandemic. Many parents still worry about how successful in-person learning will be especially as the Delta variant spreads through Chicago. 
"I feel worried, especially now with infections rising. We'll see if the students can handle wearing face masks all day," Maria Tellez said in Spanish, while holding the hand of her daughter Ruby, who will start pre-K this year. "I'd like Milagros to stay home but right now I don't think there's an option."
Latinx families like the Tellezes made up the majority of attendees at the back-to-school event in Chicago's Little Village neighborhood. For many of these families, being a primarily Spanish-speaking household only adds another challenge as they navigate the start of the school year. Milagros and her little sister will attend Kanoon Magnet Elementary School, where 99 percent of students are Hispanic and 41 percent are limited English learners.
Hispanic students make up 47 percent — approximately 160,000 students — of the Chicago Public School system. Approximately 70,400 students are classified as English learners in CPS and come from non-English speaking homes. 
"Virtual learning seemed good to me, because I saw that my daughter paid more attention and improved her grades — her grades were lower when she went in person. I'd say it was probably because she was alone and not distracted," Maria Tellez said of Milagros. "It was a little difficult, however. She would ask me for help with something I didn't know and I'd tell her, 'You have to tell me, because I don't know what it says."
In order to facilitate a successful transition to in-person learning this year, bilingual students may require additional resources and support, say parents like Tellez. Recognizing this need, Latinx families and organizations are coming together to help students as they go back to school this year. 
No More Virtual Classrooms
The majority of CPS students will return to school in-person this fall, following a state-wide mandate that all public schools must resume full-time classroom learning for the 2021–2022 school year.
To facilitate a safe return, the district has implemented certain guidelines for returning students and staff. For example, masks will be worn at all times indoors except when eating or drinking. 
All CPS employees are also required to be vaccinated by October 15. Although vaccinations are not required for students, the district encourages families to vaccinate their students to help protect themselves and their community from COVID-19. 
Although the Moderna and Johnson & Johnson vaccine is available for people ages 18 and older, the now FDA-approved Pfizer-BioNTech vaccine can be administered to people 12 years and up. 
"Now that school is back, the children are very excited and the moms are also excited because we do want them to go back to school," said longtime TCEP volunteer Maria Serrano in Spanish. "We want our kids to learn, we don't want them to be left behind, we want them to continue advancing. But at the same time, the concern continues because in these elementary schools, there are many children 12 years and under who are not vaccinated."
The Chicago Department of Public Health hosted a vaccine station at the Little Village Back-to-School Fair for families. At the event, at least 8 people received vaccinations.
Despite all these preventative measures, some parents are still worried about students returning to school. Erika Mil brought her 13-year-old daughter and her mother-in-law to get vaccinated at the Back-to-School Fair. She's worried about sending her sixth grader and eighth grader back to school.
"At the same time I feel good because they're going to stop stressing out at home, but I feel a little worried about the virus that's still going on," Mil said in Spanish. 
Serrano said she hopes teachers can facilitate a safe space for students to return and not feel the pressures of the pandemic. 
"We want [teachers] to support our kids, not to scare them," Serrano said. "They should make the children feel welcome at school, they shouldn't talk about the virus too much; the children already know that it exists because our kids are very intelligent."
A Mental Health Crisis
As students transition from a year of virtual instruction, Edwin Rabadan, program director of the Little Village-based Ollin Youth Group, an events organization aimed at preventing youth violence, said he has seen an increased need for mental health support for young people during this time. 
"Staying at home all day on the computer has not been the healthiest way to spend their time. Obviously they need that social interaction with other people, and being at home has just made it harder on their mental health," Rabadan said.
Findings from a November 2020 study by the Centers for Disease Control and Prevention suggested that virtual learning may present more risks to a child's mental and emotional health compared to in-person instruction during the COVID-19 pandemic. 
Mental health-related emergency department visits increased for children and teens from May to October 2020, according to the CDC. For children ages 5 to 11, mental health-related emergency department visits increased by 24 percent, whereas visits for those ages 12 to 17 increased by 31 percent.  
Rabadan added that students of color may be facing additional cultural stigmas around mental health that make it difficult for students to talk about within their households. 
"I feel like first-generation — specifically Latino — families have that stigma of like, mental health's not real," he said. "The student will not receive that support if it's looked down upon. We've seen that come across throughout the years that we've been here, but more so now in the pandemic because people are at home."
To combat this, Rabadan said the Ollin Youth Group offers a number of mental health resources for students. He said he has seen increased participation from youth for in-person events hosted by the organization. 
As a result, Rabadan expects CPS to prioritize social and emotional learning as students go back into classrooms. Rabadan also suggested schools work more closely with local organizations like Ollin Youth to provide this additional support for students. 
"Our leaders in [TCEP] and neighborhood community organizations are the ones working with families — they know what works best for reaching out to them," he said. "If [schools] can include us in that planning process and that idea brainstorming process, we would be able to do so much more for the families." 
A Community Steps Up
The pandemic has highlighted how technological demands of students challenged Spanish-speaking households in particular. As Borderless Magazine previously reported, many of these families found CPS' remote-learning plan inadequate when it came to providing support for navigating video conferencing platforms and educational software designed primarily for English speakers.
According to Serrano, learning how to use technology still remains an obstacle for families even as children return to in-person instruction. 
"Technology is a challenge because there are many moms of, say, 40 years and up, who don't know how to use a smartphone; they don't know how to send their children's homework to the teachers," Serrano said.
Serrano said TCEP offers tutoring on how to use technology and encourages parents to take advantage of these resources so they can better help their students. 
Serrano remembers the challenges of not speaking English when she first immigrated to the United States from Mexico over 20 years ago. She began volunteering with TCEP to support her own children enrolled in CPS schools and was able to find support and community.
As families transition to in-person learning this year, Serrano encourages them to also take advantage of the organization's resources and volunteer opportunities for support. 
"There are many organizations at this event that also came to give their resources for the same reason: to help the community," Serrano said. "The focus of TCEP is to be here to help the community. No matter where people are from — they do not have to be from Little Village, they can be from the north, from the south, from the east, from the west, wherever they are, because there are people who are in need everywhere."
In July, CPS announced plans to promote equity in the returning school year by allocating over $225 million in additional funding for school budgets from its proposed $9.3 billion budget. 
Additionally, $672 million went toward facility investments, and the district received $1 billion in federal funding from the Elementary and Secondary School Emergency Relief Fund. 
"As we turn the chapter on COVID-19, it is imperative that we give all of our students the best chance at academic success and recovery from what has undoubtedly been a challenging 16 months," said Chicago Mayor Lori E. Lightfoot ahead of the school year starting. "Through this proposed budget, we will be able to provide our school ecosystem with the tools and resources they need to fully serve students who require the most support."
Incoming sixth-grader Milagros Tellez is looking forward to that extra support from her teachers, especially in math class. While she was nervous about the move from remote to in-person school, her first day back was surprising normal.
"I was nervous at first and then I was excited," said Milagros. "I made a couple of friends."
Our work is made possible thanks to donations from people like you. Support high-quality reporting by making a tax-deductible donation today.                                                                                                                                   
Donate