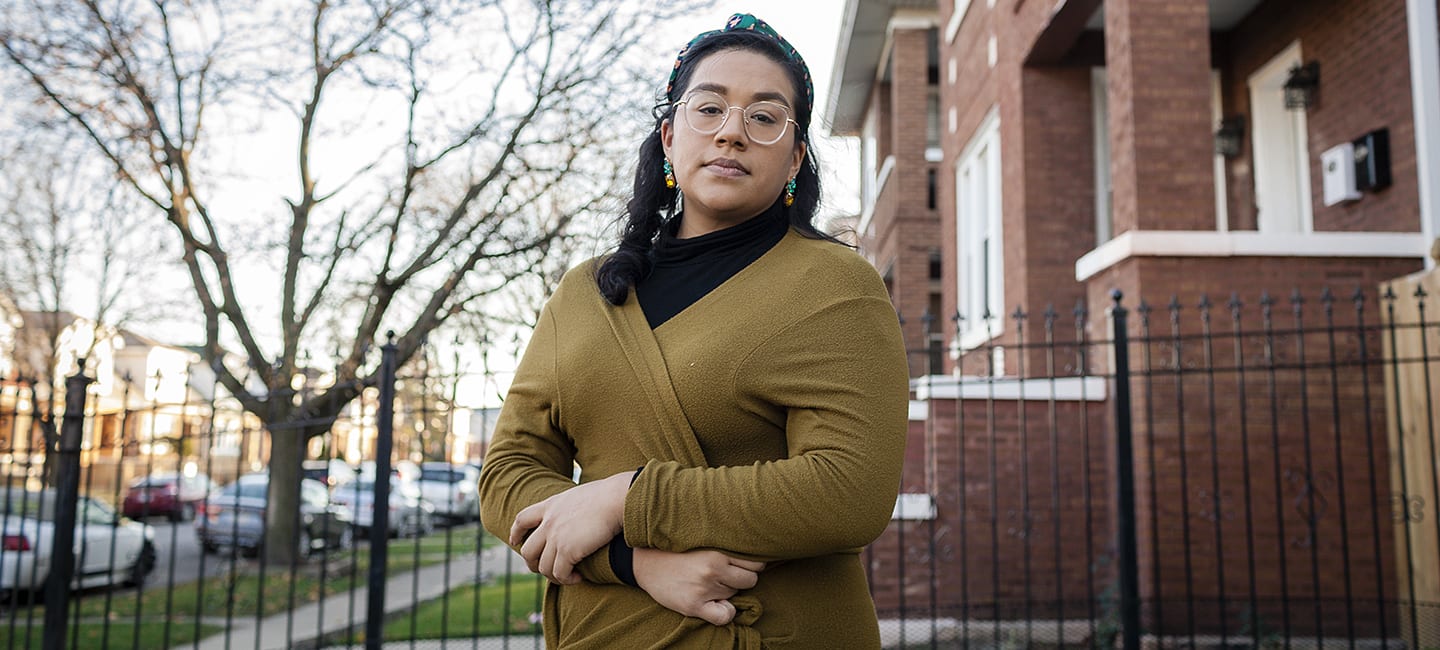 Michelle Kanaar/Borderless Magazine
Nearly half of Chicago school district students are Hispanic, yet families say help for Spanish-speaking families has not gone far enough.
Above: Nidia Carranza, a pre-K teacher at Marvin Camras Elementary School, outside her home in Belmont Cragin, the same neighborhood where she teaches, on Dec. 3, 2020 in Chicago, Ill. During the pandemic she's seen how Hispanic students and their families have struggled to participate in Chicago Public Schools' remote learning plan without enough technology support. Michelle Kanaar/Borderless Magazine
Nidia Carranza remembers standing outside a student's house this fall to help his mother log in to Google classroom while her newborn baby waited in her car.
She's a pre-K teacher at Marvin Camras Elementary School in Chicago's Belmont Cragin Cragin neighborhood and is a first generation Mexican-American. During the pandemic she's  seen how Hispanic students and their families have struggled to participate in Chicago Public Schools' remote learning plan.
Triple your impact today. Between November 1 and December 31 NewsMatch will match your new monthly donation 12x or triple your one-time gift, all up to $5,000.                                                                                                                    
Donate
While CPS plans to start in-person learning for preschool through eighth graders in January and February, only 31 percent of Latinx families surveyed by the district said they would send their children back to school, meaning most Latinx students will continue learning remotely in the new year.
The school district provided 100,000 laptops, iPads and Chromebooks to students who needed access to technology during e-learning early in the pandemic. They also offered virtual workshops and partnered with community organizations to support digital literacy support. The City of Chicago has also partnered with several internet providers to give qualifying CPS families high-speed internet access and hotspots.
But Spanish-speaking CPS families and their teachers told Borderless Magazine that they have not received enough support with technology during the pandemic. Immigrant Hispanic parents and grandparents expressed their frustrations with navigating computers not in Spanish and relying on older children and teachers for tech support. 
Nearly 47 percent of CPS students identify as Hispanic, and 18.6 percent — or over 63,000 students — are bilingual English learners. Citywide, almost 25 percent of Chicagoans speak Spanish at home.
CPS encourages families to reach out to their schools for assistance, says Emmanuel Salazar, a CPS press assistant. For Carranza, that has meant spending hours teaching parents how to use the technology they need for their children to attend virtual school.  
"It was a huge barrier. Mostly because everything on a computer is also in English," Carranza said. 
In order to change the computer's language to Spanish parents have to navigate the system in English, which adds to the parent's frustration, she said. Due to this many parents she spoke to struggle to not just log in to the classroom software but also with how to send an email. 
"I have older families that have difficulties learning technology as well," she said. "It is a lot of going through the basics. Training that I wish the district had provided but it is only available if you know English."
Carranza also wishes the district had more teachers of color like herself to address these issues.
Gloria, who asked to use only her first name for privacy reasons, agrees. 
"It has affected us very badly," said Gloria, who has several grandchildren who attend Chicago Public Schools. "It has been a struggle with Hispanic families and those of us who don't understand computers." 
The Hispanic community was hit hard by COVID-19 as many people there held jobs that were deemed "essential." In Chicago, Latinxs account for nearly 36 percent of COVID-19 cases, despite making up just 28 percent of the city's population. 
Over half of the essential worker population is composed of people of color, many who live in low-income communities, according to the Chicago Metropolitan Agency for Planning. Hispanics in particular make up large percentages of workers in the food service, construction, and healthcare industries.
This further complicated CPS' remote learning plan. Parents still going to work could not monitor or help their children in their online classrooms. So the responsibility of acting as a teacher at home often falls on the oldest child. 
This is what happened to Estrella Figueroa, a 14-year-old freshman at Little Village's Lawndale High School. Most days she sits in her family's van and uses a hotspot to attend her virtual classes. During breaks she helps her mom sell fruit at her stand on 26th street. 
As she peeled fresh cactus she talked about how it was her responsibility, as the second oldest, to help her younger siblings with remote learning. 
"I am the only one that knows a little bit more of technology so I have to help all my siblings to get into their school," Figueroa said. 
Figueroa said her mom previously tried to get more help from the school. Her mother would call the office sometimes but they wouldn't be able to help her. 
"So she got angry and frustrated sometimes. But now she doesn't anymore because she comes to work," Estrella said.
While she misses school and believes that her education is suffering, Figueroa isn't comfortable going back to in-person classes as her asthma puts her at higher risk during the pandemic. 
Older students like Figueroa were able to have a smoother transition due to their understanding of technology. 
Helping out parents like De Jesus is one of the new tasks that teachers like Carranza were expected to add onto their workload during the pandemic. 
"I don't mind also learning as I go and teaching the parents, it's just that there was little direction," said Carranza. "It was just 'figure it out.'"
Husna Kidwai, a biology teacher at Gurdon S. Hubbard High School in the city's West Lawn neighborhood, also recalls the lack of direction from the district. 
"With switching to remote learning, in a blink of an eye teachers all over were asked to completely switch to virtual learning without really any training without any thought really," Kidwai said. 
Older students are better equipped to handle the transition to remote learning because most teachers were already using computers in their classrooms at least once a week anyways, she said. 
While technology is able to help provide students with the ability to attend class, Kidwai says that engagement and participation over Google classroom has been really hard for students, often making her feel frustrated. 
"The students always have their microphones on mute, their cameras off, so a lot of times I ask a question and I am just sitting there and there is no response. I think that has been the absolute most frustrating part for me," said Kidwai. 
And for Natalie Gonzalez, who was an English teacher at Wendell Phillips Academy High School in the Bronzeville neighborhood when the pandemic first hit, the lack of guidance from administration was puzzling.
"There was no concrete direction or guidelines from the administration. So everybody was kinda doing their own thing," she said. "We were all just trying to float on our own." 
Gonzalez, who is now a teacher at Benito Juarez High School in Pilsen, also experienced frustration with trying to keep students engaged remotely. She now has a new set of students and is trying to build trust with them despite not having met them in person yet. For her, it is about being transparent and meeting her students where they are at.
"From the very beginning I tell them, this is going to be a community where I want you guys to feel safe in your learning experience," said Gonzalez. 
But despite the lack of direction from CPS leadership the teachers Borderless spoke to believed their schools did their best to help families adapt to remote learning. 
CPS aims to return to in-person classes early next year, with preschoolers having the option of returning Jan. 11 and kindergarten through 8th graders returning Feb. 1. High schoolers will continue to learn remotely.
The school district has taken steps to ensure the safety of students and teachers, including purchasing 20,000 air purifiers for the schools. But the teacher's union has questioned CPS' decision to return to in-person classes.
While e-learning hasn't been easy, many educators and parents — including preschool teacher Carranza — seem to believe it's still the better option at the moment. Latinx families were half as likely to say that they would send their children back to school for in-person teaching in the new year than white families, according to a CPS survey.
Carranza has made it clear to her school she would not feel comfortable going back, opting to take a leave rather than putting her family at risk. 
"I understand that parents also need to work and it is a lot to balance but at the end of it all it is literally putting lives at risk. Whether we might be okay, our family members might not," said Carranza. 
Kidwai shares the same feelings and is nervous about potentially exposing her parents to the virus. 
The teachers say CPS doesn't take their opinions into consideration regarding the return, once again showing that they are simply expected to follow along with plans set by the heads of the district . 
"There is no amount of self-care training that we could go to that would take away any distress that comes with somebody's life being at risk," Carranza said."There is no training that would help us out for that." 
---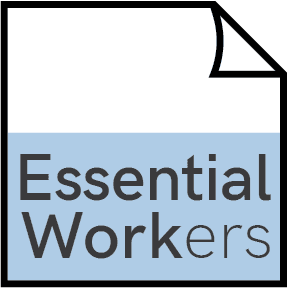 This story is a part of the Solving for Chicago collaborative effort by newsrooms to cover the workers deemed "essential" during COVID-19 and how the pandemic is reshaping work and employment.
It is a project of the Local Media Foundation with support from the Google News Initiative and the Solutions Journalism Network. The 19 partners span print, digital and broadcasting and include WBEZ, WTTW, the Chicago Reader, the Chicago Defender, La Raza, Shaw Media, Block Club Chicago, Borderless Magazine, the South Side Weekly, Injustice Watch, Austin Weekly News, Wednesday Journal, Forest Park Review, Riverside Brookfield Landmark, Windy City Times, the Hyde Park Herald, Inside Publications, Loop North News and Chicago Music Guide.