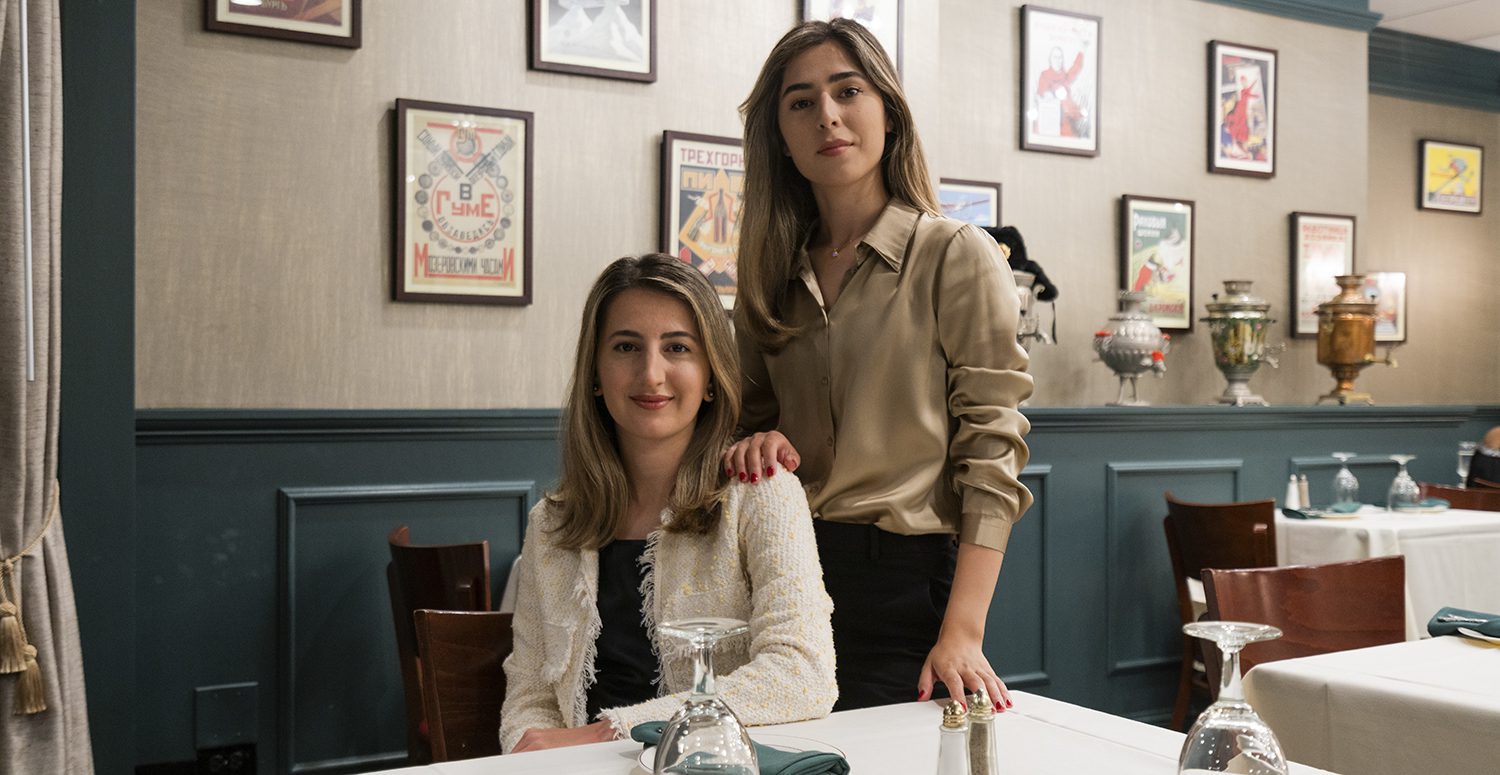 Photo by Camilla Forte/Borderless Magazine
Russian Tea Time's co-owners Altyn Mantyyeva and Enesh Mantyyeva on July 20, 2021 in the Loop neighborhood of Chicago, Ill. The sisters purchased the restaurant from its previous owners in 2018.
For Altyn and Enesh Mantyyeva, co-owners of the iconic Chicago restaurant Russian Tea Time, serving the dishes of their childhood isn't just business — it's a personal responsibility.
It's no ordinary Chicago restaurant: the servers speak Russian, Soviet-era propaganda posters hang on the walls, and there's a collection of large silver samovary, or tea urns, on display. In fact, Russian Tea Time, in the heart of the Loop, is one of the city's few Russian restaurants.
Want to receive stories like this in your inbox every week?
Sign up for our free newsletter.

The culinary landmark was founded in 1993 by Ukrainian chef Klara Muchnik, who sold it to new leadership in 2018. The current co-owners are Altyn and Enesh Mantyyeva, sisters who were born and raised in the city of Mary in Turkmenistan. Enesh Mantyyeva first came to Chicago in 2012 to improve her English language skills. Her sister and their two brothers followed several years later.
The Mantyyeva sisters say they bring the same love for Russian cuisine that Muchnik brought to Chicago nearly 30 years ago, when she and her family immigrated from Uzbekistan, where they lived for many years. Turkmenistan and Uzbekistan, both former Soviet republics in Central Asia, share deep historical and cultural ties, as well as a border that stretches for over 1,000 miles.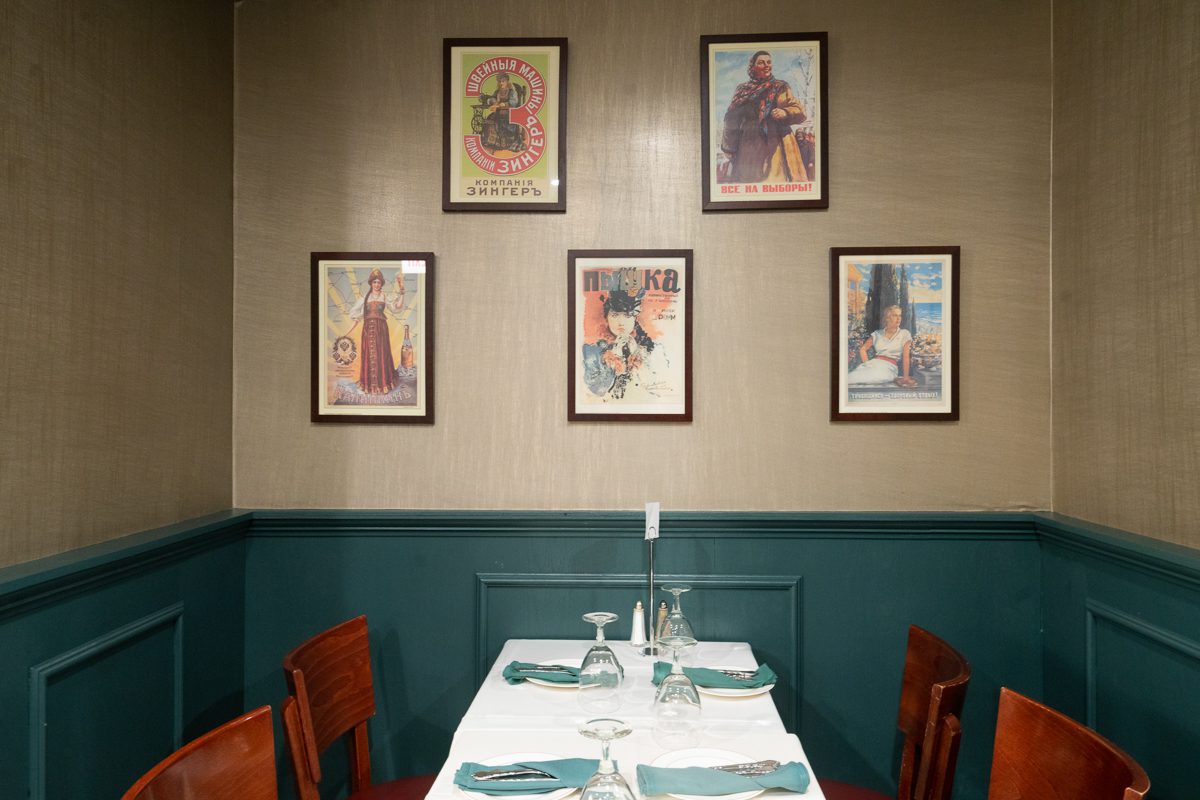 Photo by Camilla Forte/Borderless Magazine
The COVID-19 pandemic struck Chicago right when the Mantyyevas had finished an eight-month renovation of the restaurant. Though they applied for Paycheck Protection Program loans three times during the city-mandated lockdown, they were denied due to bureautic issues stemming from the change in ownership, the sisters say. After nearly two years in limbo, Russian Tea Time officially reopened for business this spring.
As part of our series on how immigrant restaurants have survived the pandemic, Borderless Magazine spoke with Altyn and Enesh.
Enesh: We actually stopped at the restaurant a couple of times once we moved to Chicago. When we saw the word "Russian" in the sign, we were like, "Okay, we know this cuisine. Let's go and eat some blinchiki (crepes) or golubtsy (cabbage rolls)." We stopped by and we loved it.
A couple months later, my brother was like, "Oh, do you guys know this restaurant? It's up for sale in downtown." We called and said we were interested in purchasing the business. We had the first meeting and we got very close, because they're from Uzbekistan. We've got this connection.
Then we had a second meeting, and my dad suggested, instead of buying the whole business, since we're new to the restaurant industry, that we buy 75 percent and the owners stay in 25 percent. He was like, "We can always buy you out. But initially, you have to teach us, and we want you to have skin in the game as well."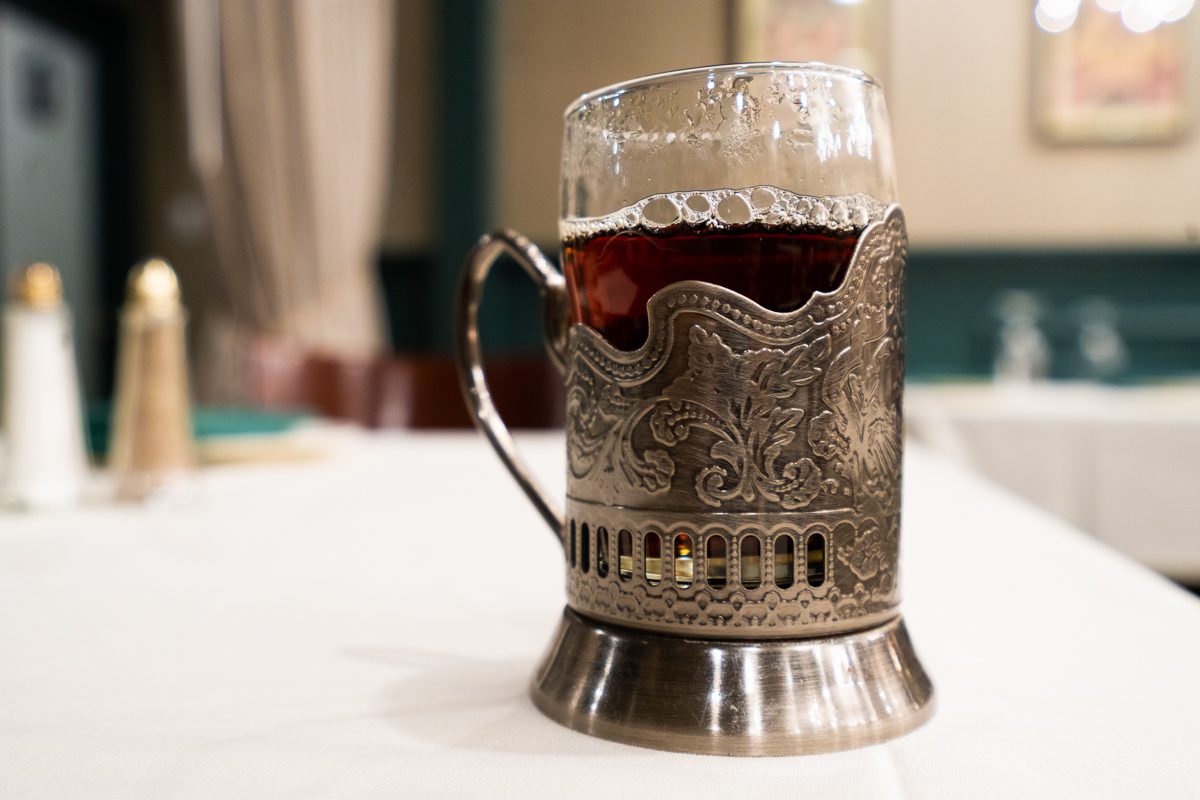 . Photo by Camilla Forte/Borderless Magazine
My dad is a true businessman. He cannot just relax. He always thinks about business. He owns several factories, including a meat factory. The main one is dairy. He was in production of ice cream, smetana (sour cream), and kefir (a fermented milk drink). My dad always says he has milk flowing in his veins instead of blood.
So the food business was not completely new to us. But we'd never been in the restaurant industry.
Buying a share of such a legendary place feels amazing. I'm very grateful. But when the business has been open for so long, it's very difficult to make any changes.
Altyn: It's a lot of responsibility. Every step you do, every decision you make, it makes you think twice before doing it, before changing something.
Photo by Camilla Forte/Borderless Magazine
Enesh It's not like opening a coffee shop. The menu is like a constitution that you need to modify or update with time but not completely change. Everything was personally created by Klara Muchnik. She used to have a catering business back in Uzbekistan. The menu was amazing, but it was like six pages long. So we cut it in half. We left the signature unique items that we couldn't touch, and we added some.
Altyn: You can refresh it and develop it a little bit, but not to change.
Enesh: And we didn't want to change! We grew up eating golubtsy. We grew up eating borscht.
When we bought Russian Tea Time, one of the conditions was for us to renovate. So we decided that we're just going to close and remodel for three months. We started in July 2019. But of course in downtown Chicago, it doesn't go so easily. It took us longer than anticipated. We went three times above our budget. And there was an issue with the pipes that belong to Panda Express but run through our ceilings. That's why the city didn't sign the certificate and the permits for us to reopen.
The renovation ended in February 2020, and talk of the pandemic started that week, so we couldn't open. It was a devastating time. It was very painful. The fact that we just remodeled and wanted to show everybody … For me and Altyn, it was as if we opened a new restaurant. We were scared that we were going to lose a lot of loyal clients, because we were closed for so long. We were afraid they were going to assume that we're closed permanently.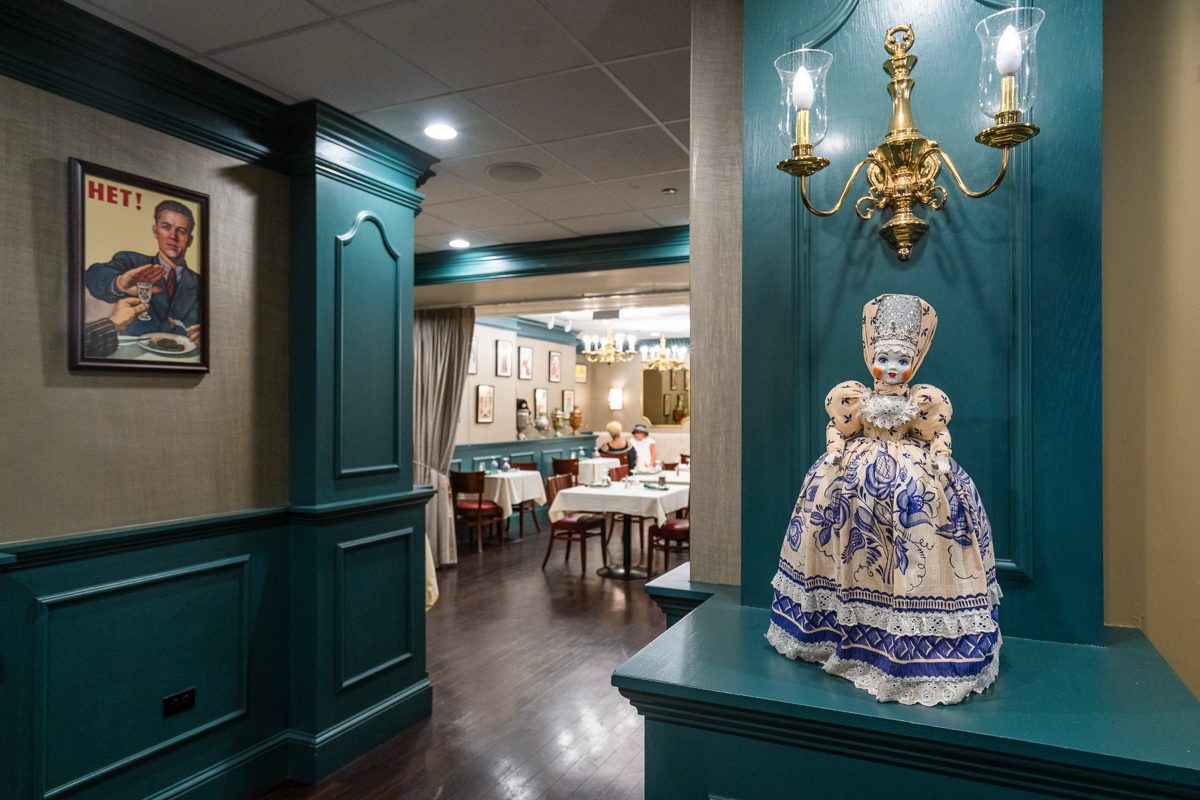 Photo by Camilla Forte/Borderless Magazine
We applied for Paycheck Protection Program loans three times. But it was a little tricky because when we bought the restaurant, we had to change the business name to Russian Tea Time, LLC. But because Russian Tea Time, LLC was new, it didn't have a credit history, it didn't have any activity in the bank. Due to that small issue, we were denied the PPP loan three times. We also applied to the Chicago Hospitality Grant Program but we were denied that too.
DoorDash had a program that was helping the small restaurants, and they gave us $10,000. But really, for us, we've had to survive by ourselves.
Altyn: Our building was very helpful. We didn't have to pay the rent for a couple months.
Enesh: Maybe it was easier to overcome obstacles because the Muchnik family was able to create this family of employees. Our employees have been here for years. We all love each other, we care about each other. It came naturally because most of our staff, they're also from post-Soviet countries, and we share the same background and experiences. At work, it's like you're coming from home, to home. Even outside the work, we're very good friends.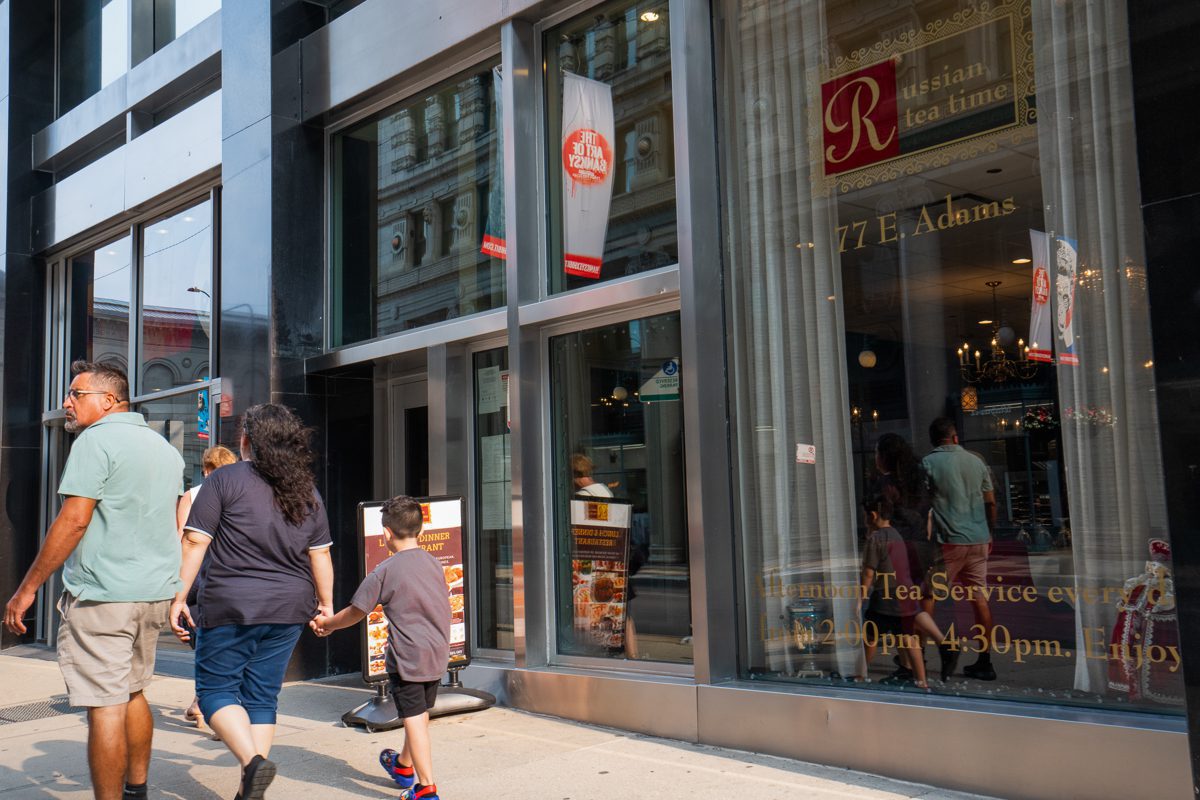 Photo by Camilla Forte/Borderless Magazine
Altyn: They understand us. They know how hard it is sometimes. And we understand their position.
Enesh: Owning this restaurant is a very unique experience. Vadim [Klara's son] would tell us stories about how Klara would come down and tell customers the history of the restaurant, what every meal on the menu means, where it comes from, how they cook it. That's what me and Altyn did, too.
We could understand the excitement and the love people have for this restaurant, because we love it, too. And buying it from the Central Asian immigrant family that we connected with, we share the same tastes, the same history, the same childhood memories.
Altyn It's wonderful. And it's amazing how food is something that unites people.
Enesh: And it's funny how the human brain works. Just the smell of different dishes, it brings up memories of exactly when and how we used to eat it, who made it.
It's food. It's a completely different language that unites people. If you eat borscht and I eat borscht, that's something that we have in common.
This story was reported with help from the Metro Media Lab, a project of the Medill School at Northwestern University aimed at strengthening journalism in Chicago. It is funded by the Robert R. McCormick Foundation.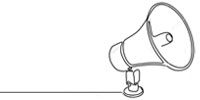 Bring power to immigrant voices!
Our work is made possible thanks to donations from people like you. Support high-quality reporting by making a tax-deductible donation today.