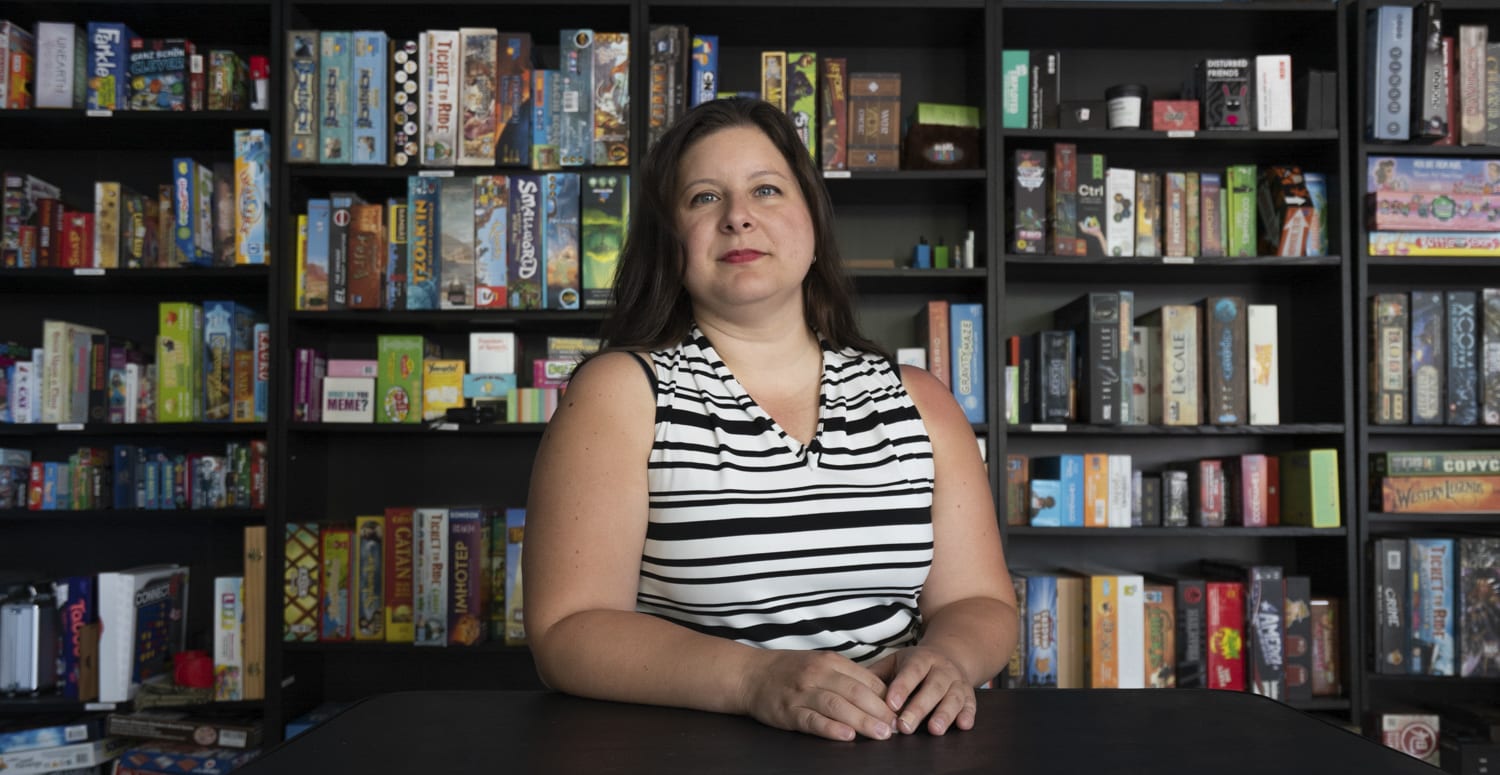 Photo by Camilla Forte/Borderless Magazine
Owner Patricia Gonzalez in the playing area of Athena Board Game Cafe located in the Rogers Park neighborhood of Chicago, Ill.
After years in the corporate world, Patricia Gonzalez decided to pursue her passion project in Chicago. She opened it right when the city was shutting down due to COVID-19.
Patricia Gonzalez initially moved to Michigan from Venezuela to get a master's degree. Almost a decade later, she came to Chicago and started working on her passion project: a cafe where people could get together and play board games. After scouting locations, getting permits and trying out different board games, she was finally ready to open Athena Board Game Cafe in Rogers Park. Unfortunately, the global pandemic threatened her vision of bringing people together. In March 2020, after debating whether or not she should open, Gonzalez decided to persist, realizing she had to get extra creative when she was open for business. 
As part of our series on how immigrant restaurants have survived the pandemic, Gonzalez told Borderless Magazine her story. 
---
I grew up in Caracas, Venezuela. My mom was a single mom, and I'm the second of two children. 
I studied production engineering at one of the top engineering schools in Venezuela, Simón Bolívar University. It was very entrepreneurial — about managing costs, pricing and looking at industry or production. 
The first time that I came to the United States was in 2007 to get my MBA at the University of Michigan. I was intrigued about going to a different place, speaking a different language and just being in a different environment. It seemed like a challenge, and I love something that's going to be difficult. I remember sitting my daughter down to tell her we were going to move to this place called Michigan. She was 4 at the time and only spoke Spanish so she could only say "Mi-chi-gah." A couple of months later she barely spoke Spanish. I was like, "Wait a minute, what happened here?" She adapted well here and she really loved it.
After I graduated, I got hired at a company in Michigan. I was liking it here, so I decided to stay a little bit longer. Plus, things back home were starting to get a little more difficult. Hugo Chavez had been president for a few years, the price of oil was starting to come down, there were a lot of stockouts, and it was difficult to find products. Inflation also started to go up. 
As part of the job, I was sent to Italy. I went with my daughter to live and work there for two years, when she was 13.
We went to London, and one place we visited was this board game cafe called Draughts. It was kind of industrial-looking, and they had a huge menu, a huge library and a wide variety of games. We went during the day and spent four or five hours there.
---
---
That thought stayed in my brain — that if I did open a business at some point, that's what I would want to do. I always thought I would have a business, but I always felt like it would have to be something a little unique. That was a little creative. That was like me. At the cafe I can be creative with a new menu, with a display of games or with promotions or events. Over the holidays, for example, I did "25 days of games," with a recommendation of a board game for every day.
In late 2018, I moved to Chicago. Because of the move to the city, the cafe started to become more of a real possibility for me. Generally speaking, there's one board game cafe in every major city in the U.S., and one in every college town. So it was definitely something that was not an overcrowded market, that had potential. 
During our time in Europe, one of our favorite places was Athens, where we did a mythology tour. We loved the story of Athena: The whole connection between warrior characters, strategy and board games was there, so we knew we would call this idea Athena.
I played board games with my brother and my cousins when I was little — I started Monopoly many times but never finished! When my daughter was 8 or 9, she started picking up checkers, and we started looking at other games to play together. What I love about board games is that they are fun challenges, with zero stakes. If you mess up, end up last, nothing bad is going to happen to you.
In 2018 when I started getting serious about the cafe, I started buying games when they were on sale online, or at the Chicago Toy and Game Fair. I read tons of reviews, got recommendations from friends. Everything I could absorb, I did.
I looked for a neighborhood not only to live in but to open a cafe as well. Rogers Park is very inclusive; there's a lot of art around, so it's very vibrant. People know each other, and they really support the small businesses in the neighborhood. All of the pieces just fell in place.
I signed the lease for the cafe in December of 2019 and took possession on January 15. March 7 is when things started to shut down. My business license process was underway, and I had already invested quite a bit. Do I push through, or do I cancel everything? I sat down, ran the numbers and figured I was going to be able to keep going.
I went through all of my inspections, and I finally was given the go-ahead to open in early May. I had a reduced menu, but I figured I better start now and get my name out there a little bit, even if it was just with takeout food. 
My anchor item is a seasoned grilled cheese sandwich, which is made with olive oil and oregano. My main dessert, the Alicia lime cream parfait, is a recipe that my mom used to make when I was little. The only real restaurant work that I'd done was when I was a teen at this place in Venezuela called American Deli that made milkshakes, so that was also filed away in my mind. 
I told everybody on Facebook that we're open. People came out on the first weekend to support us and get their sandwich or milkshake. My daughter and I added more things to the menu — more sandwiches and our salads. When stores were allowed to open retail, we started bringing games to sell. The food is nice but, ultimately, the board games are the main business.
Puzzles sold like hotcakes. Over the holidays there was a lot of interest in family games to bring to family gatherings. Lots of couples picked up two-person games as well, which is a growing trend in games.
When we were allowed to open for dining last summer, I got very excited and hired three people. I was opening a lot more hours, but six weeks later I decided, I can't afford this. I had to let them go, I felt awful about it. Now it's just me, and I decided to reduce the hours to only Thursday, Friday, Saturday and Sunday. My daughter works with me on Saturdays and Sundays. So, that's a lot of fun, and that's when I get just a little bit more traffic. When I started, I ran two scenarios: either I'm at full occupancy, or I'm at half occupancy — 22 people at a time. Right now, on a really good day, I have like six to eight people.
During the pandemic, I have not been able to operate at a profit. The only aid I qualified for was for the Chicago Hospitality Program Grant. It was pretty much the only help I got because I started in 2020. To qualify for the federal PPP and some of those other resources, you have to show that you were open in 2019.
This grant covered my operational expenses for three months. It really helps me keep the lights on. 
I got notified about it four different ways: directly from the city, from the BACP (Business Affairs and Consumer Protection), from the alderwoman's office and from Howard Street Chicago. Howard Street Chicago is a special service area — one of these pockets that the city has where they're investing extra to develop that community. Howard Street Chicago uses that money to do additional marketing. So the bus stop outside my cafe has my face on it. Those resources are great because they really make you feel like you're not going at it alone. That there's a whole community that wants you to succeed, that wants to help each other succeed.
There's definitely a potential for Athena's to be a hub for the community, but it doesn't happen on its own. It's difficult to put yourself out there, to be vulnerable, introduce yourself, even to commit to spending a couple hours with people you have never met. 
That's why I'm focusing on events that can put people at ease, like trivia games or teaching sessions, so people are comfortable learning something new.
What's great about board games is that it takes out a lot of the awkwardness. Even if you don't find anything to talk about, there's an activity you are doing and you can focus on that. A lot of it is also people being open to try something new. Many times people say they don't like board games, but there are so many different kinds that for sure something is going to work out.
This story was reported with help from the Metro Media Lab, a project of the Medill School at Northwestern University aimed at strengthening journalism in Chicago. It is funded by the Robert R. McCormick Foundation. 
Our work is made possible thanks to donations from people like you. Support high-quality reporting by making a tax-deductible donation today.                                                                                                                                   
Donate