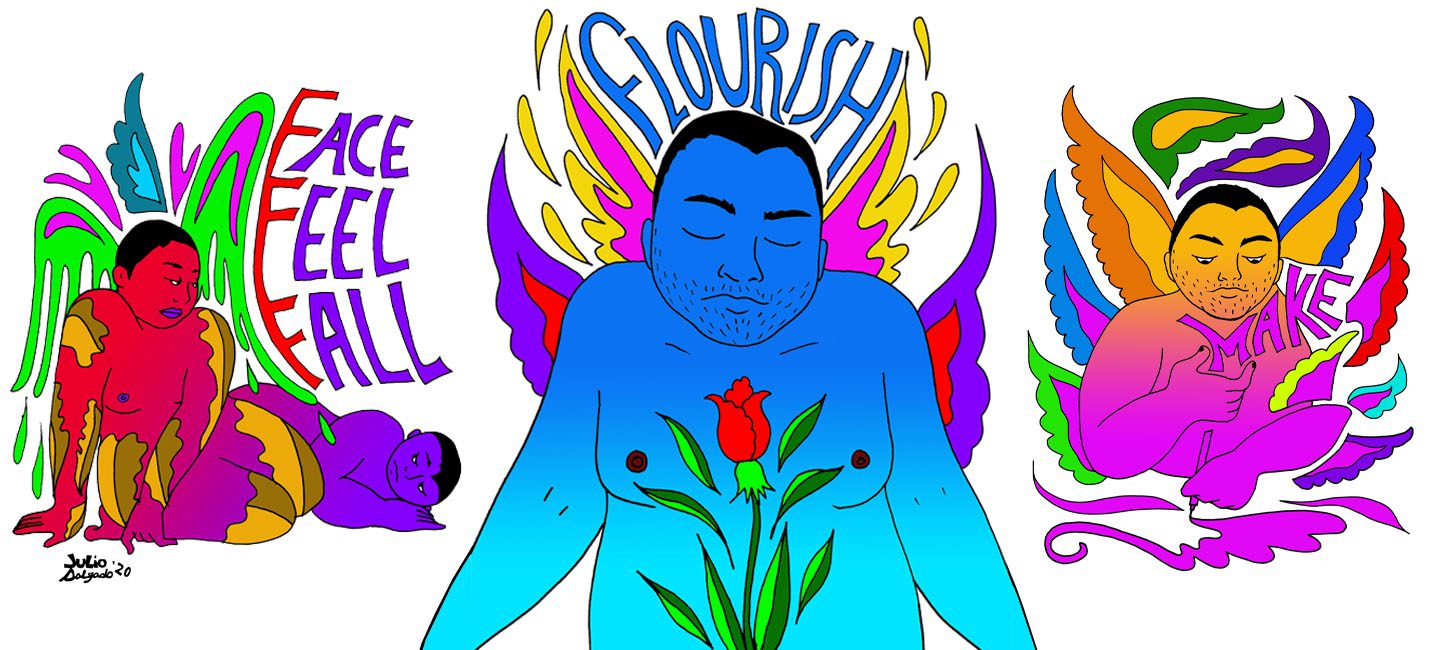 The 37-year-old artist explains the power of art in the migrant movement and why he's always laughing. 
Illustrations by Julio Salgado
Julio Salgado knew more undocumented people than queer people as a teenager in Long Beach, California.  
The 37-year-old artist was born in Ensenada, Mexico, just two hours south of the U.S. border. In 1995 his family immigrated to the United States to seek treatment for his sister's life-threatening kidney disease. She ended up getting a transplant and the family decided to stay. 
It was in California that Salgado first learned about Frida Kahlo's use of color and storytelling, something he would go on to use in his work years later. And it was here that he became obsessed with Gilmore Girls and Hollywood culture, an obsession that led him to create his own black comedy sketch series on YouTube, "Undocumented and Awkward."
Today, Salgado makes art for his younger self. 
"The kid who is going through shit who is queer and undocumented," he said. 
His artwork documents the youth-led immigration movement and weaves humor into what can often be tragic situations. He is also a co-founder of Dreamers Adrift and the migrant storytelling program manager at the Center for Cultural Power in Oakland, California.
Salgado spoke with Borderless Magazine about his use of dark humor in his art and the importance of giving a human face to the migrant movement. 
---
Borderless Magazine: Why did you decide to document the movement? 
Julio Salgado: When people were getting arrested in 2010, I remember seeing a photo of undocumented students in the New York Times and saying, "We need to document this." I started making images and sharing them on Facebook. I really wanted to highlight the fact that the movement is queer and woman-led. 
Art is another way of being able to communicate and take care of each other. It's a way of being able to communicate with some of the needs of our communities. Through my art I've been able to share my thoughts, meet other people and feel a little less alone. 
Borderless Magazine: Is there a moment when you decide, "I have to tell this story?'  
Julio Salgado: I always feel as artists we're very lucky to be able to create. It's our form of therapy. I think when it comes to your own story you should be able to put that story out there whenever you feel comfortable because it's your story. This could also be said about coming out as undocumented and queer.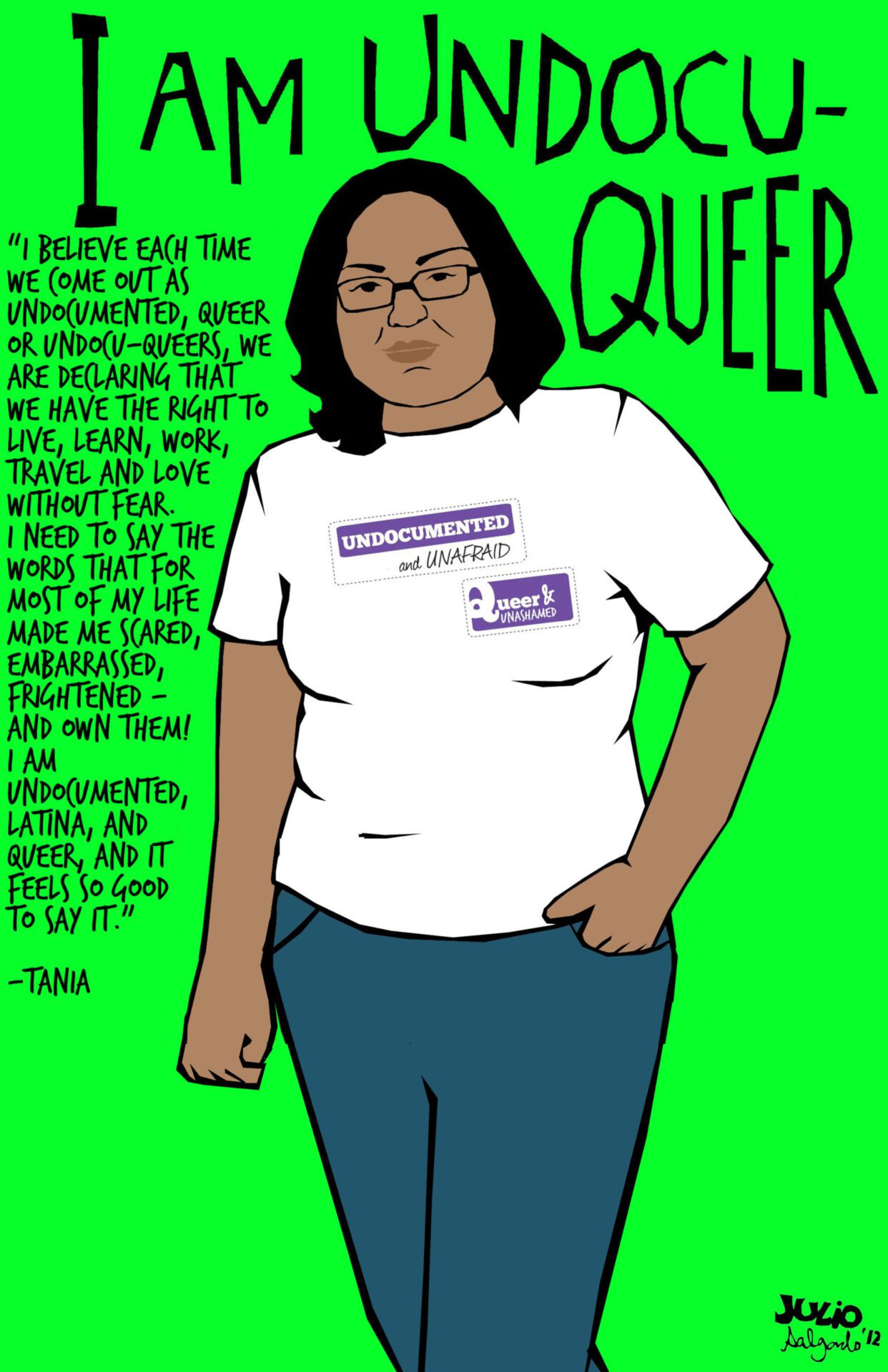 When it comes to other people's stories you need to collaborate with people who are working on the ground. That has always been my approach when it comes to highlighting issues that are happening in our community. You cannot generalize. If you are creating art and are not part of a community dealing with people's deaths or their detention, are you being careful in how you're crafting that message?
Borderless Magazine: What stories do you want to tell with your artwork? 
Julio Salgado: I think more than anything, it's about us as immigrants. A lot of the time humor and dark humor were ways of us coping with the things that were being thrown at us as we were pushing for the Dream Act. From the criminalization of our lives to the possibility of deportation — laughing at the situation is cathartic. 
There were points where we said, "Fuck this, let's leave the country, let's go back, let's self-deport." Some people did. But what are we going back to? You can't help but laugh. Organizers at the time were always laughing and joking with each other. That part of ourselves, I hold very dear. We had to find it in ourselves. In our daily lives to laugh at the system because it was something we were dealing with. 
Borderless Magazine: Tell me about the "Undocumented and Awkward" video series you did for Dreamers Adrift. Why did you decide to make this series?
Julio Salgado: We wanted to focus on the experience of being undocumented and living our daily lives. We wanted to show things that are boring to the media. Often they just focus on someone getting deported or a perfect student. But there's more to us than that. And that when nothing newsworthy is happening we're still having to deal, in one way or another, with being undocumented. We have to keep asking people to treat us like basic human beings. 
We were being creative when we decided to make the series. We wanted to own and tell narratives that were not necessarily covered in the news media. I think it's important to figure out ways to not just see ourselves represented in front of the camera but also behind it. 
Borderless Magazine: You now are lifting up other artists through your work at the Center for Cultural Power. Tell me about the Disruptor's Fellowship. 
Julio Salgado: I am really excited about this. The fellowship has 10 fellows and we support writers who want to write for TV who are undocumented or formerly  undocumented, disabled, or identify as trans or non-binary. If you fit any of those categories you can apply. 
We wanted to be intentional about who gets these opportunities. A lot of times undocumented people cannot apply to fellowships because you need to be a U.S. citizen. We wanted to create a program that really gave people the tools and connected them to people in the industry. Right now there is a hunger for stories of our communities to be told. 
Follow @5050by2020 and @culturestrike on Instagram to receive updates about the Disruptor's Fellowship and for information about how to apply to be part of the next cohort.
Our work is made possible thanks to donations from people like you. Support high-quality reporting by making a tax-deductible donation today.                                                                                                                       
Donate