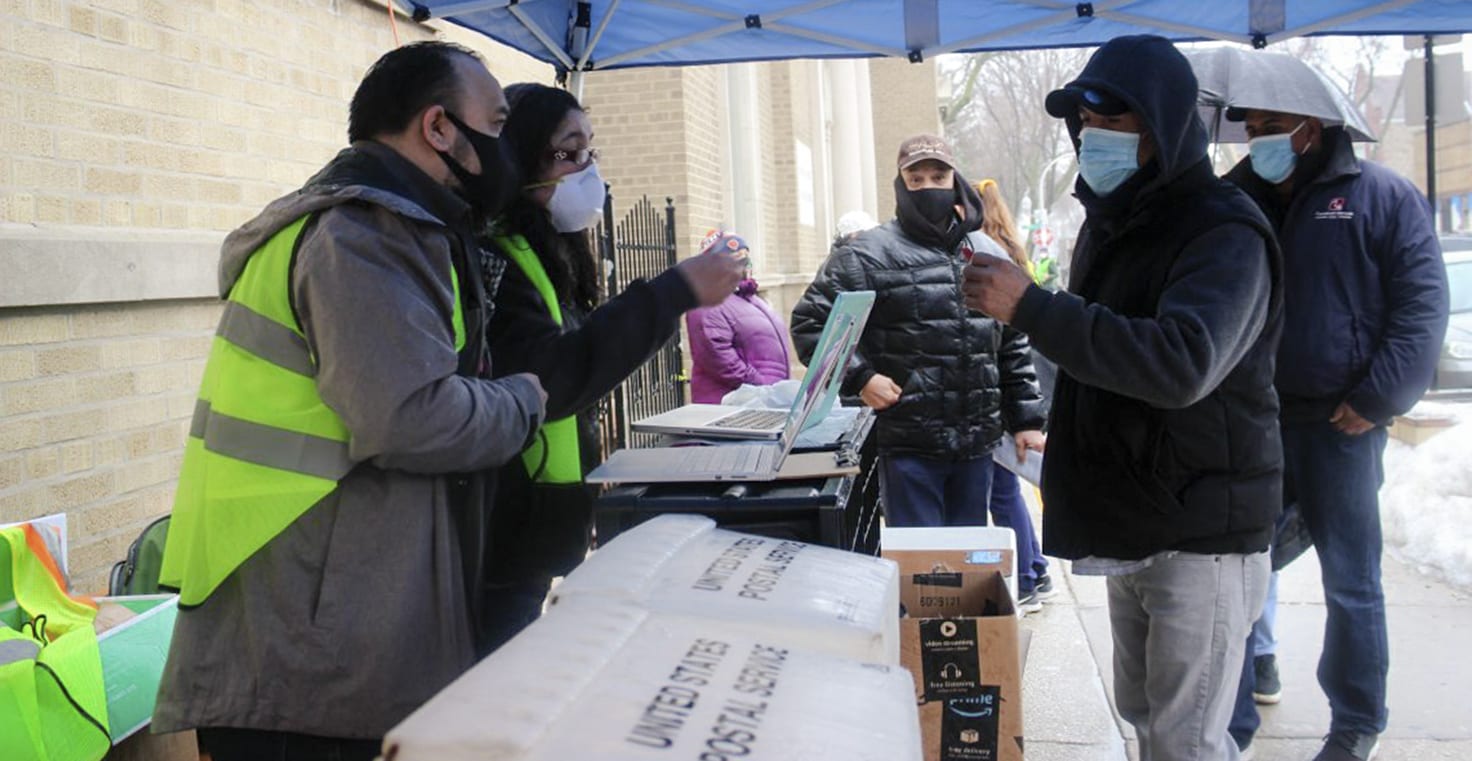 The pop-up vaccinated 1,000 Little Village residents Sunday. It was held at a community location in hopes of eliminating barriers, organizers said.
LITTLE VILLAGE — Outside St. Agnes of Bohemia Catholic Church, Gloria Diaz left a pop-up vaccination site Sunday with a sense of relief.
Despite a rainy morning, hundreds of Little Village residents lined up along Central Park, 27th Street and Drake Avenue to receive a vaccine Sunday. The vaccination pop-up, which was hosted by Mi Villita Neighbors and Walgreens, saw about 1,000 Little Village residents get shots.
"This is a very important moment," Diaz, 42, of Little Village, said in Spanish. "I've had a lot of family and friends die from the virus. A lot of us have been waiting for this opportunity.  It's great to see so many people. Everyone wants to get vaccinated to take care of each other."
The pop-up used a hybrid model to get people vaccinated: 20 percent of people had scheduled appointments and 80 percent were walk-ups. Mi Villita's organizers wanted to accommodate people who can't call in or who don't have the internet to make an appointment, said Lucky Camargo, co-founder of Mi Villita.
"We know that there has been different types of rollouts in this neighborhood, but we also understand that in this neighborhood doing something through technology or driving somewhere can be a challenge," Camargo said.
"We wanted to cut the barriers that would prevent people from accessing vaccines."
Mi Villita Neighbors, working with the Peoples Response Network, has hosted COVID-19 testing and flu shot drives across the city. Last fall, Walgreens and Mi Villita paired up for a flu vaccine and COVID-19 testing event that brought in hundreds of people just through word of mouth.
The success of that event led to this weekend's coronavirus vaccination pop-up, Camargo said.
Organizers set up in public spaces like churches, schools and park field houses — places community members are comfortable with and frequent, Camargo said.
The neighborhood-led initiative had more than 30 volunteers checking in people and scheduling folks throughout the day.
"We aren't the city. We aren't a formal nonprofit. We are doing something that we know will work for our neighbors," Camargo said.
'For The Community, By The Community'
Chicago's Latino community has faced more coronavirus than any other population in the city, with more than 85,000 confirmed cases so far. Latinos have also accounted for 1,659 COVID-19 deaths in Chicago.
But when Chicago started its vaccination campaign in December, few shots were going to Latino people. Officials estimated about 53 percent of vaccinated Chicagoans were white, 14 percent Asian, 15 percent Black and 17 percent Latino.
Those numbers have improved as Chicago has opened vaccinations to more people and as the city started its Protect Chicago Plus program, which prioritizes sending resources — including vaccine doses — to communities most vulnerable to COVID-19.
A Little Village site is expected to open this week as part of the initiative. Community leaders said people there are desperate to be vaccinated.
Dolores Castañeda, a community activist with Mi Villita, said some people lined up in the early morning hours to get a vaccination Sunday.
The long line was proof Latinos want to get vaccinated — there just aren't enough opportunities for them to do so in the neighborhoods, Castañeda said.
"There aren't enough sites, but there are a lot of barriers," Castañeda said.
Howard Ehrman, co-founder of Mi Villita, worries government efforts exacerbate racial disparities by unintentionally creating barriers — like opening drive-thru sites when hundreds of thousands of Chicagoans don't have a car. He said city and state officials need easily accessible sites.
Now, community organizations are finding ways to get residents vaccinated, like through Sunday's pop-up. The vaccination drive was just for one day, but about 1,000 people got shots and were signed up for their second doses.
More than a dozen volunteers from University of Illinois at Chicago's School of Public Health helped at the pop-up.
Graduate student Sara Izquerido said she hopes this pop-up can serve as an example for more community-led initiatives.
"They work. People show up. People trust it more," Izquerido said. "The most successful public health design is for the community, by the community."
Volunteer and Little Village resident Maggie Nava said it is critical for officials to pair with trusted community leaders like Castañeda if they want to reach Little Village and other communities.
"I think it's key when you are working in underserved communities to have leaders and advocates they trust," Nava said.
While he's heard skepticism around the vaccine, Little Village resident Salomon Martinez, 59, said there is still is a big demand in the community.
"This is what the community needs," Martinez said in Spanish.  "I think it's something that's important.
"This vaccine is necessary. The virus doesn't make any distinctions, it takes everyone … . This is a reality that we need to face. People need to get vaccinated to protect themselves and their families."
Our work is made possible thanks to donations from people like you. Support high-quality reporting by making a tax-deductible donation today.                                                                                                                                   
Donate