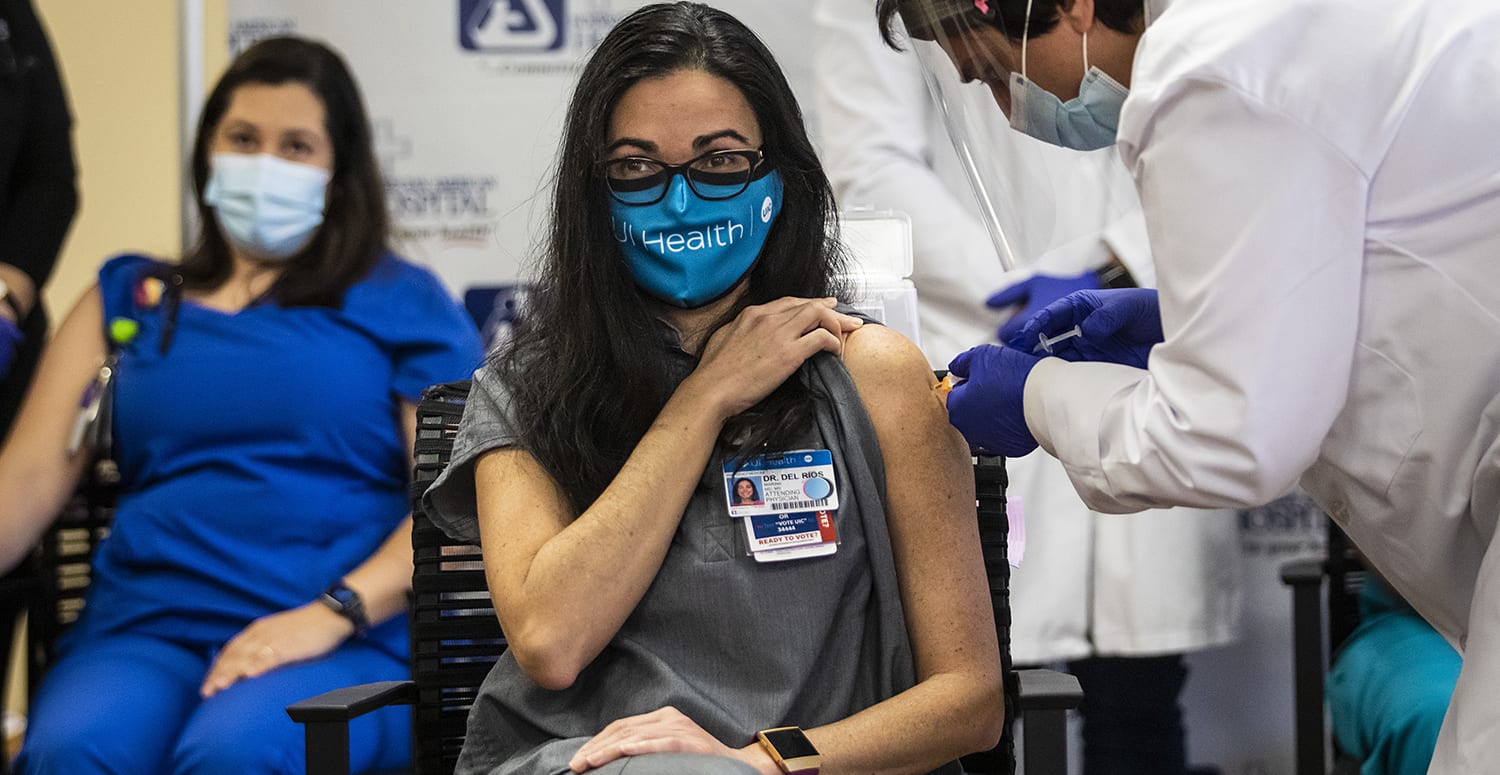 Ashlee Rezin Garcia/Sun-Times
Activists are addressing low vaccination rates within Latinx communities, but they face major hurdles from conspiracy theories to distrust of the government.
Above: Dr. Marina Del Rios of University of Illinois Health, the first person to get a COVID-19 vaccine in Chicago, gets her 2nd and final dose at Norwegian American Hospital Tuesday. Ashlee Rezin Garcia/Sun-Times
When Jorge Mújica saw a YouTube video claiming that COVID-19 vaccines contain aborted fetal cells this winter, he could not believe it. He was even more disturbed the next day, when he saw another video that translated the misinformation into Spanish. 
In recent months, the longtime organizer with Arise Chicago, a workers' rights organization, has heard a wide array of objections to COVID-19 vaccines from Spanish-speaking immigrant populations. Their reasoning ranges from legitimate concerns about side effects to outright conspiracy theories. 
Frustrated with rampant misinformation and the lack of Spanish educational materials on vaccine safety, Mújica took matters into his own hands. In December, broadcasting from his apartment in Chicago's Pilsen neighborhood, he went live on Facebook to explain fundamental concepts in Spanish such as what a vaccine is and how it interacts with the human body. The 80-minute video has since received more than 4,700 views.
Jorge Mújica goes live on Facebook to explain fundamental concepts in Spanish such as what a vaccine is and how it interacts with the human body.
"People were saying there's no way in hell they would get the vaccine, and they would rather resign from their jobs," Mújica said. "After the video, we actually got these people saying, 'I was against it, but what you said makes sense, so I will get vaccinated.'" 
Chicago has entered Phase 1B of COVID-19 vaccinations, which allows frontline essential workers and residents 65 years and older to receive their first doses. But the city's Latinx population, despite being among the hardest hit groups by the pandemic, is getting shots at far lower rates than white residents. 
Although activists like Mújica have taken initiative to educate their communities, vaccine misconceptions and deep distrust toward the government continue to deter some Latinx immigrants from seeking immunization. Undocumented immigrants face additional hurdles, such as concerns about potentially revealing their immigration status to government health officials and confusion as to whether they are eligible for a vaccine.
So far, health providers have administered more than 190,000 vaccine doses in Chicago. According to city officials, there is no comprehensive data on race and ethnicity since healthcare partners typically have not collected this information from vaccine recipients. The Chicago Department of Public Health estimated that only 17 percent of all individuals who have received a first dose are Latinx, although census data show that the group accounts for almost 30 percent of the city's total population. Such a gap is particularly concerning given that Latinx residents have the highest COVID-19 mortality rates among Chicagoans—four times higher than that of white residents, a recent analysis shows. 
As of February 2, 2021, Chicago is reporting 45,404 people fully vaccinated: 1.6% of the population.

Who is dying: Who is vaccinated: pic.twitter.com/7i8CcER26v

— ChiVaxBot (@ChiVaxBot) February 3, 2021
South Side Weekly's open-source Twitter bot, created by Bea Malsky and Charmaine Runes, visualizes relative concentrations of COVID-19 deaths and fully vaccinated residents to date. Predominantly Black and Latinx ZIP codes have the highest COVID-19 fatalities, and yet the lowest rates of complete vaccination in Chicago. The numbers are updated daily. 
The disparity prompted Mayor Lori Lightfoot to announce a new plan last week to deliver more doses to high-need minority communities. Protect Chicago Plus will partner with local organizations in South and West Side neighborhoods to develop vaccine clinics, strike teams and other distribution strategies.
One of public health officials' biggest challenges will be overcoming a lack of confidence in the vaccine. According to surveys by the Kaiser Family Foundation, published last December, only 26 percent of Latinx adults expressed that they would get a shot as soon as possible, compared to 40 percent of white adults. Approximately six in ten Black and Latinx respondents said they do not know where to get their shots, while only half of white adults said the same. Moreover, about a third of Latinx adults did not believe that the vaccine development process was taking their needs into account. 
These adults include people like, "Roberto," a 55-year-old Mexican immigrant who asked to use a pseudonym due to privacy concerns that he would be targeted for his beliefs. Roberto lives in Logan Square with his family and builds food processing equipment for a living. 
As a machinist, Roberto spends most of his workdays in an isolated space. He said that if his employer requires him to get vaccinated, he would quit his job. 
"The vaccine is not going to help us at all, and you cannot trust any drug because you don't know what's in it," Roberto said. He added that the government is letting coronavirus run amok to "put us in check" and control the population.
Roberto is one of the hundreds of thousands of followers of Shiva Ayyadurai, an Indian-American influencer who uses online platforms like YouTube to push for "deep state" conspiracies and unfounded medical theories. Content featuring such conspiracy theories are frequently shared on Spanish-language YouTube channels such as GR8 América and Informativo G24, Facebook pages and WhatsApp groups.
While Roberto's own college-aged daughter tested positive for COVID-19 last October, Roberto said that he does not think he himself could get the virus. He does not wear a mask and says he will not be getting vaccinated.  
Online misinformation campaigns and social media channels that deviate from scientific views are contributing to Latinx immigrants' high levels of vaccine hesitancy, but their disconnect with the government goes deeper than a few YouTube channels, according to Sofia Zaman, the executive director of Raise the Floor Alliance, a Chicago-based organization that serves low-wage and immigrant workers. 
The Chicago Department of Public Health offers a vaccine fact sheet in Spanish.
"People do not want to inject themselves with the so-called 'Trump vaccine,'" Zaman said. "The Trump administration has been incredibly hostile and has really stoked the fires of white supremacy in this country. And so there has been a long campaign to instigate and instill fear."
"There's a lot of fake news out there," she added. "But at the same time, the history of this country and the history of the healthcare industry do not have a great track record. There's a lot of harm we have to acknowledge that has been done to our communities."
This history includes doctors forcibly sterilizing Latinas and other immigrants. As recently as last September, a whistleblower complaint revealed that female detainees at an Immigration and Customs Enforcement (ICE) facility in Ocilla, Georgia, were pressured into undergoing gynecological procedures including hysterectomies. 
Jim Witte, the director of the Institute for Immigration Research at George Mason University, highlighted how concerns specific to immigrants—including fears of arrests and deportations—have also exacerbated vaccine hesitancy. 
"There's a fear that if you want to get a vaccine, people would discover that you're not here with the proper authorization," Witte said. "If a household has a variety of immigrant statuses, the entire household might be disinclined to get a vaccine because they don't want to give up their address."
While ICE said that it would not carry out raids at or near healthcare facilities, Witte said that decades of distrust, coupled with the anti-immigrant rhetoric spread by former President Donald Trump, looms over millions of immigrant families. Last March just a day before ICE announced that it would "delay enforcement actions" in the face of the pandemic, immigration agents equipped with N95 masks were conducting enforcement operations, the Los Angeles Times reported. 
The Illinois Department of Public Health has clarified that all residents, regardless of their immigration status, can receive COVID-19 vaccines. But in other states, misleading messages from officials have added to immigrants' anxiety and confusion. Nebraska Gov. Pete Ricketts, for example, falsely claimed that undocumented immigrants are ineligible for COVID-19 immunization.
To overcome setbacks, federal, state and local officials will have to rethink their messaging strategies. One solution is to enlist the help of local organizers, like Mújica, who can act as cultural brokers for the Latinx population.
"Some immigrant communities are really dependent on their local organizations to seek culturally and linguistically specific information on health, especially because some of them don't have a regular clinic," said Randy Capps, the Director of Research for U.S. Programs at the Migration Policy Institute. He suggested that health officials recruit interpreters, health advocates and activists within Latinx neighborhoods to work as intermediaries between immigrants and healthcare providers.
"I'm optimistic that immigrants will take advantage of the vaccine if it's available and accessible in a non-threatening environment," Capps added.
As the state doubles down on its vaccination efforts, more than 70 Latinx organizations, elected officials and health experts have joined the Illinois Latino COVID-19 Initiative, a coalition that uses bilingual campaigns to educate Latinx communities on the coronavirus. Mújica, working with Arise Chicago, has been involved with the nine-month-old initiative since June. In the beginning, it was difficult to get public health officials to participate in their meetings, he said, "but now they take us seriously." 
The initiative has published a series of fact sheets, in both English and Spanish, on COVID-19. According to a spokesperson of the alliance, it will release new bilingual materials this month to address community concerns about the vaccines. The Initiative, Mújica said, is also pushing for a city ordinance to make it mandatory for all employers to post information from the Department of Health in the workplaces so that immigrant workers can easily access factual information about the vaccines.
Mújica continues to do outreach and education work on his own. The Mexican Consulate in Chicago has invited him to get vaccinated on live television in the coming weeks. He hopes that doing so will convince other Latinx residents that COVID-19 vaccines are not only safe but also vital for their health and safety.
"The vaccine's been studied. It has complied with every step of how you develop a vaccine," Mújica said. "It should be easy for people to get the information."
---
This story is a part of the Solving for Chicago collaborative effort by newsrooms to cover the workers deemed "essential" during COVID-19 and how the pandemic is reshaping work and employment.
It is a project of the Local Media Foundation with support from the Google News Initiative and the Solutions Journalism Network. The 19 partners span print, digital and broadcasting and include WBEZ, WTTW, the Chicago Reader, the Chicago Defender, La Raza, Shaw Media, Block Club Chicago, Borderless Magazine, the South Side Weekly, Injustice Watch, Austin Weekly News, Wednesday Journal, Forest Park Review, Riverside Brookfield Landmark, Windy City Times, the Hyde Park Herald, Inside Publications, Loop North News, Rebellious Magazine and Chicago Music Guide.
Our work is made possible thanks to donations from people like you. Support high-quality reporting by making a tax-deductible donation today.                                                                                                                                   
Donate