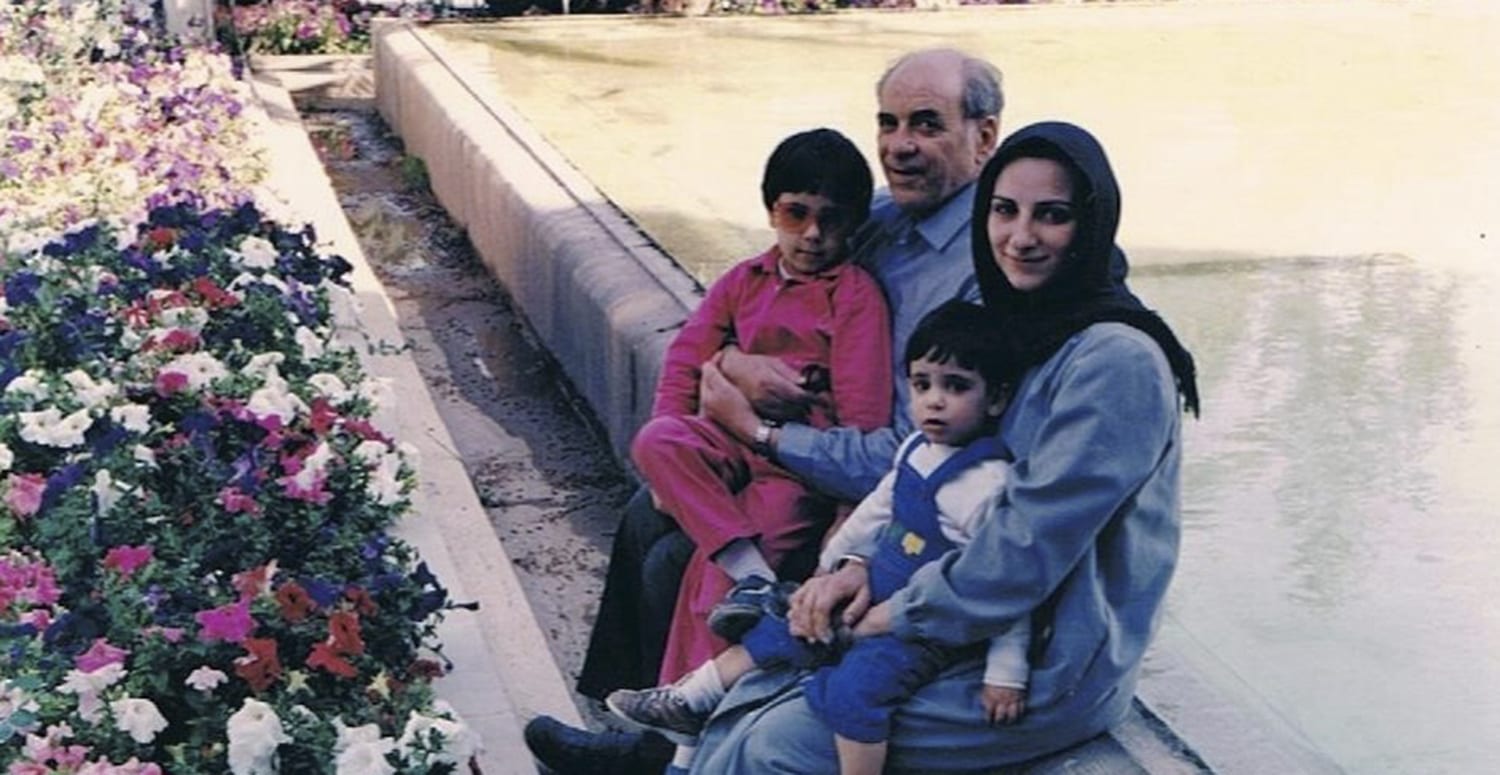 Photo courtesy of Jacqueline Saper
Above: Jacqueline Saper with her father, Rahmat Lavi, and her two children in 1985 at Bāgh-e Eram Park in Shiraz, Iran.
Local author Jacqueline Saper was a young woman during the 1979 Iranian revolution and sought asylum in the United States. 
Tensions between the United States and Iran are mounting after the U.S. launched airstrikes on Iran-backed militia near the Syria-Iraq border on Thursday. The strikes came in response to recent attacks in Iraq on U.S. targets, likely launched by militia members, and nearly three years after former President Donald Trump withdrew the United States from the Iran nuclear deal.
The tensions are just the most recent clashes between the two countries in the four decades since Iranian revolutionaries overthrew U.S.-backed Shah Mohammad Reza Pahlavi in 1979, which led to the establishment of the Islamic Republic of Iran. 
That pivotal period is the subject of Chicago author Jacqueline Saper's award-winning memoir "From Miniskirt to Hijab: A Girl in Revolutionary Iran." Saper, who was born in Tehran, was 18 years old when she witnessed the historic events that led to the revolution and the dramatic changes her country experienced in the years after. As a Jewish woman with a British mother and Iranian father, she found life under the new regime to be difficult. She eventually sought asylum in the United States with her husband in 1987.
Borderless Magazine spoke to Saper about her memoir. 
---
Borderless Magazine: Why did you write "From Miniskirt to Hijab"?
Jacqueline Saper: In 1978, Iran had a population of nearly 36 million. Today Iran has nearly 83 million people. More than half of Iranians are under 40 years of age and don't know what life was like before or during the revolution. So I wrote this book about my personal experience living in revolutionary Iran, which is a historical period that needs to be known. 
Borderless Magazine: What was the transition from pre-revolution Iran to post-revolution Iran like?
Jacqueline Saper: My formative years as a teenager were very modern: I wore miniskirts, went to school dances, went to a co-ed school, watched American movies, went to Jewish camp, and traveled back and forth to the UK. It was much like living in Europe or America. It was an inclusive society where Jews, Shiite Muslims, Christians and Bahá'ís lived in peace. 
After 1979, state and religion became one. Iran's religious minorities were marginalized. The judicial system became based on Islamic law or Sharia law although some aspects of civil law have been retained. Women were forced to wear the hijab, and schools became gender-segregated. 
Borderless Magazine: You lived in Iran for eight years after the revolution. Can you talk about your journey leaving Iran and coming to the United States?
Jacqueline Saper: It was very difficult. We left everything behind. When we got to America in 1987, we were asylum seekers based on religious persecution. 
At first we went to Houston. We stayed there for 14 months because my husband's younger brother was living there and had a flower shop. 
My husband was a surgeon in Iran, but his education was not accepted in the U.S. because it was foreign. He was in his late thirties and his English was not good, but he had to do his medical residency all over again to work as a doctor. I knew many Iranian doctors that were unable to do that, but my husband did it and started his residency in surgery all over again as well. He got a residency spot in Chicago and that is why we moved here for good. 
I went back to college and put my son, who was 4 years old at the time, in preschool. It was a difficult time because my husband was only a medical resident so his salary was low. 
My motto in life is to survive, there is no other way. Since we did not seek refuge through organizations, we did not get any benefits and did not receive any funding from the government. We are very proud immigrants, we have contributed to American society and my husband has served as a doctor here for over 30 years. I became a certified public accountant, my daughter became a lawyer and my son became a surgeon. My children or myself would not have had this opportunity if we remained in Iran. 
Borderless Magazine: What do you think people get wrong about Iran?
Jacqueline Saper: I'm very proud to be Iranian. People are misguided by the Middle East. They are also scared. Yes, it's a region that's always full of conflict. But it is rich in culture. 
I always talk about Iran to educate people. Iran is not everyone screaming and Ayatollahs chanting, "Death to America!" Most Iranians are young and have access to social media, and they are exposed to movies and American culture. There is beauty, nature, rich history, poetry, exquisite cuisine, art. These are not barbaric people. 
Before the hijab was imposed as a law, women had a choice whether to wear it and it was based on choice. After the revolution, hijabs were enforced no matter what ethnicity or religion you identified with. We were only allowed to wear black, navy grey or brown hijabs. Even a strand of hair could've gotten you arrested. 
However, forty years later the strict Islamic Republic that the founders expected is not what we see in today's Iran. Iran has evolved, and the modern women of Iran are actually the biggest opponents of strict restrictions.
Borderless Magazine: Have you been able to go back?
Jacqueline Saper: I have unfortunately not been to Iran since I left. My country is America, but I have not forgotten my birth country. 
This interview has been edited for length and clarity.
Our work is made possible thanks to donations from people like you. Support high-quality reporting by making a tax-deductible donation today.                                                                                                                                   
Donate